Reese's Piece Pizza Bars ~ Gooey Oatmeal Crust layered with caramel then topped with Peanut Butter Chips, Reese's Pieces and Drizzled with Candiquik!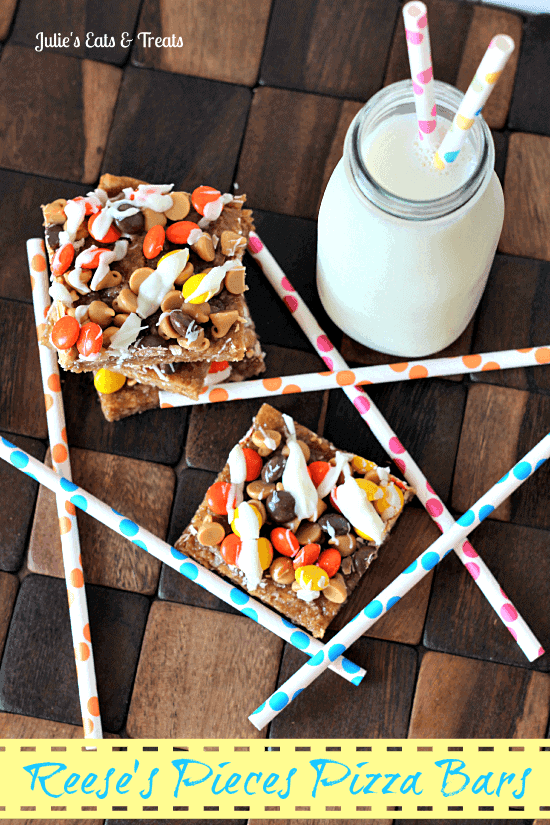 I'm currently lounging on the couch in my pj's on my day off watching Gossip Girl which is my new addiction. Yes I know it's ten o'clock and its my day off don't judge me for this! I know there will be a point in time where I won't have this opportunity so I'm enjoying this while I can. I have made this pan of bars we are going to discuss and started the dishwasher and successfully blew a breaker while baking so I'd say I'm off to a great start for the day. Ahead of me on my list of duties for the day are going to an insurance meeting about life insurance. Should I blame Jason on this one?? Nah, I agreed to it but I guess I really am growing up. After that I have a hair appointment and I need to get ready for another Scentsy party so I'm pretty sure I'll have a busy day so I should get off the couch at some point! We are going over to Lucy's tomorrow night for game night and I got put in charge of the sweet treat because for Halloween I made Monster Bars and they were a big hit. Hopefully I can live up to all the hype! I alter this recipe a bit because I'm allergic to chocolate. Instead of the chocolate chips I use peanut butter chips and instead of the M&M's I use Reese's pieces. You can use whichever you are craving!
Make sure you don't miss any of the fun stuff Julie's Eats & Treats is up too!
FACEBOOK | PINTEREST | TWITTER | INSTAGRAM | RSS | GOOGLE+
Ingredients
1 c. Butter
1 c. Brown Sugar
1 1/2 c. Flour
1/2 tsp. Baking Soda
1 tsp. Salt
1 1/2 c. Oatmeal
1 c, Peanut Butter Chips
1 c. Reese's Pieces
1 Jar Caramel Sauce
2 squares Candiquik, melted
Instructions
Cream together the butter and brown sugar.
Mix in flour, baking soda, salt and oatmeal.
Press into a 10×15 inch greased pan. If you don't have this size pan I have also used a 9×13 pan and it works great!
Bake at 350 degrees for 15 minutes or until browned around edges.
Spread caramel sauce on bars while still warm.
Sprinkle with Reese's Pieces and peanut butter chips. Drizzle with Candiquik.
http://www.julieseatsandtreats.com/2010/11/pizza-bars/
Recipe from the Apostolic Christian Church Cookbook.
This recipe may be shared on the following sites – Please give them a visit!
Our Delightful Home  | Mandy's Recipe Box | Lil' Luna | Semi Homemade Mom | Weekend Potluck |  Six Sisters' Stuff | Pint Sized Baked | Flour Me With Love | Chef In Training | Inside BruCrew Life | Couponing & Cooking | High Heels & Grills | Buns In My Oven | Chocolate, Chocolate and More | Kitchen Meets Girl
Looking for more easy bar recipes?