Crock Pot Brown Sugar Pineapple Ham ~  Savory ham with a brown sugar glaze and pineapple slow cooked all day long and waiting for you when you get home!
Fall is nearing and it's time to pull those Crock Pots out if you stuck them away to gather dust this summer!
Or are you like me and never put it away? I use the Crock Pot all year around. It literally saves me on busy days because no matter how busy I am the rest of the family still feels the need to be fed! What is with that?!
There is nothing better to me than knowing when I come home from work that I just need to throw a few things together and supper is ready. I'm talking like set the table and warm up some veggies. Super simple and easy. When I get done with work the last thing I want to do is slave over the oven for another hour. Who's with me on this?
Yup. You know you are. Raise your hand. There is nothing wrong with feeling like that. We are busy woman and sometimes simplicity is what we need.
When easy meals are as amazing as this Crock Pot Brown Sugar Pineapple Ham no one around your dinner table will be complaining no matter how easy it is to make! Literally it has three ingredients. Who's going to turn their nose up at that? Not me my friend!
As fall nears and the temperatures are cooling down, grab your Crock Pot and make your family this comforting Crock Pot Brown Sugar Pineapple Ham!
Looking for more Crock Pot Recipes?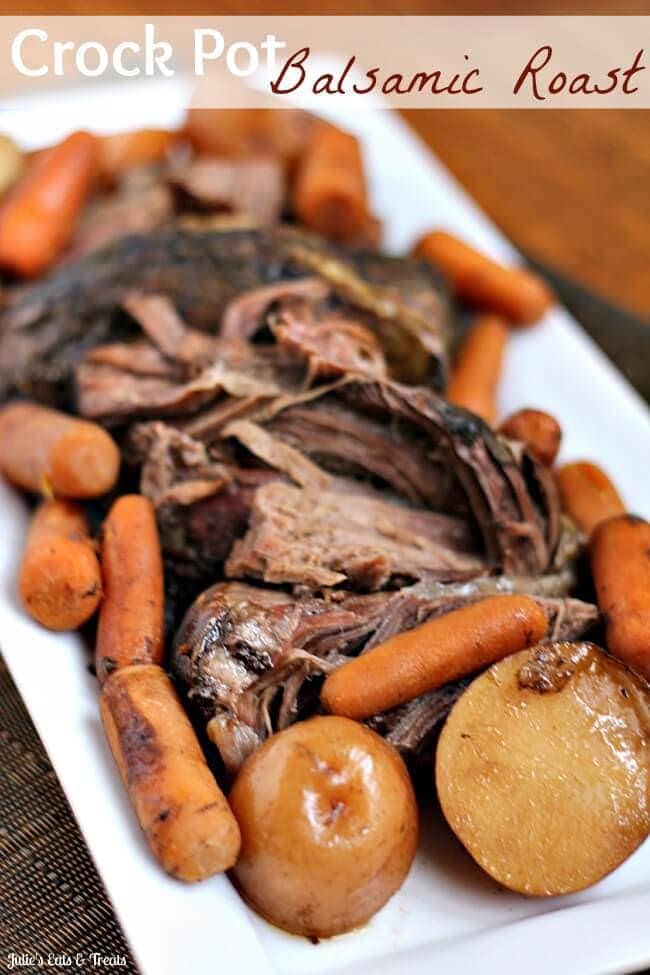 Crock Pot Balsamic Roast ~ Savory Roast, Carrots & Potatoes!
Crock Pot Cranberry Pork Loin ~ Savory Pork Loin slow cooked in a cranberry sauce!
Balsamic Glazed Pork Loin ~ Slow cooked pork in a scrumptious balsamic glaze!
*This post may include links to my Amazon.com affiliate account and Julie's Eats & Treats earns a few cents on the dollar if you purchase the items I share with you. Thank you for supporting my blog when you shop at Amazon!