Gingerbread with Vanilla Icing ~ Yummy Gingerbread topped with a Vanilla Glaze! Comforting, easy, and homemade!
This is a sponsored post written by me on behalf of PAM Cooking Spray.
So I tend to have an itsy, bitsy problem when I'm cooking and baking. Sometimes this problem isn't so itsy, bitsy. In fact it can lead to huge disasters every once in a while. This problem stems way, way back to the days of my first moments in the kitchen at Mom and Dad's.
Wondering what my problem is? It's called forgetting steps to the recipe. It can be detrimental. In fact, back at Mom and Dad's my mother used to make me read the recipe twice to make sure I did everything correctly. It was a known problem of mine.
Then I went to college, and one would think things would get better considering I was going to school for Hotel/Restaurant Management and I had several cooking classes but this did not cure my problem either. In fact I remember making homemade marshmallows in one of my classes and the professor actually made us quit, clean up and sit back down and lecture us because we did not read the entire recipe before starting and this lead to several mistakes.
How do I try to concur this known problem? I try to set out all my ingredients for a recipe before I start making the recipe and but back the ingredients as I use them. This way I know that a clean counter when I'm done preparing a recipe means I've prepared it correctly. This works most of the time.
In fact, I've been known to pour the batter into a pan and have to clean the pan out and spray it with Pam cooking spray, then pour the batter back in. Sometimes…well I forget completely then I'm in a really sticky mess! It's a terrible thing when I forget my Pam cooking spray. I always rest assured that my recipes will "pop" right out of a pan when I use Pam cooking spray, when I don't use it then I'm usually taking a chisel to may pan. Not a pretty site!
For all of your holiday baking this season make sure to grab your Pam cooking spray and rest assured that your recipe will turn out the first time!
You can win free Pam Cooking Spray and a Le Creuset Pie Dish by enter the giveaway! All you have to do is leave a comment telling me your favorite Christmas treat!
This is a sponsored post written by me on behalf of PAM Cooking Spray.
For more information, visit http://www.pamcookingspray.com
Congrats to Shari who was #11 in the giveaway and the winner!
Looking for more treats?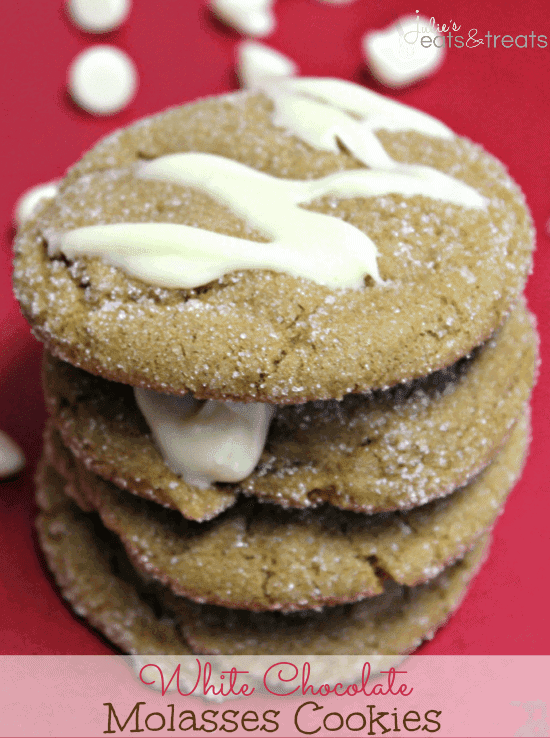 White Chocolate Molasses Cookies
*This post may include links to my Amazon.com affiliate account and Julie's Eats & Treats earns a few cents on the dollar if you purchase the items I share with you. Thank you for supporting my blog when you shop at Amazon!