Chewy Gingerbread M&M Bars ~ Amazingly soft and chewy bars loaded with Gingerbread M&Ms and topped with cream cheese frosting!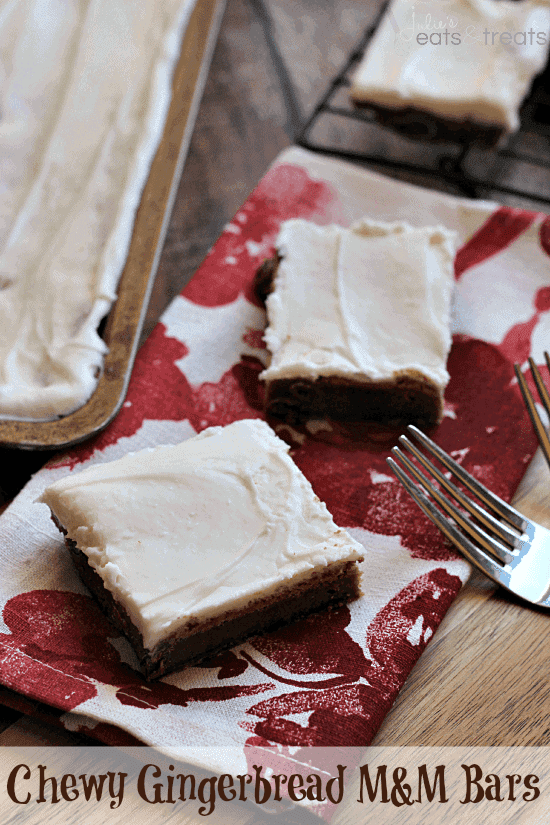 So the big question is are you a fan of Gingerbread or not?
I'm a bit finicky when it comes to Gingerbread of maybe it's just in my head? I LOVED these bars. Oh my goodness. They have the dense, chewy texture of a Blondie but they are topped with an amazing cream cheese frosting and stuffed with Gingerbread M&Ms. Yes. Gingerbread M&Ms. I saw them in the store and new they were a must by because I needed to make something yummy with them!
Then a few weeks ago I made this Gingerbread with Vanilla Icing and loved that also. I loved it so much it went straight to my neighbors house when I stopped by there. I tend to make a lot of friends in our new neighborhood when I get to baking!
These bars also visited another home. I brought them to work with me to great the coworkers. The problem with that is my office is literally steps away from our work kitchen so they are way to easy accessible! Dangerous.
These are a perfect treat for a last minute get together that you are invited too. If you can't find Gingerbread M&Ms please feel free to substitute with regular M&Ms!
Adapted from: Jamie Cooks It Up!
Looking for more festive bar recipes?