Hot Chicken Salad Crescent Braid ~ Flaky Crescent Rolls Stuffed with Chicken, Celery, Cheese, Almond and Chow Mein Noodles!
*I was compensated by Gold'n Plump Chicken to create this recipe & post. All opinions expressed are completely my own.
I'm always on the lookout for unique but simple recipes that I can make for dinner during the week. It seems like a lot of times this is pasta because it's so versatile and easy! I love straying away from the typical pasta dishes and inventing a fun twist on a recipe.
Enter today's recipe, Hot Chicken Salad Crescent Braid. It's really impressive looking, but also so simple that you can make it during the busy weekdays. It's also versatile, so if you have the ladies coming over for lunch on Sunday, or you're hosting a shower or anything like that, you can make this and everyone will be impressed! But we won't tell them it was super simple!
The main ingredient is Gold'n Plump® Boneless Skinless Chicken Breast Portions! I grew up on a family run farm and it's still dear to my heart. I'm constantly checking in this time of year to see how the progress is coming on the farm, or lack of in this year's case. Rain, you can stop any time now! I'm also a big fan of supporting local family farms whenever possible.
This is why I'm a huge fan of Gold'n Plump. Their products are raised on family farms and they are all natural so I know that I'm feeding my family the best. I always grab Gold'n Plump chicken over anything else when I'm at the grocery store! Interested in comparing other chicken to Gold'n Plump? They have this awesome page devoted to the "Chicken Difference." It's amazing what other companies put in their chicken that isn't natural. It's pretty simple, with other brands you pay by the weight, but you aren't getting your money's worth due to the fact you are paying for extra ounces that aren't all quality chicken. Who wants to do that? Not me!
The chicken crescent braid is stuffed full of Gold'n Plump Boneless Skinless Chicken Breast Portions, celery, almonds, chow mein noodles and cheese. Are you drooling yet? The flaky crescent dough is the perfect boat for the filling that has a slight crunch. I'm all for the crunch. There's just something refreshing about  celery and almonds when you bite into the crescent braid!
If you are looking for a recipe that will impress the family and is a little different than your everyday weeknight meal, this Hot Chicken Salad Crescent Braid is a winner! And, no worries, I won't let them in on the secret that it's fast and easy too!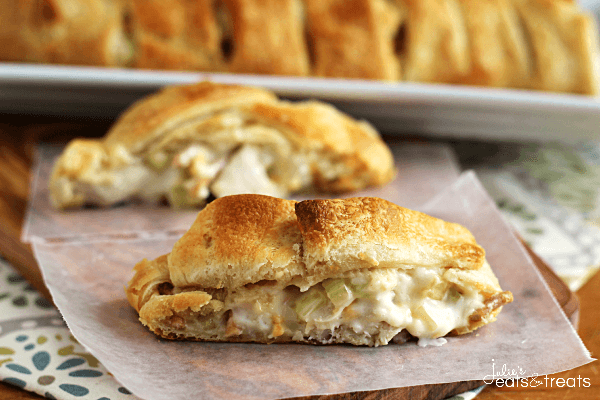 If you are intimidated by making a braid out of the crescent roll dough Jocelyn over at Inside BruCrew life has an amazing tutorial, so make sure to give her a visit! It's really not hard at all. Trust me. Remember my favorite saying, Simple, Easy But Delicious Meals. I'm not going to lead you astray. Don't worry!
A few more ways to enjoy your favorite Gold'n Plump Boneless Skinless Chicken Breast Portions!
Cashew Chicken Rotini Salad ~ Loaded with Cashews, Grapes, Chicken, Pasta and Dried Cranberries!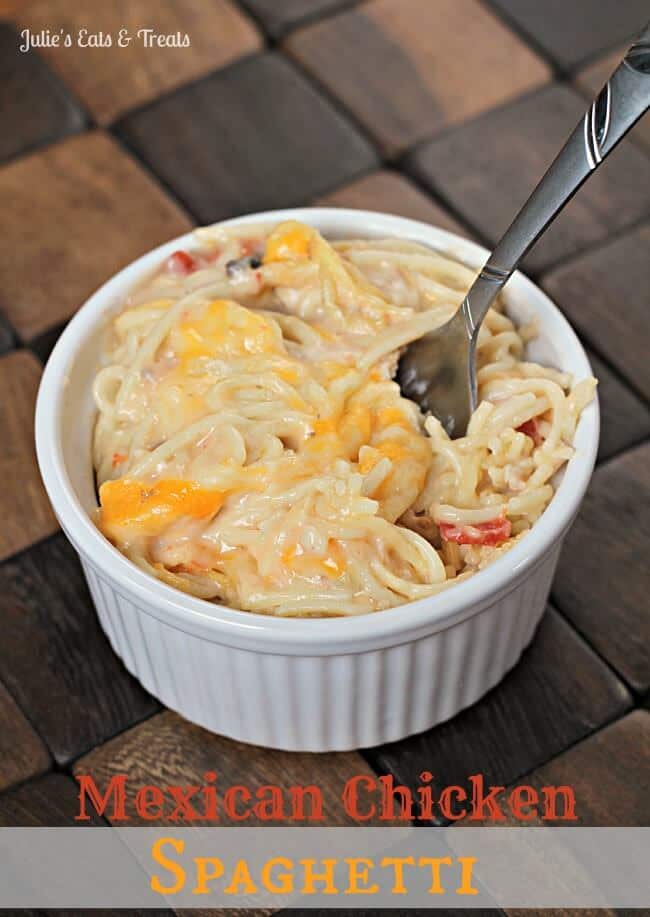 Mexican Chicken Spaghetti - Spice up your dinner time with this!
Sriracha Chicken Bacon Ranch Skewers ~ Chicken Marinated in Bacon Ranch and Kicked up with Sriracha then Grilled on Skewers with Bacon!
*This post may include links to my Amazon.com affiliate account and Julie's Eats & Treats earns a few cents on the dollar if you purchase the items I share with you. Thank you for supporting my blog when you shop at Amazon!