Upside Down Caramel Apple Rolls ~ Quick, Delicious Rolls Oozing with Caramel, Apples and Frosting!
Have you noticed I'm obsessed with breakfast lately? I never used to make anything special for breakfast on the weekends. This was more than likely due to the fact I worked every other Saturday and just didn't have time. I love breakfast. I'm one of those crazy people that also make it for supper occasionally.
I'm also one of those people that don't like to spend house making breakfast. If you love to slave over rolls in the morning for hours Kudos to you. I on the other hand, LOVE, my sleep. Sometimes I wonder with age if you will grow out of needing 10 hours of sleep, but it hasn't happened to this chick yet. Ok I really don't sleep for 10 hours. During the week I usually get seven so you but your buck if I can sleep in on Saturday it is going to happen and I repeat I will NOT be in the kitchen at the crack of down!
This is why this recipe grabbed my attention right away. It uses a can of pre-made cinnamon rolls. Hallelujah, Joy to the World, I can sleep AND have yummy rolls. Perfection. It takes these rolls and adds a little jazz with a homemade caramel sauce and apples. Oh apples. I warn you this might be my next obsession at this time of year once I move on from the zucchini. PS. I might have just found another zucchini recipe to try and you might see it later depending on if it turns out!
So if you are like this chick and like your sleep or plain old don't have time to slave away over rolls in the morning this is the perfect treat for you. The original recipe says it serves 8. There is no way this served 8. I think we could have stretched it to 4, but you got it. Three of us polished this off without a problem. Enjoy!
Recipe from: Lady Behind the Curtain
 Looking for more Apple Breakfast Treats?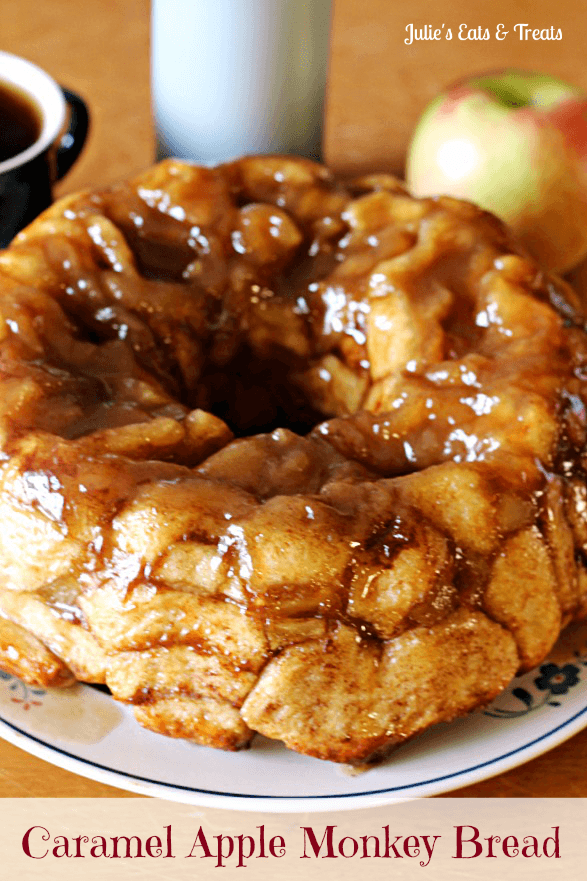 Caramel Apple Monkey Bread ~ Ooey, Gooey Monkey Bread Spiced with Cinnamon!
Caramel Apple Muffins ~ Love Caramel Apples? Get all the flavor in these muffins!
*This post may include links to my Amazon.com affiliate account and Julie's Eats & Treats earns a few cents on the dollar if you purchase the items I share with you. Thank you for supporting my blog when you shop at Amazon!