St. Patrick's Day Desserts
So many delicious St. Patrick's Day Dessert recipes! Get ready for all things green and rainbows. We've put together tons of inspiration for fun treats like ice cream, floats, donuts, rainbows, and leprechauns!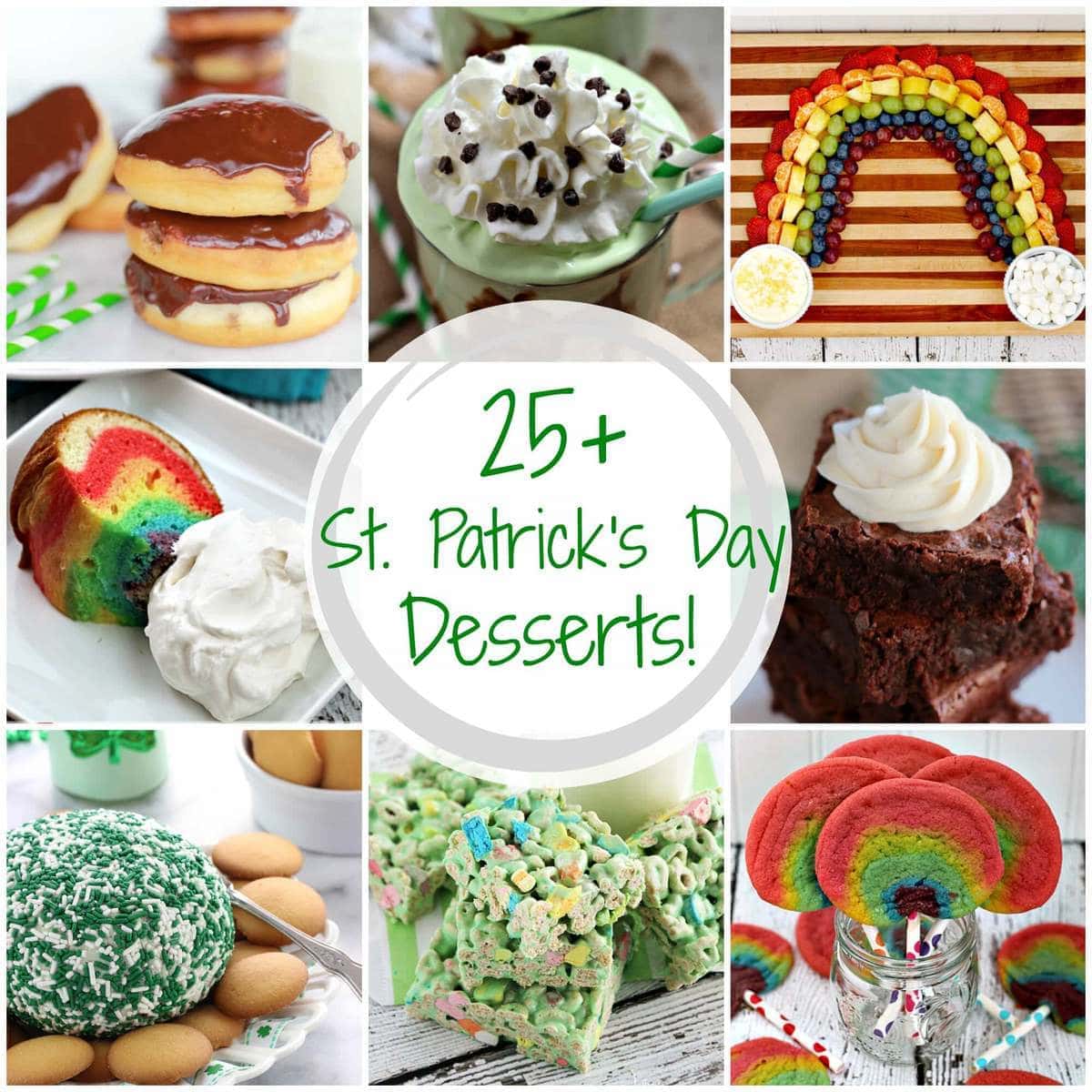 St Patrick's Day Desserts
Are you excited for St. Patrick's Day? Growing up in an Irish household, St. Patrick's Day was always a big deal! We'd eat corned beef, go to the parade, the adults would drink green beer. But what about desserts?! You simply can't forget desserts!
So, I've put together a round up of dessert recipes perfect for St. Patrick's Day so that you don't forget a festive sweet treat when you honor the luck of the Irish!
This St. Patrick's Day Dessert round up has everything from cake to floats, and donuts to chocolate. We've even got sprinkle rainbows and snack mixes for the kids too! Plus, a few healthy options thrown in for good measure.
Everyone will find a a perfect recipe in this round up of some of my favorite, and most delicious, St. Patrick's Day Desserts!
This festive cake starts with a box mix and ends up as a Rainbow Cake with Sweet & Fluffy Whipped Cream Clouds! Crazy easy and so cute!
Grab some ice cream, cool whip and cream de menthe and you can make this delicious St. Patrick's Day dessert recipe. Mix it all together and you have a light and fluffy treat, topped with mini chocolate chips!
How cute are these? This St. Patrick's Day dessert idea is made with store-bought sugar cookie dough and is super easy and fun! Not only do they make a tasty treat, but they're a perfect dessert to gift to friends.
If mint chocolate is your thing, you'll be obsessed with these cookies. These delicious and pretty Chocolate Mint Sandwich Cookies have a delicious mint filling stuffed between soft and chewy chocolate cookies. So festive and tasty!
This is one of my most favorite St. Patrick's Day desserts because it's insanely easy and so cute! This is another great treat to gift to others. You can put servings in cute cellophane bags or even little jars and hand them out as a special dessert to others on St. Patrick's Day.
I love that there are so many different thumbprint cookie recipes. These chocolate mint thumbprint cookies are soft and chewy, and filled with mint fudge – I think they taste like an Andes mint!
Floats are just a "thing" for St. Patrick's Day! You only need lime sherbert and Sprite to make these quick and easy leprechaun floats. The perfect festive green beverage for St. Patrick's Day!
One word for this ice cream…YUM! If you don't have an ice cream maker, not to worry. This St. Patricks Dessert recipe does not require an ice cream maker! Try this out for your next party, it makes 12 servings!
Is it really St. Patrick's Day if you haven't used Irish cream in a dessert recipe?These fudgy and chewy brownies made are made with Guinness stout and Irish cream frosting. Perfect for celebrating St Patrick's Day!
You may not think you'd find dirt cups in a list of St. Patrick's Day desserts, but these are perfect for the holiday! Your kids will love these fun dirt cups with creepy crawly gummy worms.
How can you make Lucky Charms even better? By using them in pie form, of course. This Lucky Charms Cream Pie is incredibly creamy and fun!
This Lucky Charms Ice Cream is so easy to make It's packed with marshmallow flavor from toasted marshmallows, and is the perfect treat for kids anytime…or for St. Patrick's Day parties!
If your St. Patrick's Day weather is chilly, make this delicious Lucky Charms Hot Chocolate! It's smooth and creamy and so much fun.
Chocolate Irish Cream Filled Donuts…need I say more? This sweet treat is so delicious and is guaranteed to be a crowd favorite!
One of my favorite St. Patrick's Day Desserts are these Rainbow Cupcakes! This recipe will guide you through making homemade vanilla cupcake and he final touch is Rainbow Berry Candy and sugar pearls. Such a kid-friendly dessert that they can help make and decorate!
Despite their disguise, these are not cake pops! Instead, the inside is delicious buttercream frosting. Such a yummy mint chocolate treat.
We really have no shortage of St. Patricks Day dessert recipes. These mint brownie push pops are so fun! I mean, who wouldn't want brownies and ice cream in push pop form?
This Salted Caramel Guinness Beer Float is guaranteed to be a favorite adult dessert!
Ever heard of a dessert cheeseball? If not, you should totally try out this Minty Shamrock Cheeseball. Grab a vanilla wafer and dig in!
A chocolate cake roll filled with mint whipped cream and mini chocolate chips, topped with a milk chocolate ganache. Perfect for the mint chocolate lovers in your life!
This St. Patricks Day dessert recipe is made using a white cake mix, two egg whites, and diet lemon-lime soda. A perfect sweet treat if you're counting those calories.
Want a snack that's whole grain, naturally gluten-free, and isn't loaded with sugar? This is the St. Patricks Day dessert idea for you! You and your kids will love making (and munching on!) Mint Chocolate Chip Glazed Popcorn.
Brownies bites filled with mint and covered in a chocolate coating? YES, PLEASE!
These are just too darn adorable to pass up! Decorate Nutter Butter cookies to look like little leprechaun friends.
Full of tons of fruit and topped with a fruit skewer, it's the ultimate rainbow smoothie!
Another great rainbow dessert! This leprechaun pot of gold is on the list of St. Patrick's Day desserts that your kids can make for themselves. It's a craft and dessert all-in-one.
Every adult needs a good boozy cupcake around St. Patrick's Day. These delicious cupcakes are topped with Godiva white chocolate buttercream and are absolutely to die for!
Yay for St. Patrick's Day dessert recipes that don't heat up the house with the oven! These Lucky Charms Treats are made using just the microwave. So easy and so tasty!