3-Meat Pizza Ring ~ Flaky Crescent Rolls Stuffed with Three Meats and topped with Cheese! The Perfect Quick & Easy Weeknight Dinner or Game Day Treat!

For about a year now my hubs has been bugging me. Bugging me for a jet ski. Every weekend we were at the cabin this past summer it would become a topic of conversation. Every time he saw someone on one he'd casually mention how much "I" would enjoy it. I'd glance over and he'd be searching Craig's List for a jet ski. It's become slightly annoying and slightly funny. Then I made one mistake. I gave him a budget. He figured that was the green light. It seems that he was going to strike while the striking was good because approximately 48 hours after that budget was given to him I have a jet ski in my garage.
The fact that we live in Minnesota and it's January obviously doesn't mean anything to him. Apparently he thought he could get a better deal in January. I think he was just afraid I'd change my mind. So now I get to stare at a jet ski and wish for warm summer days for another five months and get even more depressed about winter. This may have been a terrible decision on his part because he's going to have a cranky wife for the remainder of winter.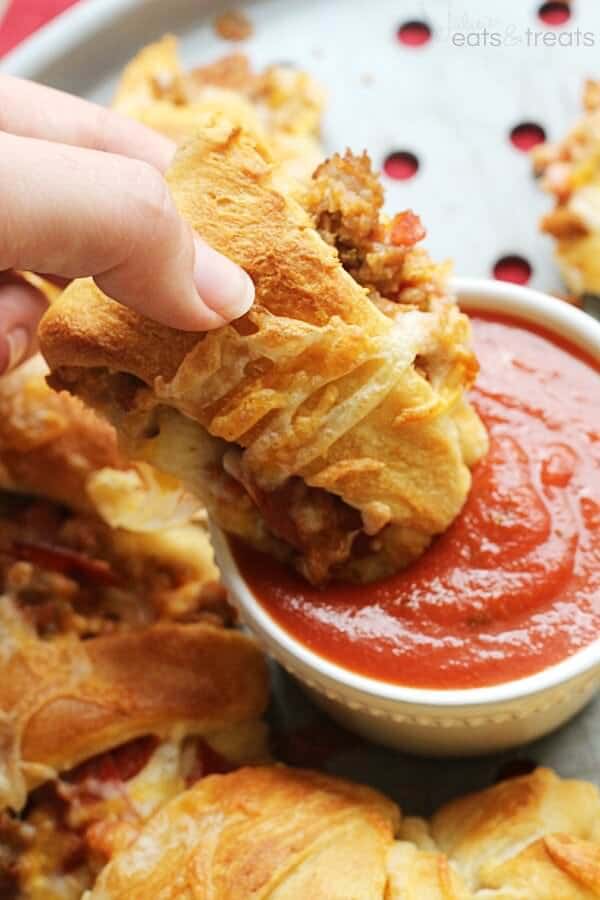 Remember that budget I gave him? There was a 2 grand difference between the bottom amount and the top amount. He was proud to report that he came in exactly $70 under budget. I rolled my eyes. We'll see what I do with the next budget I'm given…. just saying.
Also, I was really excited to get out of the house and go jet ski shopping with him. I really didn't want to be shopping for a jet ski but I wanted out of the house. I haven't been out of the house since Wednesday when I went to volleyball. I'm going crazy. Stir crazy that is. Miss K came down with a cold on Friday afternoon and has a low grade temperature so I didn't get to go with and I'm still stuck in the house. At this point I'm ready to go walk around the grocery store aimlessly or take myself to a movie out of fearing for my own sanity! Isn't it typical the hubs gets to go buy something fun and I'm stuck at home with a sick kid? Ahhhh marriage and kids!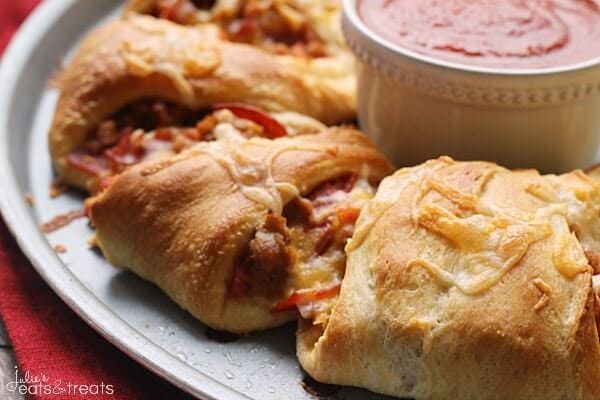 I have a tiny little confession to make to you. I've been holding out on you. Holding out on this delicious pizza recipe. I made it about five months ago when I was prepping for maternity leave and I've been dreaming of it ever since then. It was delicious and easy and such a fun twist on plain old pizza. It takes flaky crescent rolls, stuffs them with three meats , pizza sauce and cheese and makes it pretty in a cute little ring that makes eating it that much more fun! Perfect for a quick weeknight dinner or perfect for that big game coming up. Whatever you choose to make it for you will be the rockstar!
Big fan of pizza and I know you are too! Here are a few more recipes to love!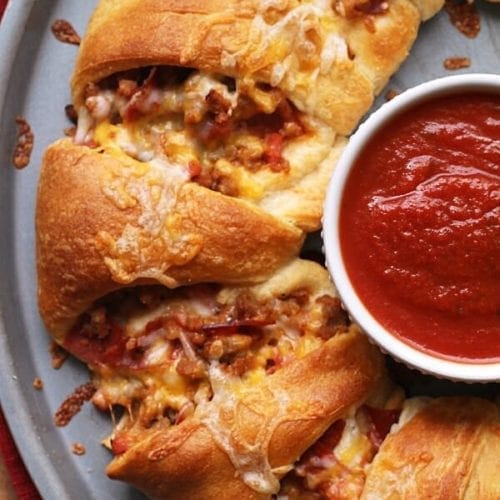 3-Meat Pizza Ring
3-Meat Pizza Ring ~ Flaky Crescent Rolls Stuffed with Three Meats and topped with Cheese! The Perfect Quick & Easy Weeknight Dinner or Game Day Treat!
Print
Pin
Rate
Ingredients
1

lb

Italian Sausage

1

15 oz can pizza sauce, divided

2

garlic cloves

crushed

1 1/2

c.

shredded pizza cheese

1/2

c.

diced Candian bacon

1/2

c.

chopped pepperoni

2

8 oz tubes refrigerated crescent rolls
Instructions
Preheat oven to 375 degrees.

In a large skillet over medium heat cook sausage and garlic until no longer pink. Drain grease off. Stir in 1/2 c. pizza sauce, pepperoni, Canadian bacon and 1 c. pizza cheese.

Unroll crescent dough and separate into triangles. Arrange triangles on a 14 inch ungreased pizza pan with points toward the outside and wide ends overlapping at the center, leaving a 4 inch opening in the center. Press overlapping dough to seal.

Spoon the mixture onto the wide ends of the triangles. Fold pointed ends of triangles over filling, tucking points under to form a a ring. The filling will be visible.

Baked for 12-15 minutes or until the crescents are golden brown. Sprinkle with remaining cheese. Bake 5 minutes longer or until cheese is melted. Serve with remaining pizza sauce.
Nutrition
Serving:
2
g
|
Calories:
659
kcal
|
Carbohydrates:
27
g
|
Protein:
28
g
|
Fat:
50
g
|
Saturated Fat:
16
g
|
Cholesterol:
76
mg
|
Sodium:
1658
mg
|
Potassium:
402
mg
|
Sugar:
7
g
|
Vitamin A:
230
IU
|
Vitamin C:
5.1
mg
|
Calcium:
110
mg
|
Iron:
2.3
mg
LEAVE A COMMENT
Things you might need for this recipe!
Looking for more Pizza inspired recipes?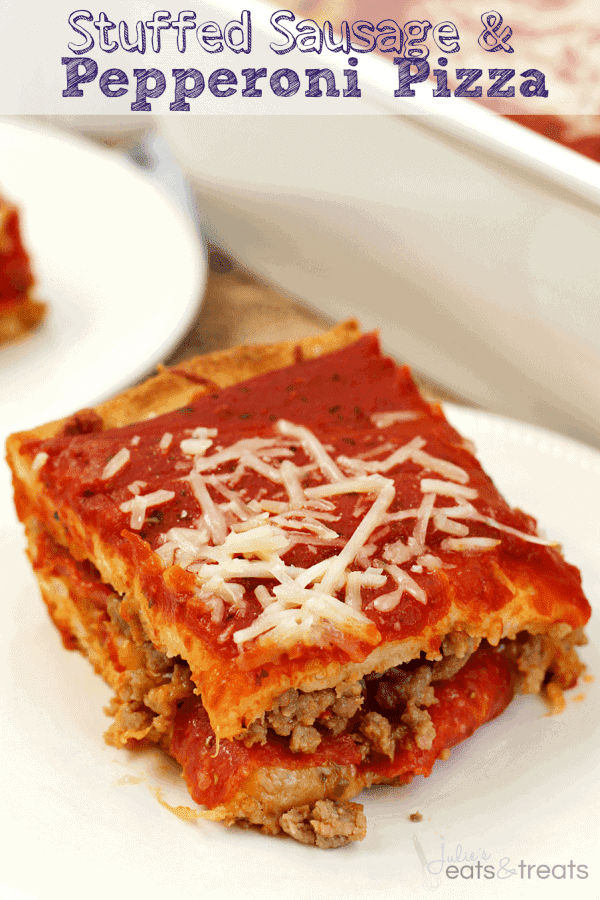 Stuffed Sausage & Pepperoni Pizza ~ Easy Pre-Made Pizza Crusts Stuffed with Cheese, Sausage & Pepperoni! Topped with Pizza Sauce!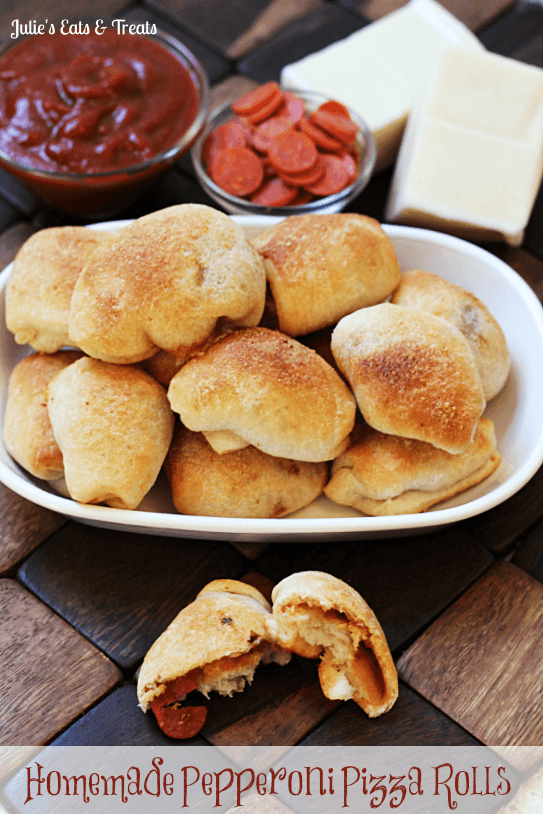 Homemade Pepperoni Pizza Rolls ~ Quick & Easy Weeknight meal for those on the go!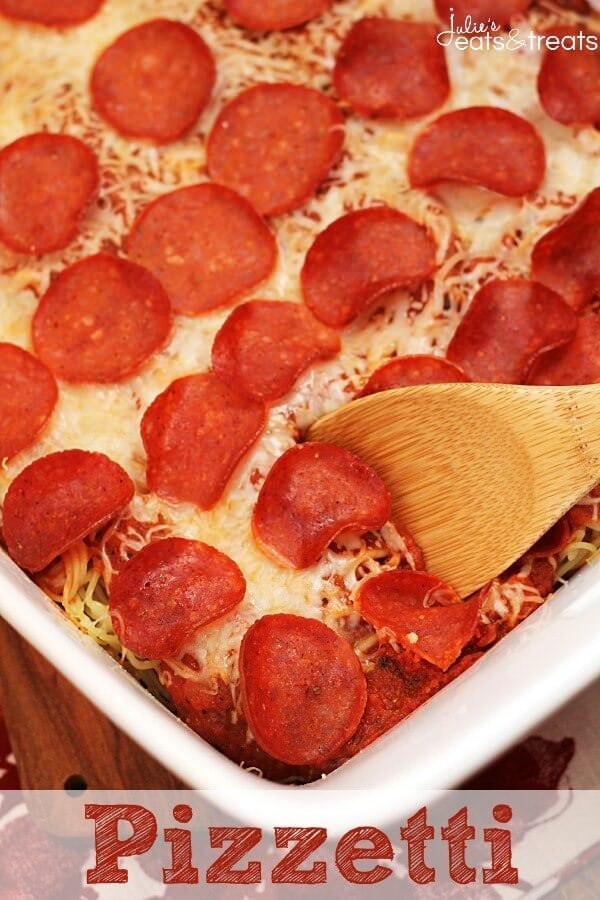 Pizzetti ~ It's Pizza, It's Spaghetti, It's Pizzetti! Yummy Casserole Loaded with Pasta, Cheese and Pepperoni!