This list of leftover ham recipes brings you all the recipes using ham! So many different combos, so you are sure to find a few that you will love. Cheesy casseroles, breakfast recipes, twists on pizza and more. There's a dish for everyone!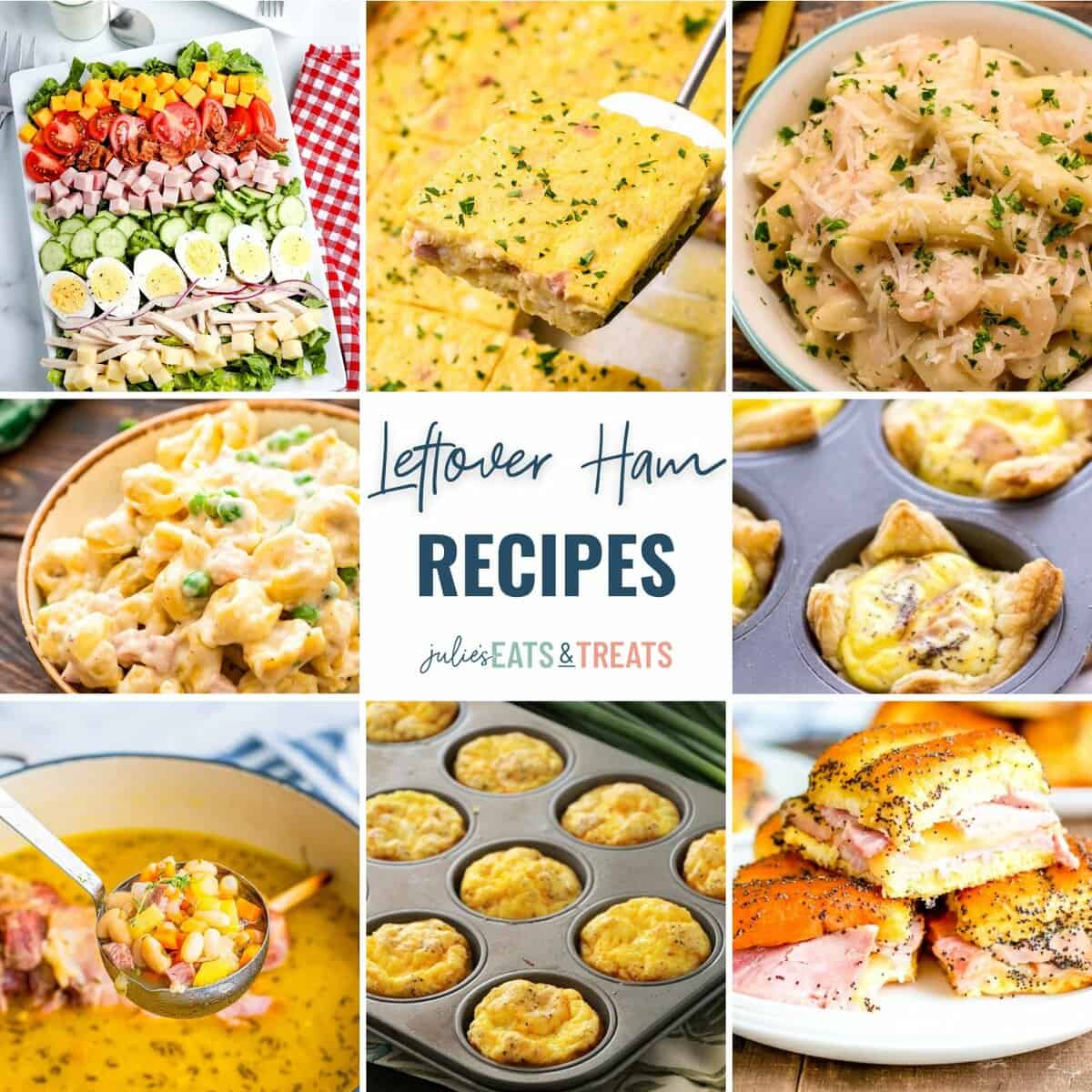 Leftover Ham Recipes!
When you cook a full ham for the holidays, or even just for dinner one week, you're almost always going to have leftovers. I think that tends to steer people away from making ham for dinner, but it shouldn't!
There are so many amazing leftover ham recipes where you can use that leftover meat and turn it into something completely new.
So go ahead, bake that tasty honey baked ham because there are plenty of ways to use leftover ham for breakfast, lunch, and dinner.
We've rounded up over 40 recipes, so check them out and find something to make!
This light meal can be used as an appetizer, or loaded up with plenty of protein to eat as a stand alone meal. I never turn down a good chef salad!
Fried rice is such an easy meal, and who knew ham would taste delicious in it?! Diced up that leftover ham and fry it up with rice and veggies to make this delicious Asian-inspired dish.
If you have a Blackstone that you love to use, then check out this recipe. You can make a tasty hash brown omelette on the Blackstone and even use leftover ham in it!
I love making a double batch of these pinwheels for dinner and then sending them in lunches for a day or two afterwards. Slice up your leftover ham and make these flaky pinwheels for dinner!
Leftover ham casserole is one of the easiest ways to use up all that leftover ham. This pasta casserole is packed full of delicious flavor and loaded with protein.
Need a quick on-the-go breakfast? Make a batch of these egg muffins at the beginning of the week and heat one or two up each morning to eat on the go.
Cheddar chowder is perfect for a cold winter night! Dice up your leftover ham and make this heart soup that is "stick to your ribs" good.
One-pot dishes are quite possibly the easiest thing to make in the kitchen. The clean-up time is minimal and these types of dishes are so easy to make.
This is a great leftover ham casserole that you can prep ahead of time and pop in the oven when you're ready! Such an easy recipe.
This tasty ham salad can be served up as a really easy sandwich, or eaten on crackers as a dip. A great picnic or pool party food!
Omelettes are delicious, but it can take a long time to make a lot of them. If you need to serve a large amount of people, make this tasty baked omelette instead!
Oh, how I love my Instant Pot! Use your leftover ham in this delicious penne pasta dish and let the Instant Pot do all of the hard work for you.
Green bean casserole, but with a twist. You can use leftover ham to make this dish and serve it for dinner, or bring it to a potluck.
This cordon bleu crescent ring is probably one of my favorite leftover ham recipes. It's super easy to make and the whole family is going to love it!
Need some leftover ham recipes for the Crock Pot? This ham and potato soup is such an easy recipe and is a super filling and hearty meal.
Busy making other breakfast food or getting everyone ready for the day? This is one of the most convenient leftover ham recipes! Use your leftover ham to make a yummy breakfast casserole in the Crock Pot.
This quick and easy breakfast dish is one of my favorite ways to use leftover ham. Just grab some puff pastry and cheese and make an extra fancy little breakfast.
You can never go wrong using leftover ham in a cheesy, warm, and gooey sandwich. Add this to your list of super easy, and mouthwateringly delicious, leftover ham recipes.
Want to use your leftover ham in a pasta dish? This leftover ham casserole is the perfect dinner recipe to try out!
English muffins, topped with bacon, ham, and cheese. Need I say more?! These are so good!
This linguine casserole is such an easy way to use leftover ham! Throw all of the ingredients together for a protein packed dish that everyone will love.
No one will ever know that you used leftover ham in this ham and cheese tortellini. It's so creamy, cheesy, and delicious!
A deep fried sandwich…I'd say that's probably a top contender on the list of best leftover ham recipe! Check out this monte cristo for a super fun way to use up your leftover ham.
Chicken cordon bleu is often too difficult to make. Throw it together in casserole form, and you've got a winning dish!
Slice up your leftover ham and use it in these amazing ham and cheese sandwiches, made in just your Crock Pot! Easy clean up and absolutely amazing flavor.
If you've got chicken breast sitting in your fridge that need to be used, and leftover ham, this is the recipe for you! Use them both together in one amazing dinner recipe.
This is one of the ultimate comfort food leftover ham recipes! So cheesy, warm, and flavorful.
You can make these super easy sandwiches ahead of time and then pop them into the oven when you're ready!
If you need a hearty dinner to cook in the crock pot, look no further than this recipe! It's so easy and would be a great use of any leftover ham that you need to use.
If your kids are begging for pizza, maybe you can meet in the middle and make homemade stromboli? That way, you get to use up your leftover ham, but they get the tasty Italian food they're just dying to have!
Macaroni salad is a great side dish to have at any cookout, dinner, or potluck. Plus, it's really easy to make!
This yummy pasta recipe is a breeze to make. The whole family will swoon over this easy, creamy, and filling chicken cordon bleu skillet.
Here's another idea to change things up on pizza night! Use your leftover ham to make a delicious calzone.