Holiday season is here and that means Thanksgiving is fast approaching. Have you planned your menu yet? Thanksgiving side dish recipes do not have to be complicated. We've round up our favorite quick and easy Thanksgiving Side Dish recipes that will make this holiday stress-free and enjoyable!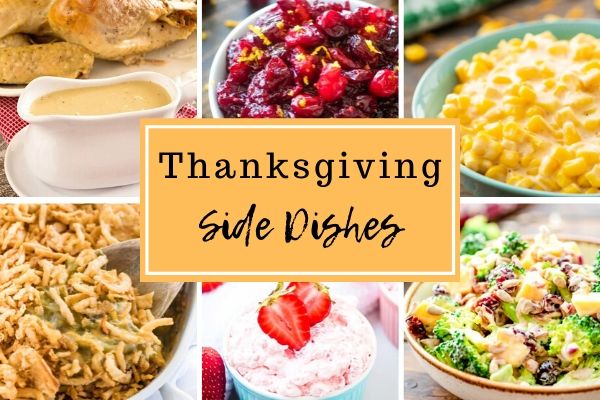 The BEST Thanksgiving Side Dishes!
Look no further! Here is the best selection of fast and easy Thanksgiving Side Dishes.
These recipes taste AWESOME, but are quick and easy which means any one can make them even the novice chef.
We've included the classics like Stuffing, Creamed Corn, Green Bean Casserole, 7 Layer Salad and Gravy.
To mix things up we've included a few alternatives to those classics that are amazing. You can't turn down our Crock Pot Mac and Cheese, Lettuce Frito Salad, and Green Bean Corn Casserole.
If you click on one of the sections below it will take you right to that area to help you narrow down your search for the best Thanksgiving Side Dishes!
Make sure to check out our Thanksgiving Desserts and Thanksgiving Meal Plan to plan your entire meal!
[et_bloom_inline optin_id=optin_10]
Vegetable Side Dishes
Vegetable Side Dish recipes are classic for Thanksgiving. Make sure to check out our favorites listed below!
Potato Side Dishes
Every Thanksgiving needs a potato side dish! We have plenty to choose from, but no worries they are all delicious and easy!
Salad and Pasta Side Dishes
Here are our favorite Salad and Pasta recipe for Thanksgiving. These are perfect for taking with you if you are visiting friends and relatives. They are perfect for making ahead of time and feed a crowd.
Breads and Traditional Side Dishes
You can't forget your tradition Thanksgiving Side Dishes! Plus, every meal needs a hearty bread to serve with it.