Need a quick and easy way to make roasted broccoli? Make this Air Fryer Broccoli that's ready in less than 15 minutes! It's a quick, healthy side dish with only five ingredients, so it's perfect to make during the weeknights.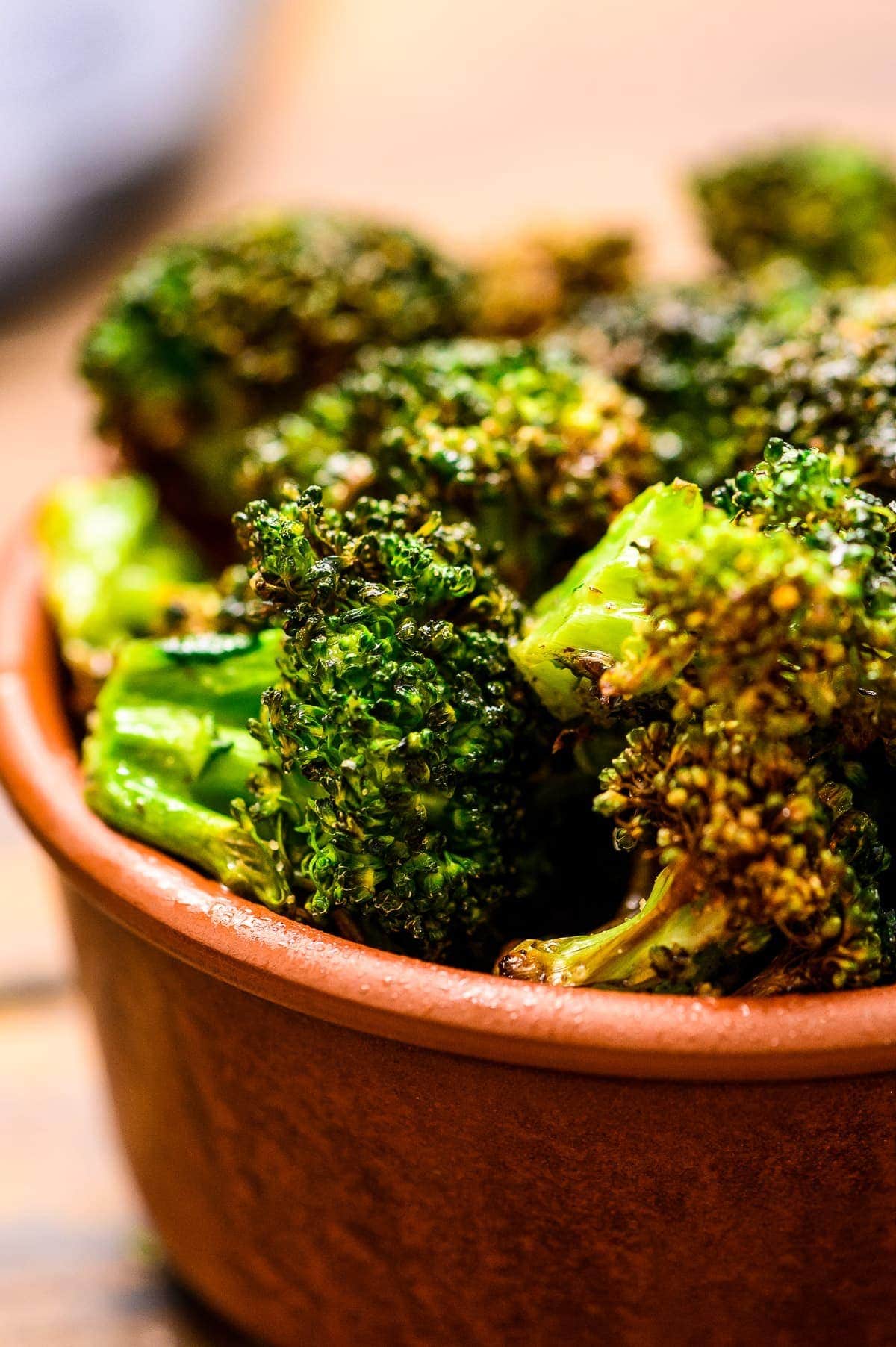 Depending on what we're having for dinner, it's always nice to have a healthy vegetable as a side dish and roasted vegetables are always nice. BUT… I don't always want to turn on the oven or wait 30 minutes for it to be done or use a bunch of oil. So, hello air fryer! Or, I should say, hello super easy Air Fryer Broccoli!
This is the easiest way to roast broccoli! I love my air fryer for so many reasons – it's a fast, healthy and easy way to prepare a side dish. The broccoli gets nice and crispy and it only takes 15 minutes start to finish!
Did you know an air fryer is basically a countertop convection oven? Well, it mimics one in the way it cooks food! It doesn't actually "fry", but instead pushes hot air around the ingredients to cook them. This gives whatever you're cooking a crispy exterior like you get when you fry things but without all the oil.
If you've been looking for a new way to use your air fryer I think you'll love this recipe. You'll want to have this crispy broccoli as a side dish every night!
Why This Air Fryer Broccoli Recipe Works
When you cook broccoli in the air fryer, it has the same texture as oven-roasted versions but cooks in no time at all and you don't have to coat the vegetables in a lot of oil. You also don't end up with soggy broccoli which can happen in the oven sometimes.
It only has five ingredients so it's a quick and easy side dish perfect for busy weeknights.
It's healthy, yet has a delicious flavor from the roasting that happens in the Air Fryer!
It's crispy and so delicious every time! Once you try it you have to try my roasted sweet potatoes in the air fryer, too.
Is air fried broccoli still healthy?
Yes! Air Fried Broccoli is very healthy because it uses less oil than roasting in the oven and you get an even crispier roasted broccoli in the air fryer.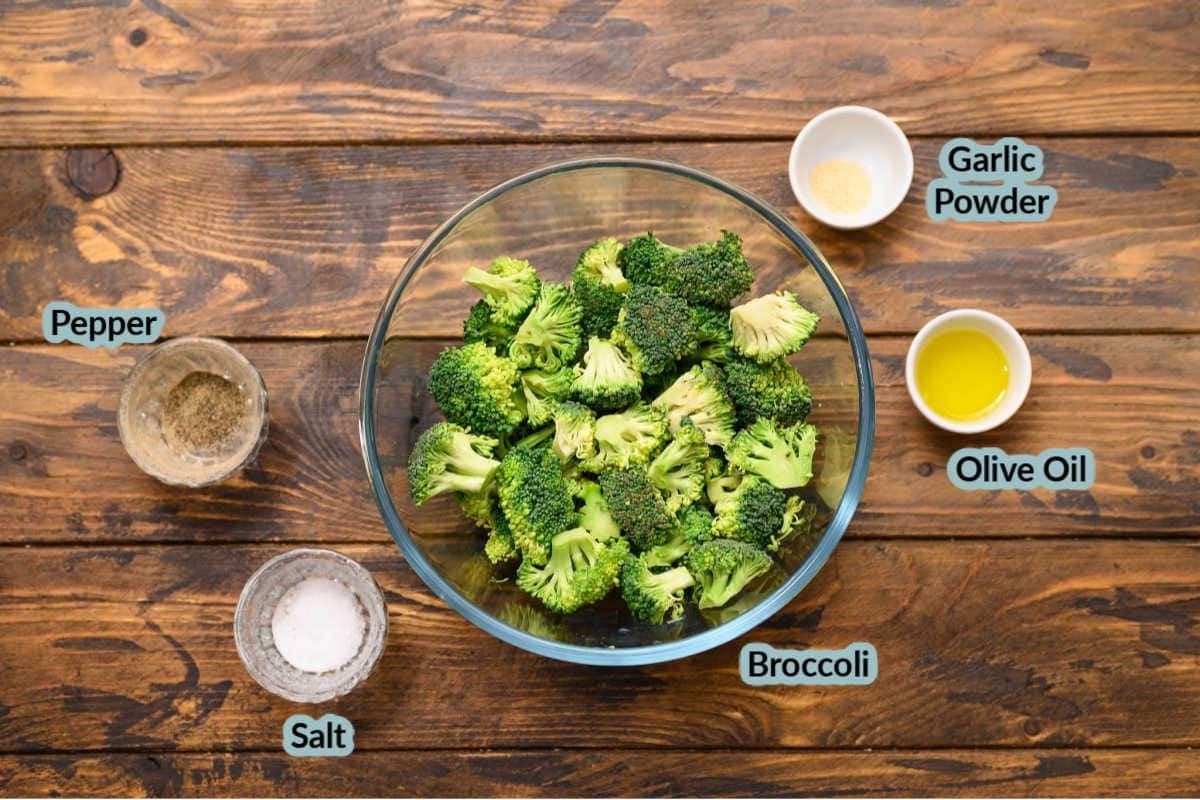 Air Fryer Broccoli Ingredients: Just 5!
Seasonings – A mixture of garlic powder, pepper and salt gives it the perfect light seasoning.
Olive Oil – Only one tsp is required! You get crispy, roasted broccoli with minimal oil in the air fryer.
Broccoli – Chop up florets or grab already prepared florets to make it really easy.
How to Air Fry Broccoli
Toss – To make it, the first thing you want to do is coat the broccoli in the oil, salt, pepper and garlic pepper
Air Fry – Place it in your air fryer basket and close it. Set the temperature to 390 degrees and cook it for 7 to 9 minutes.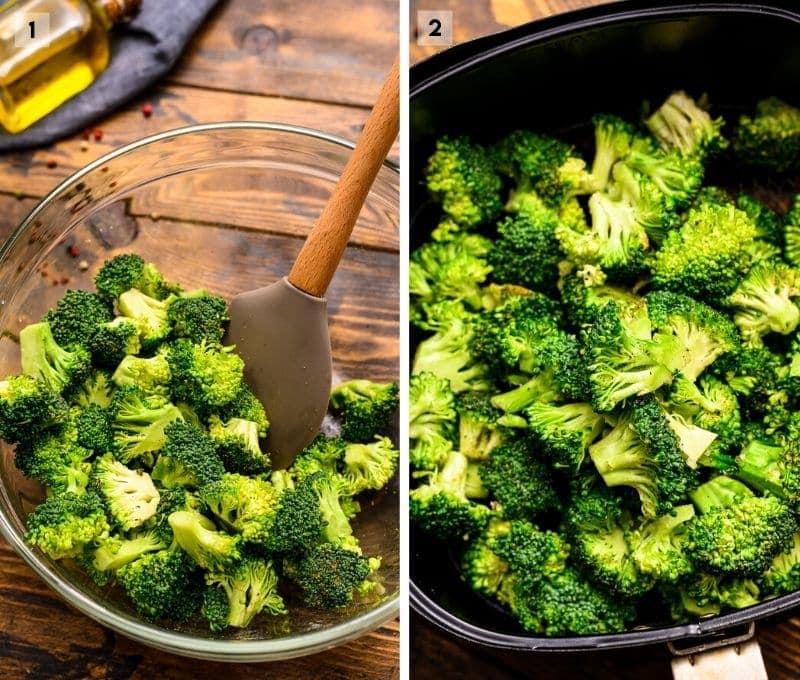 When it comes out of the air fryer it's so crispy and caramelized and so delicious!
How long does broccoli take in the air fryer?
When cooked in the air fryer at 390 degrees Fahrenheit, it takes 7-9 minutes to cook broccoli.
Broccoli in Air Fryer FAQ
Can I use frozen broccoli?
Yes! The water in frozen broccoli will also prevent the air fryer from smoking so that's an added benefit
How can I prevent the Air Fryer from smoking?
Add a tablespoon of water to the air fryer pan to help prevent it from smoking. This also keep your broccoli nice and moist.
How much can I put into my air fryer?
We recommend no more than 4 cups so the air can circulate around the broccoli and roast it. If you have to much it will steam the broccoli instead of roasting it in the air fryer.
How do I keep broccoli from burning in my air fryer?
Watch it closely. Always know how your air fryer cooks and adjust the temperature, checking it frequently. You can also add just a bit, about 1 Tablespoon of water, to the air fryer pan to help keep the broccoli tender and keep it from burning.
What does air fryer broccoli taste like?
The air fryer broccoli taste like it's roasted giving it a sweet, nutty and delicious flavor.
Do I preheat the air fryer when making broccoli?
No, there is no need to preheat your air fryer when you make this easy air fryer broccoli recipe.
Optional Mix Ins to Give it More Flavor!
I love it just as it is with salt, pepper and garlic powder, but you can definitely dress up your broccoli after it's cooked! Here are some ideas:
Squeeze some lemon juice over the top right before you serve it. Don't add too much – you don't want it soggy – but a couple squeezes is great.
Toss it with some grated Parmesan cheese.
Sprinkle some chopped fresh herbs over the top like chopped parsley, cilantro, or chives!
I usually only make enough for one meal because the leftovers will get soft as they sit in the refrigerator. They still taste good, but I like it best when it's hot and crispy from the air fryer!
This is such a delicious and healthy side dish and it goes with so many main dishes! Need some ideas? Pair it with some of these easy dinners:
You really can't go wrong with this easy recipe! Whenever I need a last-minute side dish Air Fryer Broccoli is my go-to!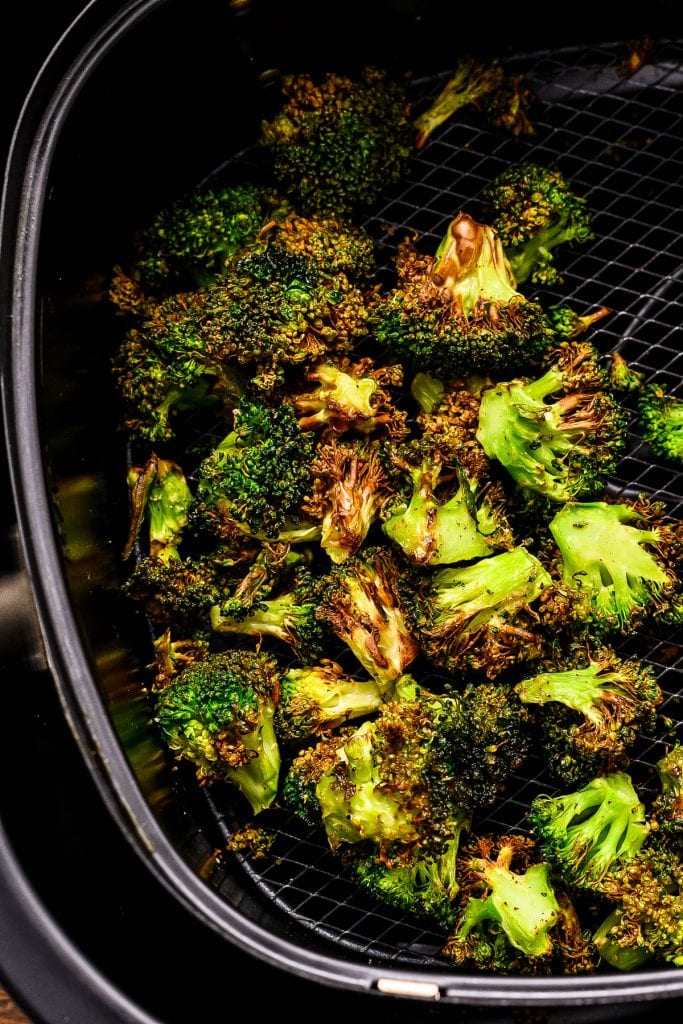 Storing and Reheating Air Fried Broccoli
Store leftover air fried broccoli in a shallow dish with an airtight cover. Store leftovers up to 5 days.
To reheat the leftover air fried broccoli place it back in the air fryer and cook it at 390 degrees Fahrenheit for 2-3 minutes until heated through. This will maintain the delicious crispy broccoli you want.
More Easy Side Dish Recipes
Once you try this broccoli be sure to check out some of my other side dish recipes!
More Recipes You'll Love!
Love it? Rate it, please!! A five-star rating will make my day!
Don't forget to tag me on Instagram @julieseatsandtreats or #julieseatsandtreats that way I'm sure to see your pictures!!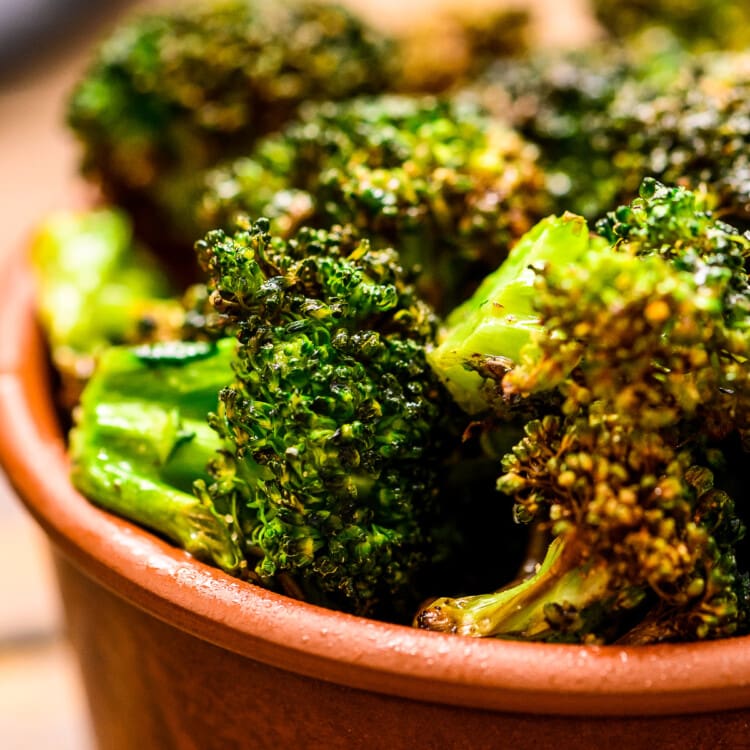 Air Fryer Broccoli Recipe
Perfectly roasted and seasoned broccoli made in your air fryer for a healthy and delicious side dish recipe!
Ingredients
4

c.

fresh broccoli

about 1 lb, trimmed into florets

1

Tbsp

olive oil

⅛

tsp

kosher salt

⅛

tsp

black pepper

⅛

tsp

garlic powder
Instructions
In a mixing bowl combine all ingredients. Toss until the broccoli is evenly coated.

Add the broccoli to the Air Fryer basket, then close and set to 390 degrees for 7-9 minutes or until it's to "roasted" level you prefer.
Tips
Store leftovers in airtight container in refrigerator for up to 3 days. 
Reheat in microwave in a microwave safe dish or oven on sheet pan.
Best enjoyed freshly made, leftovers tend to get soggy, but you could warm them up in the air fryer!
Ways to Dress it Up
Squeeze some lemon juice over the top right before you serve it. Don't add too much – you don't want it soggy – but a couple squeezes is great.
Toss it with some grated Parmesan cheese.
Sprinkle some chopped fresh herbs over the top like chopped parsley, cilantro, or chives!
Nutrition Information
Calories:
112
kcal
(6%)
,
Carbohydrates:
16
g
(5%)
,
Protein:
7
g
(14%)
,
Fat:
4
g
(6%)
,
Saturated Fat:
1
g
(6%)
,
Sodium:
151
mg
(7%)
,
Potassium:
748
mg
(21%)
,
Fiber:
6
g
(25%)
,
Sugar:
4
g
(4%)
,
Vitamin A:
1474
IU
(29%)
,
Vitamin C:
211
mg
(256%)
,
Calcium:
111
mg
(11%)
,
Iron:
2
mg
(11%)