Fall is here and I'm welcoming it with open arms. With fall comes apples at my house. My mom has a few apple trees so I usually end up with apple coming out of every surface of my body. That means I'm always on the hunt for new recipes along with the old goodies like Mom's Apple Crisp, Apple Bars with Caramel Frosting, Upside Down Caramel Apple Rolls and Speedy Cinnamon Rolls.
Hold up. Wait a minute. When I was searching the blog I found this recipe for Apple Peanut Butter Cookie and I had totally forgot about them! Man those might need to be made again this weekend….I have memories of peanut butter cookies that were super soft and melt in your mouth with a hint of apple. Yup now I know what I'm craving!
This new recipe I found is super amazing also. The recipe is for a 8×8 pan but please feel free to double it and put it in a 9×13 pan and share it with all your friends. Trust me they will kiss you! You wouldn't need to make the browned butter glaze but why not go all out and throw the diet out the window? I sure did!
P.S. I ordered Miss K's Halloween costume this morning. She's going to be so adorable, like she isn't all the time?! I have to admit when I found out last fall I was expecting I texted my husband multiple cute baby Halloween costumes with subjects as "Oh Cute!" "I can't wait to dress up Baby E" and I'm sure he was tired of it, but my dream came true and I get to do it this year!!!

MY LATEST VIDEOS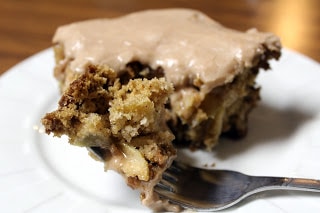 Apple Cake with Browned Butter Glaze
Printer Friendly Recipe
Ingredients 
1 1/4 c. all purpose flour
1 1/4 c. sugar
1 tsp cinnamon
3/4 tsp baking soda
3/4 tsp baking powder
1/4 tsp salt
1/4 tsp nutmeg
2 large granny smith apples, chopped (I left the skins on!)
1 c. chopped walnuts (optional)
1 tsp vanilla
Salted Browned Butter Cinnamon Glaze
2 Tbsp butter
2 c. powdered sugar
2-3 Tbsp milk
1 tsp cinnamon
1. Preheat your oven to 350 degrees. Grease an 8×8 baking dish with cooking spray.
2. Mix flour, sugar, cinnamon, baking soda, baking powder, salt and nutmeg together in a bowl with a whisk.
3. In a small bowl, whisk together the two eggs. Add to dry ingredients along with the apples, vanilla and walnuts. Mix until well combined. It will look really dry but keep mixing until it comes together. Pour the cake batter into the baking dish and baked for 45 minutes. Cool on wire rack.
4. Once the cake is cool make the glaze. Melt butter in a small saucepan (do not use nonstick, you need the lighter color to see the butter change colors!). Cook the butter on low heat until brown particles form on the bottom of the pan. Immediately take off heat when you see this, it will burn quickly! Pour into mixing bowl. Add powdered sugar and cinnamon. Beat in milk. Add more milk until it's the consistency you want!