Easy Apple Crisp Recipe + VIDEO
This quick and easy apple crisp recipe is full of juicy apples, cinnamon, sugar and the best part of all is the amazing oatmeal streusel on top! Grab your ice cream, warm apple crisp and dig into this easy dessert!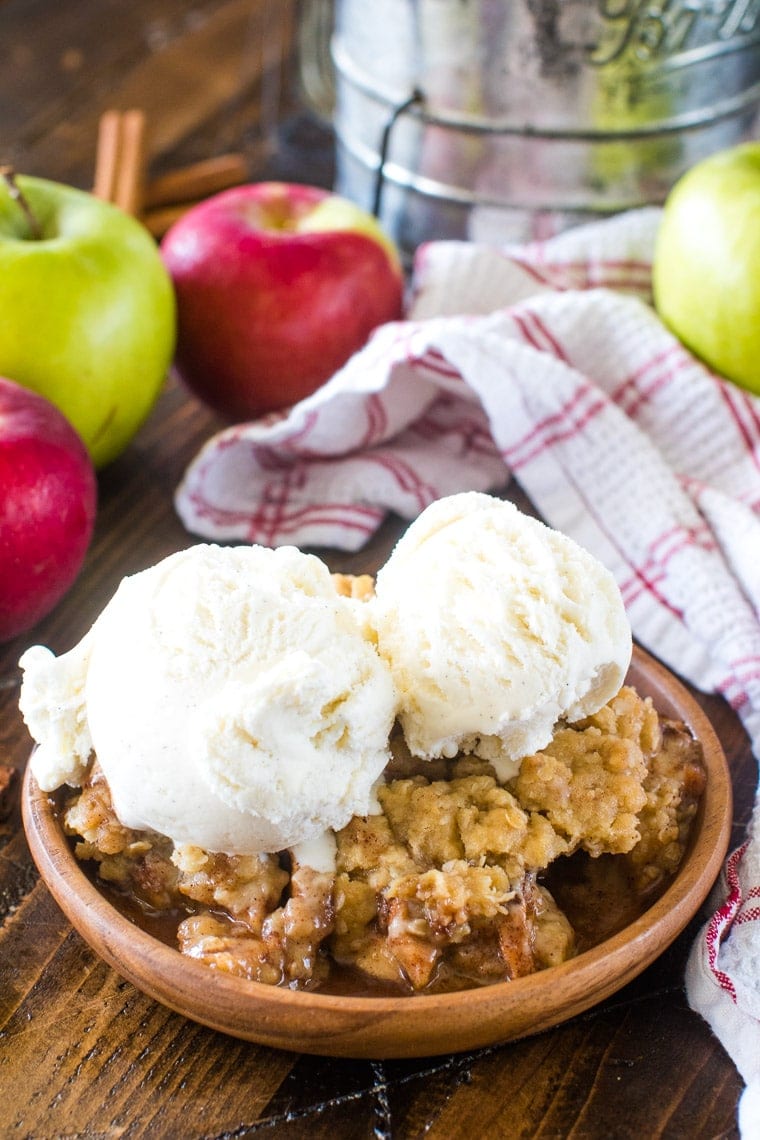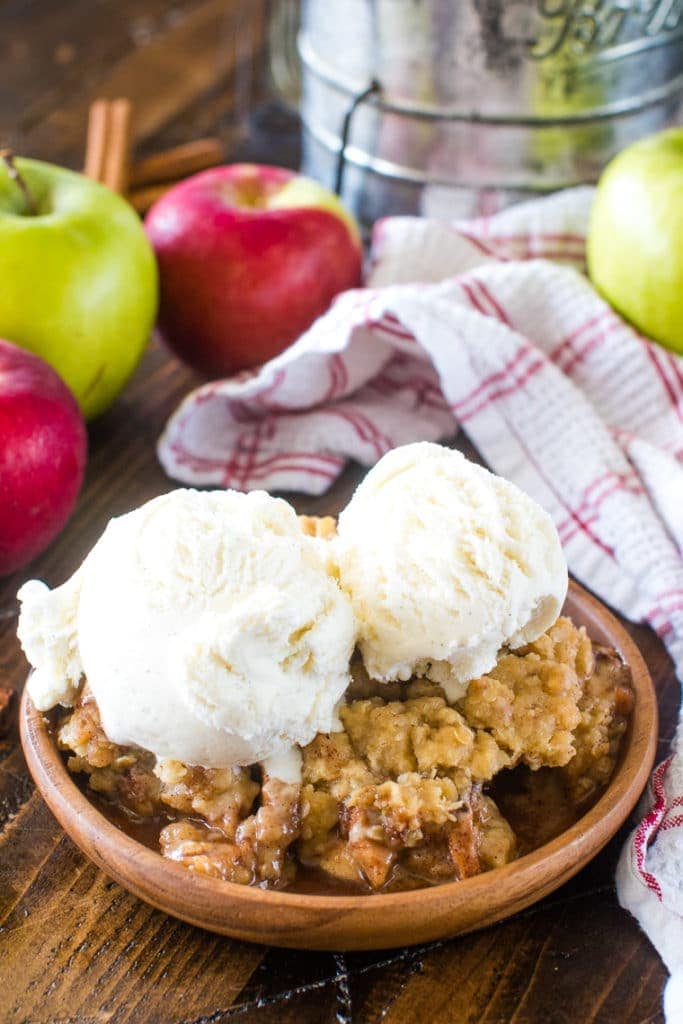 Apple Crisp
I love fall time! The brisk autumn air, crispy leaves and of course, apple desserts! My favorite is definitely this easy crisp recipe. My mom made this exact recipe when I was growing up with fresh apples from our apple tree on the farm. I remember coming into the house after school and smelling this delicious apple crisp and digging right in with a scoop of ice cream or whipped cream on top!
Shopping list for Easy Apple Crisp Recipe
Apples
Sugar
Cinnamon
Butter
Brown sugar
Flour
Oatmeal
Baking powder
I had a wonderful night tonight with an amazing friend. As you all know the hubby is once again gone and I like to stay busy through the week. I had tried to get together with my friend last week and it didn't work out so we picked tonight as the night.
She's a relatively new mom, and an absolutely amazing one if I do say myself, and her hubby is a farmer so she is home alone a lot so she can related to my being home also.
We thought it would be perfect to get together and entertain each other, plus then I get to hang out with her little man and he's so adorable! He's grown so much since I saw him last.
He's at the age where he's giggling and cooing and talking to you and makes you sound absolutely stupid by doing the same things back!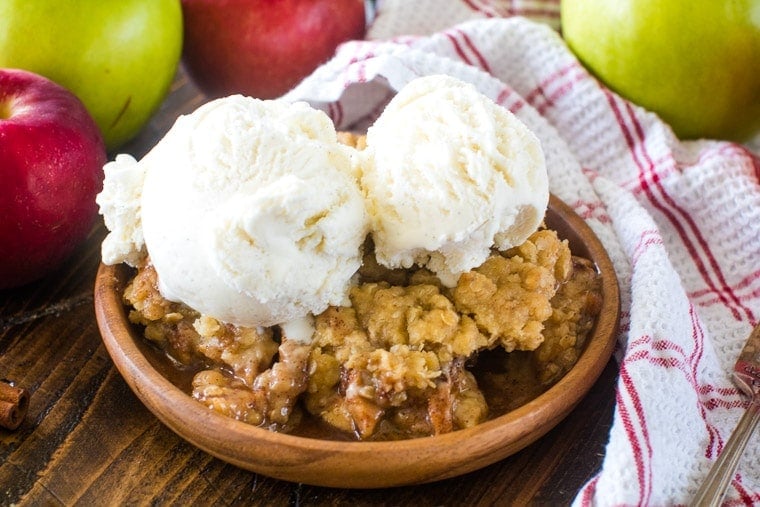 Easy Apple Crisp Recipe
Last night I whipped up Spasanga and had it already to go so all I had to do was stick it in the oven after work. Have you noticed this is one of my go to meals for everything? This time I split it into two 8×8 in pans and froze one of them because it makes a ton. I highly recommend this if you haven't tried it!
So I got home tonight and stuck that in the oven and was looking for something yummy to throw with it and a green salad and came up with Garlic Cheddar Biscuits. Oh man those were yummy plus they are low calorie (only 90 calories) and once again I only made half of the batch. Seriously you would never guess they were "healthified". I wonder why I don't make them more often? I better change that.
What is the difference between a cobbler and a crisp?
Crisp and Crumble: These are very similar. Some say a crisp doesn't have oats, some do – both are delicious, that's what I know! ?
Brown Betty: Uses a crumbly topping and often has the topping above and below the fruit – similar to a pie but made with a buttery crumble topping.
Cobbler: A cobbler is most often topped with a dough or biscuit topping and when it bakes up forms puffy golden pillows on top looking like a cobblestone street, hence the name cobbler!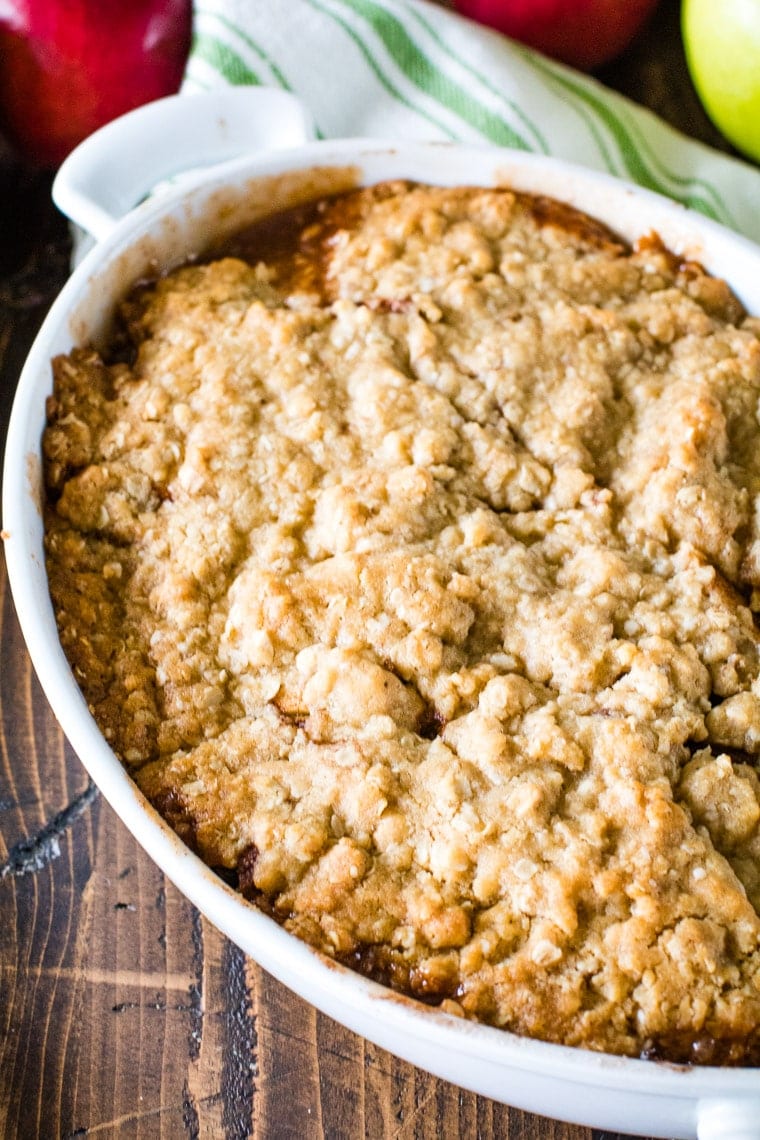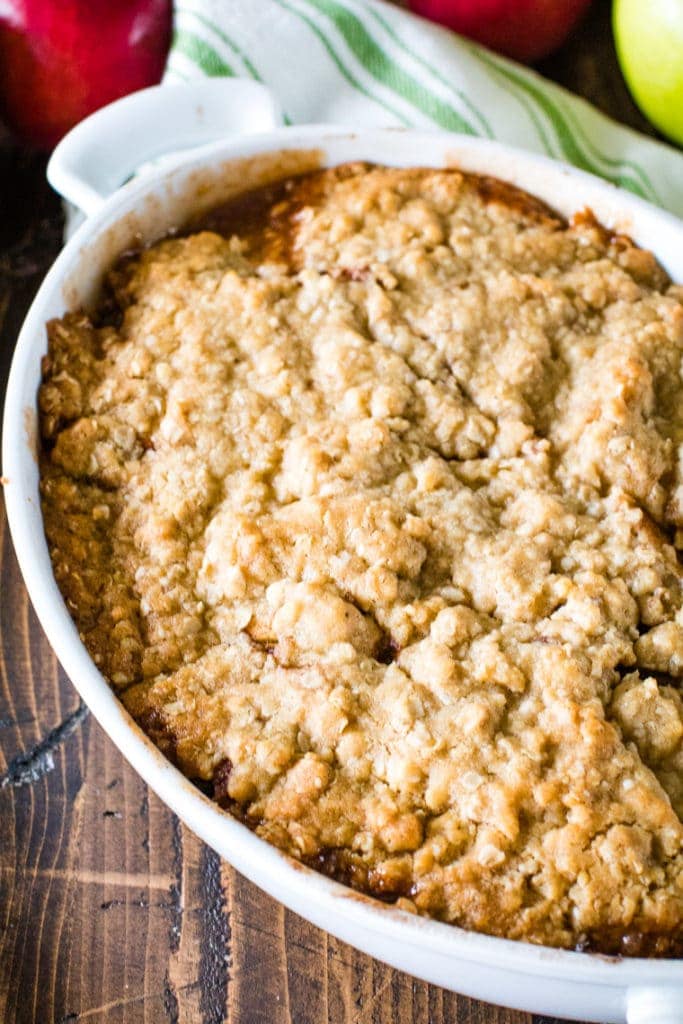 Easy Apple Crisp Recipe
After we ate supper we went on a nice relaxing walk mixed in with lots of gossip. I mean we are after all girls right? It was the perfect night for a walk. I thought wow this is an amazing night often throughout the walk. I had made this amazing crisp the night before so I stuck it in my oven which was still warm and when we got back it was all warmed up and perfect. Served with a scoop of ice cream and it was heaven.
How to make Crisp Topping
The crisp topping is so easy to make and frankly it's my favorite part, I love that crunch! All you'll need to do is combine the butter, brown sugar, flour, oatmeal and baking powder. Pat down on top of apples and sugar. How easy is that?
I've made Apple Pie before but, I'll be honest I have never made apple crisp before and I wonder why I haven't. It's not hard and I love it. I think it was because it was one of those treats that mom always made so I just let her continue to make it.
My friend said she was craving a crisp so I was more than happy to oblige after all I've been craving fall food and this screams fall to me!
If you are looking to make it even easier you've got to try this Instant Pot Apple Crisp!
How to make an Easy Apple Crisp Recipe
Peel, core and slice the apples.
Put sliced apples in a 9×13 pan.
Sprinkle sugar and cinnamon over the apples. Apply a liberal amount of cinnamon. This is one of the best parts!
Mix the remaining ingredients for the crispy topping. Pat down on top of apples and sugar.
Bake at 350 degrees for 40-45 minutes until bubbly and golden brown.
Watch below to see how easy it is to make this Apple Crisp!
If you enjoy watching these videos make sure you subscribe to my YouTube Channel to be notified each time a post a new video!
So if you are anxious to have some "fall" in your life go and make this apple crisp. You won't be disappointed after all it comes from "Mom's" recipe box! Enjoy!
More delicious easy Apple Crisp Recipes –
Fall is definitely the season for delicious desserts made with crispy fall apples! If you make a crisp please tag me on Instagram  @julieseatsandtreats or #julieseatsandtreats.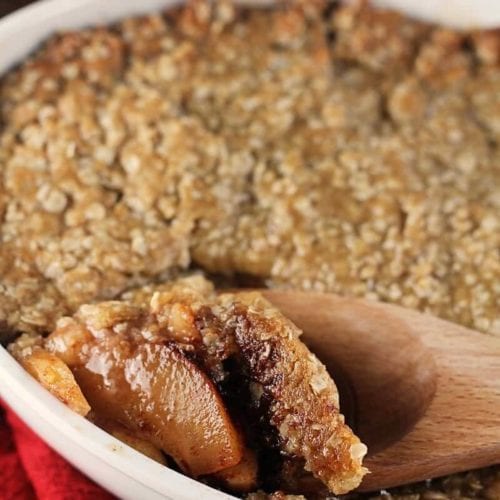 Apple Crisp
Traditional, Comforting Easy Apple Crisp Recipe Loaded with Apples, Cinnamon and Oatmeal!
Ingredients
8

c.

apples

peeled and thinly sliced

1

c.

sugar

1 -2

Tbsp

Cinnamon

1

c.

butter

melted

1

c.

brown sugar

1

c.

flour

1

c.

oatmeal

1

tsp

baking powder
Instructions
Put sliced apples on bottom of 9×13 in pan.

Sprinkle sugar and cinnamon over the top of the apples. Apply a liberal amount of cinnamon. This is one of the best parts!

Mix butter, brown sugar, flour, oatmeal and baking powder. Pat down on top of apples and sugar.

Bake at 350 degrees for 40-45 minutes
Nutrition
Serving:
1
g
Calories:
693
kcal
Carbohydrates:
118
g
Protein:
4
g
Fat:
25
g
Saturated Fat:
15
g
Cholesterol:
63
mg
Sodium:
224
mg
Potassium:
415
mg
Fiber:
7
g
Sugar:
82
g
Vitamin A:
865
IU
Vitamin C:
10.9
mg
Calcium:
90
mg
Iron:
2.3
mg