Apple Raisin Oatmeal Breakfast Cookies
These easy, one-bowl breakfast cookies are made with oatmeal, apples, raisins and almond butter for a healthy, vegan breakfast, perfect for busy mornings!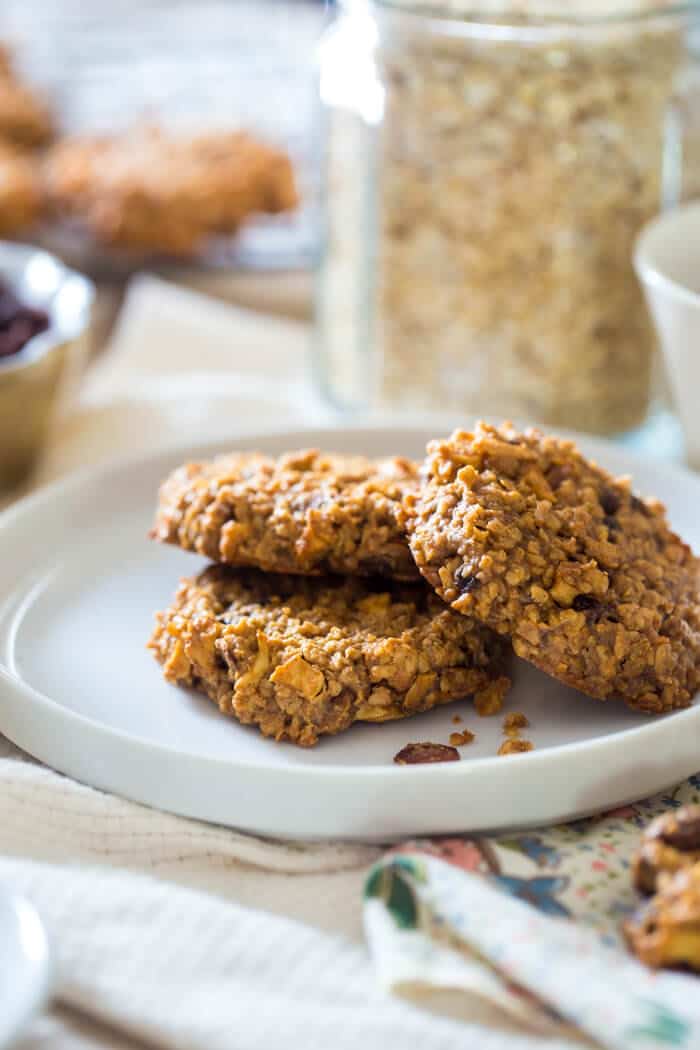 Oh, umm, HAI. Raise your hand if your mouf kinda <3's munching on cookies…FER BREAKFAST.
Yeah, basically the whole world just raised their hand. Except for a few unspeakable people. But, we just won't acknowledge them because WHO DOESN'T WANT COOKIES FOR BREAKFAST?
If you were to walk into my kitchen right NOW, you would probably see flecks of wholesome, delicious oatmealy goodness all over my floor because these cookies? I've been making batches of them LEFT, RIGHT, UP, DOWN, CENTER. Whatever direction, they've been MADE IT IN.
If you want to know the TROOF behind them, well, I actually sometimes maybe-okay-you-caught-me-cookie-handed-yes-I-do eat this FER DINNER. But, liiiiike, in the face of healthy cookies with crispy pieces of oats, chewy dried apples, raisins and sweet bursts of maple in every bite? The only option is to shovel them in your mouth all day long. And keep opening the Tupperware container your stored them in SO FAST that maybe your husband doesn't notice you sneakily ninja-ing a  few extra bites before he can even get to them.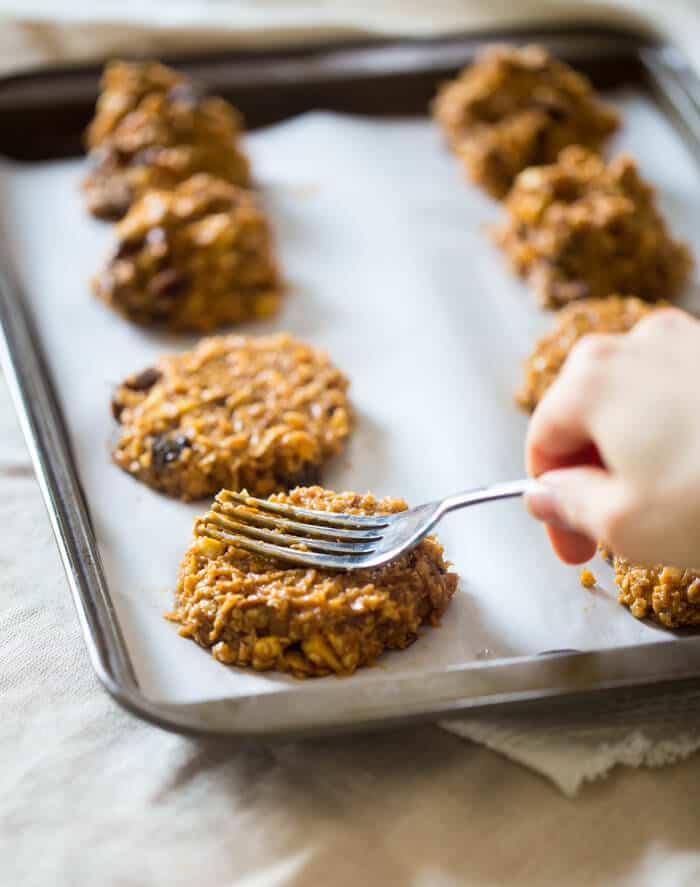 Maybe he just won't see the 5 half eaten, sort of crumbled ones tucked into the VERY back of the container. STOLEN COOKIE HIDING MODE: ENGAGED.
P.S Don't worry vegan friends, you are totally included in these cookie-all-day-party jams because, YOU CAN EAT THESE TOO. Yo applesauce, you make a great replacer for egg. Plus, you taste really delicious and fall-y and GAH…I'm just obsessing now.
Do you know what's even better than sinking your teeth into chewy bites of healthy carb energy to get your day started though? Aforementioned good-for-your-face-energy-packed-tastiness that is made in ONE BOWL. IE: You DO NOT have to unload the dishwasher 40 bazillion times just to get your sweet fixation. #winning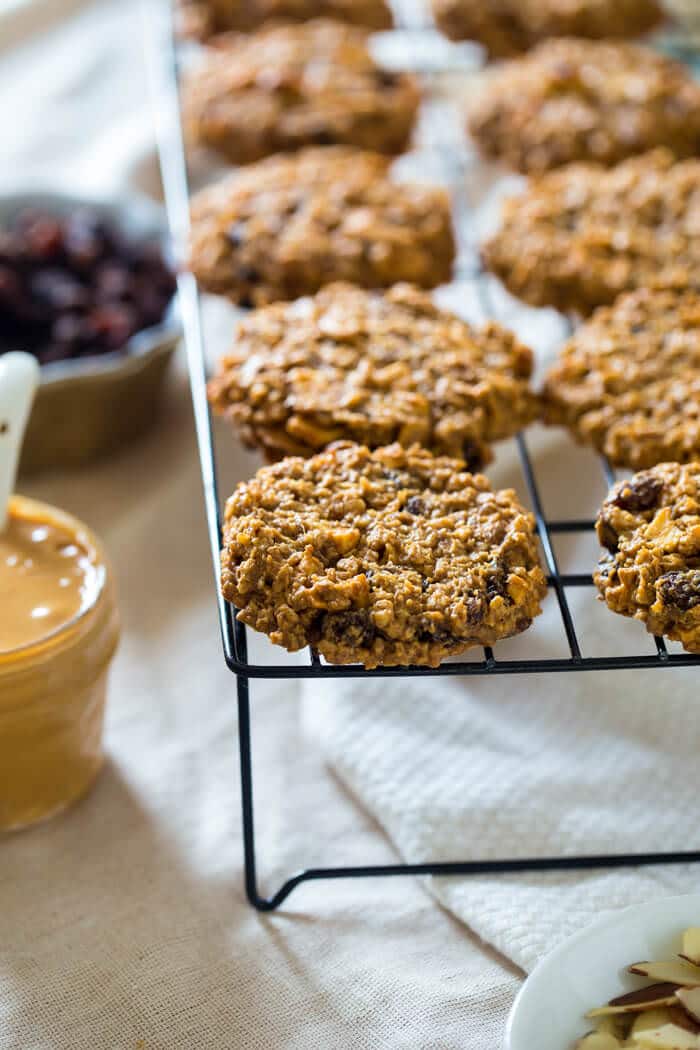 Let's just break it down for you, so you can TRULY see how easy it is to go from a sad person, with ZERO cookies in your hands, who's inner-soul weeps to be grabbing at cookies by the HANDFUL à A person who has more cookies than you can count. Because, realistically speaking, you should really just make 100 batches of them AT ONCE, due to the EZ-ness of them:
Step 1: Melt almond butter. Your microwave does this for you. Liiiike that means you did NO work.
Step 2: Add in ALL the ingredients to ONE bowl. Stir Stir Stir.
Step 3: Drop dough on pan and bake.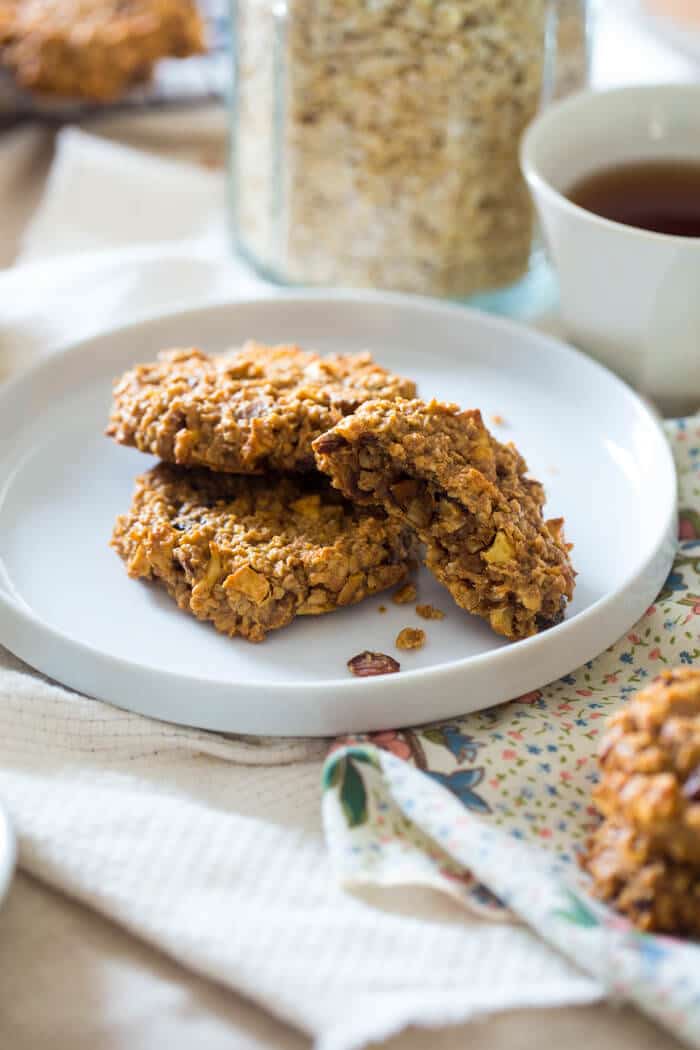 Step 4: MAKE IT RAIN COOKIES YO.
There might have been some toasty-roasting of the almonds. BUT, you could just be a smart cookie (see what I did there?) and buy pre-toasted almonds. #Champion.
I need to stop hash-tagging.
And you need to start your ovens.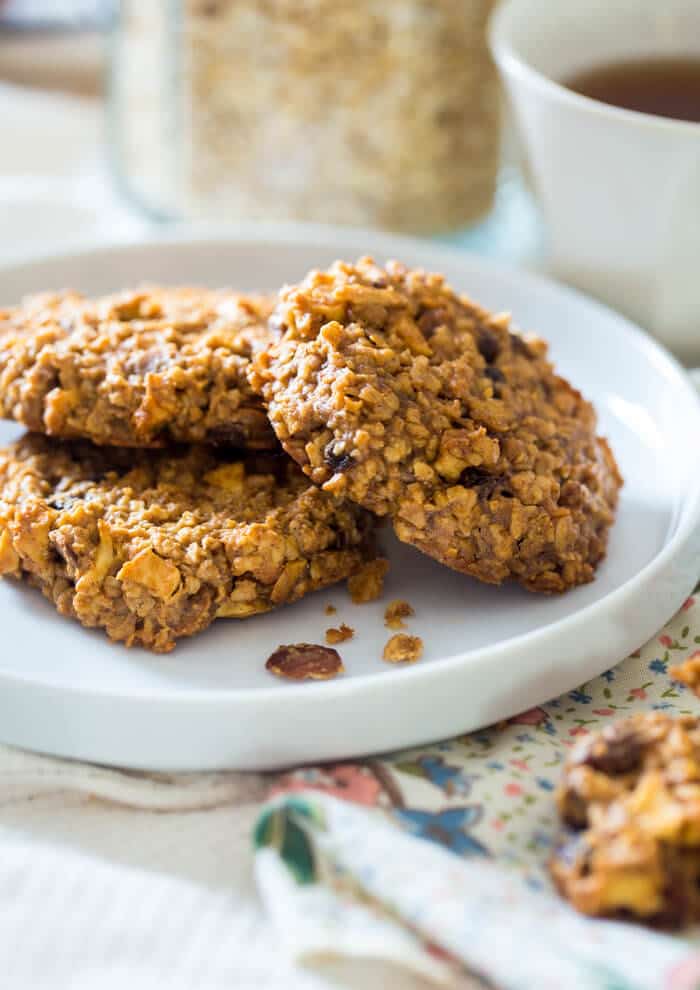 Uhmmm, like, YESTERDAY.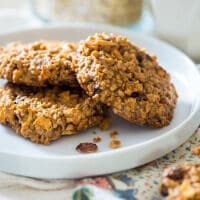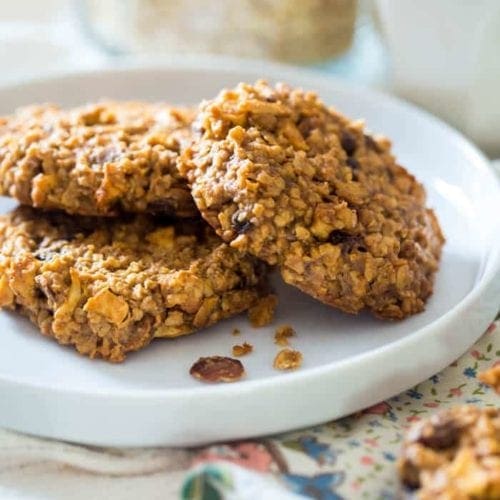 Apple Raisin Oatmeal Breakfast Cookies
These easy, one-bowl breakfast cookies are made with oatmeal, apples, raisins and almond butter for a healthy, vegan breakfast, perfect for busy mornings!
Print
Pin
Rate
Ingredients
¼

Cup

Sliced almonds

25g

½

Cup

Creamy almond butter

¼

Cup

Pure maple syrup

½

tsp

Vanilla extract

¼

Cup

Unsweetened apple sauce

1

Cup

Quick oats

90g (NOT rolled oats)

1 ¼

tsp

Cinnamon

¼

tsp

Ginger powder

¼

tsp

Salt

¼

Cup

raisins

30g

¼

Cup

Finely chopped dried apples

packed (22g)
Instructions
Preheat your oven to 400 degrees and line a cookie sheet with parchment paper. *

Spread the almonds onto the pan and place in the oven until lightly golden brown, about 2-3 minutes. They toast quickly, so keep an eye on them. Turn the oven temperature down to 325 degrees.

In a large bowl, whisk together the almond butter, maple syrup, vanilla extract and apple sauce until well combined and smooth. Add in the quick oats, cinnamon, ginger and salt and stir until well combined. Finely add in the raisins, chopped dried apples and toasted almonds. Stir until evenly mixed. Your dough will be quite sticky.

Drop the batter onto the prepared cookie sheet in 8 large balls. Use a fork to press the cookies down to about ¾ inch thick. Make sure to press the edge of the cookie together with the fork as well to keep them together while baking.

Bake until the edges are lightly golden brown and the cookies feel springy, about 22-23 minutes. Let cool COMPLETELY on the pan and then DEVOUR.
Notes
*Cookies sometimes crumble if you just use cooking spray, so be sure to line the pan with parchment.
Store cookies in an air-tight container in the refrigerator.
Nutrition
Calories:
204
kcal
|
Carbohydrates:
23
g
|
Protein:
5
g
|
Fat:
11
g
|
Sodium:
78
mg
|
Potassium:
254
mg
|
Fiber:
3
g
|
Sugar:
9
g
|
Vitamin C:
0.3
mg
|
Calcium:
84
mg
|
Iron:
1.3
mg
LEAVE A COMMENT
Things You May Need for this Recipe!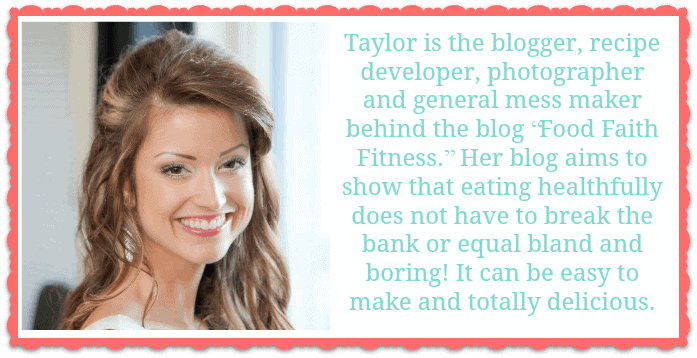 Connect with Taylor Here! 
Facebook ~ Twitter ~ Pinterest ~ Google + ~ Instagram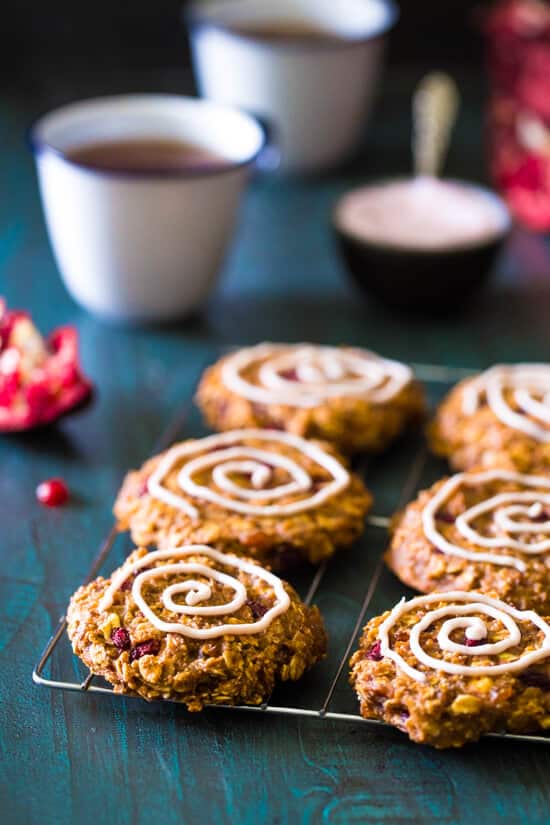 Banana Pomegranate Breakfast Cookies – These healthy breakfast cookies have no butter, oil or gluten! They're so quick and easy and made with  yogurt for an extra protein boost!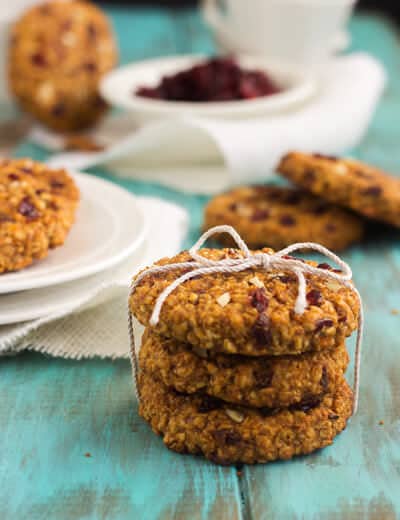 Cranberry Almond Breakfast Cookies – These quick and easy, healthy breakfast cookies are made with oatmeal, sweet potato, almond butter, and cranberries. Perfect for on the go!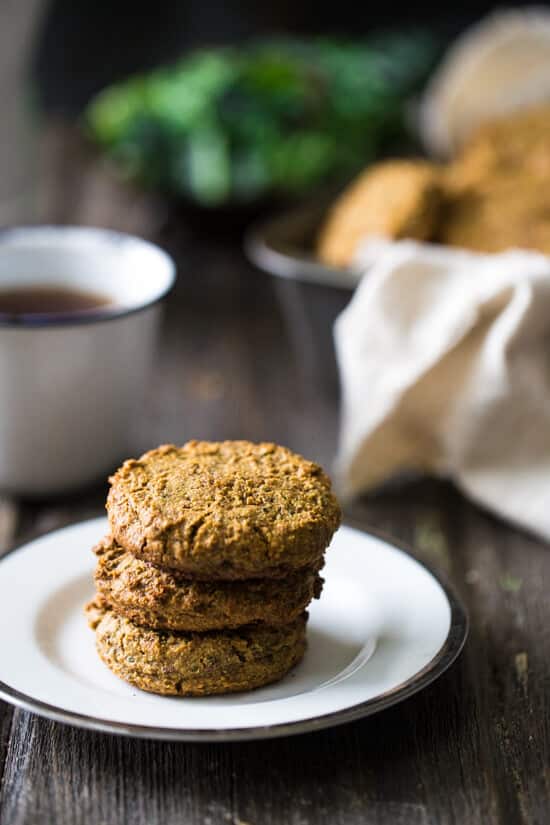 Paleo Breakfast Cookies with Kale – These Paleo Breakfast Cookies are made in the food processor for a quick, easy and healthy portable breakfast! You won't even know they have hidden veggies!