Easy Apples recipes that are perfect for any occasion. If you think apples are only meant for apple pies let us introduce you to so many more easy recipes that include apples! We have included recipes for breakfast, dinner and of course dessert!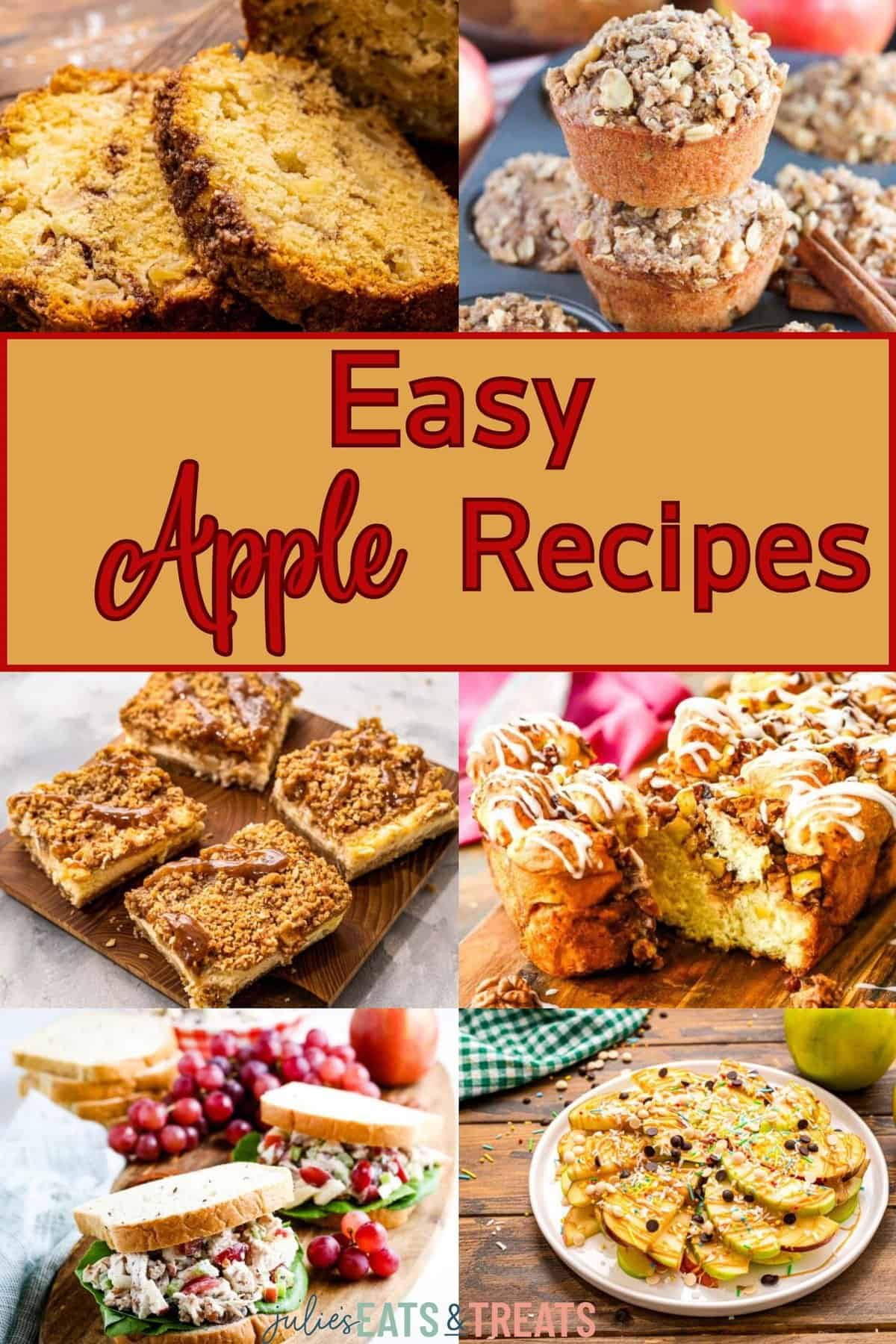 Discover the magic of apples and their ability to be formed into various incredible creations. From classic pies to modern twists on timeless favorites, this round up of easy apple recipes has it all. Trust me, there is a recipe for everyone in here. Even if you're not that big of an apple fan, you'll find something that will make you drool!
We'll guide you through step-by-step instructions that make these recipes perfect for both novice and seasoned cooks. Whether you're searching for a comforting dessert, a wholesome breakfast, or a delectable snack, our collection of easy recipes with apple will have you covered.
Breads & Muffins
Perfectly moist, packed with apple chunks, and crowned with a golden, buttery streusel, this easy apple recipe is here to turn your baking game up a notch.
Rise and Shine with Apple Muffins! 🍎 This is one of my favorite easy recipes with apple because they are perfect for any time of day and any occasion.
Moist, tender, and oh-so-delicious, this bread is the perfect fusion of health and indulgence.
Brace yourself for a flavor-packed adventure that's equal parts gooey, cinnamony, and utterly irresistible. You can make this as an easy apple dessert or serve it as a special breakfast treat.
You can choose to enjoy this moist bread on a cozy morning or as a delightful afternoon snack. Lovely to pair with a fresh cup of hot coffee!
This recipe turns your breakfast dreams into reality as it effortlessly combines the allure of a cozy French toast with the indulgence of caramel-drenched apples.
Set it and forget it with this delightful treat that transforms simple ingredients into a heavenly masterpiece. A lovely addition to this round up of easy apple recipes.
Apple Crisp, Cakes, Cookies, Bars & more!
Indulge in layers of decadence as velvety cheesecake meets the luscious charm of caramel-drenched apples. One of the most addictive easy apple recipes ever!
Whether it's a snack time craving or a cozy treat, these cookies are here to add a twist of magic to your day. 🌟🍎🍪
These granola bars are the perfect on-the-go snack, offering a satisfying chewiness that's balanced with a touch of crunch. Skip the store-bought bars and make your own!
Sizzle Up Sweetness with Grilled Caramel Apple Crisp! 🍏🔥 Such a fun easy apple dessert to make when the grill is fired up.
Brace yourself for the easiest, most indulgent dessert you've ever made. This caramel apple dump cake is so easy to throw together at a moments notice.
Indulge in the nostalgia of homemade apple pie without the fuss. Easy apple pie bars are a cozy fall treat that can be served anytime!
Combining the seasonal charm of apples with the zingy zing of cranberries. Top this apple cranberry crisp with the sweetest brown sugar cinnamon crumble and it will be impossible to resist!
Whether it's a celebration or a sweet escape, these bars bring together the comfort of home baking and the elegance of a bakery treat. One of most pretty easy apple recipes!
Turn up the flavor with Easy Apple Turnovers! 🍏🥐 I don't think I've ever met someone who'd turn down a turnover!
Instant Comfort: Cinnamon Apples Made Easy in the Instant Pot! 🍎🍂 Making easy apple desserts in your pressure cooker is a game changer.
Whether it's a snack time adventure or a fun dessert, these apple nachos are your ticket to a flavor fiesta that everyone will adore. Add to the list of easy recipes with apple that your kids love!
Immerse yourself in layers of indulgence with our extraordinary dessert creation. This cake has the perfect balance of creamy sweetness and warming spice, it's an amazing dessert!
Pies
Indulge in the ultimate comfort dessert with our delectable creation that combines the warmth of spiced apples with the crispy charm of a crumbly topping.
Embrace the heartwarming flavors of fall with our signature apple pie recipe. Everyone needs a tried and true apple pie recipe! This one has stood the test of time.
Our light version of applesauce embraces the natural flavors, making it a guilt-free indulgence that's perfect for snacking or as a versatile ingredient. Easy apple recipes don't always have to be sugary sweet!
Discover the magic of effortless cooking with our wholesome recipe that transforms humble apples into a gourmet delight. A set and forget recipe that lacks nothing in decadent flavors.
Beverages
Embrace the essence of the season with our heartwarming apple cider recipe. A beverage that everyone will enjoy!
Elevate your cider experience with a touch of sophistication and a splash of spirit. Perfect for your parties without the kiddos!
Whether you're craving a warm mug on a chilly evening or a delightful base for creative cocktails, this Instant Pot apple cider is your express ticket to autumn bliss.
Meals & Salads
Imagine the classic candy bar transformed into a delightful salad, where crisp apples and creamy whipped topping embrace chunks of Snickers bars. Sounds incredible, right?
Whether it's a celebration or a comforting meal, this dish is your ticket to a symphony of taste and aroma. This is one of those easy apple recipes you didn't know you needed.
Our recipe is a versatile delight, perfect for a light lunch, a satisfying dinner, or even as a crowd-pleasing addition to gatherings.