Asian Steak Kebabs ~ Tender, Juicy Steak Bites in a Delicious Asian Marinade! The Perfect Quick & Easy Recipe to Fire Up the Grill With!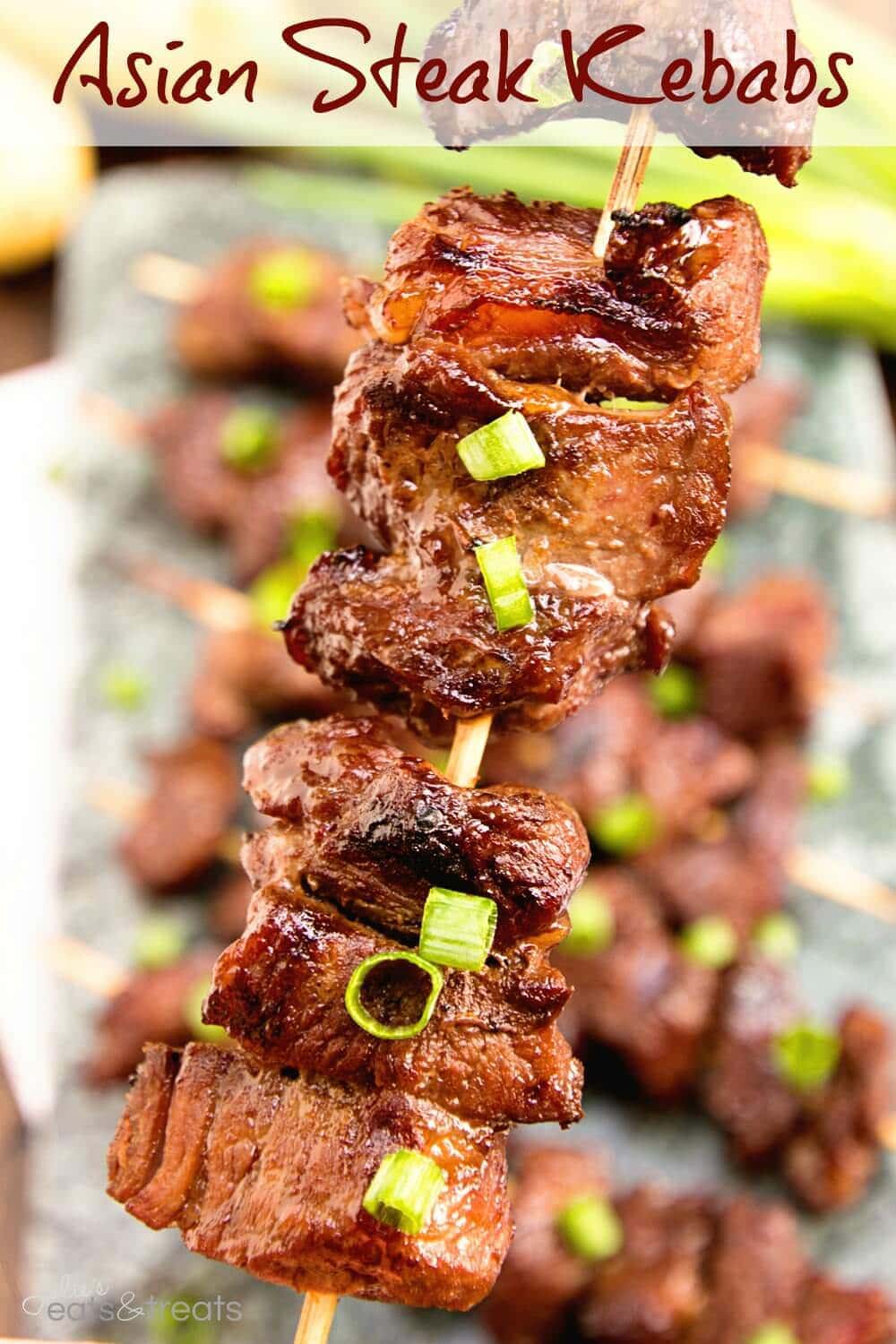 After 30 years one would think I would learn a few basic things in life. One of those things would be apply sunscreen in the summer when going outside. Especially during peak hours of the day where the sun is at the highest and the likelihood of getting scorched is high. I'm a great Momma. I apply that sun block on my kids like it's my religion. Why do I get so careless when it comes to taking care of myself sometimes? For example I am sporting some bright red areas on my body right now. Are my kids? Nope not a chance. In my mind I was only going to be sitting in that chair for about 30 minutes and it was already halfway through the summer so I had to have a base tan by now. I've been out in the sun at the lake for hours not that I have a great tan but I hadn't got burnt at all either. Why would today be any different?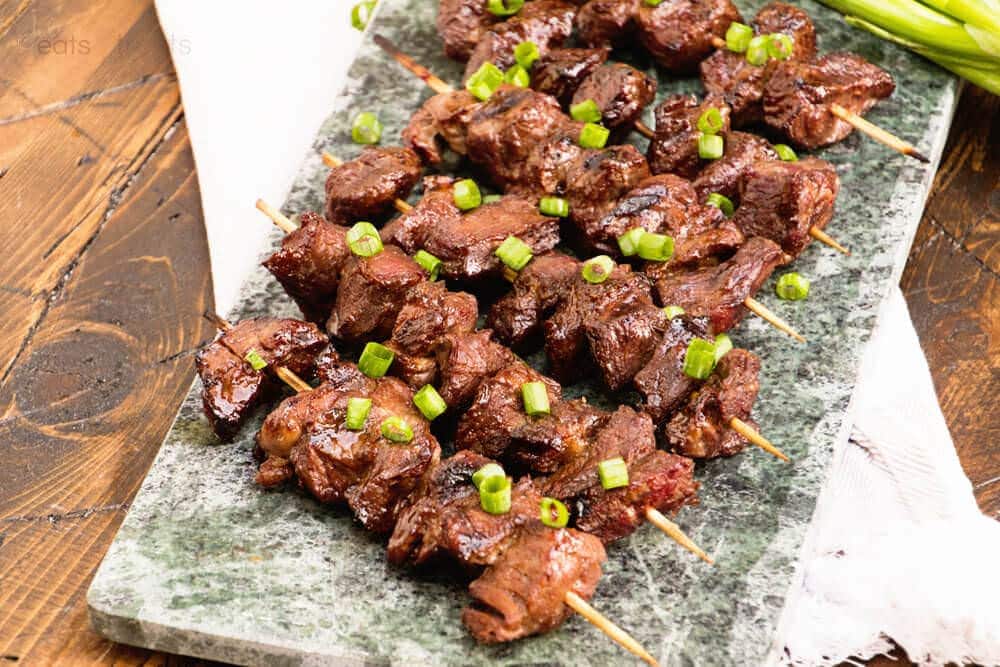 While I was enjoying the last pages of my book I couldn't put down while my two kiddos napped inside apparently the sun was enjoying my skin. Burning it to death. Tomorrow is going to be painful that's all I have to say. My chest looks like a tomato and parts of my legs don't look so great either. Ugh. Someone slap me upside the head next time I don't think to lather myself in sunscreen!
In different news. We made a quick trip to the cabin to mow the law on Saturday night and stayed the night to relax the next day. I'm not going to lie I was kind of annoyed that we had to head up there because it was for less than 24 hours not that it's a far drive, just over a half hour, but I still had to pack everyone up and get us there! I am now wondering why I dreaded it. It was so great and relaxing. I finished two magazines and the last pages of a book I was reading. That never happens! I was so excited to be able to do this. Seriously. Awesome.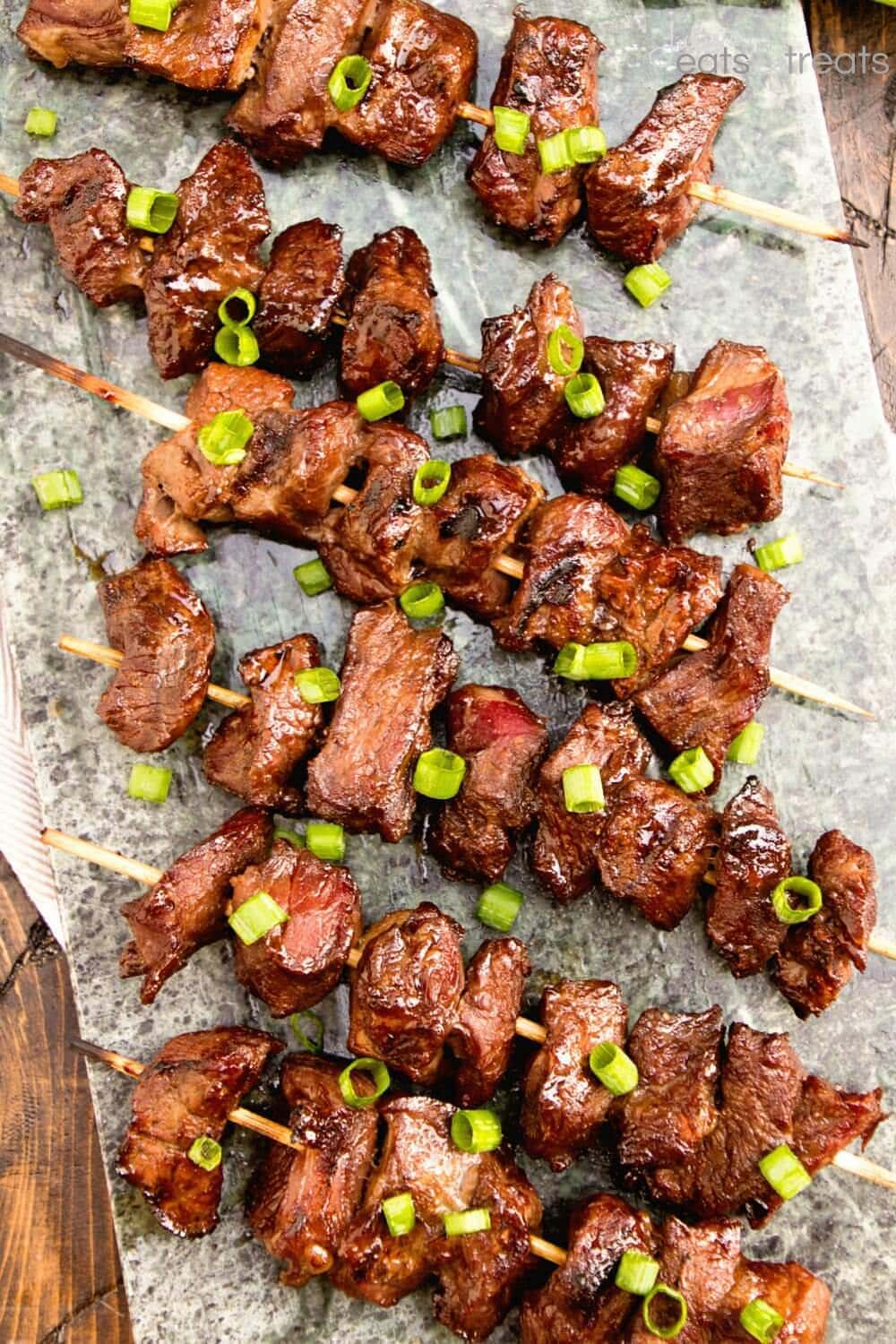 One of my other favorite things to do while at the cabin is grill. I have finally embraced grilling and I love it! As many of you might have caught on with all the kebabs and foil packets etc. on the here this summer! These Asian Steak Kebabs are amazing. I love steak but for some reason I like it better when it's bite size. I don't have to cut it while trying to eat and it seems to be more tender or something. I love, love, love steak kebabs.
Another one of my favorites are these quick and easy Balsamic Steak Skewers! Be sure to try Chicken Pineapple Kebabs, too. And if you're looking for a tasty side to go along with the amazing kabobs, serve it up with some Pork Stir Fry! Be sure to try Beef Lo Mein with Asparagus is a quick stir fry dish with thinly sliced steak, Ramen noodles and asparagus.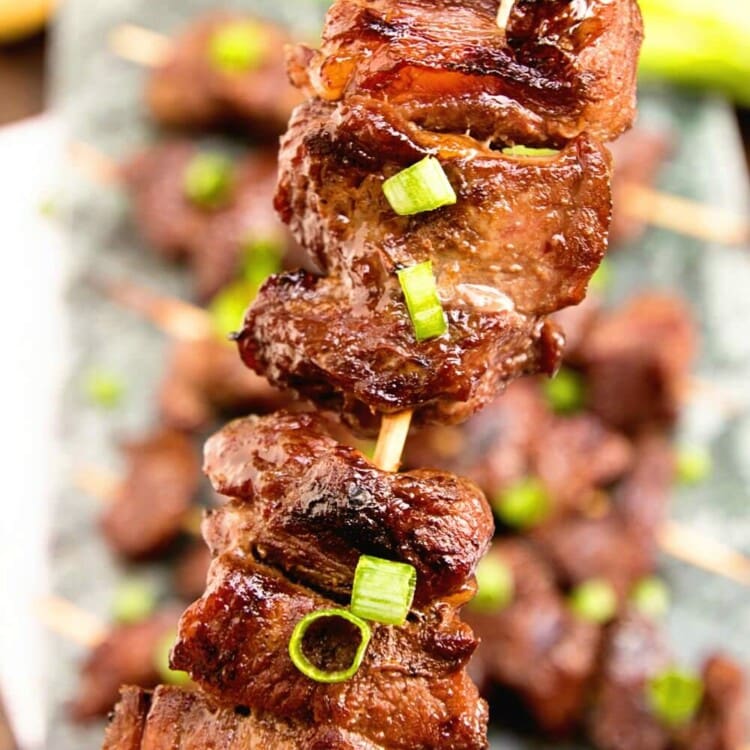 Asian Steak Kebabs
Asian Steak Kebabs ~ Tender, Juicy Steak Bites in a Delicious Asian Marinade! The Perfect Quick & Easy Recipe to Fire Up the Grill With!
Ingredients
2

lbs

steak

cut into 1 in. cubes

2

Tbsp

honey

1/4

c.

soy sauce

1/4

tsp

ground ginger

1/2

tsp

garlic powder
Instructions
In a large bowl whisk together all ingredients except steak. Marinate steak in marinade, tossing to coat for at least 2 hours.

Thread steak on eight metal or soaked wood skewers. Using a long-handled tongs rub a paper towel that's been moistened with cooking oil over grill grates to lightly coat them.

Place skewers on grill over medium heat, cover grill and grill until beef reaches desired doneness. Or broil about 4 inches from heat for 6-9 minutes. Turn occasionally while grilling.
Nutrition Information
Serving:
1
,
Calories:
257
kcal
(13%)
,
Carbohydrates:
4
g
(1%)
,
Protein:
23
g
(46%)
,
Fat:
16
g
(25%)
,
Saturated Fat:
7
g
(44%)
,
Cholesterol:
69
mg
(23%)
,
Sodium:
472
mg
(21%)
,
Potassium:
319
mg
(9%)
,
Sugar:
4
g
(4%)
,
Vitamin A:
15
IU
,
Calcium:
9
mg
(1%)
,
Iron:
2.1
mg
(12%)