It's been awhile since I posted a main entree so here it is! I'm a big sucker for anything Mexican. I've been meaning to try Chimichangas for a while but have never done it. These are great because they are baked instead of deep fried, which I refuse to buy a deep fryer. I'm not a health freak but I figure that is one thing I can live without!
These little babies get nice and crunchy on the outside from the fact you use butter on the shell before you bake them. The hubby once again gave them rave reviews. Watch out they are very filling so don't eat to many!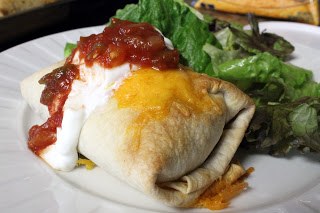 Ingredients
2 lb ground beef
2 packages taco seasoning
1 1/2 c. water
1 1/2 tsp ground cumin
1 tsp dried oregano
1 can (7 oz) green chiles, chopped
3/4 c. sour cream
3/4 c. shredded cheddar cheese
6 Tbsp melted butter
8 flour tortillas
1/2 c. shredded cheddar cheese
Garnish: Tomatoes, Lettuce, Cheese, Guacamole, Salsa, Sour Cream
1. Preheat oven to 450 degrees.
2. Saute beef until cooked through. Drain grease. Add water and taco seasoning, stir. Cook over medium low heat until liquid has reduced by 2/3.
3. Add cumin, oregano and chiles. Simmer until the rest of the liquid has evaporated. Remove from heat and let cool 5 minutes. Stir in sour cream and 3/4 c. cheddar cheese.
4. Lay tortillas on wax paper and brush both sides with the melted butter. Spoon 1/8 of the filling into center of tortilla and fold like and envelope.
5. Put tortillas, seam side down on a non-stick sheet pan. Do not let them touch. Baked 20-25 minutes or until golden and crisp. Sprinkle with cheese and return to oven to melt. Serve with garnishes.
Shared on the following sites – Please give them a visit!