Simple, easy baked meatballs that are full of flavor and so tender! These meatballs have a crusty outside and are juicy on the inside. Toss them with spaghetti sauce for an easy spaghetti and meatballs dinner or eat them alone. Either way is perfect!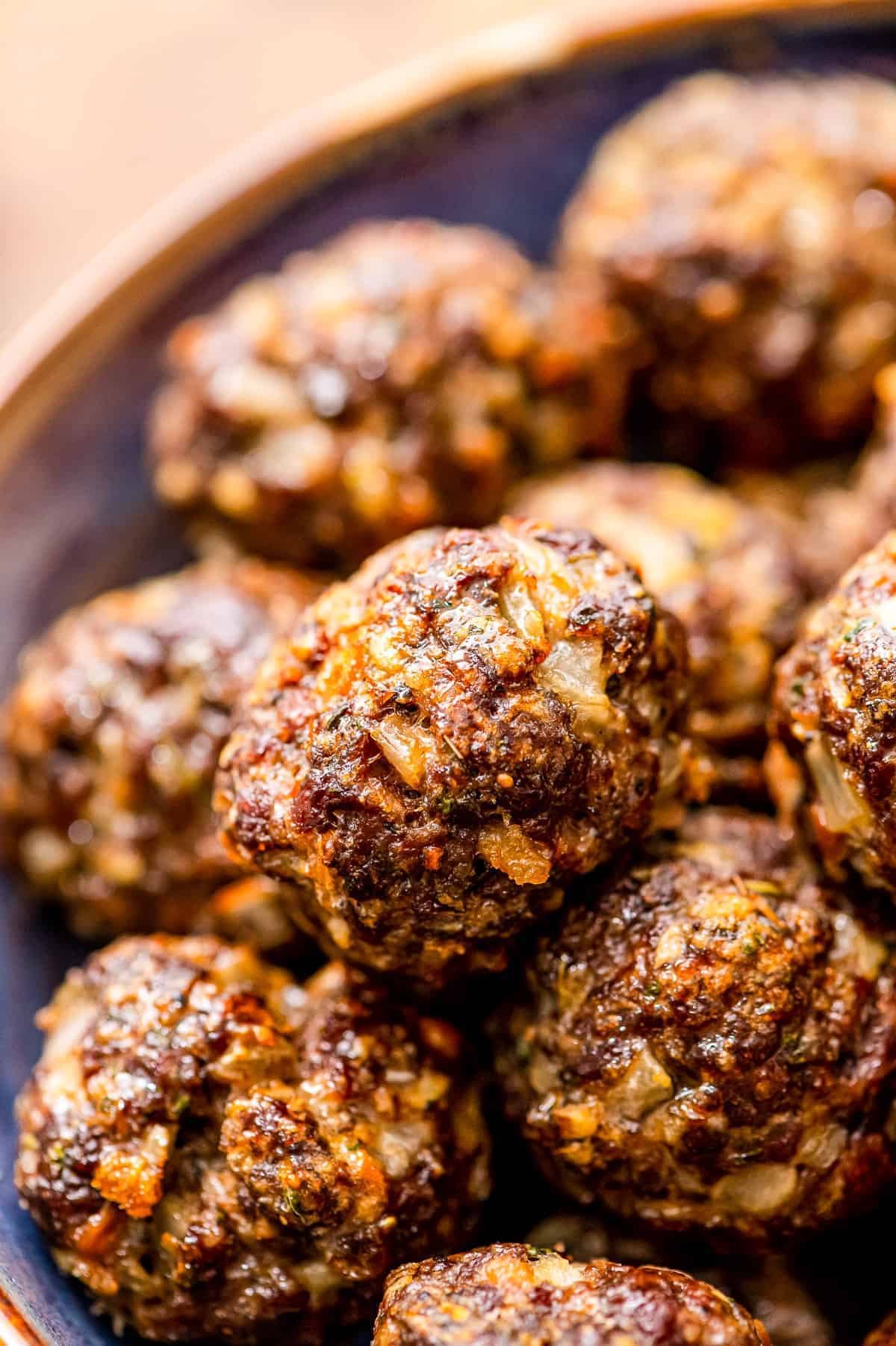 My favorite way to make homemade meatballs is to bake them because it's so much easier than cooking on the stove. Instead of frying them in a skillet on the stove in batches, I just bake them in a hot oven. They come out so tender and juicy with a delicious caramelized crust, but with a lot less effort and oil.
We love these with pasta and sauce, but there are so many ways to use them – you can serve them all on their own with a side dish or use them to make meatball subs!
You can even make them ahead and freeze them for easy dinners when it's busy. So much more flavor than frozen meatballs from the grocery store!
Why This Recipe Works
They are baked instead of fried for easy clean-up!
Meatballs in the oven are a lot easier because you cook them all at the same time – no standing at the stove, cooking them in batches.
They are made with simple ingredients and are so tender, juicy, and full of flavor!
Baked Italian meatballs pair with many side dishes, so this is a recipe you can add to your rotation and never have it the same way twice.
Once you make meatballs in the oven, you'll never go back to the stovetop method again. You're going to love them!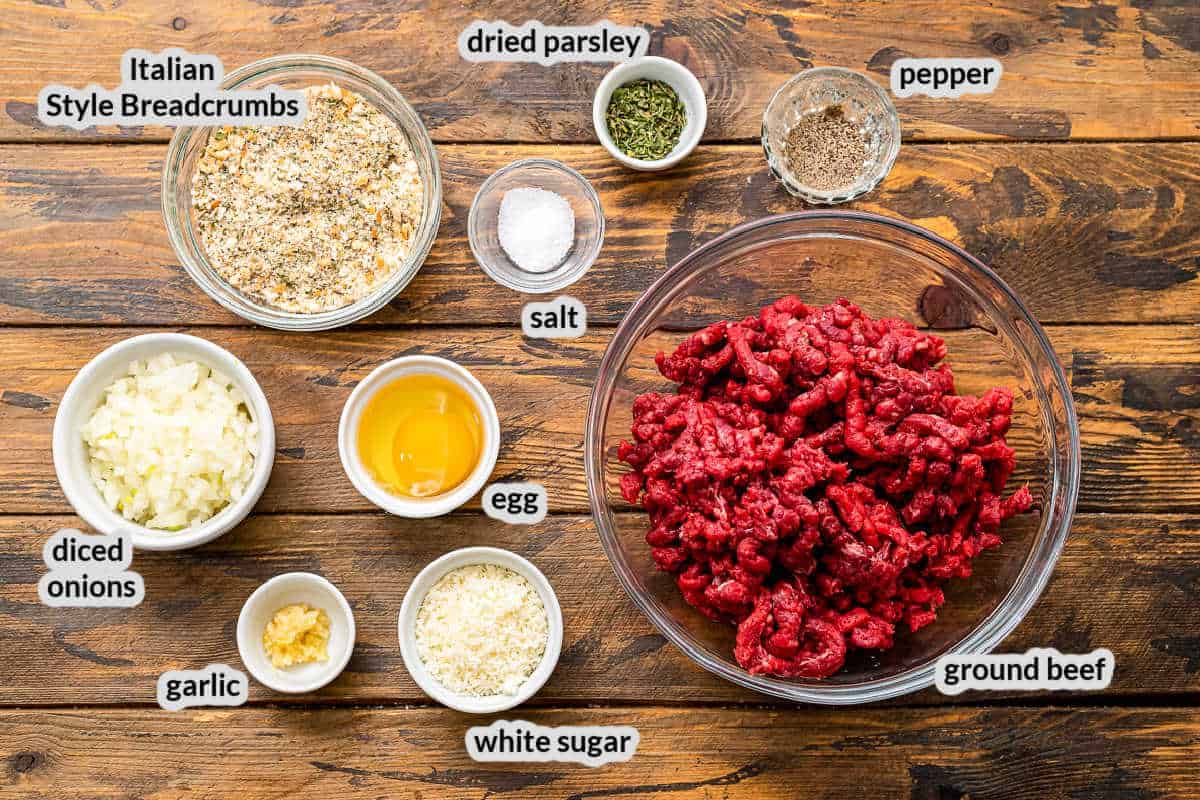 Ingredient Notes
Meat: This is a beef meatball recipe, but you could substitute ground turkey, pork, or even ground chicken. Just keep in mind that if you use a lean meat the meatballs can dry out easier because of less fat.
Binder: The egg in this recipe is what binds the meat together. Breadcrumbs also help with the texture making the meatballs soft and tender.
Flavor: These are Italian-style meatballs, so there are dried herbs, Parmesan cheese, garlic, and onion in the mix. Don't forget to add the salt and pepper, too!
How to Make Meatballs
Prep: Preheat your oven to 400°F and line a large baking sheet with aluminum foil.
Mix: Combine all of the ingredients in a large bowl. You can mix with a spoon, but the easiest way is to use your hands. You want to mix just until the ingredients are incorporated.
Roll: Shape the mixture into 1" balls and place each of them on the baking sheet.
Bake: Place the baking sheet in the preheated oven and bake for 18 to 20 minutes or until the meatballs are 165°F.
Different Ways to Serve Them
There are lots of different ways to have these oven baked meatballs for dinner!
Recipe FAQs
Is it better to bake or fry meatballs?
Frying meatballs in oil creates a crust on the outside that adds a lot of flavor. You can also achieve this in the oven when you bake them at a higher temperature. So, either way is delicious! I prefer baking them because it's faster and not as messy.
How do you know when meatballs are done?
The easiest way to know when meatballs are done is to check the temperature with a meat thermometer. They should be 165°F in the center.

If you don't have a thermometer, you can always cut one in half. If it's cooked all the way through it won't be pink in the middle.
Is it better to bake meatballs or cook them in sauce?
You can cook meatballs in sauce without browning them, but you don't get the added flavor from browning them first. I think this really depends on personal preference – I like them to get that nice crust on the outside before adding them to tomato sauce. This also helps them hold together.

One thing you can do is bake them long enough to brown them on the outside and then finish cooking them in the sauce on the stove. That's the best of both worlds!
Can you overcook them?
Yes, you can definitely overcook meatballs! If they are cooked too long they will be dry and tough.
Can you make them ahead?
Yes, you can make and bake them ahead for easy dinners. Cooked meatballs will last for three to four days in the refrigerator. Or you can freeze them for several months.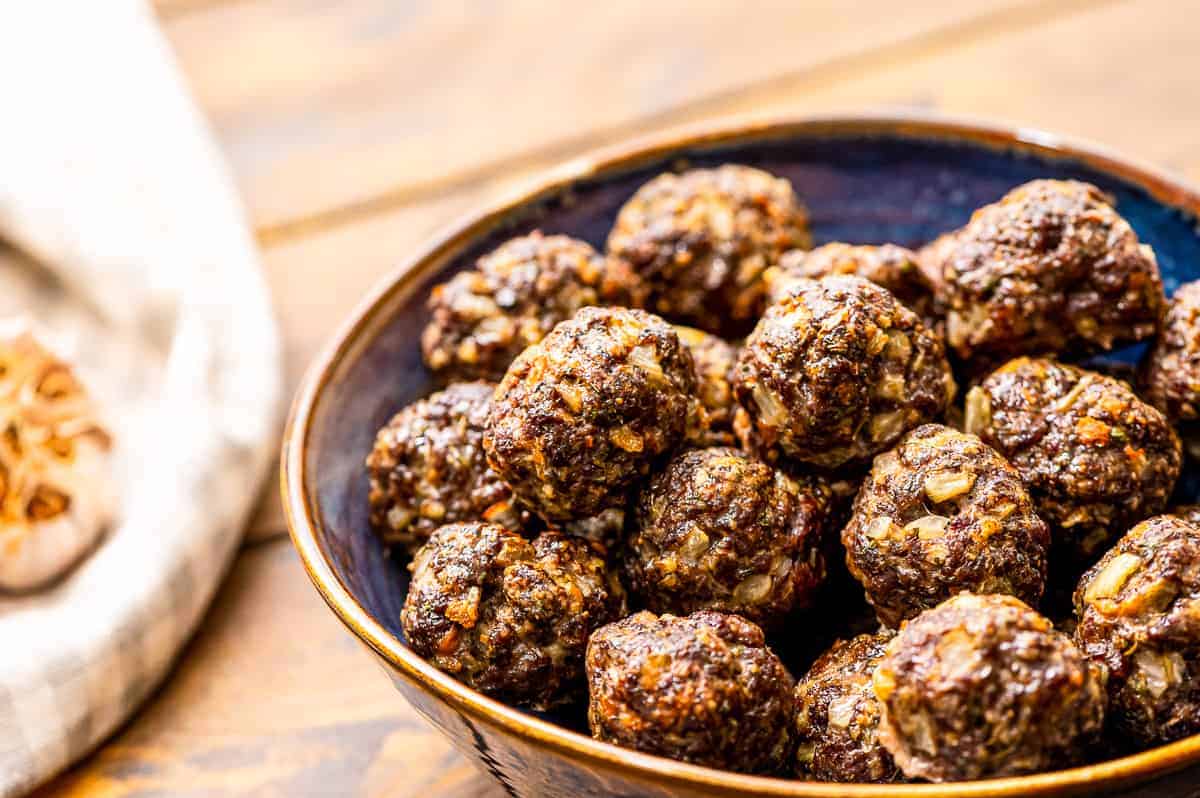 No matter how you choose to serve them, I think you're going to love this baked Italian meatballs recipe. They're so easy to make and so versatile you'll want to have them for dinner every week.
More Easy Ground Beef Recipes
Try it and love it? Rate it, please! Seriously though a five-star rating below will make my day!
If you snap a photo, please be sure to tag me on Instagram at @julieseatsandtreats or #julieseatsandtreats so I can see your delicious dinner!!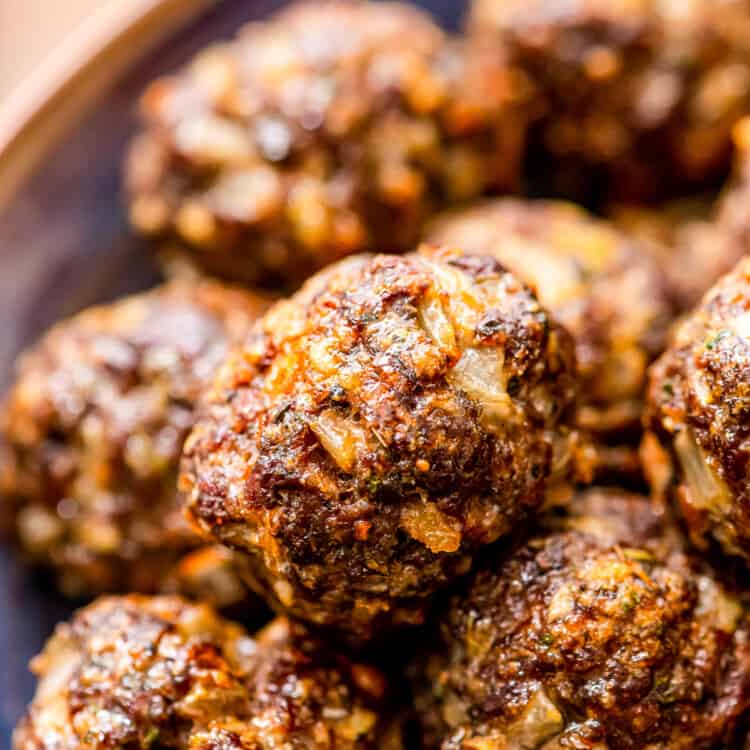 Baked Meatballs
Tender, juicy meatballs that are homemade that are an easy dinner recipe!
Ingredients
1 ½

lbs

ground beef

¾

c.

Italian style breadcrumbs

1

Tbsp

dried parsley flakes

1

tsp

minced garlic

½

c.

finely minced onion

1

egg

beaten

¼

c.

grated parmesan cheese

1

tsp

salt

¼

tsp

ground black pepper
Instructions
Preheat the oven to 400 degrees F. Line a large baking sheet with aluminum foil and set aside.

In a large mixing bowl combine the ground beef, breadcrumbs, parsley, garlic, onion, egg, parmesan cheese, salt and pepper. Mix until just combined.

Shape beef mixture into 1 inch meatballs and place on the prepared baking sheet.

Place the meatballs in the oven that's preheated to 400 degrees F. Bake for 18-20 minutes or until the internal temperature is 165 degrees F.
Tips
Can you make them ahead?
Yes, you can make and bake them ahead for easy dinners. Cooked meatballs will last for three to four days in the refrigerator. Or you can freeze them for several months.
Nutrition Information
Calories:
56
kcal
(3%)
,
Carbohydrates:
3
g
(1%)
,
Protein:
4
g
(8%)
,
Fat:
3
g
(5%)
,
Saturated Fat:
1
g
(6%)
,
Cholesterol:
15
mg
(5%)
,
Sodium:
112
mg
(5%)
,
Potassium:
60
mg
(2%)
,
Fiber:
1
g
(4%)
,
Sugar:
1
g
(1%)
,
Vitamin A:
17
IU
,
Vitamin C:
1
mg
(1%)
,
Calcium:
26
mg
(3%)
,
Iron:
1
mg
(6%)