Craving a classic and true comfort food? Meatballs and Gravy is a recipe that I always make when I'm craving comfort food. Large homemade meatballs with rice that are baked with a gravy sauce on them. It's a family recipe that I ate growing up and your family will love it too!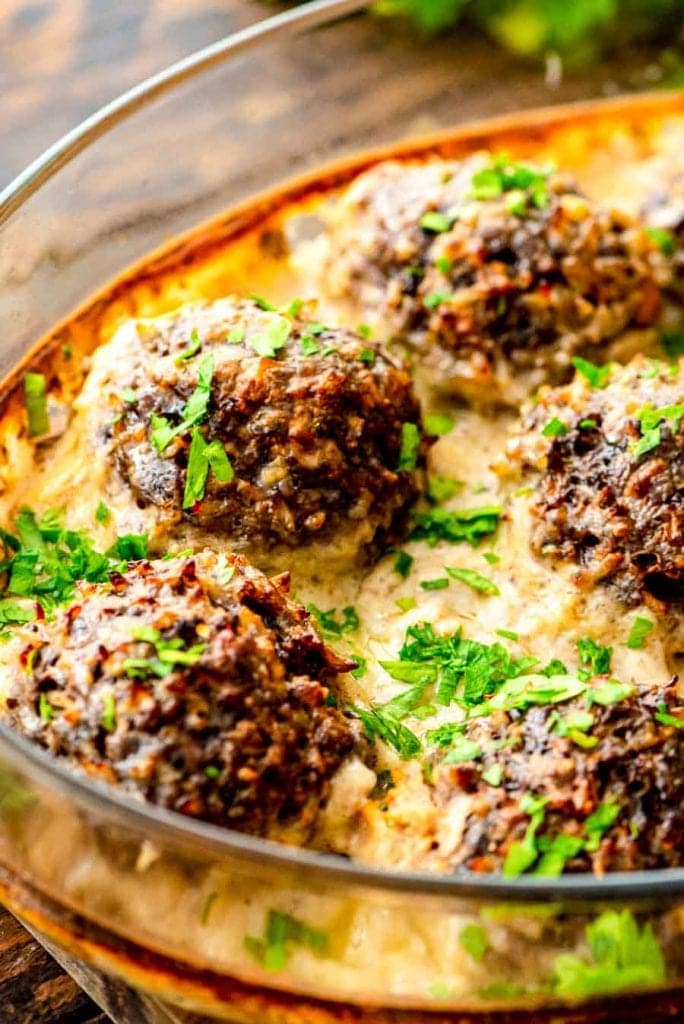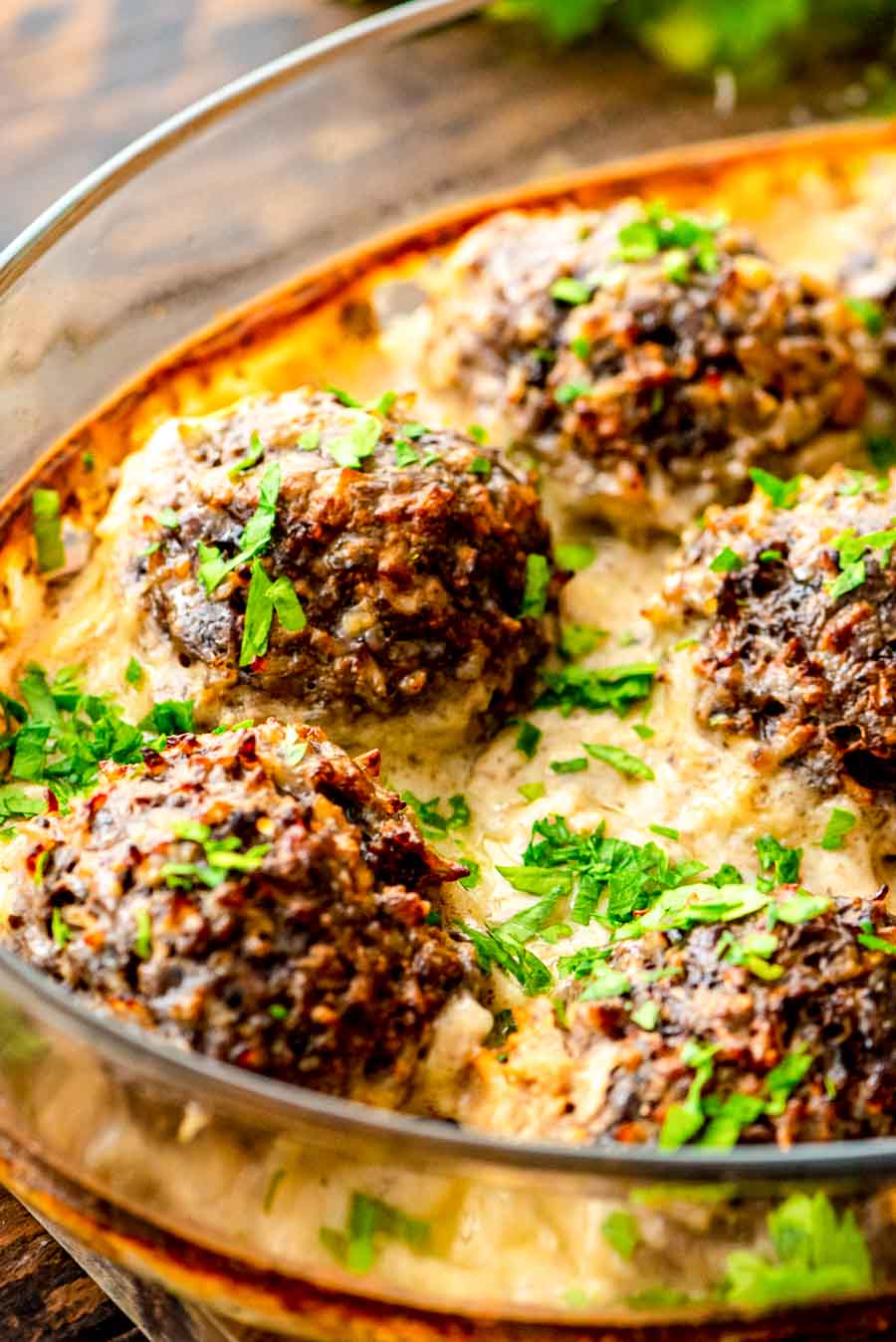 I love coming up with new recipes but I think my most favorite recipes are the ones passed down through my family. Don't you just love old family recipes? Bonus points if they're handwritten on a recipe card! So, I'm excited today because I've got a great one for you that's near and dear to my heart.
This Meatballs and Gravy recipe is one from my Aunt Pam that my mom made a lot when I was a kid. It's one of those easy recipes that uses mostly pantry ingredients, which I love. You guys know how much I love a good pantry dinner!
So, it's an oldie but goodie for sure and I pretty much make these meatballs for my family on repeat like my mom did for us growing up. It's right up there with my mom's Swedish meatball recipe, which is another family favorite I love to make. Can you ever have too many meatball recipes? I'm pretty sure the answer to that is: nope!
If you're craving a comforting dinner you have to try this recipe. For the ultimate meat and potatoes dinner, you should serve these Meatballs and Gravy over mashed potatoes. I like to pair those two with this easy Broccoli Casserole. Gah, just typing that has me craving them all over again!
They're so easy to make – you don't have to stand at the stove and brown meatballs, which means no splattering oil! Just mix, roll, and pop them in a baking dish with the rich and savory gravy. Once baked they come out the oven bubbling hot. My family loves this dinner – I think yours will, too!
Make the Meatballs
First step: meatballs! These meatballs are big and hearty and you only need a handful of ingredients to make them:
Eggs – This is the binder of the meatballs which holds them together.
Milk – It will keep those meatballs nice and moist.
Meat – We are using hamburger in this recipe, but if you want to change it up your could use turkey or pork or a combination. A heads up that turkey meat get a little dry and pork is going to be greasier.
Uncooked white rice – We use a white rice in this recipe. Please do not use instant rice because this will get mushy.
Spices & Seasonings – A simple mixture of salt, pepper and allspice to flavor the meatball mixture.
Breadcrumbs – I used a fine ground breadcrumbs for this recipe that was not flavored.
Have you ever made meatballs with rice mixed into the meat? It's a great way to bulk them up to make them stretch further. Sometimes meatballs with rice are called porcupine meatballs because the rice sort of sticks out once the meatballs are baked. You don't have to cook the rice first, as the meatballs bake the rice will cook inside of them!
Allspice is a secret ingredient in these meatballs. It's a spice that tastes like cinnamon, nutmeg, cloves and pepper all rolled into one spice. There's just a tiny amount (1/2 teaspoon) but it adds warmth and just a hint of flavor that will leave people wondering what the secret ingredient is!
Once you have your ingredients just mix and roll the meatballs:
I like to whisk the egg and milk first.
Add the hamburger, rice, salt, pepper, breadcrumbs and allspice.
Mix until the hamburger is combined with the other ingredients. You can use a spoon, but you can also use your hands if that's easier!
Roll the mixture into nine meatballs and place them in a 2-quart casserole dish.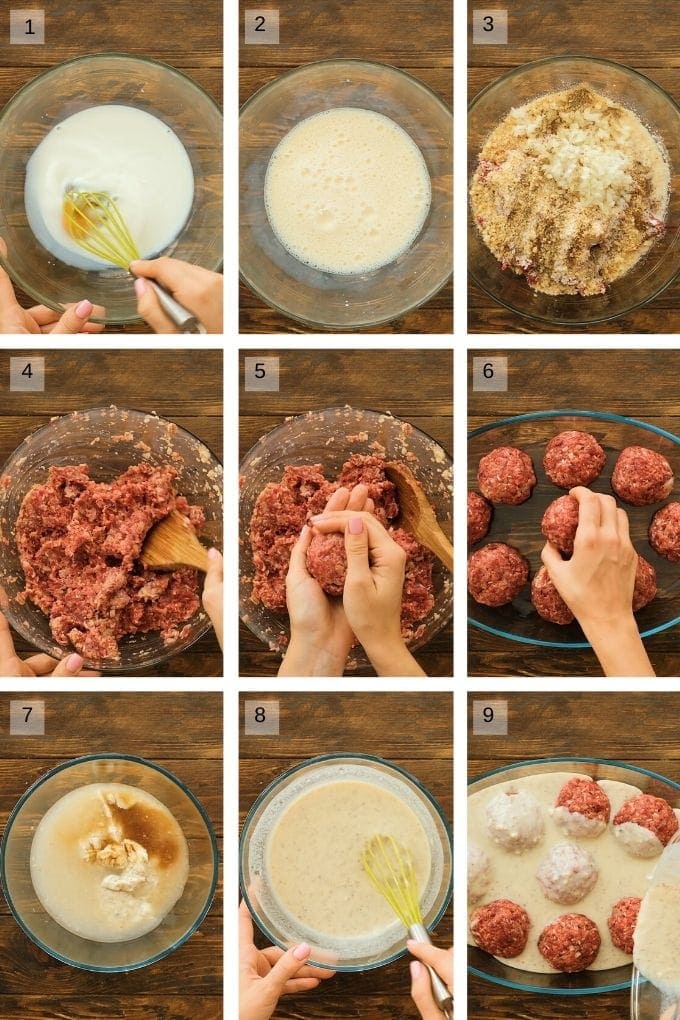 Make the Gravy
Step two: Gravy! The gravy for the meatballs is a quick one – you only need three ingredients!
Cream of mushroom soup
Water
Worcestershire sauce
Just mix all three ingredients together and then pour the gravy over the meatballs in the baking dish.
Bake the Meatballs and Gravy
Once you've assembled the recipe, bake it for a hour and twenty-five minutes at 350 degrees F.
You can use a meat thermometer to check the meatballs – they should have an internal temperature of 165 degrees F. If you don't have a thermometer you can also just sneak a peek and slice into one – if it's not pink in the middle the meatballs are ready!
More Meatballs and Gravy Tips & Tricks
You can make the meatballs ahead of time and keep them covered in the refrigerator. I don't recommend making the gravy ahead because it could separate while in the fridge. It's so easy to make, just whip it up before you put the meatballs in the oven. You may need to add ten minutes or so to the bake time since the meatballs will be cold.
Leftovers keep well either in the refrigerator or the freezer! Keep leftovers in the refrigerator for two to three days or freeze them for up to two or three months. Just be sure to store them in airtight containers.
We always use ground beef to make these meatballs, but I think they'd be great made with ground turkey, too!
If you want a healthy vegetable side dish to go on the side try my roasted cauliflower or roasted sweet potatoes.
Don't over pack the meatballs or they will be tough.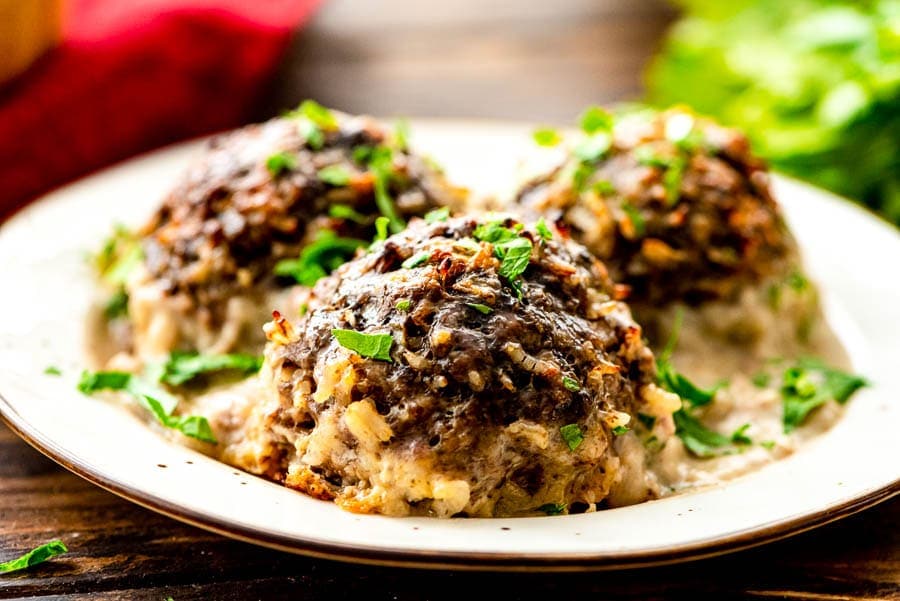 I love sharing these old family recipes with you! I hope your family loves these Meatballs and Gravy as much as mine does!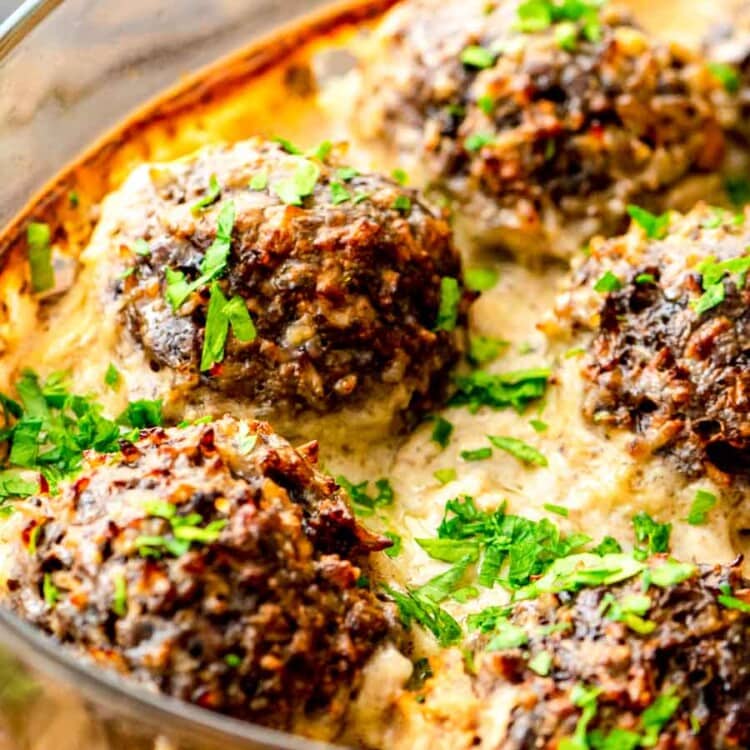 Meatballs and Gravy
Meatballs and Gravy is a classic and true comfort food recipe! Large homemade meatballs with rice that are baked with a gravy sauce on them.
Ingredients
1 1/2

lbs

ground beef

1

egg

beaten

1

c.

milk

1

small onion

minced

1/2

c.

raw long grain white rice

1/2

tsp

salt

1/4

tsp

pepper

1

c.

fine bread crumbs

1/2

tsp

allspice

1

can cream of mushroom soup

1

c.

water

1

tsp

Worcestershire sauce
Instructions
Preheat oven to 350 degrees.

In a large bowl whisk egg and milk together. Mix in hamburger, onion, rice, salt, pepper, bread crumbs and allspice. Shape mixture into 9 meatballs

Place in a 2 qt casserole dish.

Mix soup, water and Worcestershire sauce. Pour over meatballs.

Bake 1 hour 25 minutes at 350 degrees.
Nutrition Information
Calories:
363
kcal
(18%)
,
Carbohydrates:
33
g
(11%)
,
Protein:
21
g
(42%)
,
Fat:
14
g
(22%)
,
Saturated Fat:
5
g
(31%)
,
Cholesterol:
73
mg
(24%)
,
Sodium:
638
mg
(28%)
,
Potassium:
396
mg
(11%)
,
Fiber:
1
g
(4%)
,
Sugar:
3
g
(3%)
,
Vitamin A:
70
IU
(1%)
,
Vitamin C:
0.9
mg
(1%)
,
Calcium:
100
mg
(10%)
,
Iron:
3.3
mg
(18%)