Baked Southwestern Breakfast Taquitos ~ Full of Scrambled Eggs, Sausage, Potatoes, Green Chiles, Peppers, Cheese and Salsa! Easy Breakfast Recipe Will Be a New Favorite!
Be sure to subscribe to my newsletter HERE so you never miss a new recipe!
Check out our online Home Decor & Clothing Boutique Drops of Sunshine!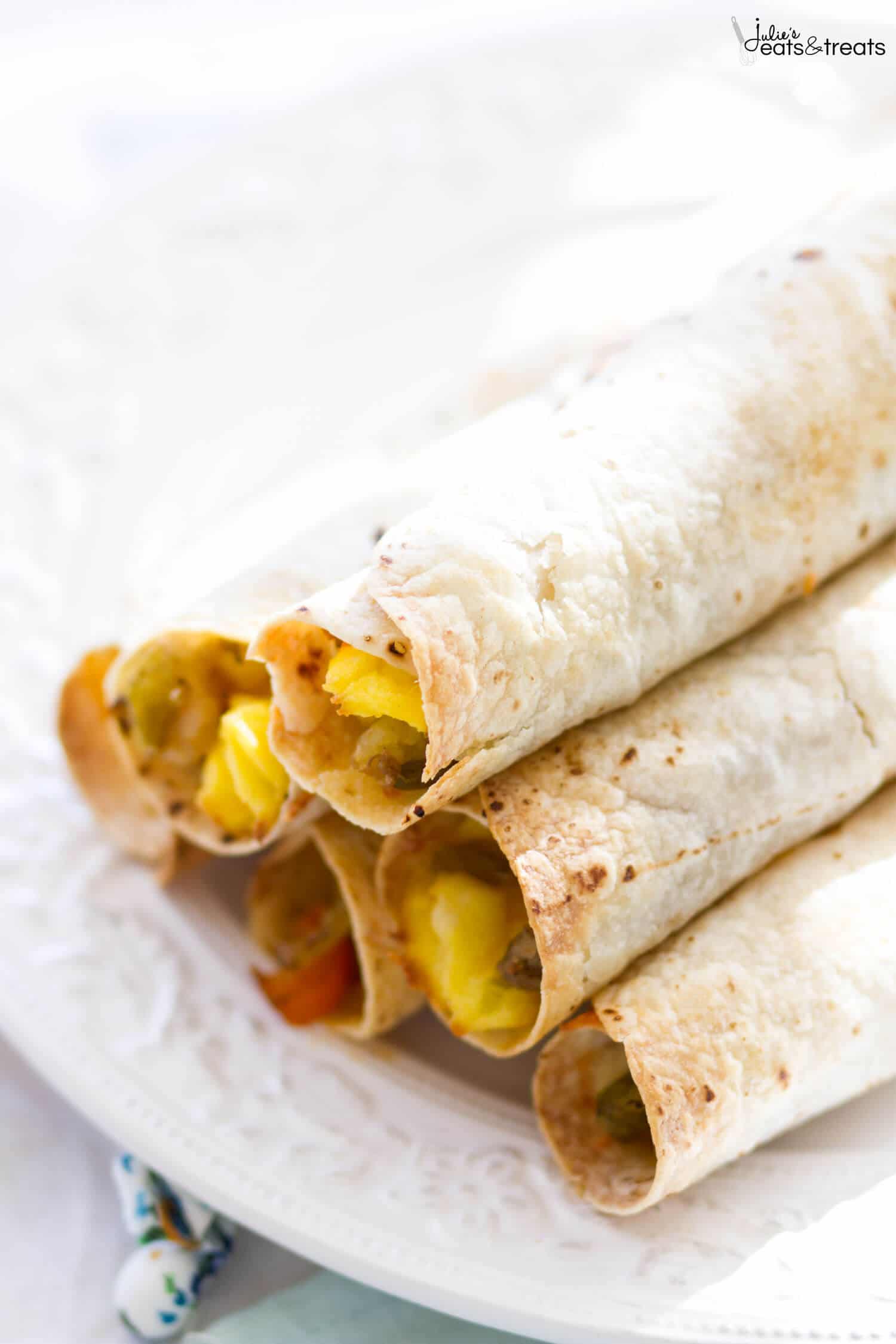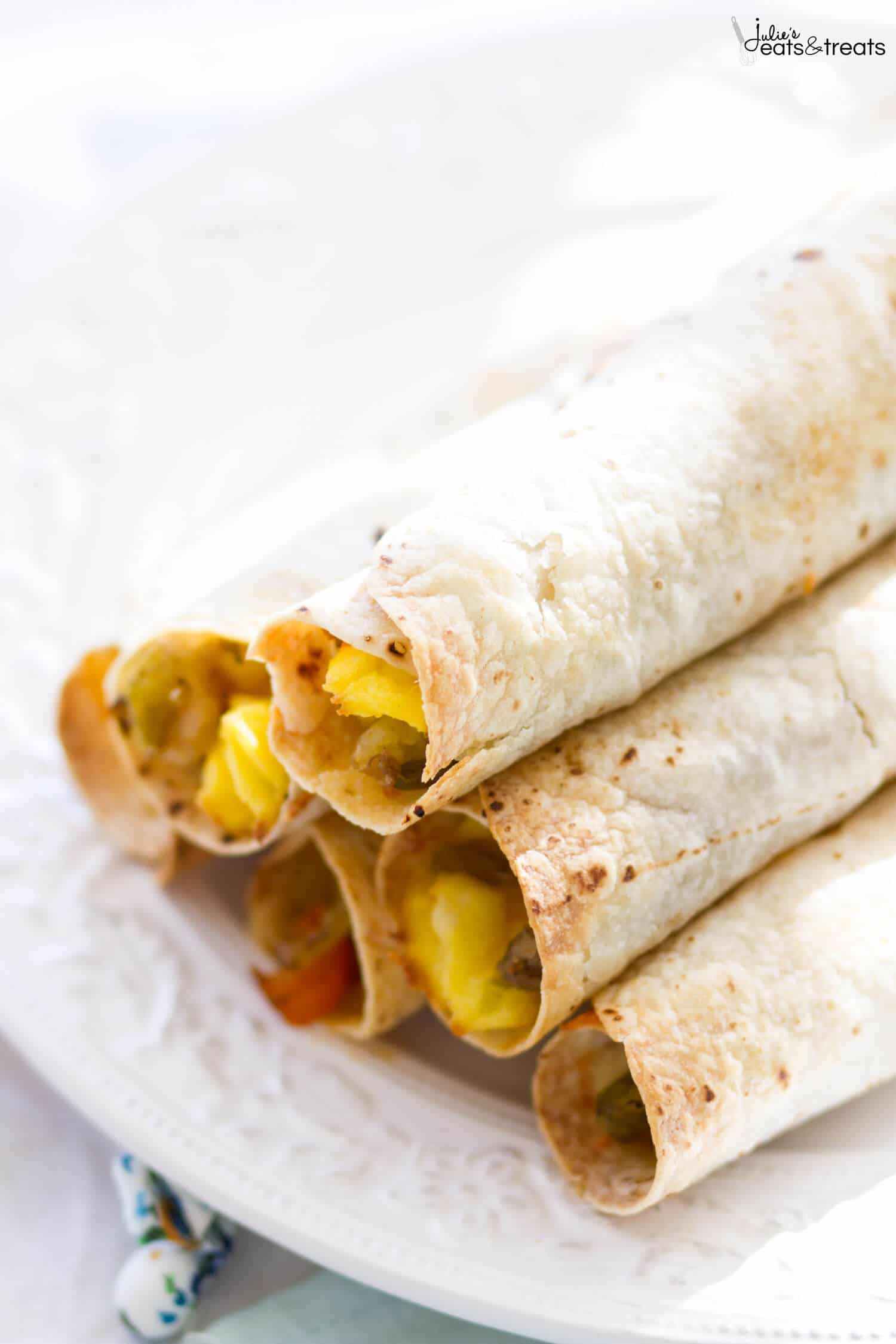 I have a serious confession to share.
…
There was a time when I wasn't that into breakfast.

MY OTHER RECIPES
As the breakfast-obsessed person I am today, I'm pretty embarrassed that 12-year old Michelle was indifferent to the greatest meal of the day. Somewhere along the way, I discovered that breakfast is not only incredibly amazing, it's also fantastic any time of the day.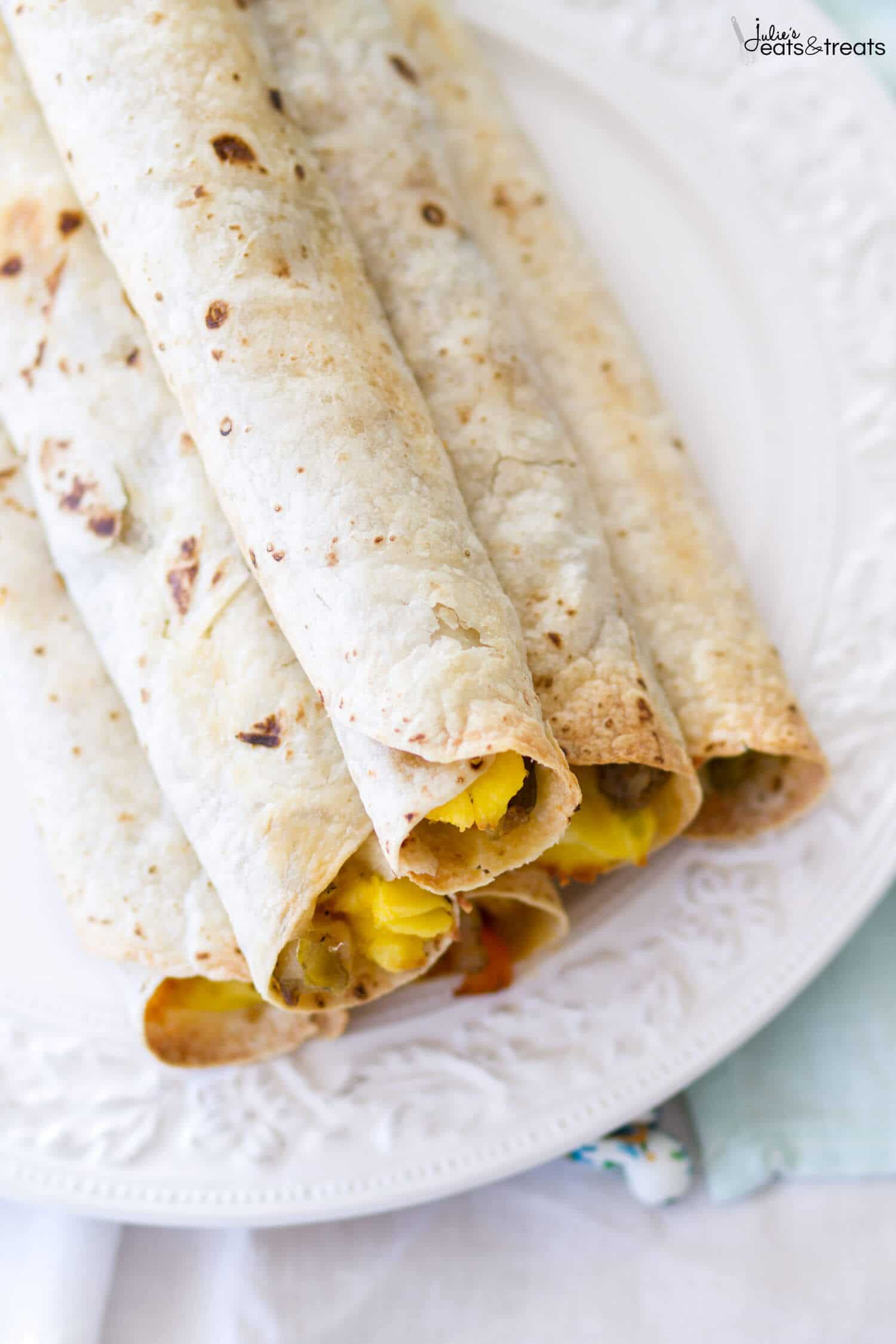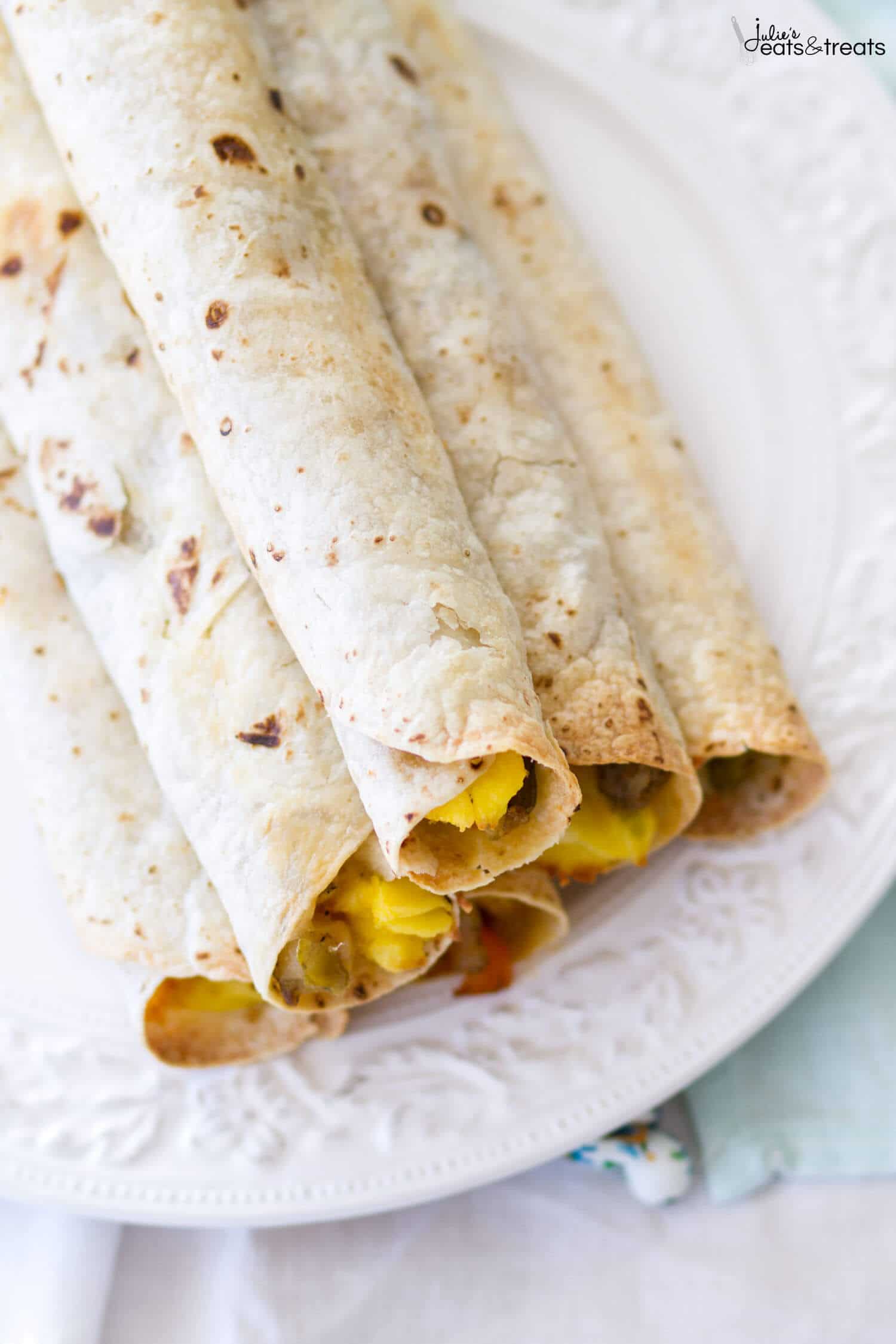 All right, in truth, I know exactly when I discovered breakfast as my favorite meal. I was 15. It was sophomore year of high school. For some reason, I had joined cross-country (I apparently was going through some mid-teen life crisis). After every 5am Saturday meet where we would run miles and hate life, the team would go out and get breakfast. After a morning of running hills and breathing in dirt, there is nothing like the taste of eggs, pancakes, sausage, waffles, bacon, or sweet rolls. Nothing. It's pure comfort food.
Despite the fact that I rarely participate in morning workouts anymore, I never lost the taste for breakfast. These Southwestern Breakfast Taquitos are the epitome of breakfast comfort food. Crispy baked tortillas are filled with eggs, sausage, potatoes, peppers, cheese, and salsa. Need I say more?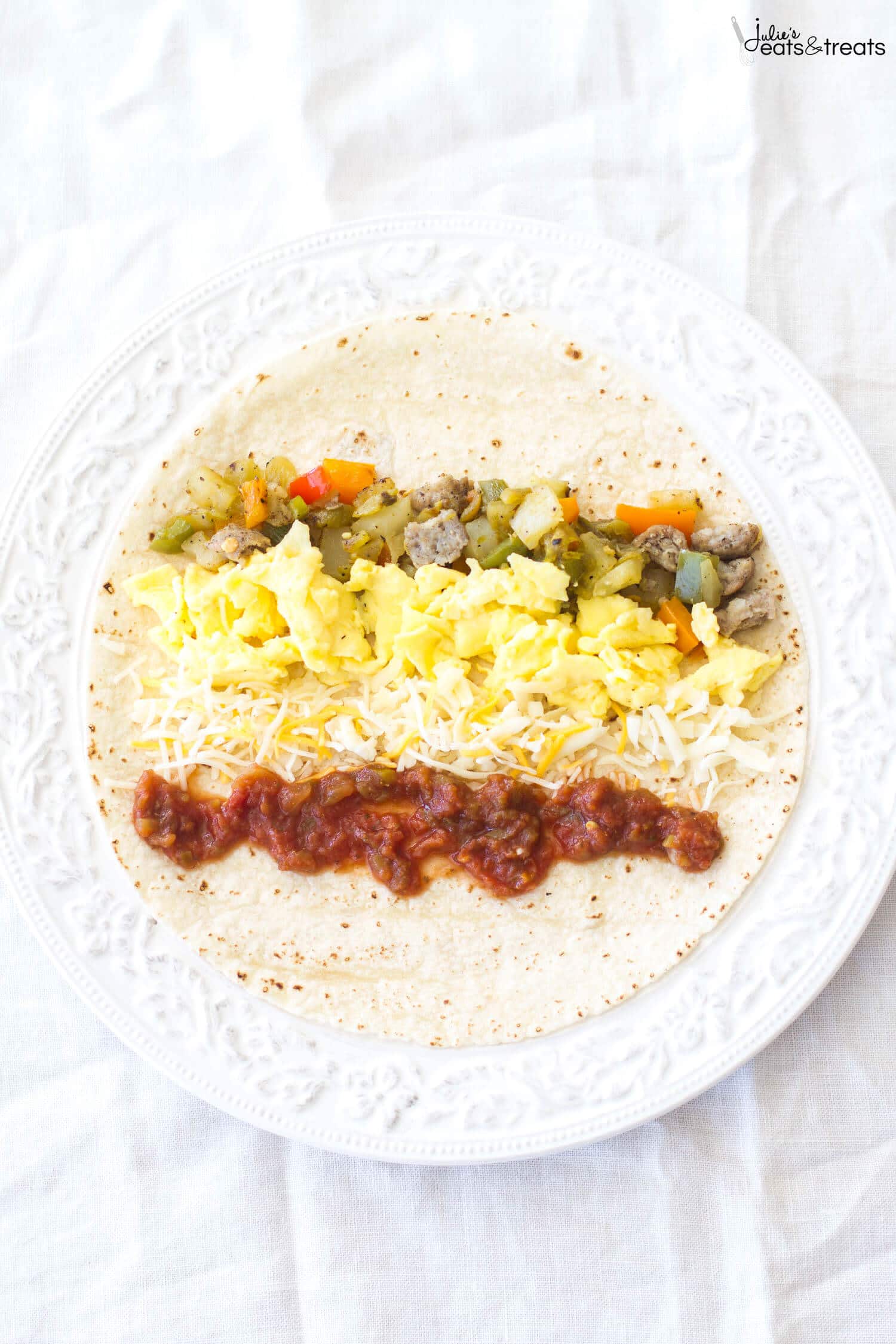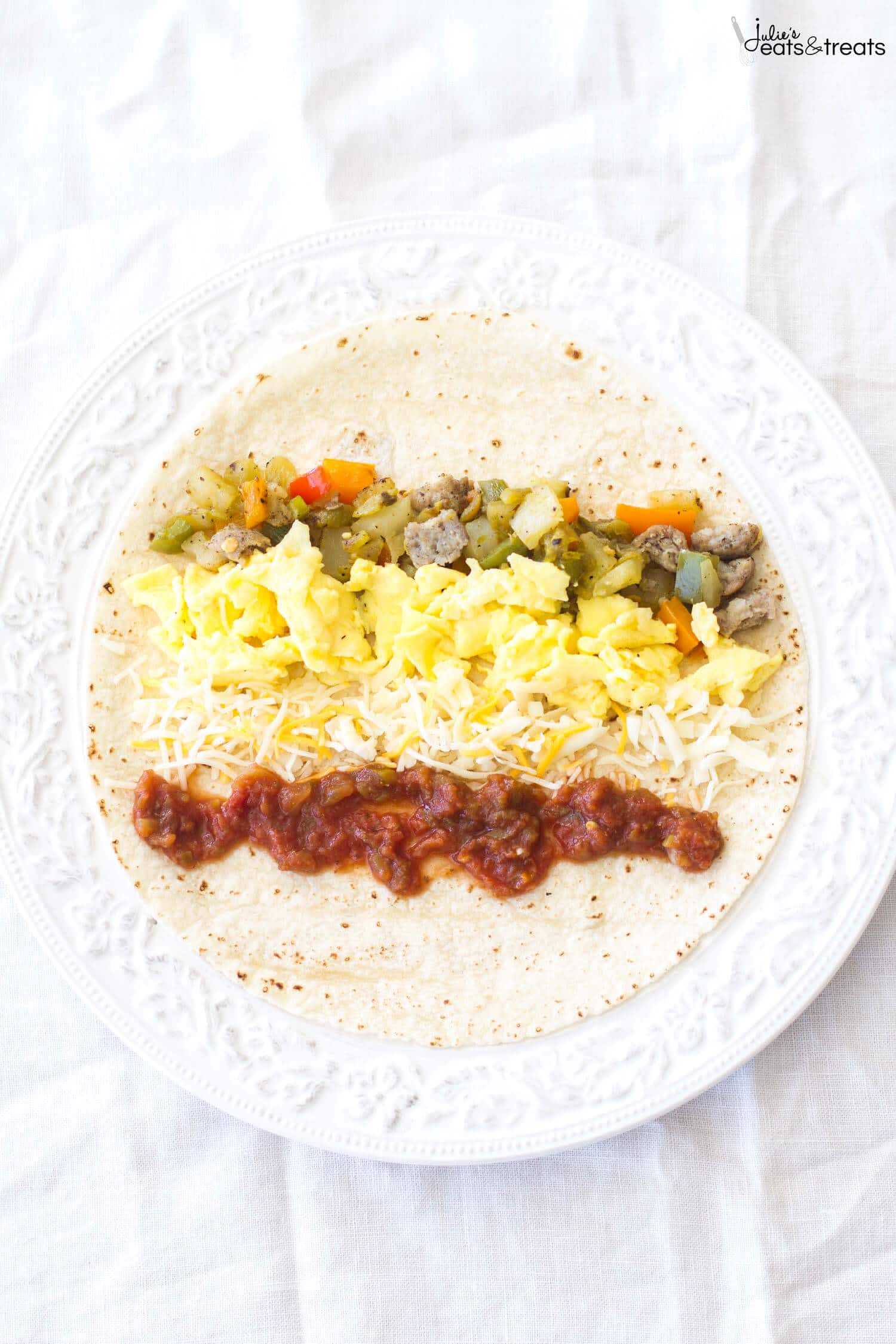 Apart from the flavor, the best part of these Southwestern Breakfast Taquitos is how easy these are to put together. In fact, these can be made ahead of time, frozen, and baked up whenever you're craving something warm, hearty, and comforting. In my opinion, it does not get much better. ?
Also, these breakfast taquitos are super versatile. Feel free to omit any of the ingredients I used. Additionally, feel free to add any ingredients you have on hand. While I used bell peppers and green chiles, you could easily add in spinach and tomatoes. Likewise, while I used sausage, you could easily make this a meat lover's taquito special by adding in bacon and ham.
Lastly, corn tortillas would be a great addition! They are slightly smaller in diameter, so this recipe would make about 16 breakfast taquitos instead of 8 taquitos. A great gluten-free option!
See? Versatile. You can get creative as you want with these! Let your imagination go wild.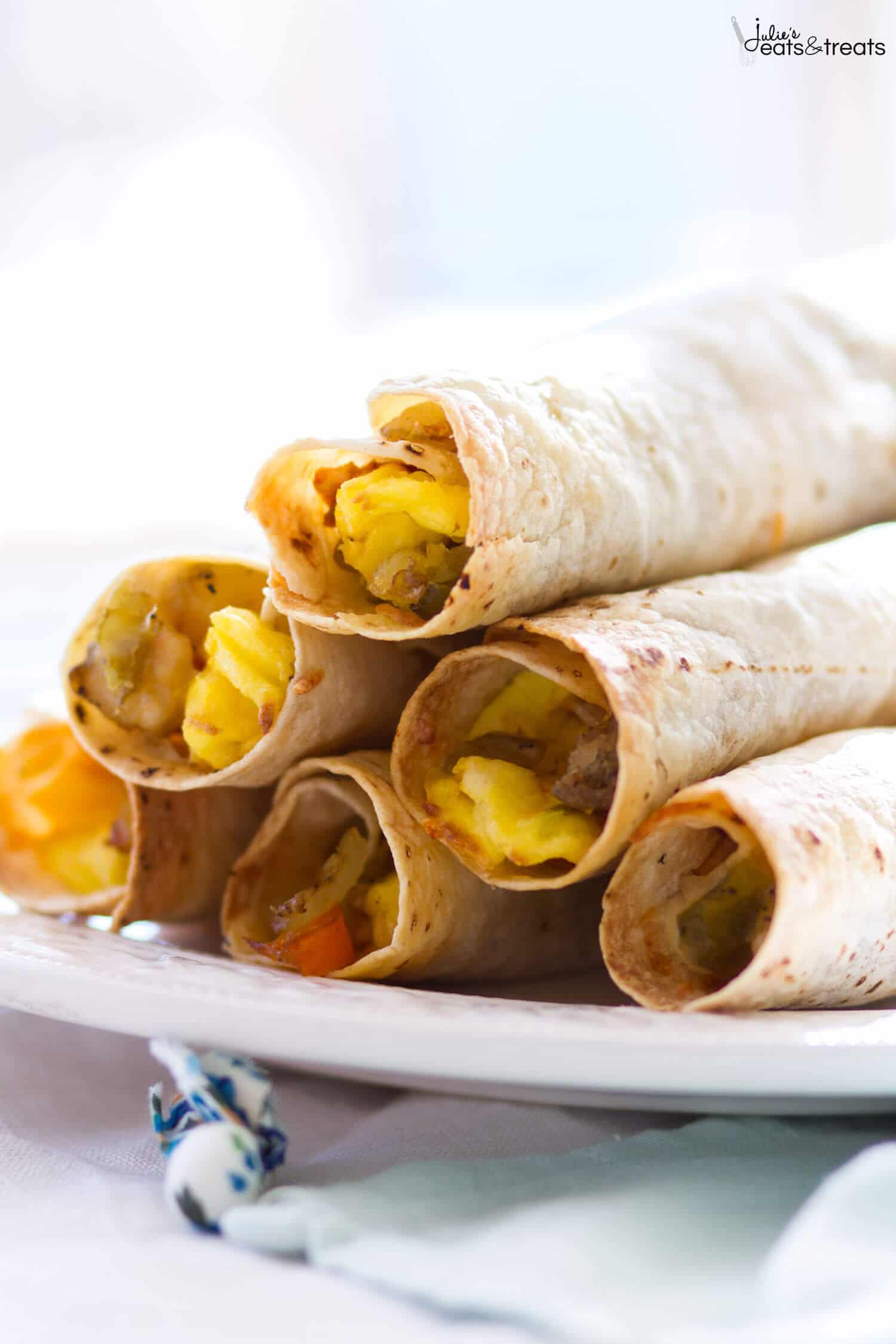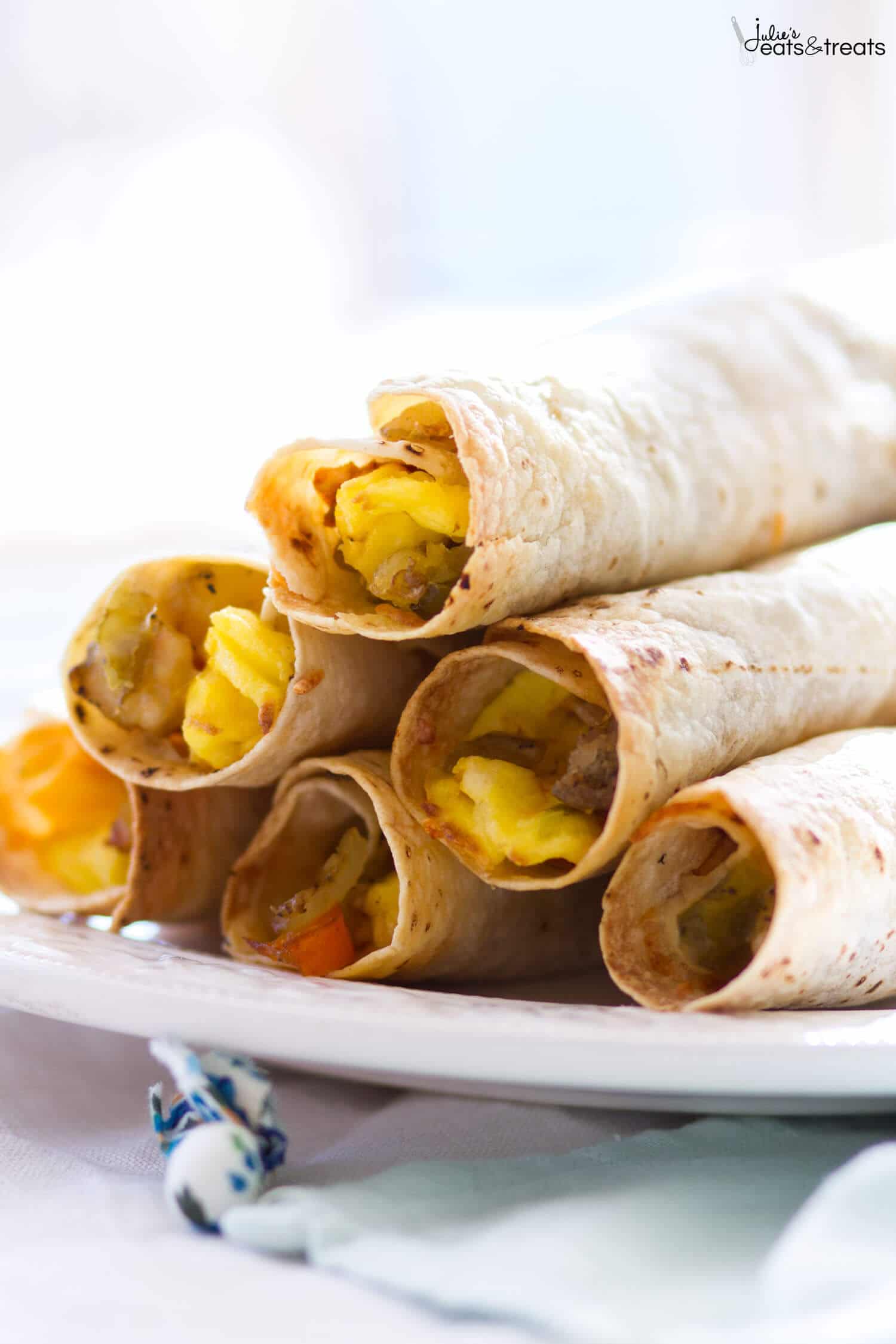 As mentioned above, making these breakfast taquitos could not be easier. Basically, you put all the ingredients in each tortilla, wrap it up, and bake it in the oven. Within 20 minutes, you have a hearty breakfast wrapped in a crispy taquito shell.
Breakfast has never tasted better, nor has breakfast ever been easier. ?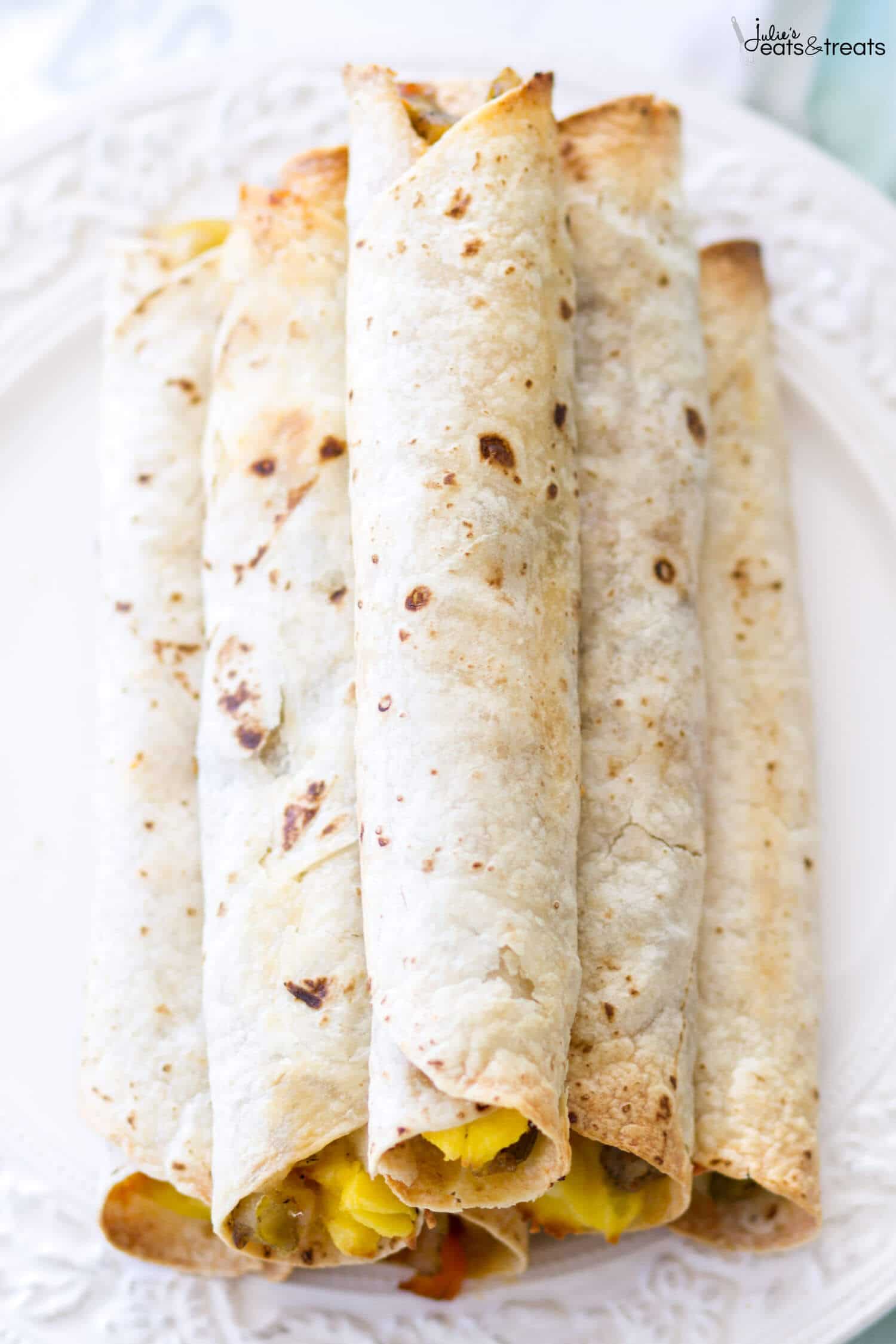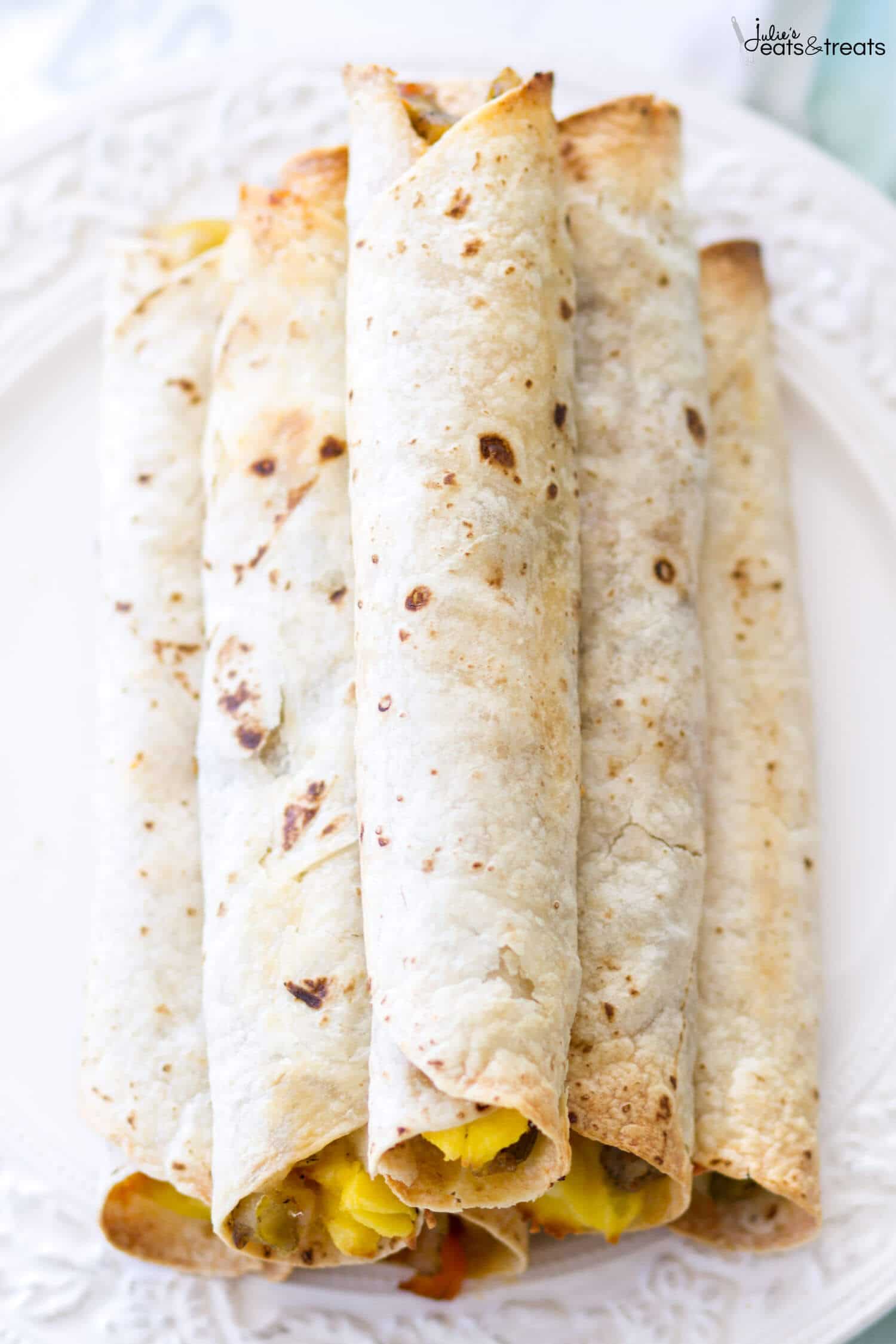 We love these southwestern breakfast taquitos! You don't even want to know how many times we've made these in the past few weeks. Although I might be slightly biased, I am confident you are going to love these breakfast taquitos! Trust me, they are SO delicious, and a huge crowd pleaser!
Baked Southwestern Breakfast Taquitos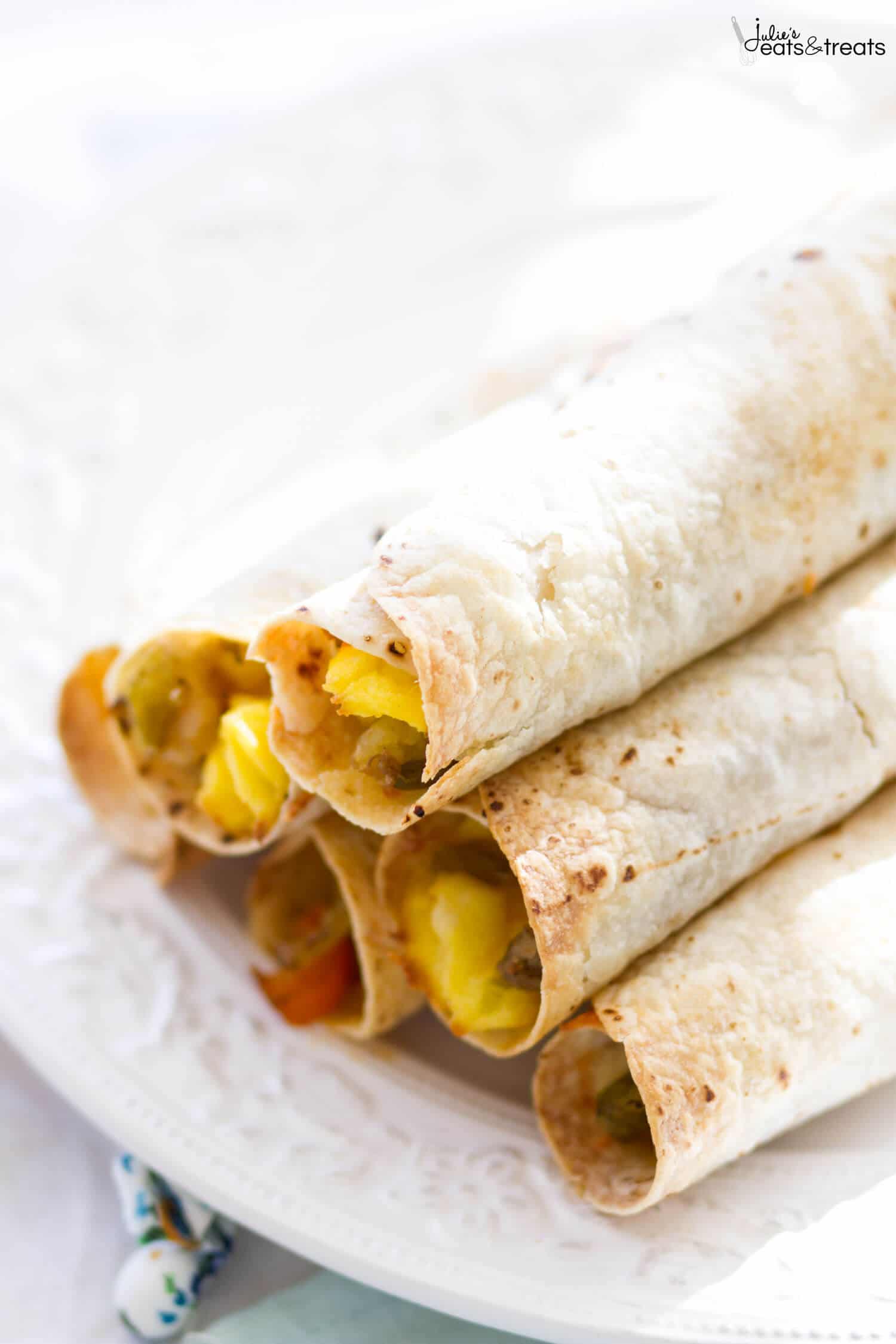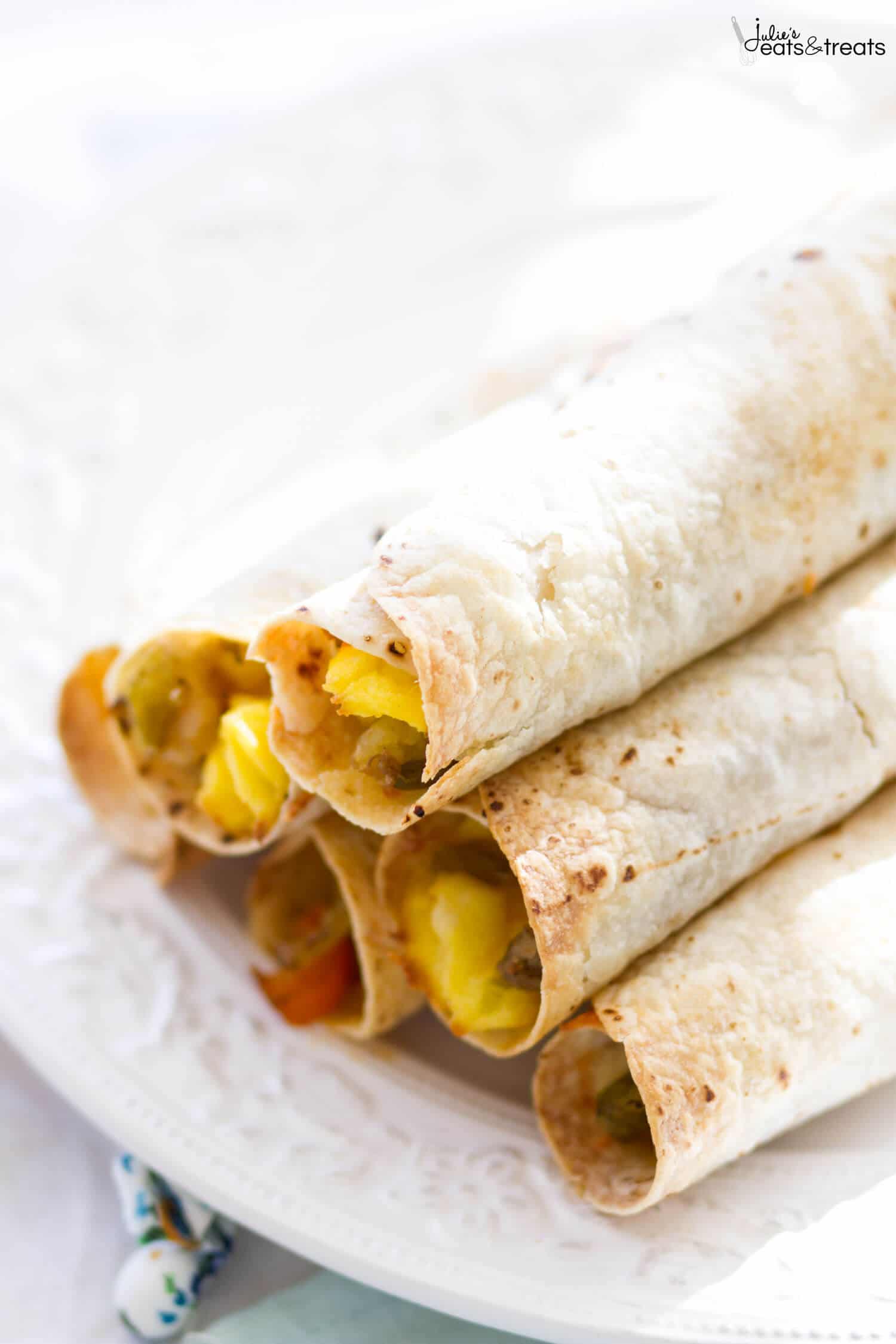 Instructions
Preheat oven to 425 degrees and line a large baking sheet with foil.
In a medium skillet, cook potatoes and 2 Tbsp olive oil over medium heat. Once the potatoes start to turn golden brown (about 4-5 minutes cooking in the pan), flip the potatoes, and add in bell peppers, seasoned salt, and black pepper. Cook until the other side of the potatoes are golden brown (about 4-5 minutes). Add in green chiles; stir. Turn off the heat.
Whisk the eggs and milk together, and cook on med-low heat, until eggs are just scrambled (the eggs will continue to cook in the oven, so you want them slightly underdone).
On each tortilla, spoon about 3-4 Tbsp of the potato, pepper, and chile mixture. Add in eggs (about 2-3 Tbsp in each tortilla), sausage, shredded cheese (about 2 Tbsp per tortilla), and salsa (about 2 Tbsp per tortilla).
Roll each tortilla up tightly, and place on the baking sheet, seam-side down. Brush each taquito with remaining Tbsp of olive oil (optional, but this will help each taquito to brown evenly).
Bake for 10-12 minutes, or until golden brown. With a pair of tongs, flip each taquito over, and bake for 10 minutes.
Serve with salsa, sour cream, avocado, or extra cheese, if desired.
Enjoy!
Recipe Notes
If you want to freeze the taquitos, once they are baked, wrap them individually in foil and store them in an air-tight container. When ready to bake, unwrap them, and bake on a foil-lined baking sheet at 425 for 20 minutes, flipping the taquitos over at the 10-minute mark.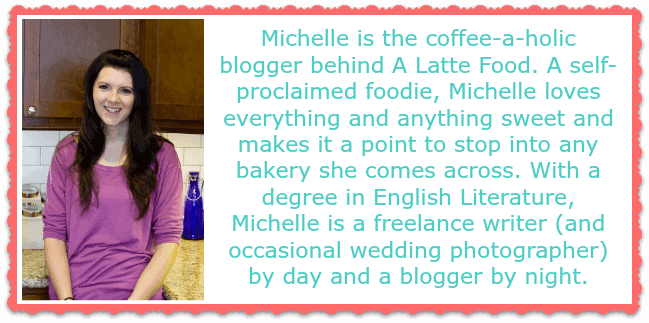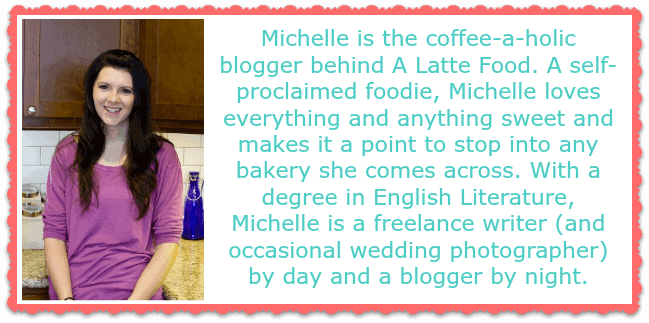 Connect with Michelle here!
Facebook ~ Pinterest ~ Instagram ~ Twitter
More from A Latte Food:
Greek Yogurt Honey Almond Pancakes