Balsamic Steak Skewers ~ Tender Steak Marinated in a Tangy Balsamic Vinaigrette and Grilled to Perfection!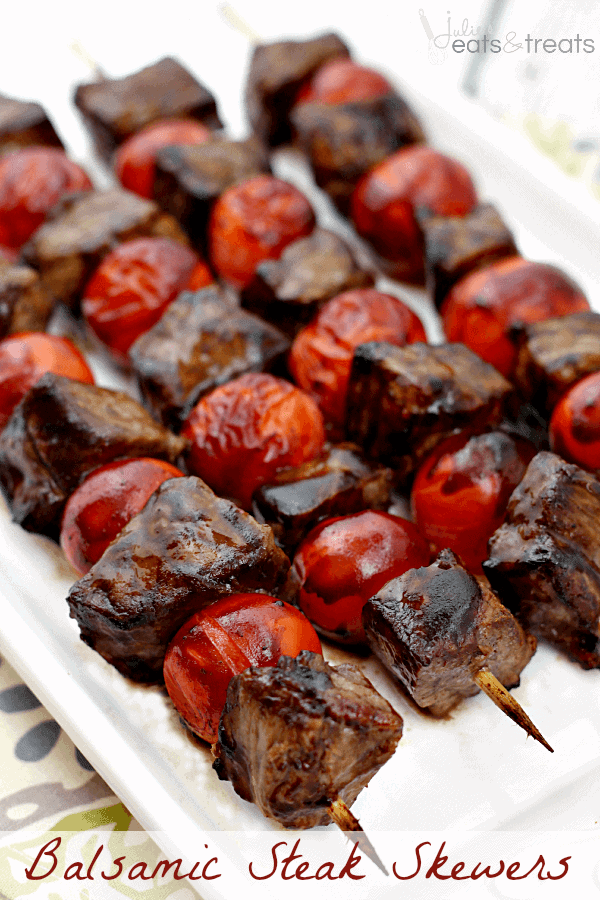 Man food. This is a prime example. Big, juicy, tender pieces of steak marinated in a tangy balsamic vinaigrette and grilled to perfection. Life does not get much better. Well, my hubs would give me all the cherry tomatoes and go on with his meal. I don't mind one bit. Not one.
I'm not going to lie. I bribe my hubs with food. If I want him to do something big I prepare one of his favorite meals and then gaze adoringly into his eyes and beg. Beg. Beg. Usually it works. This recipe is totally a bribe food for all of you women out there there also use this tactic. Do not hang your head in shame. We do what we got to do….
This past weekend I attended a blogging conference called BlogHer Food, which required me to leave after work on Wednesday and not come back until late Sunday night. I prepare one meal for the hubs to make and made sure there was clean clothes. Then I ran. Ran like the wind. I might have said good luck as I dashed out the door. You know what? Not once did he complain about me leaving. I'm seriously blessed when it comes to that. He digs in and helps out and lets me do my thing a lot of the time. Of course there are the times he might give me some crap if I'm gone a little more than usually but he's a total hands on Dad.
Sure I do wish he did the laundry, or the dishes or made me supper. If he cleaned the bathrooms that would be excellent too. Now I'm depressed. I guess I don't mow the lawn, or move snow, or take out the garbage. We are so old fashioned in those areas most of the time!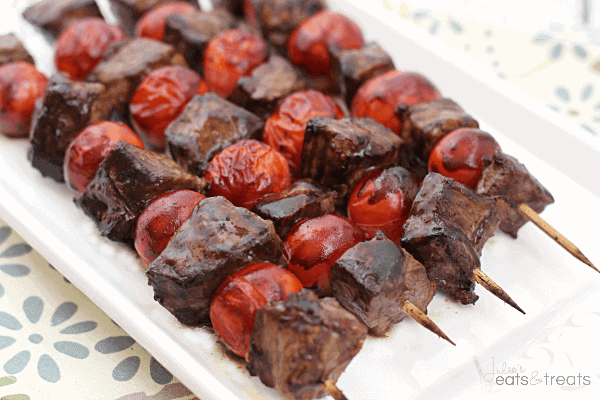 You know what? He survived. The house was standing when I came home and it was mostly clean. Sure the deep cleaning didn't get done and the good clothes didn't get washed and there may have, just may have been laundry baskets waiting to be folded and put away on the living room floor. Miss K was alive and happy. I mean she's a total Daddy's girl to begin with so she's probably hoping Mom leaves again cause let's get real. Dad's the fun one.
Miss K was indulged in a few more trips to the fast food restaurants and I may have received a picture at one point of chocolate smeared across her face from Daddy indulging her in a bag of M&Ms but she sure was smiling!
So thank you hubs for digging in and taking over when I was gone. I love you dearly. I'm blessed to have you and I hope you know it.
If you are lucky I might just thank you with a plate of these amazing Balsamic Steak Skewers, which I know will put a smile on your face followed up by a big bowl of homemade Chocolate Chip Cookie Dough Ice Cream. Because I Love You.
If you want to gag now at this lovely dovey post I don't really blame you. I promise next I'll be back to my snarky self. I blame it on the pregnancy hormones!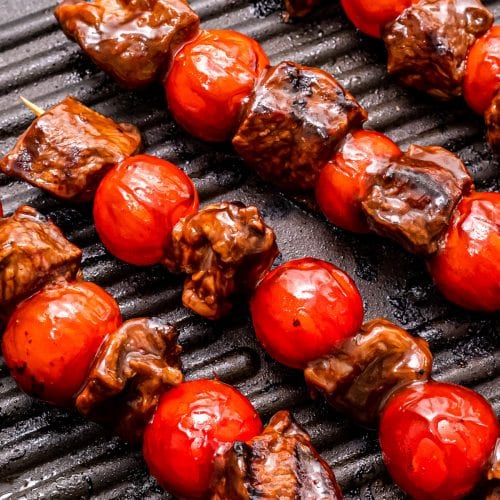 Balsamic Steak Kebabs
Tender Steak Marinated in a tangy balsamic vinaigrette and grilled to perfection with cherry tomatoes! 
Print
Pin
Rate
Ingredients
1/4

c.

balsamic vinegar

1/4

c.

barbecue sauce

1

tsp

Dijon mustard

1

lb

sirloin steak

cut into 1 in. cubes

2

c.

cherry tomatoes
Instructions
In a large bowl whisk together the balsamic vinegar, barbecue sauce and dijon mustard. Reserve 1/4 c. of the marinade for basting. Marinate steak in marinade, tossing to coat for at least 3 hours.

On four metal or soaked wood skewers thread beef and tomatoes in alternating fashion. Using a long-handled tongs rub a paper towel that's been moistened with cooking oil over grill grates to lightly coat them.

Place skewers on grill over medium heat, cover grill and grill until beef reaches desired doneness, about 8-9 minutes turning kebabs occasionally. Or broil about 4 inches from heat for 6-9 minutes. Turn occasionally and baste with reserved marinade during last three minutes of cooking.
Notes
Best Steak for Kebabs
There are several cuts of beef that are great for kebabs and my favorite to use is sirloin steak. It's leaner, cooks fast and has a really great flavor. Plus, it's not super expensive, which is nice! Here are some other cuts you can use for this recipe, too:
If you want to be really fancy and don't mind spending extra use filet mignon. Super tender and so delicious!
Ribeye steaks also work well or you could try a porterhouse steak.
Tenderloin is another option, too!
Oven Directions
Although grilling gives these the best flavor you can also cook them in the oven. Preheat your oven to 425 degrees F. Place the kebabs on a foil lined baking sheet that is sprayed with non-stick spray. Place the baking sheet in the oven and bake for about 10-13 minutes or until internal temperature of steak is 145 degrees F, which is medium doneness. 
Expert Tips
Cube the steak into uniform size, about 1'' cubes, so they cook evenly. 
Know your grill, different grills cook at different rates, so keep a close on these so you don't overcook your steak. 
Marinate the steak for at least 3 hours. 
Use other vegetables that you have to mix it up. Great ideas include squash, zucchini, pepper, onions, mushrooms and more. 
Nutrition
Serving:
1
kebab
|
Calories:
213
kcal
|
Carbohydrates:
13
g
|
Protein:
26
g
|
Fat:
5
g
|
Saturated Fat:
1
g
|
Cholesterol:
69
mg
|
Sodium:
247
mg
|
Potassium:
696
mg
|
Sugar:
10
g
|
Vitamin A:
610
IU
|
Vitamin C:
27
mg
|
Calcium:
54
mg
|
Iron:
2.9
mg
LEAVE A COMMENT
Recipe from: Taste of Home