Banana Nut Stuffed French Toast
Banana Nut Stuffed French Toast – Sweet and sticky bananas stuffed into french toast and covered in chopped nuts. A fun, yet easy breakfast that the whole family will love!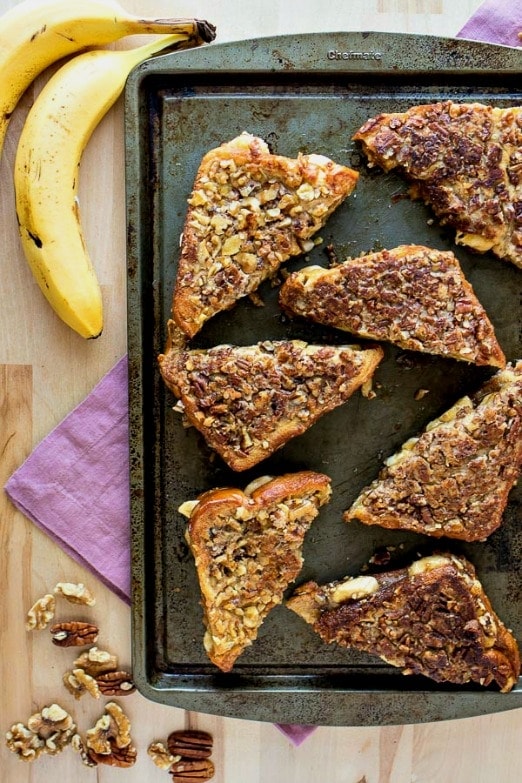 French toast is a meal that's near and dear to my heart. It was one of the first meals I learned to make for myself (thanks, Dad!) and it made up the majority of my weekend breakfasts growing up.
As I've aged and my palate has matured, I have eaten less and less french toast – mostly because I've lost the thrill for it. Oh you want me to fry toast soaked in an egg mixture and eat it with maple syrup? Meh. Not worth the effort. Gimme some cereal instead!
I know that sounds preposterous because everyone loves stuff covered in syrup. But it simply wasn't worth the effort for me to make anymore.
Until now!
I was inspired by a recipe in, of all places, Cooking Light Magazine. There was some version of a banana peanut butter french toast in the magazine and it sounded pure genius.
For this version, however, I decided to make bananas the focus because peanut butter can be a little rich in the morning. As a peanut butter fanatic, that's saying a lot. Then I thought back to the bananas foster french toast casserole that I made last year and decided to incorporate some of those flavors into the stuffed french toast.
Say hello to finished product –  my Banana Nut Stuffed French Toast!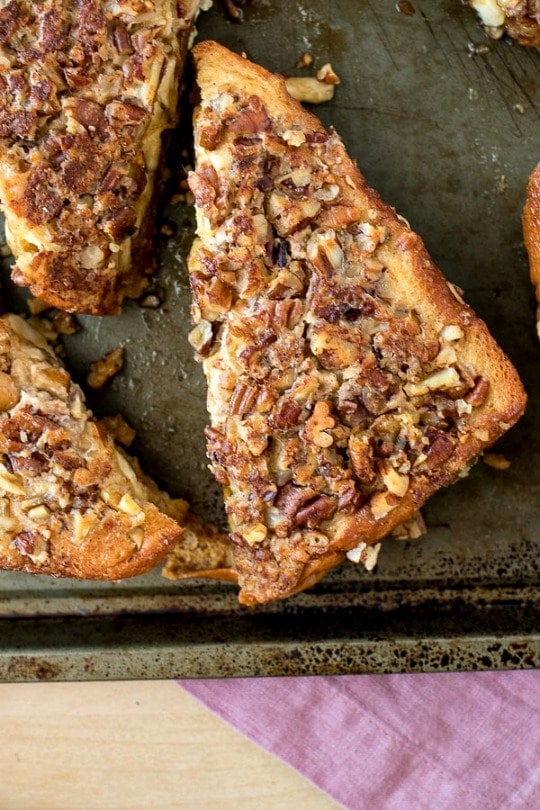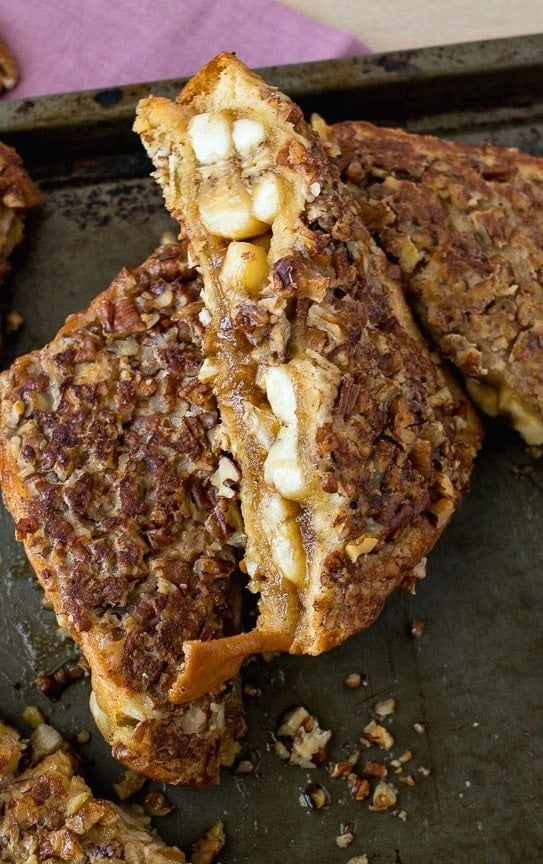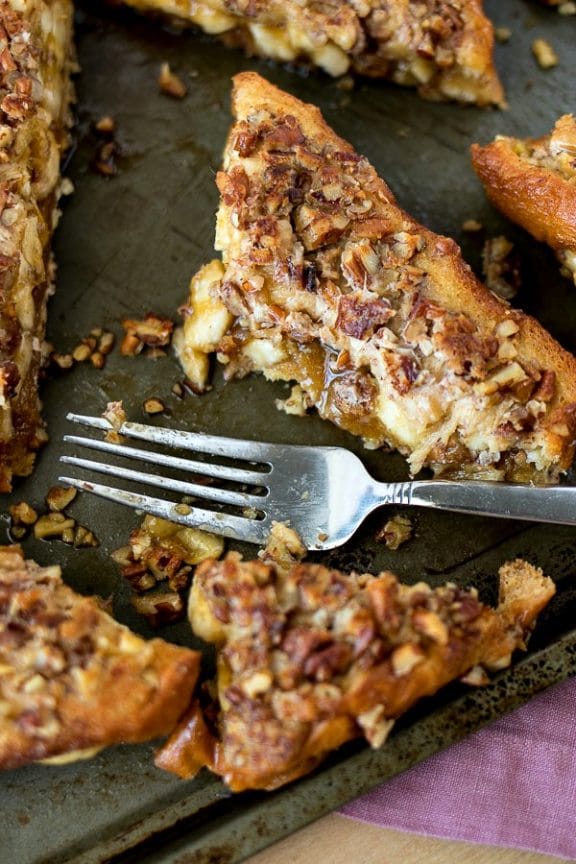 And man was this stuffed french perfect! It was so creamy from the warm bananas, but crunchy from the outer nut crust. Yummm! And did I mention how perfectly sweet it was?! I didn't even need syrup to eat it!
To make this french toast, there's not a whole lot to it. You're still dunking the bread into an egg mixture and frying it on the stove. But there are a couple differences:
Before dunking into the egg, you will make sandwiches with the banana mixture stuffed in the middle.

After soaking in the egg mixture, you'll completely cover the sandwich in chopped nuts to give a perfectly crunch crust on the outside.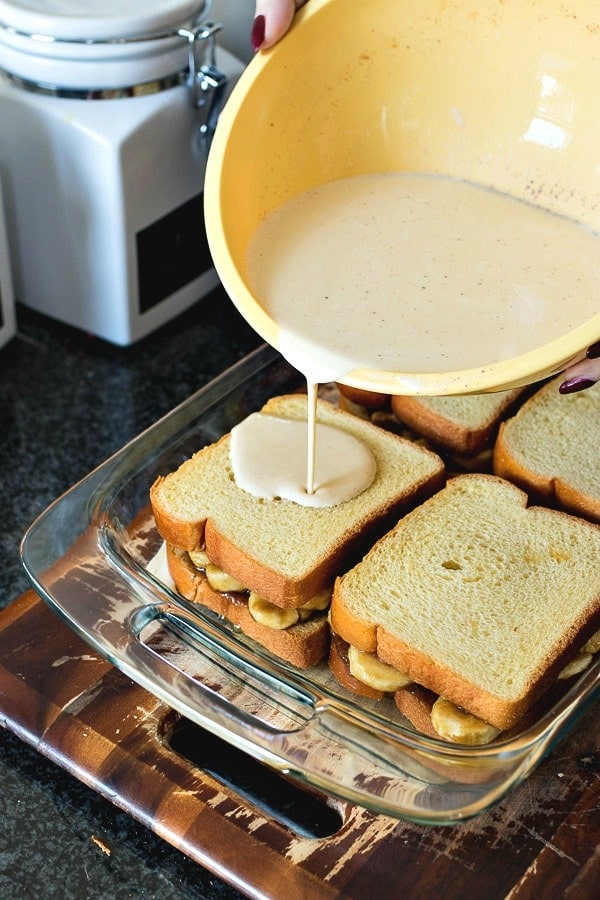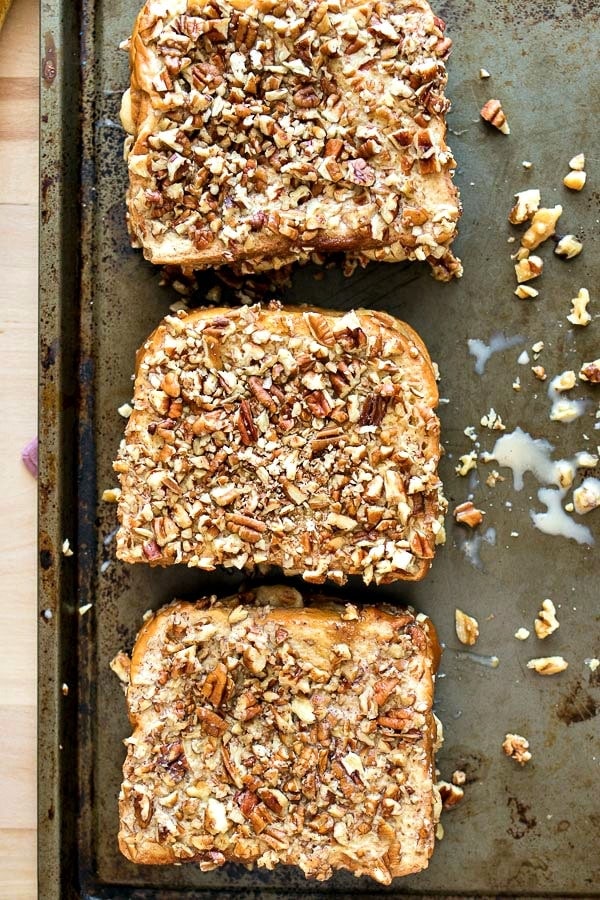 When you're picking what nuts you want for the crust, it's really your choice, but I think walnuts or pecans work best. I tried both for this french toast and couldn't decide which I liked more!
If you haven't made french toast before, I'd say the most important tip I could give is to make sure to use dry bread. I hate soggy french toast so I even toast my bread a little before using it. This makes it the perfect texture to soak up the egg mixture because it won't fall apart.
Alrighty, that's all there is too it, people! Such a super simple, yet impressive breakfast to make for the fam on the weekend. You're gonna love it!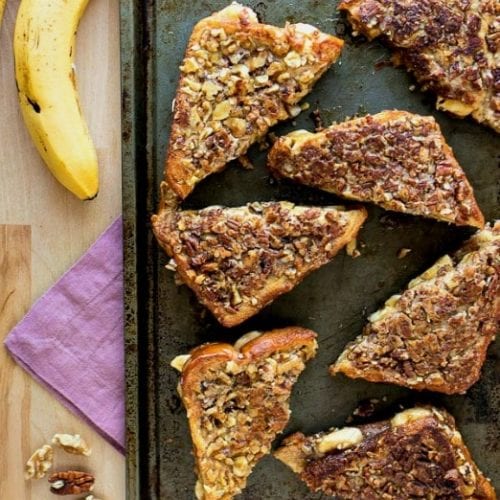 Banana Nut Stuffed French Toast
Sweet and sticky bananas stuffed into french toast and covered in chopped nuts. A fun, yet easy breakfast that the whole family will love!

Print
Pin
Rate
Ingredients
1

tablespoons

vanilla extract

1/4

teaspoon

ground cinnamon

1/8

teaspoon

nutmeg

1/8

teaspoon

salt

3/4

cup

half and half

4

large eggs

4

medium ripe bananas

2/3

cup

dark brown sugar

8

slices

of brioche bread or another dry bread

3

tablespoons

of butter

2 1/2

cups

chopped nuts

pecans or walnuts
Instructions
Add vanilla, cinnamon, nutmeg, and salt to a medium bowl and whisk together until it makes a paste. Add eggs and whisk with paste. Add half and half and whisk together. Set aside.

Slice bananas and add to a separate medium bowl. Add brown sugar and stir together until the brown sugar turns into a paste. Set aside. Place chopped nuts into a shallow bowl or dish and set aside.

Place 4 slices of bread in a rectangular baking dish in one even layer. Scoop bananas onto slices of bread , about 1/3 cup per slice. Place remaining slice on top of each sandwich.

Pour custard mixture over the sandwiches. Let them soak for 1 minute and then flip. Let them soak for 1 more minute.

Remove from custard and place into chopped nuts. Press nuts into the french toast until completely covered. Set aside on baking sheet or large plate.

Heat 1 1/2 tablespoons of butter in a large saute pan over medium heat. Once butter has melted and begins to bubble, place two sandwiches in pan and cook for 3 minutes. Flip and cook for another 3 minutes on the other side. Repeat with remaining 1 1/2 tablespoons butter and last two sandwiches.

Slice into triangles and serve immediately. I don't think you need syrup but feel free to serve with the french toast if you just gotta have it. Enjoy!
Nutrition
Calories:
1080
kcal
|
Carbohydrates:
103
g
|
Protein:
25
g
|
Fat:
67
g
|
Saturated Fat:
15
g
|
Cholesterol:
203
mg
|
Sodium:
532
mg
|
Potassium:
1015
mg
|
Fiber:
10
g
|
Sugar:
55
g
|
Vitamin A:
750
IU
|
Vitamin C:
11.6
mg
|
Calcium:
260
mg
|
Iron:
5.4
mg
LEAVE A COMMENT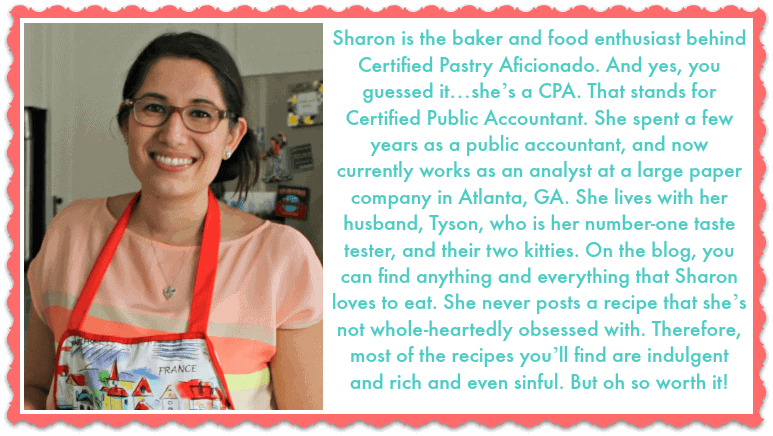 Connect with Sharon Here!
Facebook | Twitter | Pinterest | Instagram
 More easy recipes you might enjoy:
More breakfast recipes that you'll love:
Bananas Foster French Toast Casserole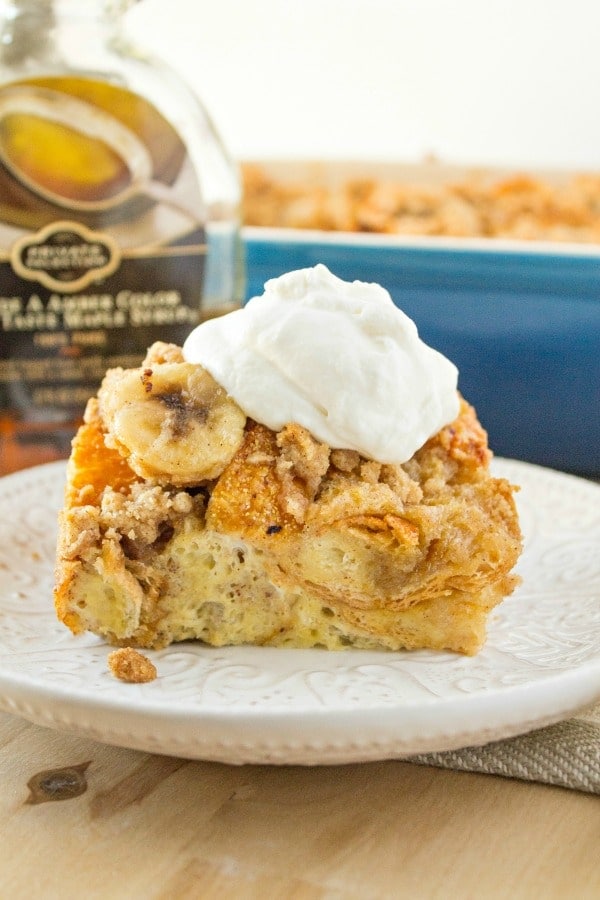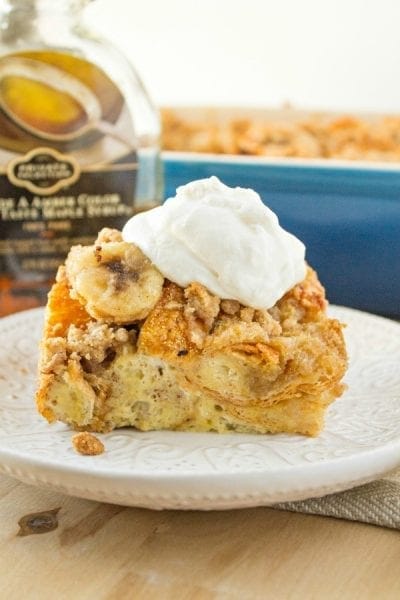 Cheesy Tater Tot Breakfast Casserole