Here's a simple, kid friendly and fast meal for supper on a busy weeknight!
I have you sold already don't I? The last thing I want to do after work is come home and slave away over a hot stove. I'm guessing you are the same way aren't you?
You can do a lot of different variations on these Barbecue Cups. I'd love to try a Taco Cup or a Sloppy Joe Cup or even a Pizza Cup!
I saw this recipe first on The Country Cook and I'm telling you if you haven't went and checked out her blog you need to do it right now. She truly speaks to my heart and prepares all of my favorite dishes before I even know they are my favorite! Go show her some love!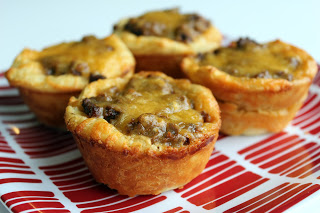 Barbecue Cups
Printer Friendly Recipe
Ingredients
1 lb ground beef
3/4 c. barbecue sauce
1 tbsp dry minced onion
1 (16.3 oz) Grand Biscuits
1 c. shredded cheddar cheese
1. Preheat oven to 400 degrees.
2. Spray muffin tin with nonstick cooking spray. Separate biscuits and place in muffin tins. I seperated a little off each top to get them to fill 12 muffin tins. Press dough up and along sides.
3. In a large pan, brown and crumble ground beef. When beef is done drain the grease off. Put ground beef back in the pan and add in BBQ sauce and dried minced onion. Stir well.
4. Divide meat mixture between muffin tins. Sprinkle each one with shredded cheddar cheese.
5. Bake for 10-12 minutes until biscuits are golden brown and cheese is melted.
Recipe from: The Country Cook