Barbecue Potato Kebabs ~ Quick and Easy Grilling Recipe! Potatoes Seasoned with Barbecue Seasoning and Grilled to Perfection!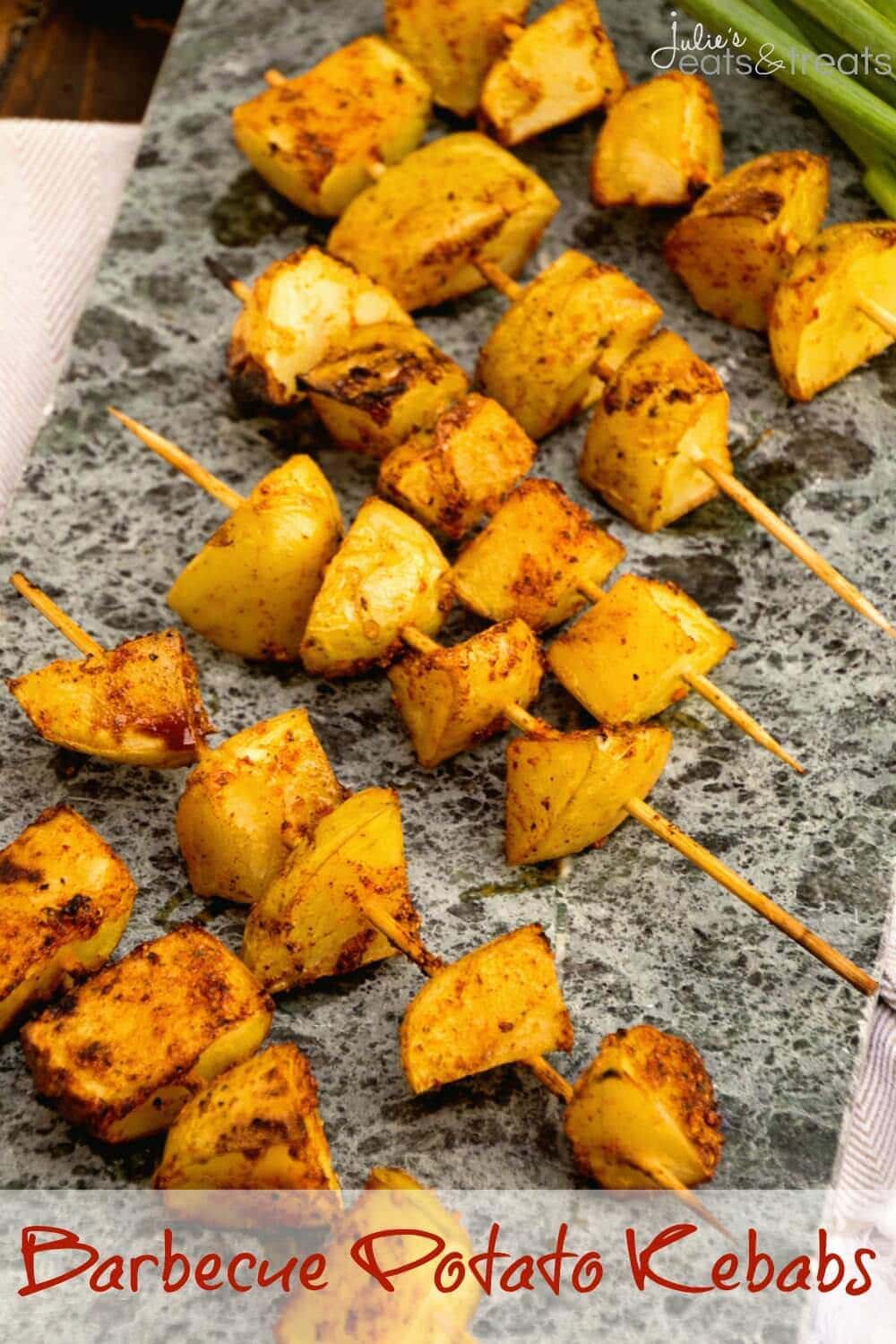 I'm a rule follower. Always have been. Always will be. For the most part. Ok, I won't lie, sometimes I push the envelope a little bit but I have a terrible guilty conscious and it's just so much easier to abide by the rules. Other than the speed limit. We will just forget that one ok? Now don't get me wrong I'm not burning the tires and speeding around like a crazy one but I tend to drive a certain amount over the speed limit every single time I drive on the highway. In town is different but highway driving I push the envelope every single time. Now that I just admitted that I'm sure a cop is going to hunt me down and teach me a lesson!
This week is our town's annual summer celebration like many small towns have. There's the events going on at the park, a music festival, fireworks, parade, pancake feed, medallion hunts etc. This morning I took Miss K down to the medallion hunt that I remember going to when I was young for her first time. I was excited to pass on the tradition that I remember looking forward too. I will not being going back.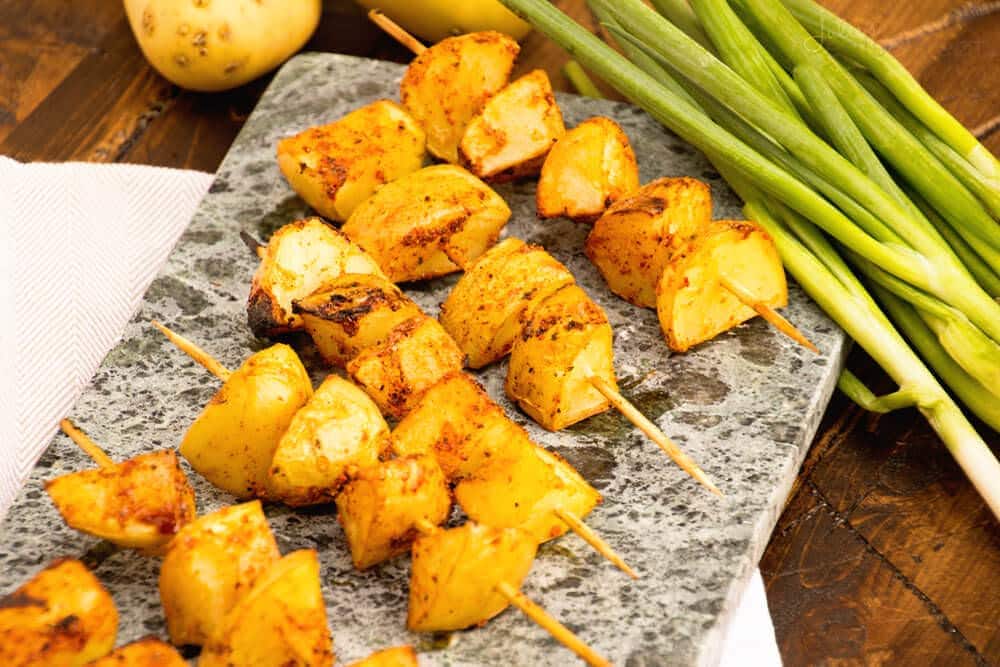 The local grocery store puts on the medallion hunt every year bless their hearts for doing this and giving back to the community. You know what enrages me? When people take advantage of that spirit. That's exactly what I saw today. People not following rules and teaching their kids that it's totally fine to do this. I'm still fuming. The kiddos are broke out by age groups which is a brilliant thing to do. The rules are that each child can go find two bags of candy then they are supposed to bring them back to the main truck, get them checked to see if they have the medallion or a slip of paper that says they got a prize, if they got either, collect it and then you can go find two more etc. So they said GO! Off Miss K and I went to find her bags. As I look around me the other children are stuffing their own GROCERY BAGS full of these little bags of candy and collecting as many as they can. We barely found two bags of our own because the older kids can run faster obviously. I couldn't believe I saw parents encouraging this behavior. Then we wonder why our society has a sense of entitlement.
Then I started thinking about teaching Miss K to follow the rules. Sometimes I wonder, do I teach her to be ruthless and go get what she wants and take it because apparently people get farther in life with that practice sometimes. Or do I stick to my guns and show her how to be respectful and follow the rules? I'm choosing that. I feel that karma comes to get you at some point.
Tomorrow I get to hand out candy in the parade. I'll be encountered again with children that have the sense of entitlement. Wish me luck on keeping my cool….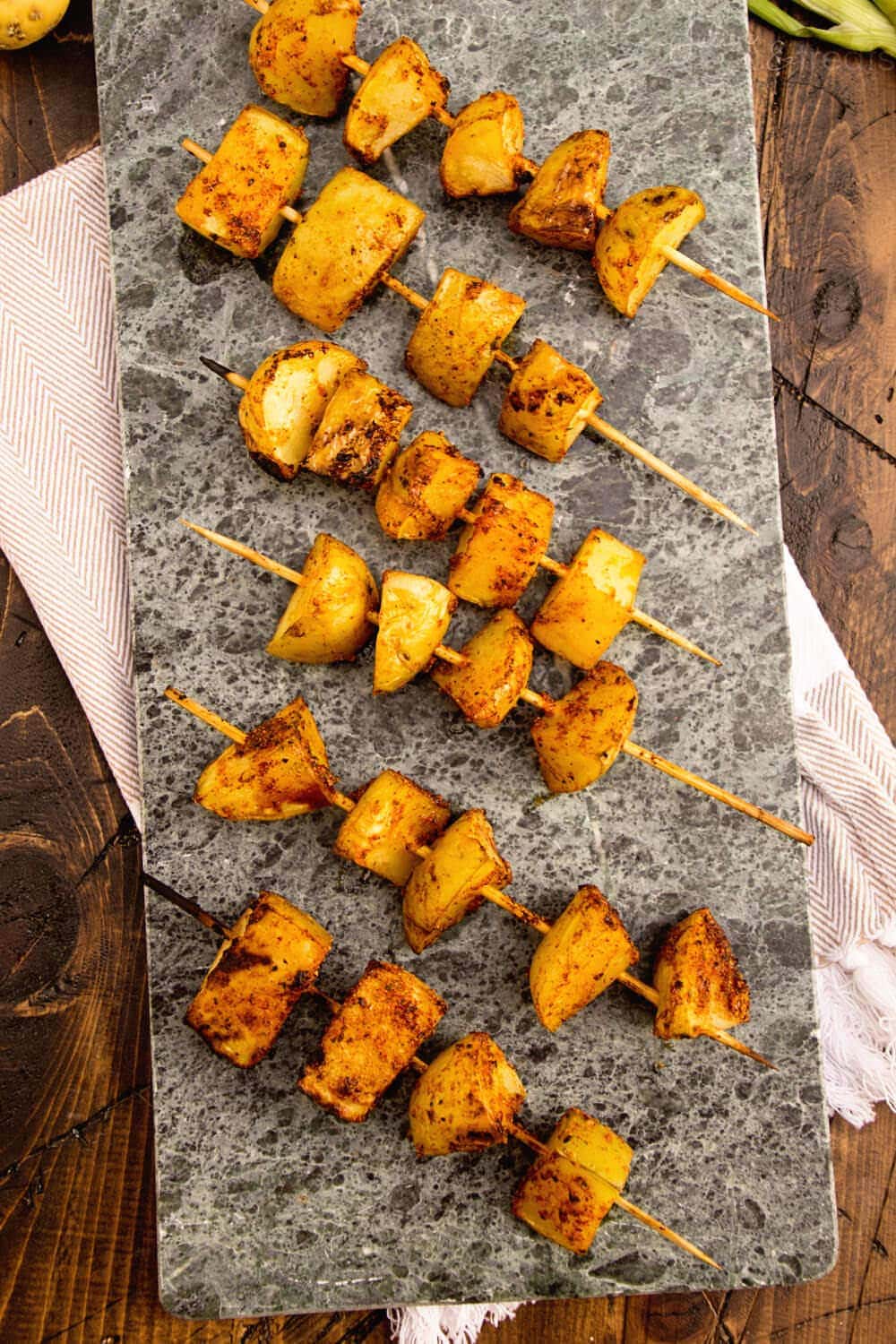 Now I'll step off my little soap box I got up on today and tell you about what you really came here for. KEBABS! I'm kind of in love with kebabs right now and I decided I had made you a ton of main dish kebab so I was going to mix things up a bit and do a side dish. Holy yum. What was I waiting for! The McCormick Barbecue Seasoning totally makes these babies. I will be putting this seasoning on everything now. I love that you give these little guys a ride in the microwave to help the process along. I just popped them in there, got my main dish ready to go and then threw both on the grill and we were set!
My only question now is why does grilling season only last 4 months in Minnesota? For the winter months, we love making these Smokey Barbecued Ribs in the oven. Perfect main dish for these tasty kabobs!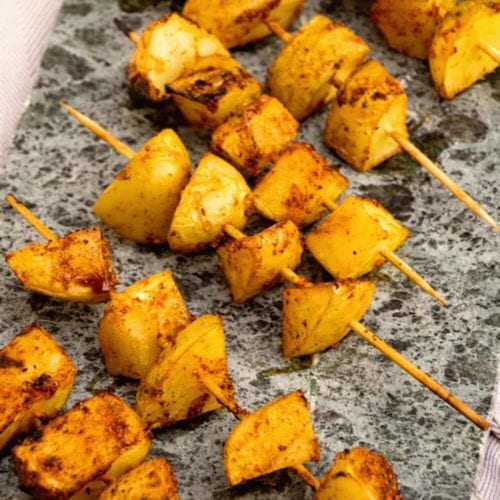 Barbecue Potato Kebabs
Quick and Easy Grilling Recipe! Potatoes Seasoned with Barbecue Seasoning and Grilled to Perfection!
Print
Pin
Rate
Ingredients
2

pounds

unpeeled Yukon Gold potatoes

scrubbed

6

wooden skewers

3

tablespoons

McCormick® Grill Mates® Barbecue Seasoning

2

tablespoons

vegetable oil
Instructions
Clean potatoes, cut into 1 1/2'' inch cubes. Thread potatoes onto skewers.

Microwave kebabs for 8-10 minutes or until potatoes are tender. Brush with oil and sprinkle with seasoning.

Grill over medium heat 8-10 minutes or until potatoes are tender and golden brown. Turn kebabs occasionally during grilling.
Notes
Soak wooden skewers in water for at least 30 minutes to prevent burning.
Nutrition
Serving:
1
g
|
Calories:
150
kcal
|
Carbohydrates:
23
g
|
Protein:
4
g
|
Fat:
5
g
|
Saturated Fat:
4
g
|
Sodium:
17
mg
|
Potassium:
675
mg
|
Fiber:
4
g
|
Vitamin A:
195
IU
|
Vitamin C:
18.2
mg
|
Calcium:
119
mg
|
Iron:
7.5
mg
LEAVE A COMMENT
Recipe from: McCormick
Craving More Kebabs?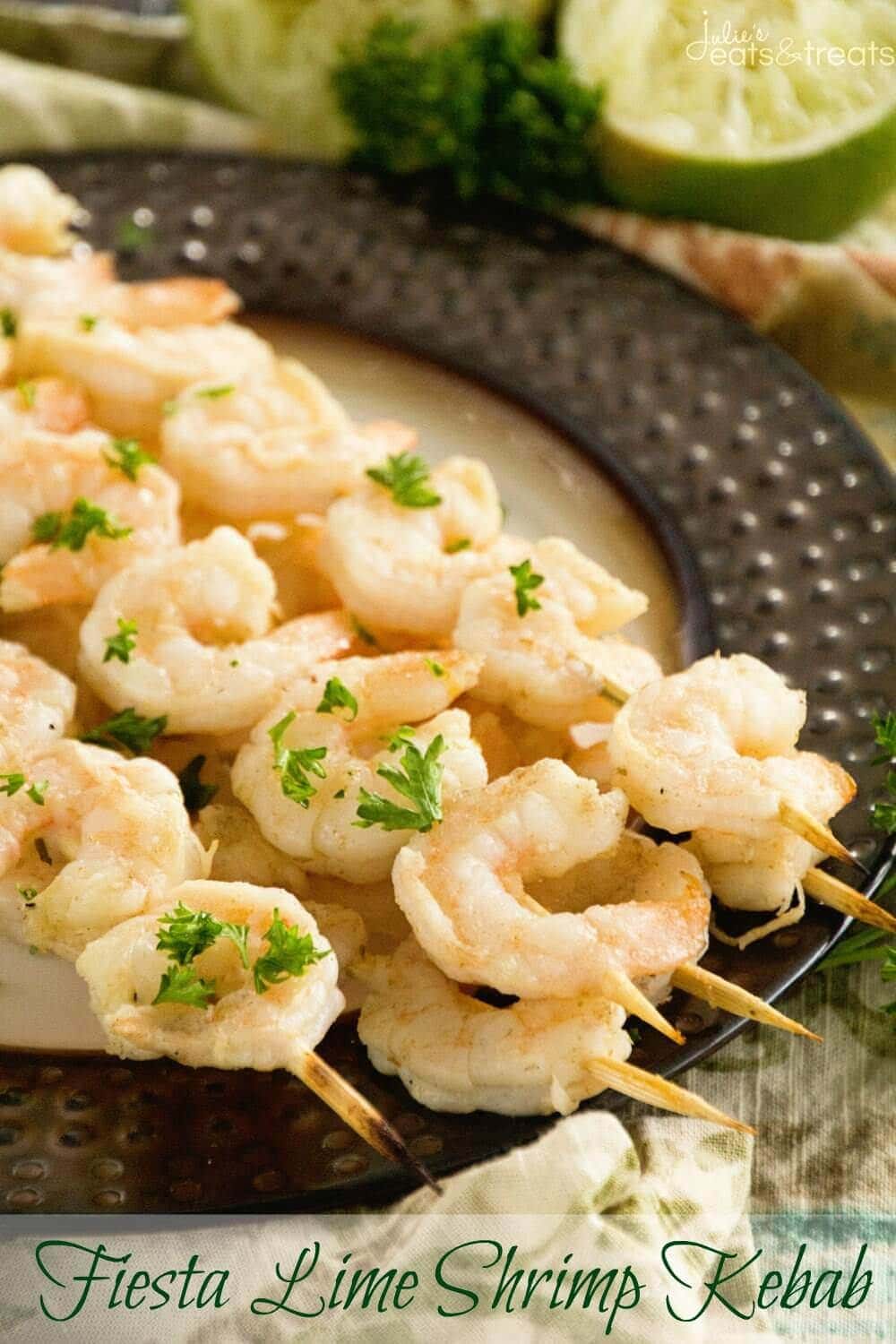 Fiesta Lime Shrimp Kebabs ~ Quick & Easy Recipe! Shrimp Kebabs Marinated in Lime Juice and Seasonings then Grilled to Perfect!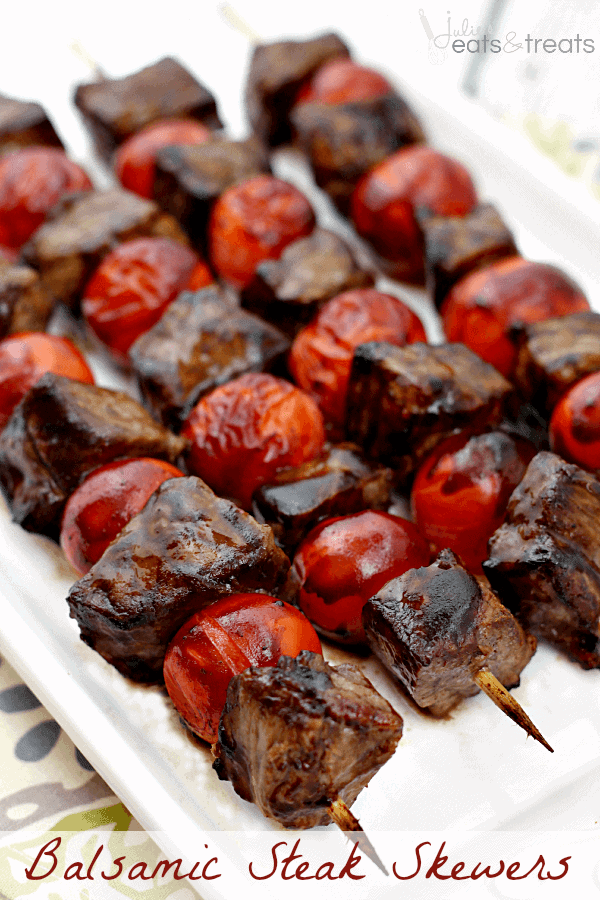 Balsamic Steak Skewers ~ Tender Steak Marinated in a Tangy Balsamic Vinaigrette and Grilled to Perfection!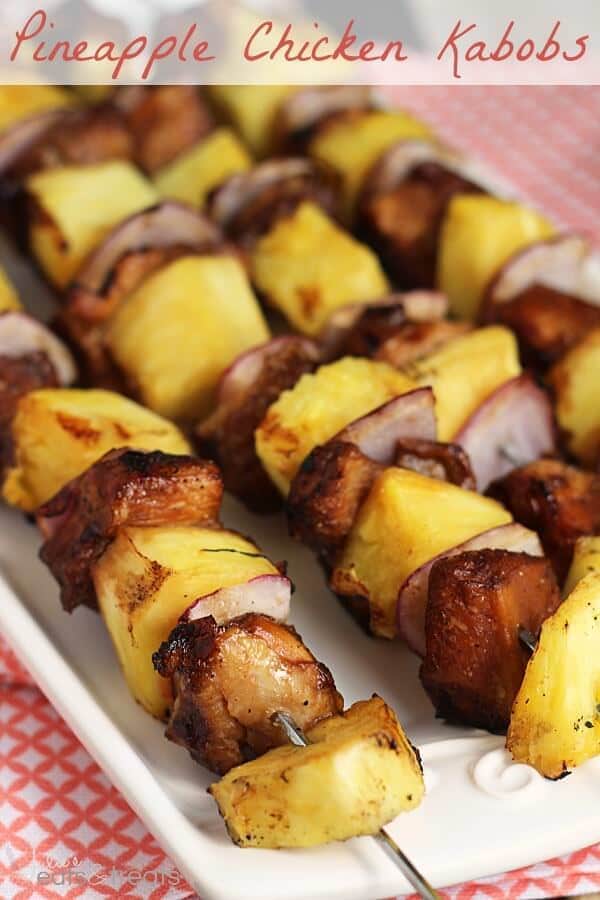 Pineapple Chicken Kabob ~ Quick and Easy Marinated Kabobs that are the Perfect Combination of Sweet and Tangy!