I picked out this recipe to try because I need something quick and easy for supper one night before our birthing class. It was so simple and easy plus yummy!
Birthing class…ok now I know why I waiting until the last minute to go to this class. That's the last possible chance. My last class is literally 5 days before my due date. No worries about finishing it though. I'm sure I'll be one of those lucky people that go OVER my due date. After the first class I looked at the hubby and said uhhh can I cross my legs? Do you think that will prevent that pain? He laughed at me. My midwife also laughed at me when I told her my knew plan!
I have also decided that they should show those videos to high school students and it would be great birth control for them! Holy HANNAH!!! My mother's great words of wisdom were, "Oh Julie not many people die in childbirth anymore. You will be just fine!" Uh thanks Mom?!
Back to the topic at hand….these little treats are perfect for a quick weeknight supper or lunch. They are kid friendly and time friendly. How can you go wrong with that?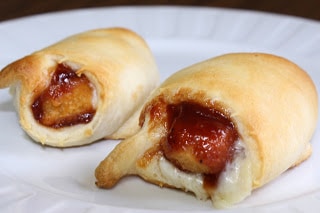 BBQ Chicken Crescents
Printer Friendly Recipe
Ingredients
8 fully cooked fried chicken fingers
4 slices provolone cheese, cut in half
1 can crescent rolls
1 cup BBQ sauce
1. Preheat oven to 375.
2. Separate crescent rolls into 8 triangles. Pour BBQ sauce into a bowl. Place one half slice of cheese on top of crescent roll. Dunk chicken finger into BBQ sauce and place on top of cheese. Roll up crescent and place on cookie sheet. Repeat with remaining chicken fingers and crescents.
3. Bake for 18-20 minutes or until golden brown.
Recipe from: Plain Chicken
Shared on the following sites – Please give them a visit!