BBQ Chicken Zucchini Noodle Casserole
This BBQ Chicken Casserole is made gluten free, low carb and protein packed with zucchini noodles and Greek yogurt! Great for healthy weeknight dinners!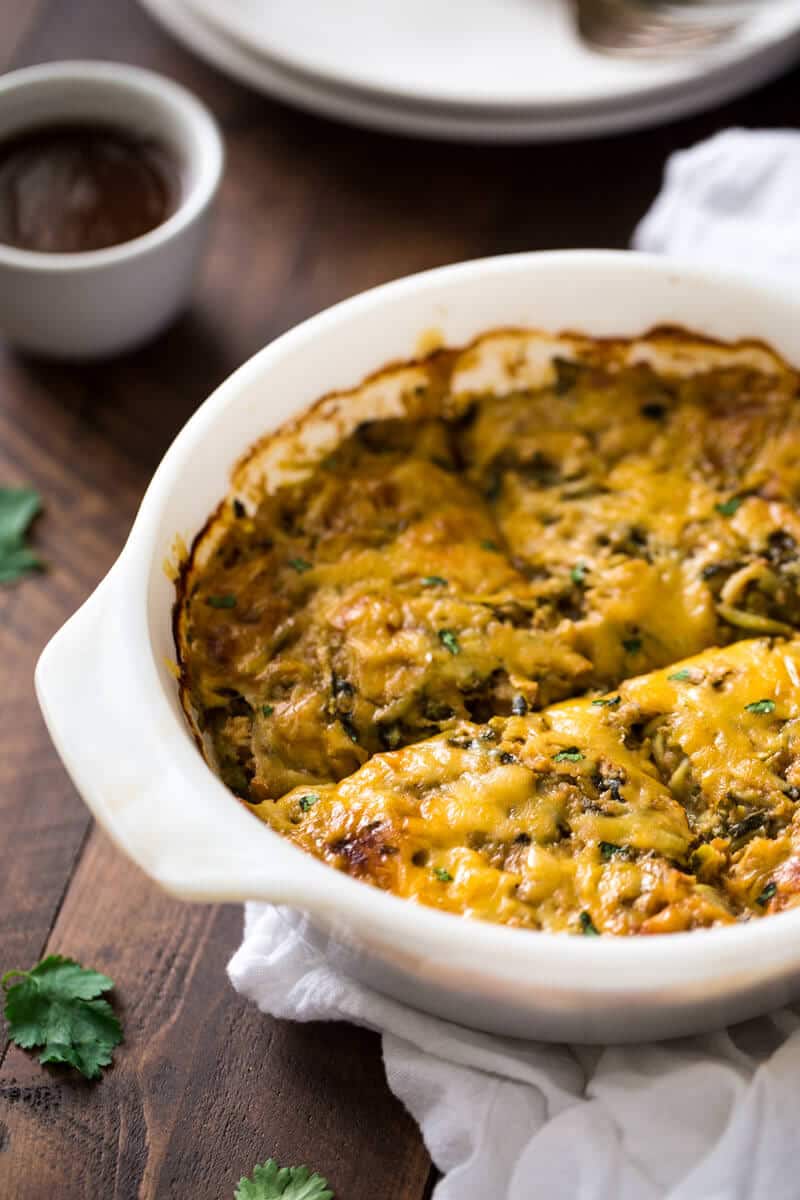 Zoodle, do the zoodle. Zoodle, do the zoodle danceeeeee.
If you have kids, you know what the above sentence is in reference too. And, if you don't have kids, you should probably go and watch "Pb & J Otter" to know what I'm talkin' about.
And, yes, I DO NOT have kids, and I know that show. I enjoy spending my time watching cartoon otters dance around my TV screen.
You can judge me.
Anyway.
Contrary to what I might have led you to believe, we are not talking about otters or anything to do with peanut butter and Jelly today.
BUT, we are talking about zoodles. Do you know what that is?
A zucchini, made into a NOODLE. Otherwise known as the most fun word to say EVER.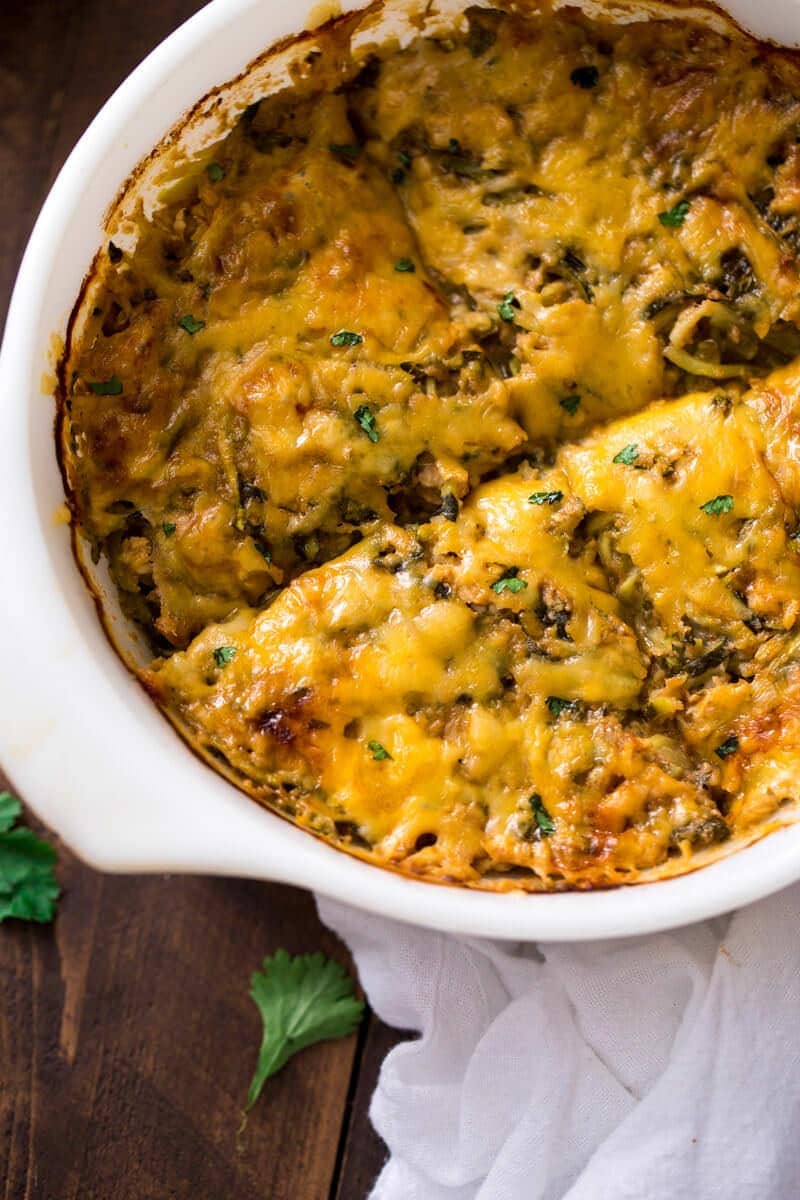 And one of the most fun things for your taste buds to plant into when they're mixed with creamy Greek yogurt, Smokey BBQ Sauce and ALL THE CHEESE.
And, really, that's ABOUT IT.
This bake you guys. It's so easy.
E-Z like I am not even going to type the whole word, because you can MAKE IT in less time than that would take.
That might be a slight exaggeration. BUT, you understand me.
In fact it's even SO easy that I MIGHT have made this for the last 4 days straight because I didn't even want to think about creating something new and exciting when something old was still making my taste buds RAISE DA ROOF.
Hint: I did.
To make this here zucchini noodle casserole (that just so happens to be grain free, low carb and protein packed! WHATWHAT.) you'll be using that ohsocoolandfresh thing that is popping up all ovah the interwebz: the spiralizer.
I love this Zucchini Noodle recipe and I've been eating it forever BUT it comes a time when we need to mix it up a bit!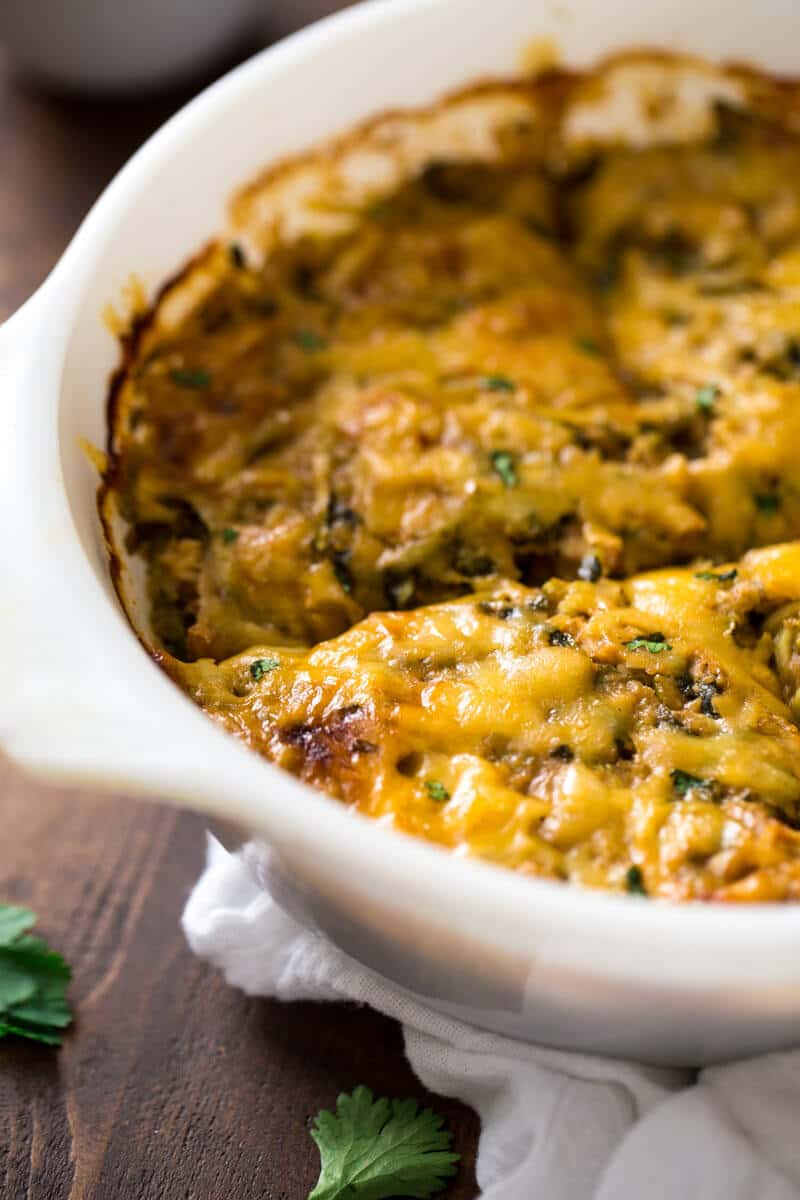 BUT, if you haven't jumped on that bandwagon, just use your mandolin. You'll still be cool.
Then you're going to dry those zoodlies out in your oven. DO NOT. I REPEAT. DO NOT skip this step.
I did once. <– Never again. Unless you like your casseroles to go for a swim before you eat them.
Zucchinis, you guys, have A LOT of water. You needa get rid o' that, cappesh?
Good.
Once you've done that, you're ALMOST to the finish line! Just gently heat some Greek yogurt (<3) your favorite BBQ sauce and CHEESE in a pot until its smooth and ohsocreamy.
Mix it up with your zoodles, some cilantro and VOILA. A nutrit-a-licious dinner that even your kids will love.
I know we established I don't HAVE kids. BUT, I have a husband.
Same thang 😉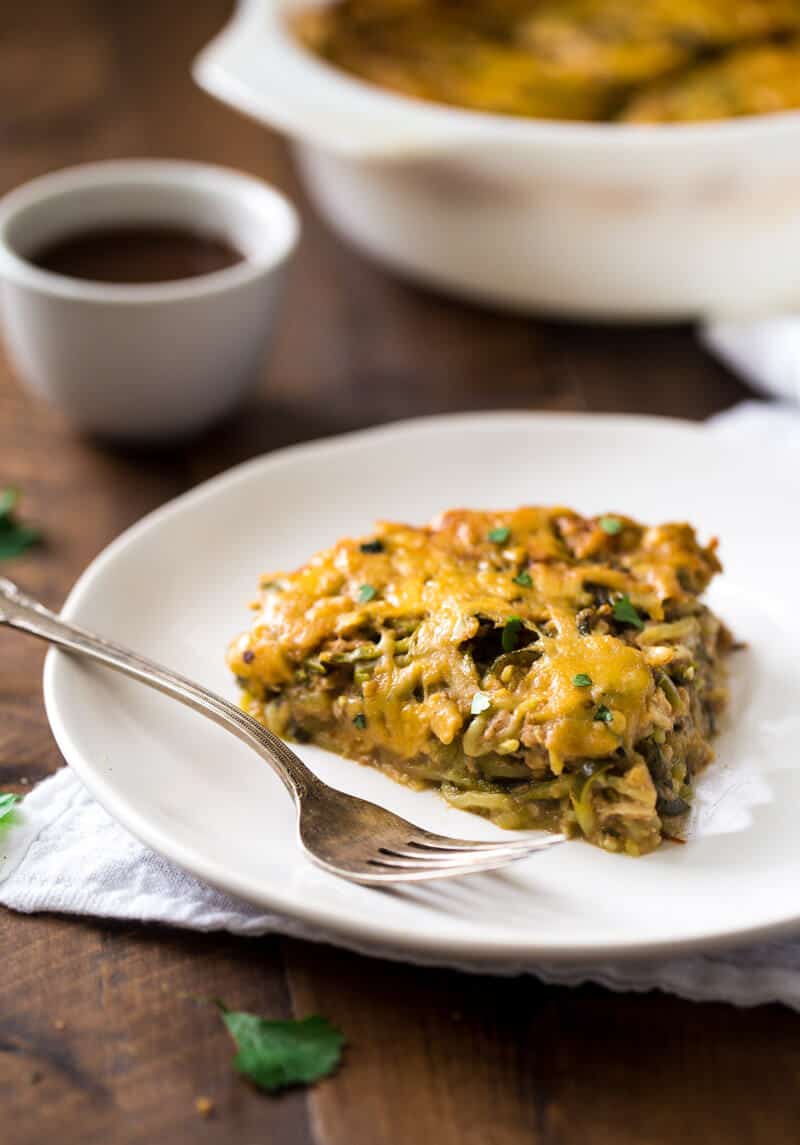 Make it. Eat it. And embrace the general feelings of goodness and health that typically does not accompany this kinda comfort food nums.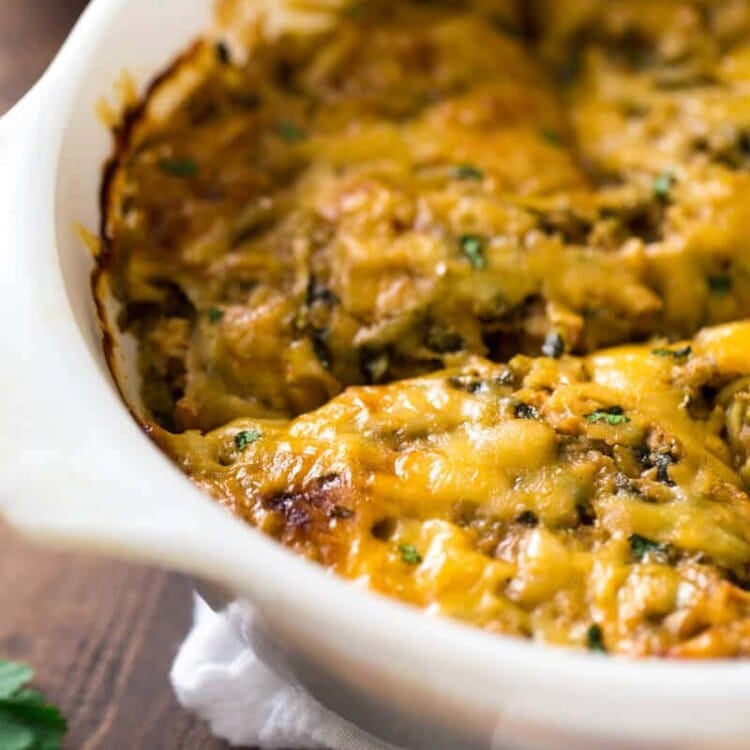 BBQ Chicken Zucchini Noodle Casserole
This BBQ Chicken Casserole is made gluten free, low carb and protein packed with zucchini noodles and Greek yogurt! Great for healthy weeknight dinners!
Ingredients
4

Small Zucchinis

about 6 cups spiralized

Salt

½

Cup

Plain

Non-fat Greek yogurt

½

Cup

BBQ sauce

of choice + additional for drizzling

1 ½

Cups

Reduced-fat Cheddar Cheese

grated and divided

1

Cup

Shredded chicken breast

leftover rotisserie chicken works great here!

½

Cup

Cilantro

roughly chopped + additional for garnish

Pepper
Instructions
Preheat your oven to 200 degrees and line two baking sheets with paper towl.

Using the 3mm blade, spiralize your zucchinis. Divide the zucchini noodles between the two baking sheets in a flat layer. Sprinkle evenly with salt.

Bake the zucchini noodles in the oven for 40 minutes to dry them out. Once cooked, cover with paper towel and press out any excess moisture. Repeat once more with an additional paper towel. Set aside.

Bring your oven up to 375 degrees and place the Greek yogurt, BBQ sauce and 1 cup of cheese in a large saucepan over medium-low heat. Cook until the cheese just begins to break down and look melty and "stringy," about 8-10 minutes, whisking regularly. *

While the cheese melts, toss together the shredded chicken breast, cilantro and dried zucchini noodles into a large bowl. Lightly cut up the mixture up with a fork and knife to make it easier to evenly mix, as well as cut, once cooked.

Once the cheese has begun to melt, pour the sauce over the zucchini noodle mixture and season with a pinch of pepper. Mix well until the sauce evenly coats all the noodles.

Spread the casserole into a casserole dish and bake for 20 minutes. Sprinkle with the remaining cheese and bake until golden brown and bubble, about 20-25 more minutes.

Once cooked, let the casserole cool for 20 minutes (don't skip this!) to let it set and absorb some of the water.**

Cut and drizzle with extra BBQ sauce and cilantro, if desired. DEVOUR.
Tips
* The cheese will not become totally smooth, which is totally ok. You don't want to over-cook the yogurt and cause it to curdle.
** I made this a few times and sometimes there was a little bit of water left in the bottom of my dish once cooled. If this happens just cut and plate the first piece and then lightly tip the dish so the liquid pools in the corner and blot any excess liquid with a paper towel.
Get Nutrition Facts Here
Nutrition Information
Calories:
277
kcal
(14%)
,
Carbohydrates:
33
g
(11%)
,
Protein:
22
g
(44%)
,
Fat:
6
g
(9%)
,
Saturated Fat:
2
g
(13%)
,
Cholesterol:
36
mg
(12%)
,
Sodium:
741
mg
(32%)
,
Potassium:
731
mg
(21%)
,
Fiber:
2
g
(8%)
,
Sugar:
17
g
(19%)
,
Vitamin A:
695
IU
(14%)
,
Vitamin C:
35.8
mg
(43%)
,
Calcium:
223
mg
(22%)
,
Iron:
2
mg
(11%)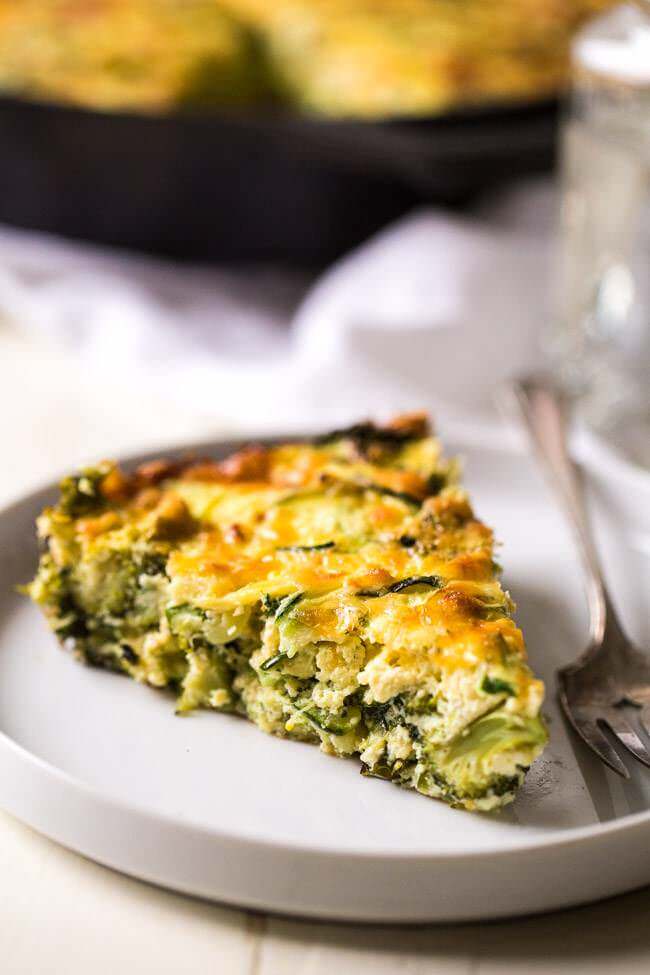 Broccoli, Cheddar and Kale Zucchini Noodle Bake – An easy, weeknight dinner that is gluten/grain free and low carb! Healthy comfort food at its best for under 150 calories a serving!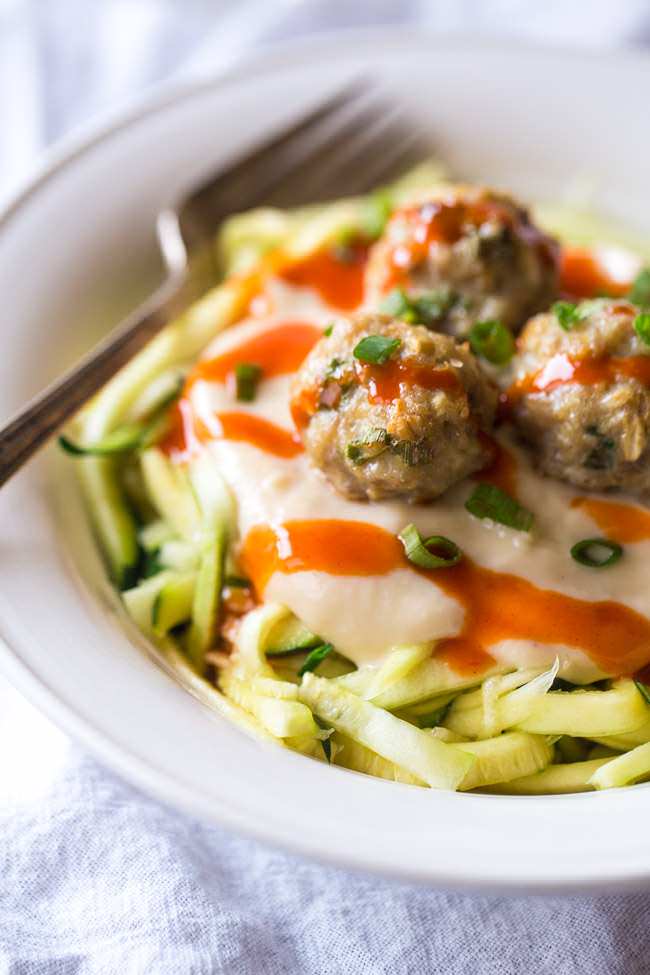 Chicken Meatballs with Buffalo Cauliflower Alfredo and Zoodles – These Buffalo Chicken Meatballs have a ranch twist and are paired with cauliflower Alfredo sauce and zucchini noodles for a quick, easy and healthy dinner!
Easy Chicken Pot Pie is a classic dinner of comfort food.
You can't beat a classic like this creamy, cheesy and delicious Chicken Tetrazzini!
Be sure to try the healthy and delicious Zucchini Fries are tender slices of zucchini that are dipped in a Parmesan Panko breading and then baked until they are crispy!