Berry Yogurt Breakfast Parfait
Berry Yogurt Breakfast Parfait ~ Quick, Healthy Breakfast for Mornings When You Are on the Go! Layers of Greek Yogurt, Granola, Strawberries, Blueberries, Raspberries and Pecans! This is the best breakfast for a healthy way to start the day. Plus, they are great for making while you are hosting guests!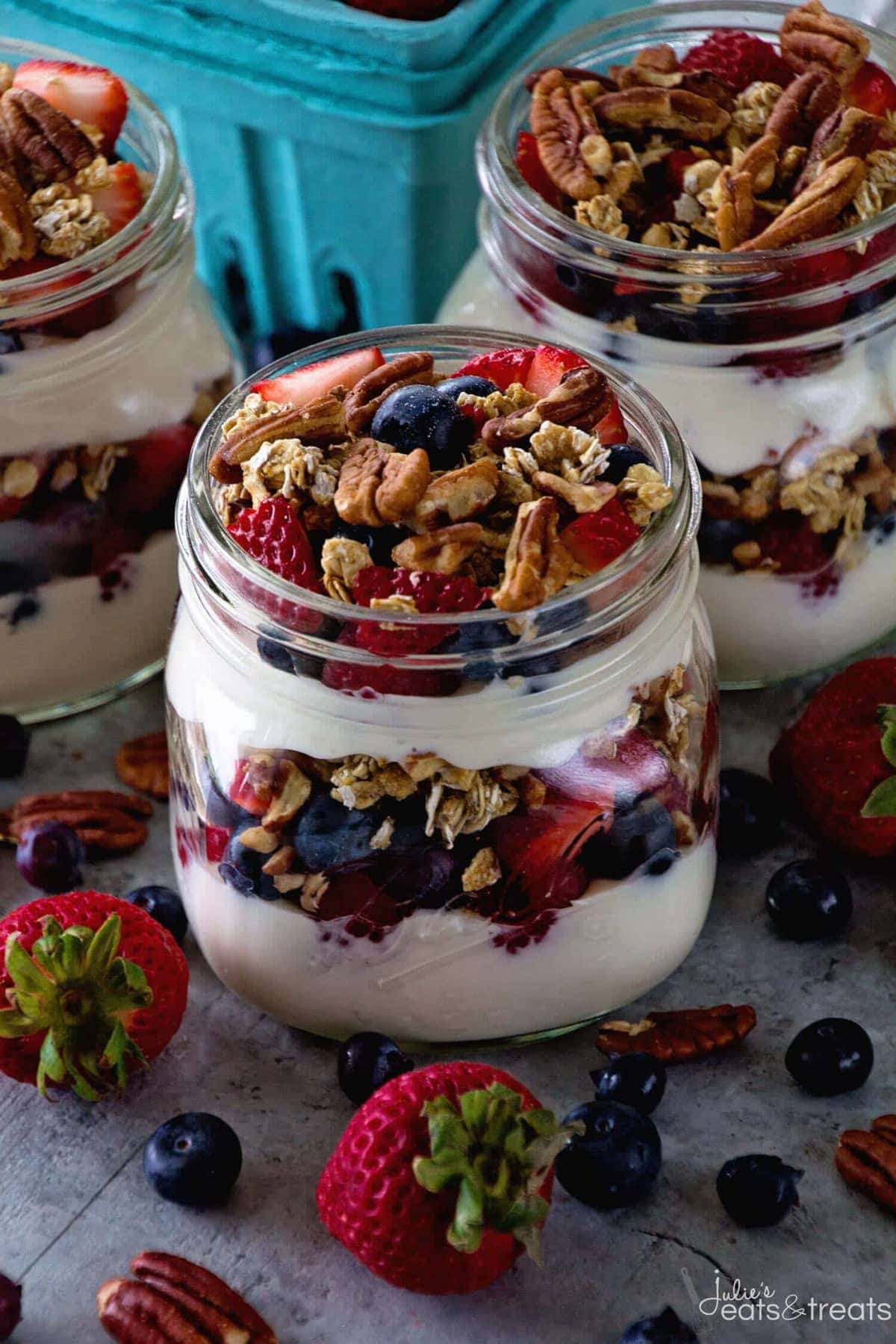 Does anyone else get in a breakfast rut? It's the same bowl of cereal. The same piece of toast. The same thing, day after day, it seems. That's why I love mixing it up with these delicious Berry Yogurt Breakfast Parfaits for a grab and go breakfast on the run! They are full of Greek Yogurt and keep me full all morning. I love the crunch that the pecans and granola adds! Plus, put them in a mason jar and they are both cute and delicious. Everything tastes better in a Mason jar right?
Ingredients Need for Berry Yogurt Breakfast Parfaits!
Vanilla Greek yogurt

Strawberries

Blueberries

Raspberries

Granola

Pecans
If you are anything like me, you are rushing out the door as fast as possible and thinking about breakfast is pretty much the last thing you want to do. Every single morning is a race against the clock. During the summer I have to be to work a half hour earlier than the rest of the year due to summer hours. Summer hours are something I detest. Trying to get two kiddos up, dressed and out the door by 7 am is a battle in itself.
A few of my other favorite make ahead breakfast are Peanut Butter Banana Overnight Oats, Mixed Berry Vanilla Baked Oatmeal and Almond Strawberry Overnight Oats! They are both grab and go options that I can make ahead of time. Win, win!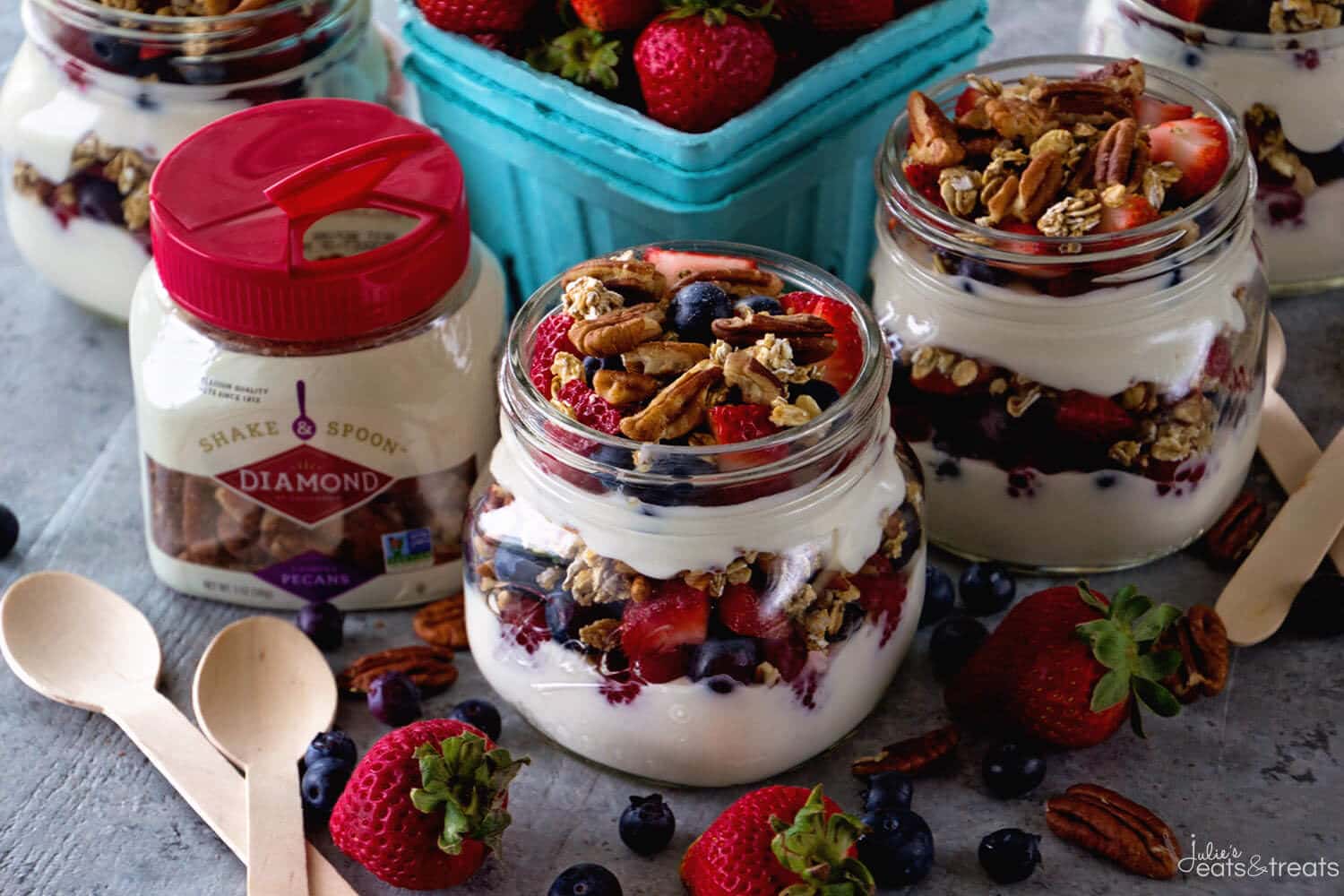 Unfortunately, the hubs is already at work so I'm left to battle the battle on my own. Boy, oh boy, is it usually a battle. Miss K is usually laying in her bed refusing to get out of bed. Then we get out of bed and she refuses to get dressed. We get dressed and she refuses to let me do her hair. By the end of the ordeal I often times feel like a I ran a marathon. Getting to work and sitting my desk chair is a welcome relief!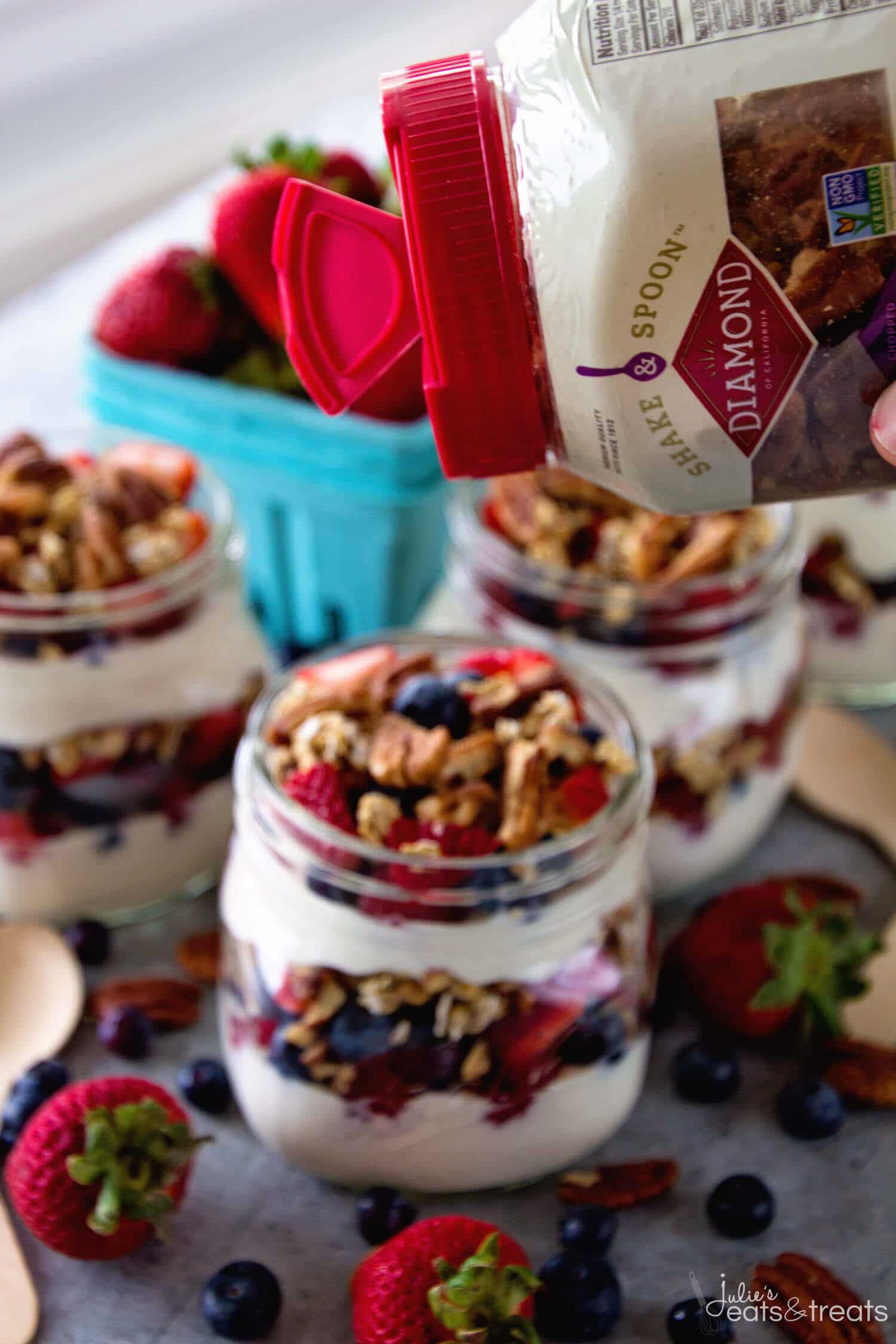 Since the hubs leaves for work earlier than me I make him bring me breakfast while I'm getting ready. Pretty sweet right? I figure that's the least he can do since I have to battle the children every day!
This past month I found a new love for Greek yogurt. I had turned up my nose at the thought of this before after trying one brand and not liking it. I decided to give it a try again since I hear all kinds of health benefits and we always need more protein in our diets! This time I tried vanilla flavored Greek yogurt. Apparently that's the key! I was in love. I've been eating it daily now! Typically I mix in some fresh fruit since everything is better with fresh fruit!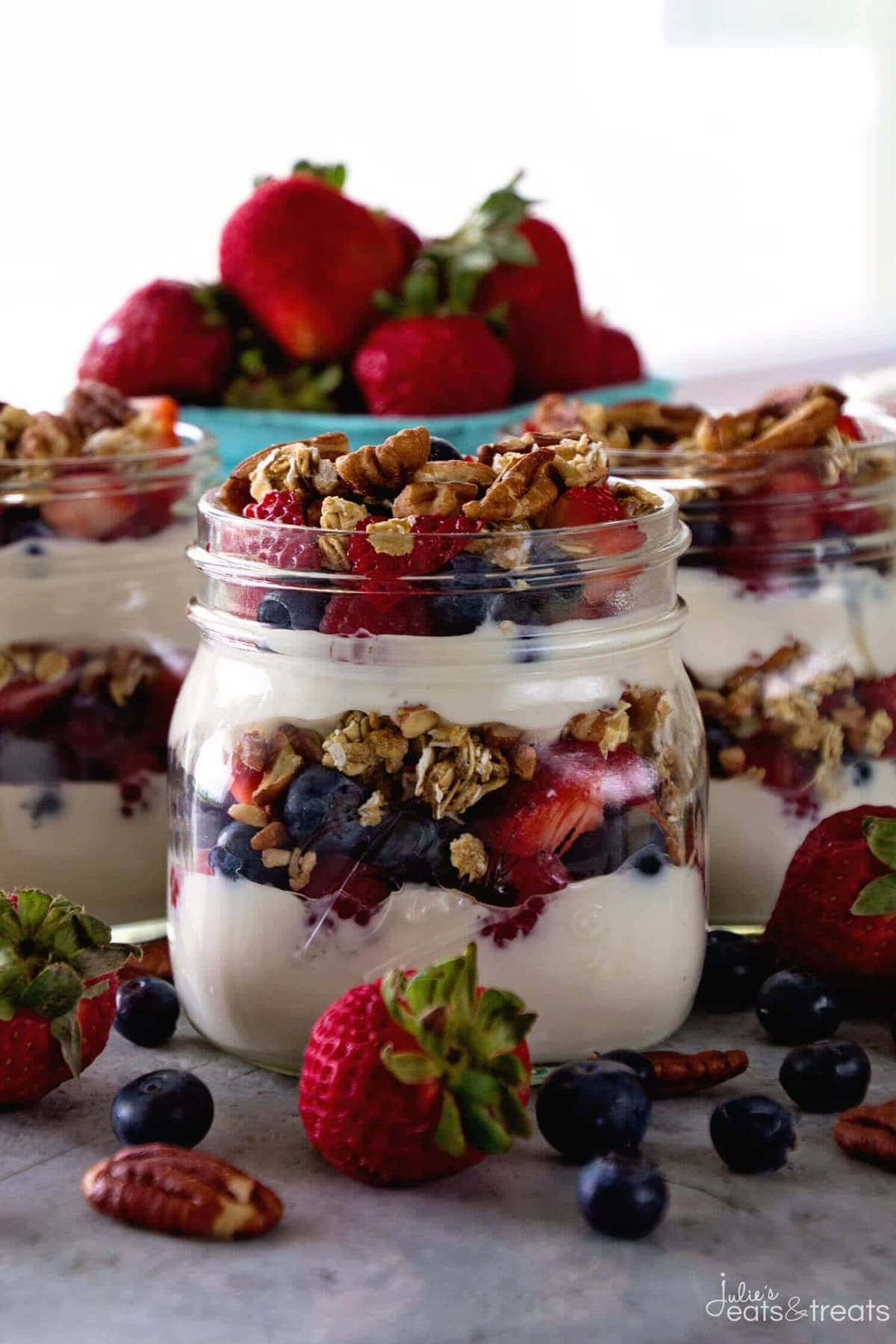 When my friends from Diamond of California®'s came out with their new Shake and Spoon™ nut toppers I knew just want I wanted to do with it! You see, I'm all about the crunch factor in life. My treats have to have crunch. I decided the perfect addition to my new found treat of Greek yogurt and fresh fruit was a few of their pecans! I threw in some granola for good measure and now I have the perfect treat that I don't have to feel guilty about!
Tips for Making Berry Yogurt Breakfast Parfait!
Use Mason jars to make convenient on the go breakfasts!
If serving a large group double and use a trifle bowl for a pretty presentation!
If making ahead skip the pecans and granola until the day you eat them and then top at that time! No soggy granola or pecans!
Use your favorite flavored Greek Yogurt for a different spin!
Mix up the fruit toppings!
I love to have these for snack or breakfast. In the mornings they are so easy to whip up and then if I don't have time to eat them at home I can just grab them and eat them at work when I get there. Perfection! They are so easy my hubs is even known to create one and bring it to me in the morning. Now you know it's easy!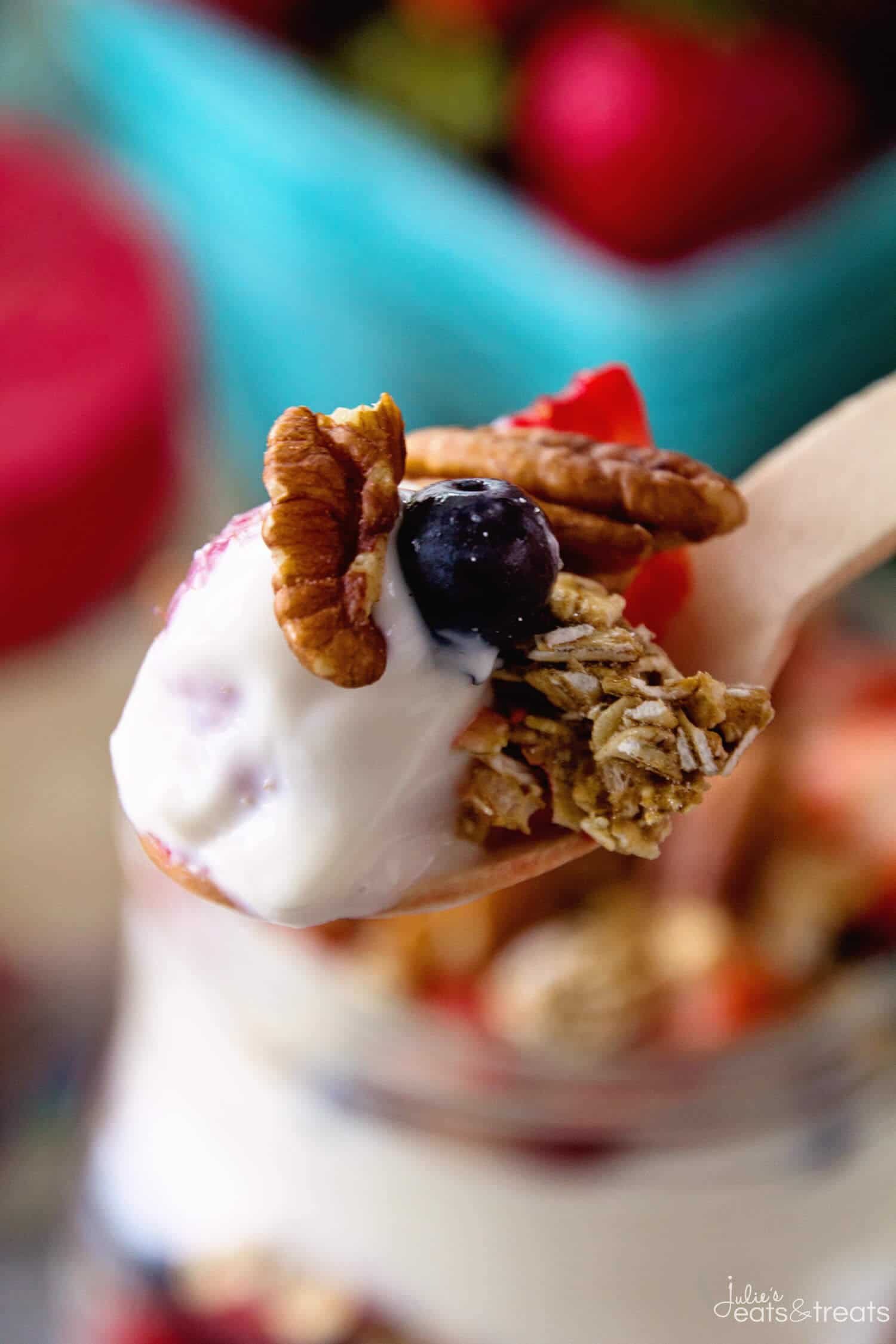 Diamond of California®'s new Shake and Spoon™ nut toppers is perfect for topping your favorite yogurt, smoothie bowl or salad! If you are feeling really crazy top your favorite ice cream! The Shake & Spoon container has a dual flip top lid for shaking or spooning and keeps nuts conveniently in arm's reach. Shake & Spoon is available in four premium quality, varieties including Chopped Walnuts, Sliced Almonds, Chopped Pecans and Diced Walnuts. All 4 varieties are Non-GMO Project Certified.
Disclosure: Diamond of California®'s has compensated me for my time to create this recipe. Thank you for supporting the brands that make Julie's Eats & Treats possible. All thoughts are my own.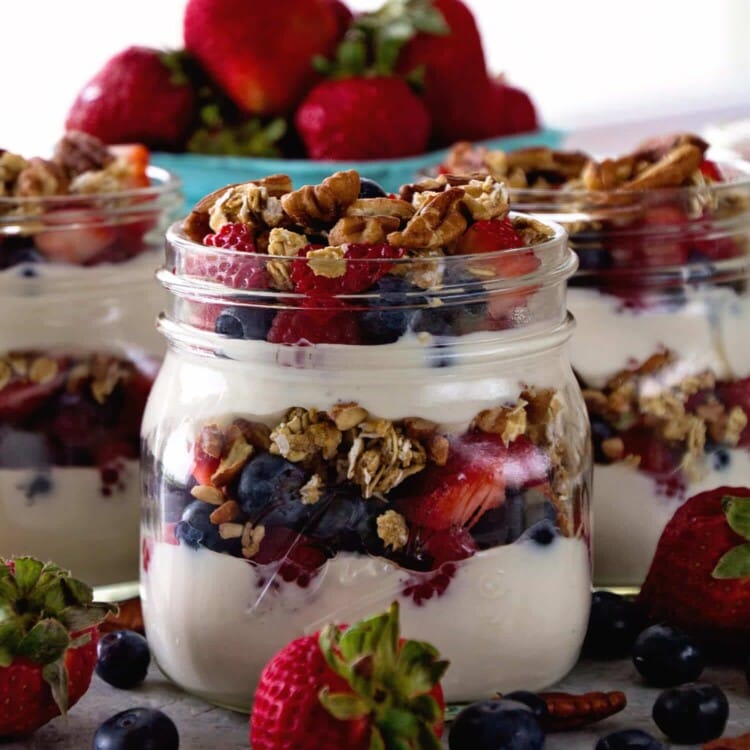 Berry Yogurt Breakfast Parfait
Quick, Healthy Breakfast for Mornings When You Are on the Go! Layers of Greek Yogurt, Granola, Strawberries, Blueberries, Raspberries and Pecans
Ingredients
1

32 oz container vanilla Greek yogurt

2

c.

sliced strawberries

2

c.

blueberries

2

c.

raspberries

1

c.

granola

1

c.

Diamond of California®'s new Shake and Spoon™ Pecans
Instructions
Place 1/2 c. Greek yogurt on the bottom of four Mason jars or cups.

Top with 1/4 c. strawberries, blueberries and raspberries in each cup. Then layer on 1/8 c. granola and pecans. Repeat layers. Cover and store in refrigerator until serving.
Tips
Best if used the same day!
If you want to make these ahead of time, skip the granola and pecans in the parfaits and top them with pecans and granola when you serve them!
Nutrition Information
Calories:
1033
kcal
(52%)
,
Carbohydrates:
117
g
(39%)
,
Protein:
33
g
(66%)
,
Fat:
54
g
(83%)
,
Saturated Fat:
5
g
(31%)
,
Cholesterol:
7
mg
(2%)
,
Sodium:
91
mg
(4%)
,
Potassium:
1126
mg
(32%)
,
Fiber:
21
g
(88%)
,
Sugar:
64
g
(71%)
,
Vitamin A:
150
IU
(3%)
,
Vitamin C:
112.7
mg
(137%)
,
Calcium:
148
mg
(15%)
,
Iron:
5.7
mg
(32%)