Blueberry Sangria is a delicious, quick and easy white sangria that is flavored with pink lemonade, blueberries and Lemon Lime Soda. It's refreshing, light and slightly bubbly. We love enjoying a pitcher of this sangria recipe during the summer especially when we have company over! You won't be able to stop with just one of these fabulous drinks!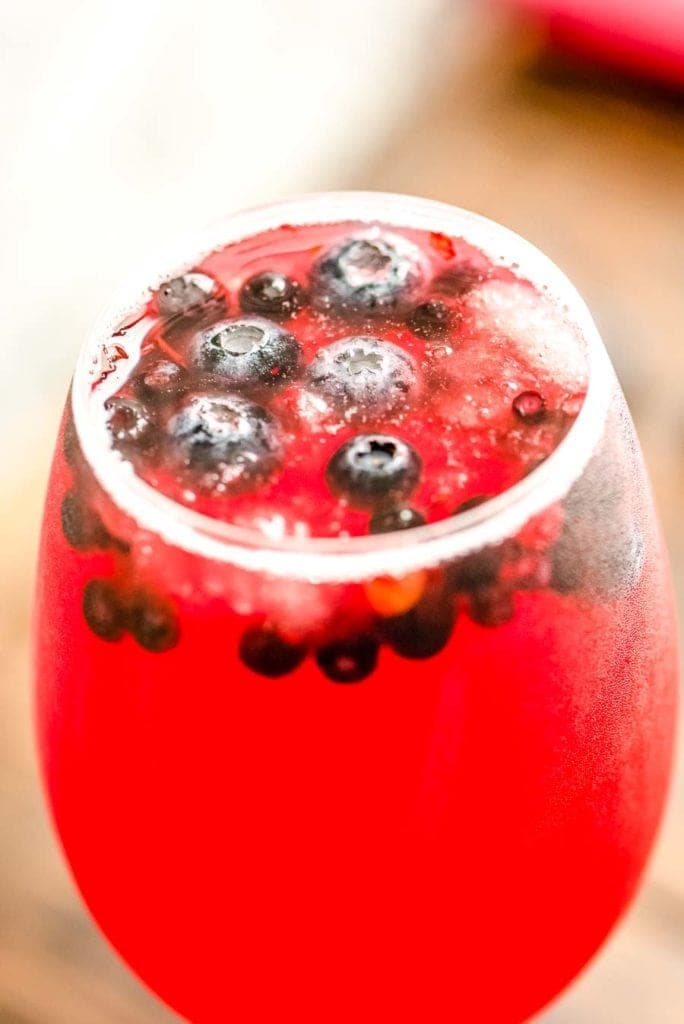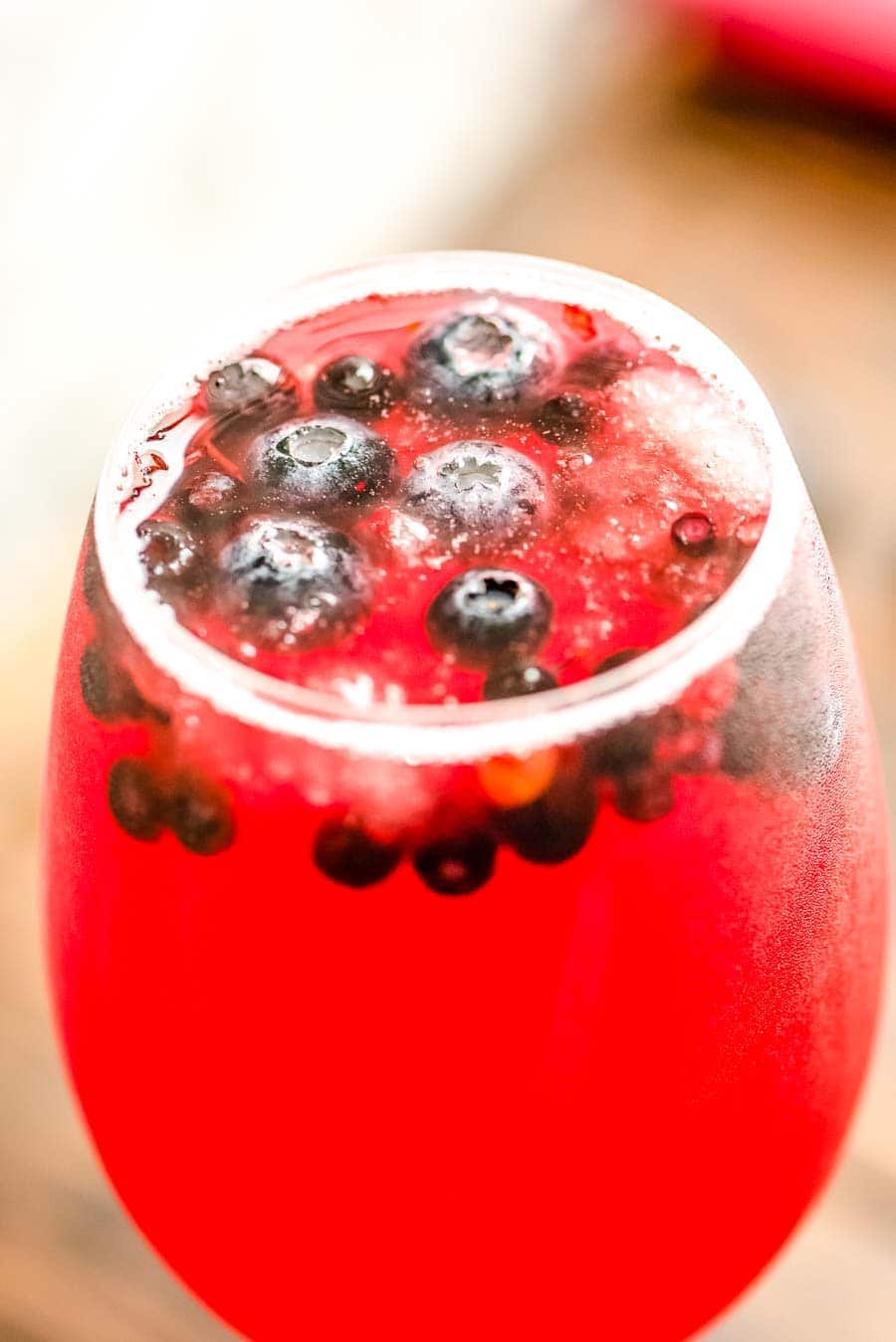 Sangria with Blueberries!
A long, long time ago I went to this bridal shower for one of my besties, it was there that I was introduced to the most magnificent Sangria on the face of this earth. It was fruity, fizzy and made with blueberries. Basically, the best summer sangria I'd ever had! It might even top my favorite Peach Rose Sangria!
I begged for the recipe and I received the recipe where it rested in my inbox for many, many years. I dreamed of this Blueberry Sangria often and wondered if it really was as good as I dreamed it was.
This White Sangria is Fruity, Light and Refreshing!
You know how you sometimes build something up in your mind so much that you actually worry that you might be disappointed when you actually make it? Yep, that's what happened with the Blueberry Sangria. I think I waited so long because I couldn't imagine that it would be as good as I remembered it! I know, crazy, right? Well, luckily, I finally decided to make it and it totally lived up to my expectations. It was just as good as I remembered!
After the first sip, I was totally kicking myself for waiting so long! This Blueberry Sangria is refreshing, light, and fizzy. Pretty much everything I love in a summer drink. It's basically an easy white sangria dressed up with blueberries and it's so easy you can make big batches for all your summer parties.
I love that it pairs will with some of my favorite appetizers like Stuffed Garlic Mushrooms which are always a crowd pleaser!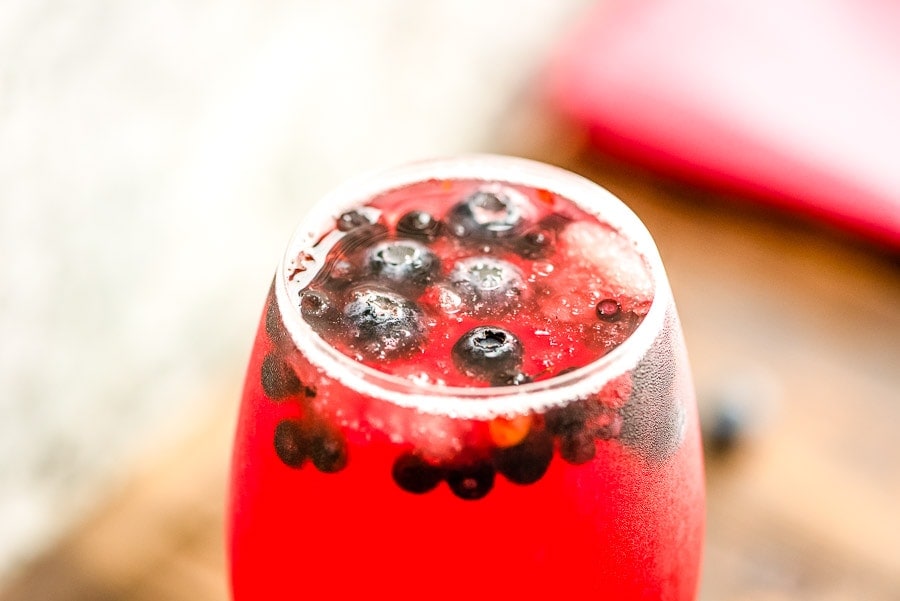 This is a quick overview of the ingredients and recipe. Please scroll to the bottom where the recipe card is for the full directions!
What ingredients do I need to make Blueberry Sangria?
Frozen blueberries
Frozen pink lemonade
Chardonnay
Brandy
Lemon-lime soda
How do I make Blueberry Sangria?
Sangria is one of the easiest drinks to make because all you have to do is combine all of the ingredients in a pitcher and stir! I like to make this Blueberry Sangria at least one hour in advance of when I want to serve it so it's nice and ice cold when I serve it.
Combine Ingredients – Literally grab your favorite glass pitcher and dump all the ingredients in it and stir!
Refrigerate – Make sure to chill it at least one hour for all the flavors to meld together!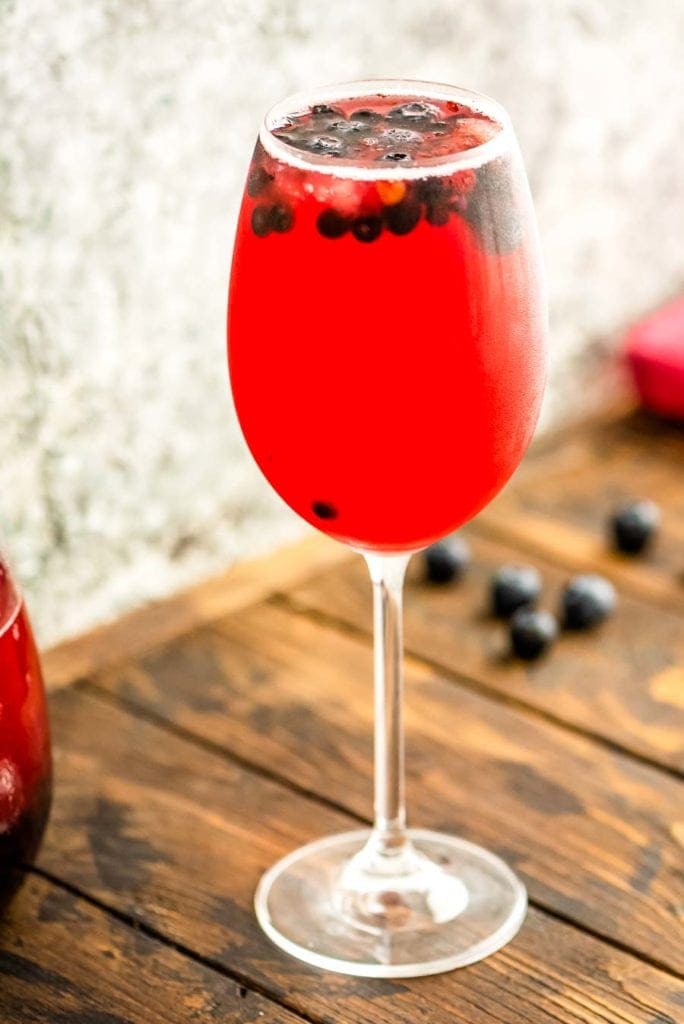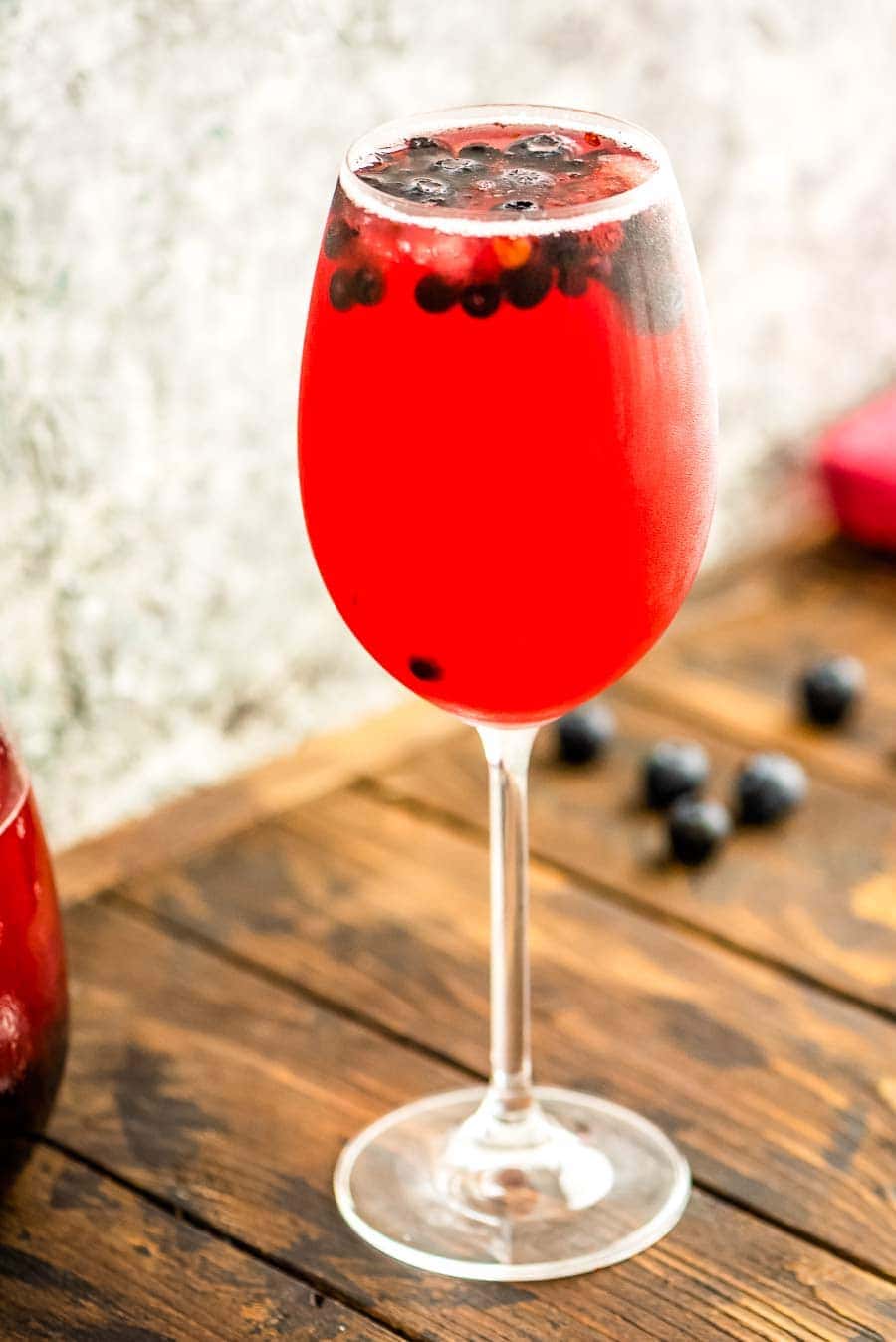 What is Sangria?
Sangria is an alcoholic drink that's made with wine, fruit, brandy, and other mixers like fruit juice. Traditional sangria is made with red wine, but there are many white sangria variations that are made with white wine, like this Blueberry Sangria recipe I'm sharing.
It's a great drink to make for parties because it's mixed up in a big pitcher and everyone can serve themselves. Or, break out that old-school punch bowl to serve your sangria!
What appetizers pair well with Sangria?
If you're going to make this easy sangria you'll want some appetizers to snack on with it! Here are some of my favorite appetizers and snacks that I like to serve with sangria:
How far in advance can you make Sangria?
Sangria will keep in the refrigerator for several days, which makes it great for parties because you don't have to worry about mixing drinks as people want them. I usually make my sangria at least an hour ahead so it's nice and cold.
Just keep in mind that the lemon-lime soda will lose it's fizziness if you make far in advance. You can always mix up all of the ingredients without the soda and add it just before you serve it.
How long is Sangria good for?
Sangria with fruit will keep in the fridge for up to three days.
Is Sangria served cold?
Sangria should be served cold which is why you want to make it at least an hour in advance so it has time to chill before you serve it. You can also serve sangria with or without ice.
So, what are you waiting for? I know you're going to love this sangria so grab some friends, make some tasty appetizers and sip on some Blueberry Sangrias! I can't think of a better way to spend a summer night.
More of my favorite Sangria Recipes
WATCH THE STEP BY STEP VIDEO FOR THIS BLUEBERRY SANGRIA RECIPE BELOW:
If you enjoy watching these videos make sure you subscribe to my YouTube Channel to be notified each time a post a new video!
I'd love it you would rate this recipe!! A five-star rating will make my day!
Don't forget to tag me on Instagram @julieseatsandtreats or #julieseatsandtreats that way I'm sure to see your pictures!!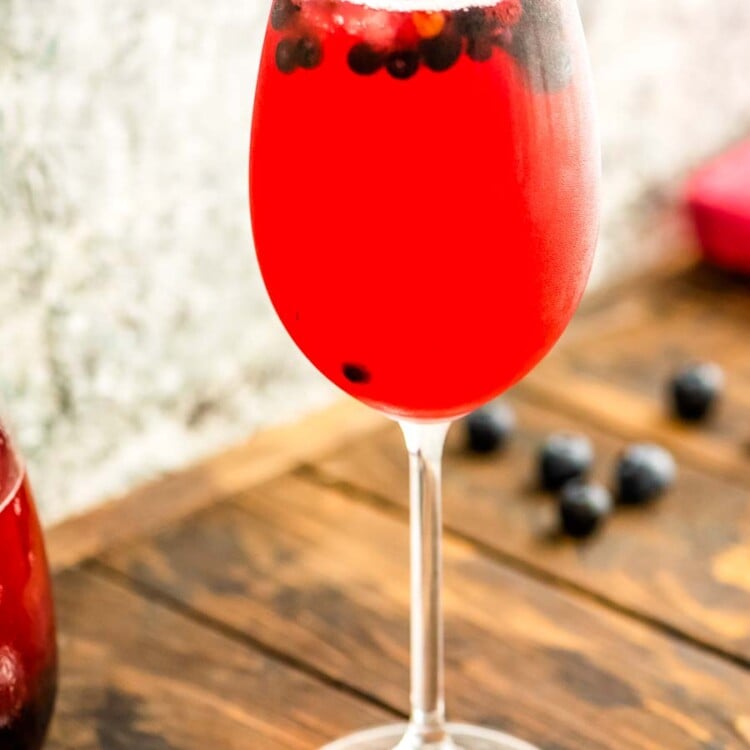 Blueberry Sangria Recipe
Blueberry Sangria recipe is a mixture of Chardonnay, Pink Lemonade, Brandy, Sprite and Blueberries will have you coming back for more!
Ingredients
1 ½

c.

frozen Blueberries

12

fl oz

frozen pink lemonade

750

ml

bottle Chardonnay

1/2

c.

Brandy

3

c.

Lemon Lime Soda
Instructions
Stir all ingredients together and rest stand in fridge at least one hour.
Nutrition Information
Serving:
1
,
Calories:
282
kcal
(14%)
,
Carbohydrates:
45
g
(15%)
,
Protein:
1
g
(2%)
,
Fat:
1
g
(2%)
,
Saturated Fat:
1
g
(6%)
,
Sodium:
18
mg
(1%)
,
Potassium:
140
mg
(4%)
,
Fiber:
1
g
(4%)
,
Sugar:
39
g
(43%)
,
Vitamin A:
25
IU
(1%)
,
Vitamin C:
11.5
mg
(14%)
,
Calcium:
17
mg
(2%)
,
Iron:
0.4
mg
(2%)