I hope everyone had a wonderful Easter with family and friends! I had a full day of events on Easter Sunday. It started out by popping a couple egg bakes in the oven for after church brunch that I helped serve. I didn't actually make the eggs bakes I just baked them. Pretty awesome deal huh? I also brought the Sunshine Salad that I posted on here to church brunch. After church Jason and I may have had a slight mishap. We were in the process of handing off the bag with the empty glass Pyrex bowl and somehow, I'm not blaming either of us, it slipped and landed on the tile floor. It made a huge crash and everyone had to investigate what was going on of course! Luckily the bowl shattered in the bag and clean up was a breeze. This bowl was venturing out for the first time that Sunday…and for the last time. That wedding present (sorry dear brother Brent who gave it to me) had a short life. Luckily Mom hoarded another one and I got a new bowl Sunday night! Can't beat that. I've got a pretty awesome Mom, but I've already told you that multiple times and I bet you are tired of hearing it! After church it was off to Aunt Pam's where I brought this amazing recipe I'm going to share with you. Then after that we went to Aunt Cheryl's. We were definitely FULL to the brim after all of the days events. This recipe I'm sharing is a staple at the Wiese get togethers. I LOVE it. Love love love it. Jason said I was wasting some good cheese mixing it in with all these vegetables. I'll have to disagree with him. It's simply amazing!
Broccoli Cauliflower Casserole
Printer Friendly Recipe
Ingredients
1 16 oz package frozen cauliflower, thawed
1 16 oz package frozen broccoli, thawed
1 4-5 oz can water chestnuts, sliced, drained
1 8 oz can bean sprouts, drained
1 can cream of mushroom soup
1 c. mayonnaise
Onion, chopped
2 eggs, beaten
1 tsp salt
Dash of Pepper
8 oz grated cheddar cheese
8 oz grated mozzarella cheese

MY LATEST VIDEOS
1. In a bowl combine soup, eggs, onions, water chestnuts, mayonnaise, salt & pepper.
2. In a 9×13 glass pan put 1/2 of the broccoli, cauliflower, bean sprouts & water chestnuts. Pour half of the combined mixture over the cauliflower mixture. Then sprinkle half the cheese on top.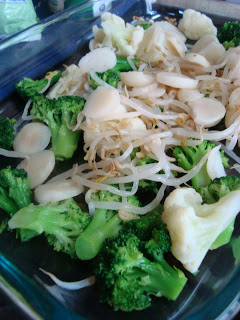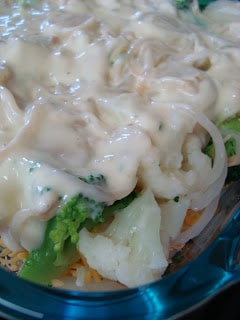 3. Then make another layer of the broccoli, cauliflower, bean sprouts & water chestnuts. Top with the sauce and cheese.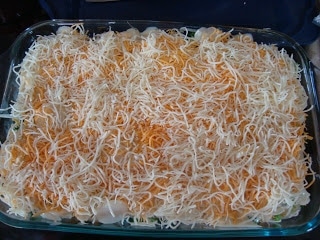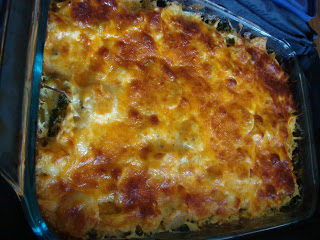 4. Bake at 350 degrees for an hour to a hour and fifteen minutes.