Planning a brunch? Hosting Easter or Mother's Day? Here are delicious, easy recipes that anyone can make! We've included french toast, egg casseroles, drinks, and more. Gather your family and friends, make a few easy recipes, and enjoy.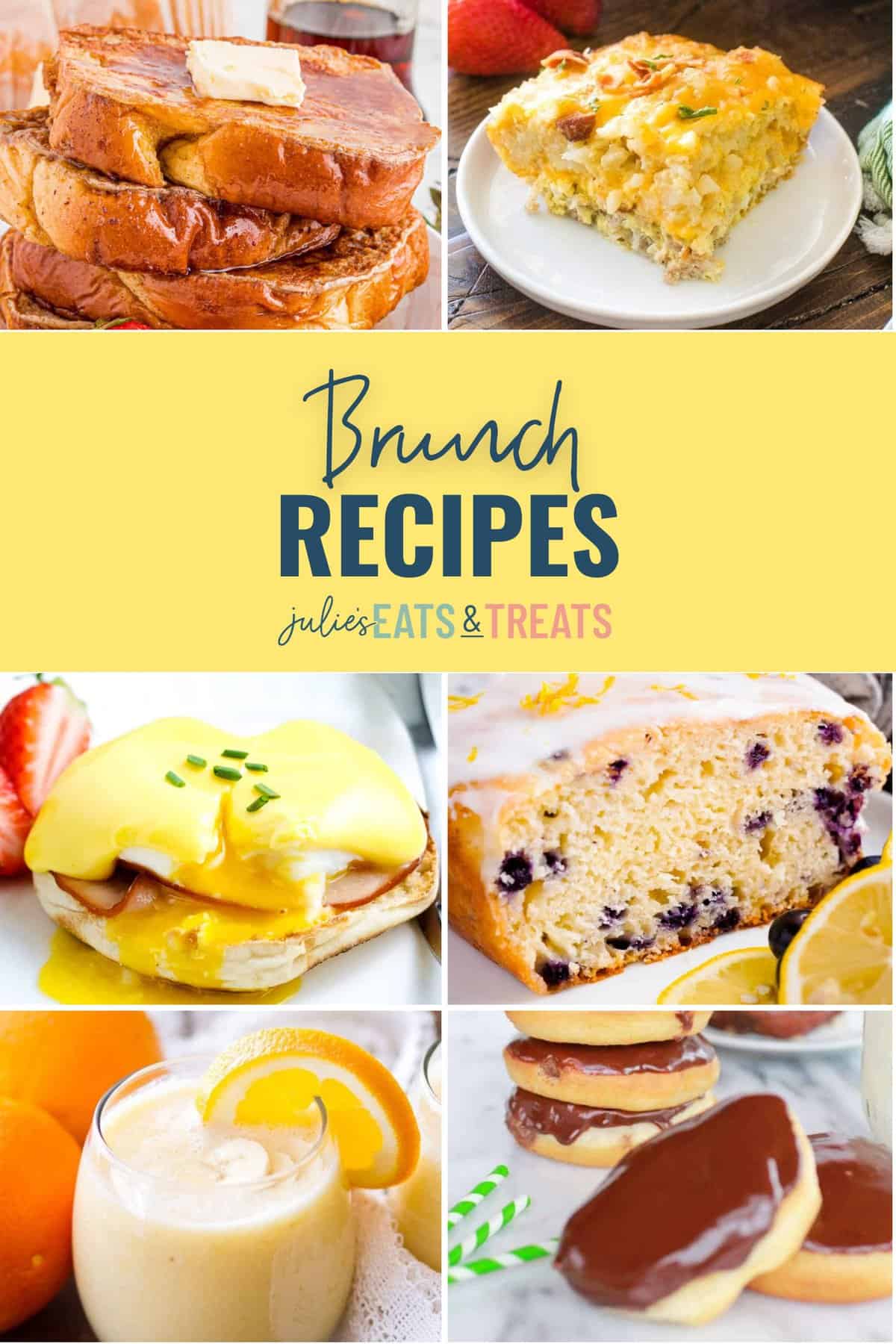 Brunch is the perfect way to have company over on the weekends, or for the holidays. There's so many amazing recipes you can make that all of your friends and family will love.
My love language is sleeping in and waking up to enjoy a delicious brunch buffet. Plus, it's the perfect excuse to enjoy an "adult beverage" before 5 o'clock with no excuse needed!
Make some tasty bacon or sausage, pair it with pancakes or french toast, and round things out with a bubbly mimosa. Or, you can make any other combination to create the perfect brunch menu.
Here are a bunch of recipes to get started with that anyone can make, no matter what your skill level is in the kitchen!
Easy Brunch Recipes!
Click any of the headings below to jump straight to that section!
Brunch Casseroles
There is a never ending supply of amazing brunch casserole recipes. Whether you need sweet, savory, or something completely unique, there's a recipe here for you. So check them out!
French toast is already amazing, but you can make it even easier and more tasty in a brunch casserole! You can even make it the night before you need it and then pop it in the oven before you plan to serve it. So easy.
Everyone needs a classic sausage and cheese hashbrown casserole in their lineup of brunch recipes. This one is perfect for brunch or even when you need to serve breakfast to guests over the holidays.
Pizza for breakfast? I think yes! This delicious recipe is crazy easy to throw together and your kids are going to love the fact that they get to eat pizza for breakfast. Who am I kidding, I love the fact I can eat pizza for breakfast!
This sausage breakfast casserole will be a hit at your next brunch party. Plus, if you run out of oven space, just fire up the grill. This casserole can be cooked in the grill!
If you need to have some mental space free to get other food going in the oven and on the stovetop, throw this casserole in the crock pot and let it do its thing! It's super easy to make and is absolutely delicious.
Biscuits and gravy…but in casserole form. Need I say more? This is brunch food that will blow everyones mind. It really takes the cake, or should I say casserole.
Yes, mashed potatoes can be brunch food! This cheesy mashed potato egg casserole is so tasty. It's a simple recipe you can throw together quickly so that you can enjoy your brunch with friends and family.
I love a good skillet dish. This grilled breakfast skillet is packed full of protein and will be a hit at brunch. It's actually so tasty that sometimes I'll throw it together as a quick dinner too!
If you've got a smoker that you're itching to use, this recipe is calling your name. Smoked breakfast fatty is loaded with hash browns, cheese, and eggs and wrap in breakfast sausage and bacon. How many breakfast foods can you fit in one dish? Apparently a lot!
Need a quick side dish for brunch? These breakfast potatoes are super simple and easy to throw together really quickly.
If I can figure out a way to eat tater tots at brunch, you know I will! This tasty casserole is so yummy. Plus, you can prep it the night before and then just pop it in the oven the next morning!
Now this recipe may sound a little out there as brunch food, but don't knock it 'til you try it. This overnight breakfast casserole is so incredibly delicious!
Yes, breakfast lasagna is a thing! And even better, this is an overnight recipe. Anything that allows me to get a little extra sleep in the morning is a win in my book.
Pancake & Waffle Recipes
I've never met a pancake or waffle I didn't like! Our basic light, fluffy and easy pancakes are made from scratch with simple ingredients you can find in your pantry. But if you want to mix it up a little, we've got recipes for that too!
Everyone needs a classic homemade pancakes recipe. This is it! If you want soft and fluffy pancakes at brunch, this recipe won't fail you.
If you've got a sweet tooth, you'll love these fluffy chocolate chip pancakes. They're one of those staple brunch recipes that everyone will rave over. Plus, they're really easy to make!
If you're serving brunch in the fall, these pumpkin pancakes will be a hit. Pumpkin pairs so well with maple syrup too, so the flavor combination of these pancakes is to die for.
This recipe for sweet potato pancakes is so warming and delicious. They're another great dish to add to your list of fall brunch recipes.
Pancakes are already easy to make, but what if I told you they could be made even faster and even easier? Crazy, right? Sheet pan pancakes do just that though! This quick and easy recipe makes a huge load of pancakes without all they time standing over a griddle or skillet.
Buttermilk pancakes are a staple around out house. Having pancakes at brunch is a must in my opinion. So I love throwing a batch of these together!
If you've never had a dutch baby, you're missing out! This easy recipe can be thrown together really quickly. So try it out for your next brunch party.
If you've ever had zucchini bread, then you know how moist and flavorful it is. These zucchini bread pancakes take all the lovely things about zucchini bread and put them into pancake form. So tasty!
I love a warm blueberry pancake! These are great to make for brunch, a weekend breakfast, or even breakfast for dinner one evening.
Making waffles at home doesn't have to be difficult. This delicious recipe is really easy to follow and make the fluffiest waffles. Top them with your favorites fruits, some whipped cream, and syrup and serve 'em up!
If you love sweet and savory breakfast food, this recipe is going to rock your world. These loaded egg bacon cheese waffles would be a hit at any brunch party!
Muffins, French Toast, and coffee cakes
Easy quick bread recipes are the perfect treat to round out a brunch. You can make them ahead of time, or easily bring them to a brunch that someone else is hosting.
These warm spiced muffins are topped with a crumbly streusel and filled with apples, cinnamon, and oatmeal. They're so comforting and a great quick breakfast on-the-go. Not to mention, they're perfect for brunch!
If you make crazy good coffee, you need a good coffee cake to go with it! Serve this as a dessert at brunch, or just have it as part of the meal. Either way, it is delicious.
Want to utilize your grill for brunch? This apple monkey bread is the perfect sweet treat to serve at brunch. Everyone will love it!
This french toast is the perfect combination of soft bread with crunchy pecans and cornflakes. It's a family favorite of ours! Plus, you can make it the night before you need it and then bake it in the morning.
Banana chocolate chip muffins are so moist and delicious. They would be a great addition to any brunch menu.
You've gotta have a good blueberry muffin recipe up your sleeve. These have just the right ratio of muffin to blueberries, and they're perfectly sweet!
Lemon muffins are perfect for a spring or summer brunch. I bet they would be a hit at Easter brunch! They're light and fluffy and are perfectly sweet and tart.
These amazing pumpkin muffins are the perfect treat to have during the fall and winter months. They pair well with coffee, of course, and are delicious to enjoy with a cup of hot apple cider.
If you want a unique brunch recipe for the holidays, these cream cheese cranberry muffins are a winner. They are so tasty and have the perfect nostalgic flavor of the holidays.
I will always find an excuse to eat chocolate chip muffins, and brunch is one of those excuses! These Chocolate Chips Muffins are one of my favorites!
Zucchini is the perfect way to hide some veggies while also keeping muffins moist. If you need some brunch food that your kids will eat, these chocolate zucchini muffins are the golden ticket.
Don't these look insanely yummy? Who would say no to a muffins that is loaded with white chocolate and raspberries and drizzled with sweet glaze. I know I wouldn't.
Another fun way to utilize your grill for brunch! Grilled blueberry french toast is so yum. These will be the star of the show at your next brunch.
There's so many ways to make french toast that sometimes it's hard to determine which is best. This brioche french toast is crispy and fluffy all at the same time. It's really tasty!
This cinnamon coffee cake is drool worthy! And when it's brunch, you don't have to eat it for dessert. It can be a part of the main course and that's not frowned upon!
This Blueberry Cream Cheese Coffee Cake is stuffed with a cream cheese layer and blueberries. Then it's topped with a yummy crumb topping and drizzled with a powdered sugar glaze. So perfect for brunch!
A fun twist on cinnamon rolls! These muffins are so tasty and spiced perfectly, then drizzled with a sweet icing.
Bananas and pecans are a match made in heaven. Add it to french toast and you've got yourself a winning brunch recipe!
How do you make chocolate chip muffins even better? Add pumpkin! These are a great grab-and-go breakfast and they'd be perfect at brunch too.
Banana muffins are perfectly moist and delicious. And the crumb topping just takes them to the next level. So yummy!
Peanut butter banana muffins need no explanation. They're that good! And they'd be perfect at any brunch party.
Brunch Smoothie and Drinks
Whether you're looking for coffee, a smoothie, or a fun boozy drink, there's a recipe for you! You've gotta have some tasty beverages at brunch!
This orange smoothie is not only a great immune booster, but it's a great addition to brunch. This refreshing smoothie is quick and easy and so delicious.
These mimosas are crazy good! If you're planning brunch at the beach, these should be your go-to boozy drink. But it'll go great for a brunch anywhere!
This cocktail is so refreshing! If you love piña coladas, then you'll love this drink.
Make our own cold brewed coffee drink just like you would have in a fancy restaurant. But instead, it's a much better price and you can stay at home in your jammies!
Brunch Rolls, Breads, Parfaits, and More
Need more ideas? Here's a ton of unique options to add to your next brunch menu!
I love an easy recipe I can throw in the crock pot. If you're planning an Easter brunch after church, this recipe is great to toss everything in the crock pot and let it cook while you're gone.
r
Need a good cinnamon roll recipe? These are crazy easy and make the most deliciously soft and gooey homemade cinnamon rolls to serve at brunch.
Making donuts at home doesn't have to be difficult! These Boston cream donuts are so tasty and everyone will be impressed you made them yourself!
If you need a healthy option to serve at brunch, this berry baked oatmeal is delicious. It's loaded with fresh berries and can be throw together in a snap.
Going camping? These campfire cinnamon rolls are the perfect way to utilize minimal cooking supplies at your campsite. Who knew you could hose a great brunch while camping!
Scones are often forgotten as a great option in brunch recipes. These are super easy to make and great to serve anytime, especially around the holidays.
This fall inspired oatmeal is mouthwateringly good. Make it ahead of time and serve for breakfast, or bring it to your next brunch without having to rush and cook!
These cute little oatmeal cups are the perfect shareable treat. This would be a great recipe to make to bring to a brunch potluck.
If you need some healthy brunch food that is still loaded with protein, these parfaits will be your friend! There's tasty layers of greek yogurt, berries, nuts, and granola. Super filling and really healthy.
Who knew that crescent rolls could be used in so many different ways. Lemon blueberry cheesecake crescent rolls are crazy good. The perfect combo of sweet and tangy!
This easy recipe will be a hit at your next brunch party. There's not too many ingredients involved and you can whip it up pretty quickly.
Don't forget the homemade whipped cream or ice cream with these tasty turnovers. And yes, it is totally acceptable to have ice cream at brunch!
Lemon cream turnovers are one of my favorite summer brunch recipes. I love making them around Easter and Mother's Day too.
As if monkey bread could get any better, just add a maple pecan caramel sauce! Talk about drool worthy!
These sticky buns are so easy. Just grab a can of crescent roll dough and store-bought caramel sauce and you can make this delicious and sweet creation.
If it's apple season, this caramel apple bread goes on my brunch menu without a questions! One of my absolute favorite brunch recipes.
These caramel rolls will be the talk of the town after you serve them at brunch. I love making these and drinking a cup of hot coffee alongside one!
If you need to quickly bake a sweet treat for brunch, reach for this cinnamon roll monkey bread recipe. It won't take long to make and is so yummy!
I love a good sharable recipe. These mini caramel rolls are really easy to make and you won't feel as bad about eating one, two, three, four…five of them. They're mini, it makes it better, right?
So gooey and delicious, this brunch recipe will be a favorite! This pull apart is the best brunch food to add to your menu.
If you're ready to add more donut recipes to your arsenal of brunch recipes, these cinnamon frosted cream cheese banana donuts should be at the top of your list. I mean, the name of them alone makes my mouth water!
These snickerdoodle donuts are dangerously addictive! So light and fluffy and truly a one of a kind recipe.
Brunch Egg Recipes
You don't have to just serve scrambled eggs if you don't want to! There are tons of ways to cook eggs and they're all delicious options.
If you don't know how to make eggs benedict, this recipe is really easy to follow! Serve it up on some toast or an english muffin with a side of bacon.
Easy oven baked scrambled eggs don't require much attention and they are so amazingly light and fluffy. I know it sounds crazy to bake scrambled eggs, but seriously you will love them!
Breakfast sandwiches don't have to be something you only grab at the coffee shop. You can make delicious sandwiches just like these right at home.
Even if you're not a fan of spinach, you'll love this spinach frittata. It's a perfect dish to make for an upscale brunch too.
We are making the quesadilla a breakfast star now! Change out the fajita meat and bell peppers for bacon and eggs.
I know this may not seem like a brunch recipe, but it would be so great! You could even have a little "station" to make these fresh and hot for each person.
This is a great all-in-one recipe to make for your next brunch party. It's fluffy, cheesy, and oh so delicious.
Egg muffins are amazing already, but when you make them on the grill its' even better. If your kitchen is busy and oven is full, put these on the grill and they'll turn out great.
I love making these when I want an elegant and cute brunch. They are so delicious and make me feel extra fancy.
Fried egg sandwiches are great for a quick breakfast, but they'd be so good for brunch too!
This recipe is so good! It's a crescent roll with all the goodness of breakfast food stuffed inside. Can't go wrong with that.