Buffalo Ranch Chicken Pizza
Buffalo Ranch Chicken Pizza ~ Flaky Crescent Rolls Piled with Cream Cheese, Buffalo Chicken, Lettuce, Cheese and Blue Cheese Dressing!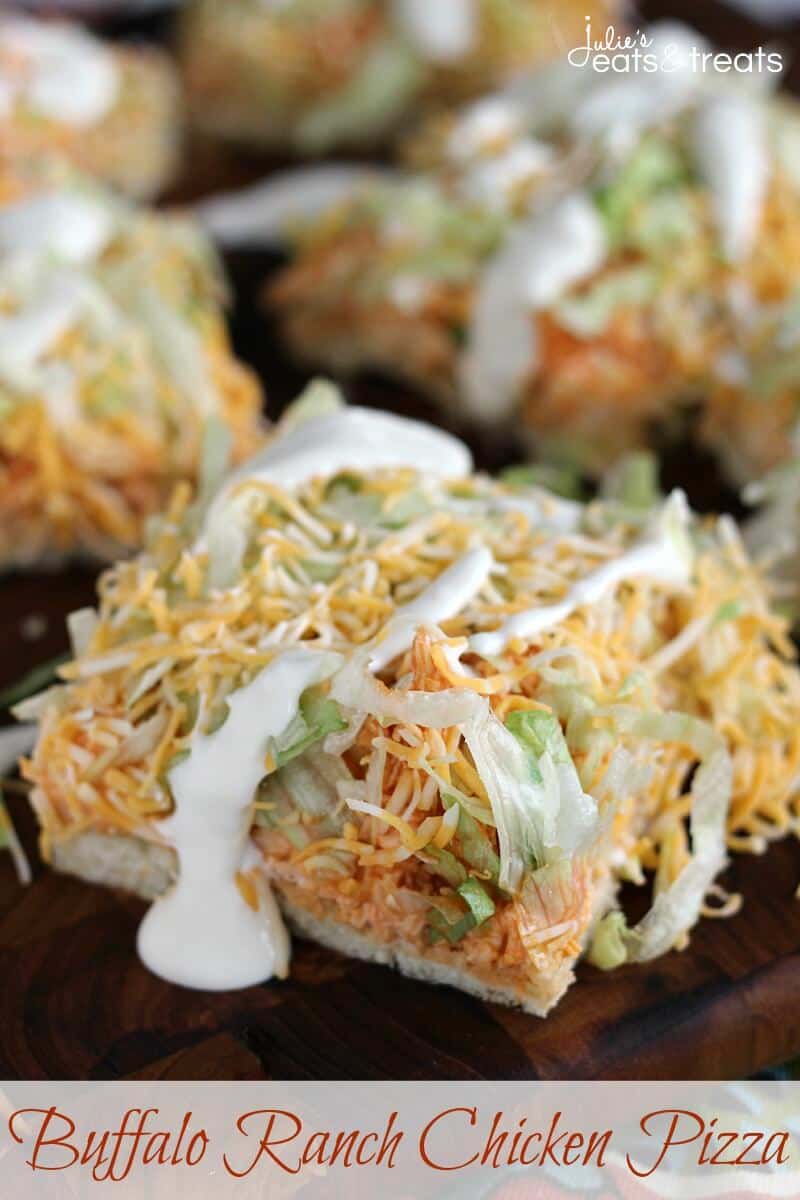 Can you believe January is half over? I can not believe this little fact of our lives. It seems like I was just waiting for Thanksgiving to come so I could have that little baby. I've blinked my eyes and it's already the middle of January. It could have been my sleep deprived state of nature combined with the hustle and bustle of the holidays that made it seem like it just flew by. Pretty soon I'm going to be blinking and the end of my maternity leave will be here. Sigh. I do love my "day" job but I sure like sleeping in, living in my yoga pants, exercising after 6 am etc. Another thing I adore it the fact I can make all these yummy recipes during the week instead of the weekend and I can have some "me" time on the weekends. Wait. I have two children that doesn't exist does it? I've actually been working pretty much full time on the blog the last week or so in adore to get ahead so when I go back to work I can ease into the whole blogging and working with two kids thing. Smart aren't? Or just obsessive. I think it might be the latter.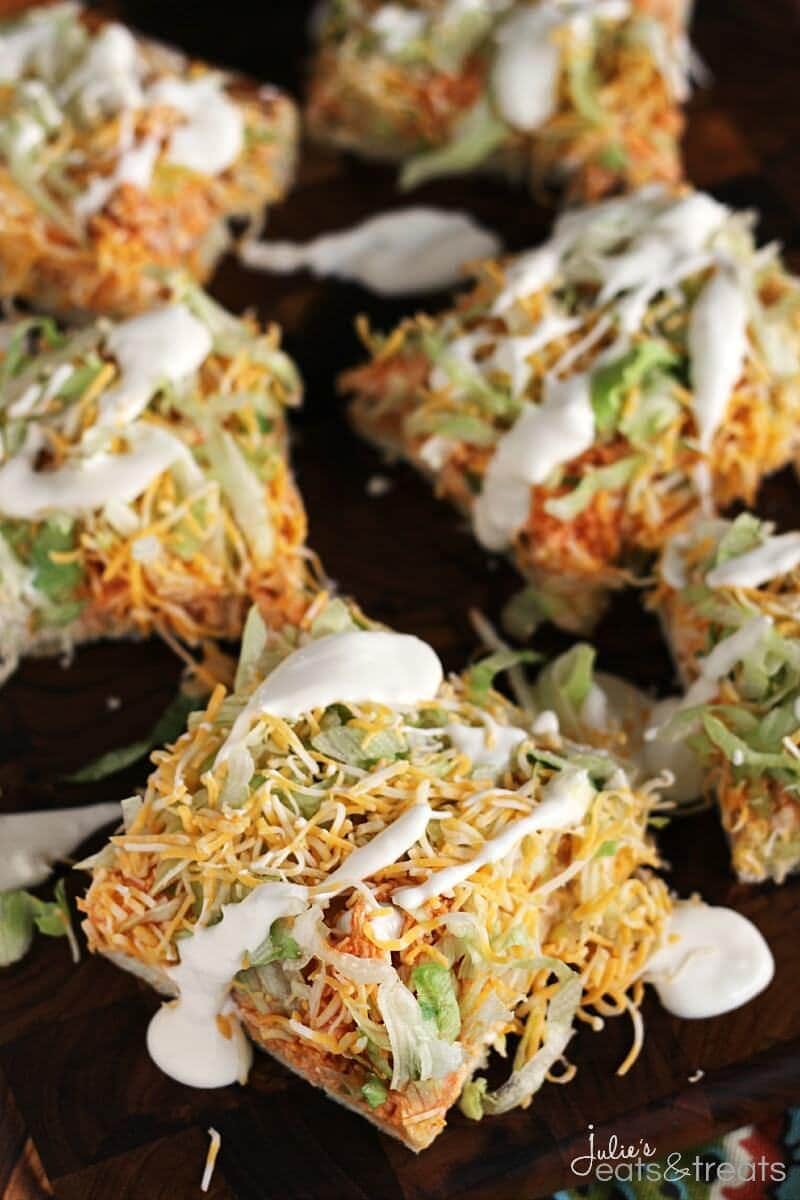 Cause really who wouldn't be obsessive when their "job" revolved around yummy food like this Buffalo Pizza? It's pretty easy to get obsessed! I get to sit around here dreaming up of recipes that I know you will love or I hope you will love! In all reality this is not what I do all day but I'll let you think I do as I sit here all sweaty from working out, quickly typing away in order to get a shower in before the babe wakes from a nap and if I'm lucky she'll sleep a while and I'll actually be able to fold laundry. Something real fun like that! Now I know you are jealous of my life aren't you? Actually if I read this in a few months I'll be wishing I was doing that again as I slave away at work!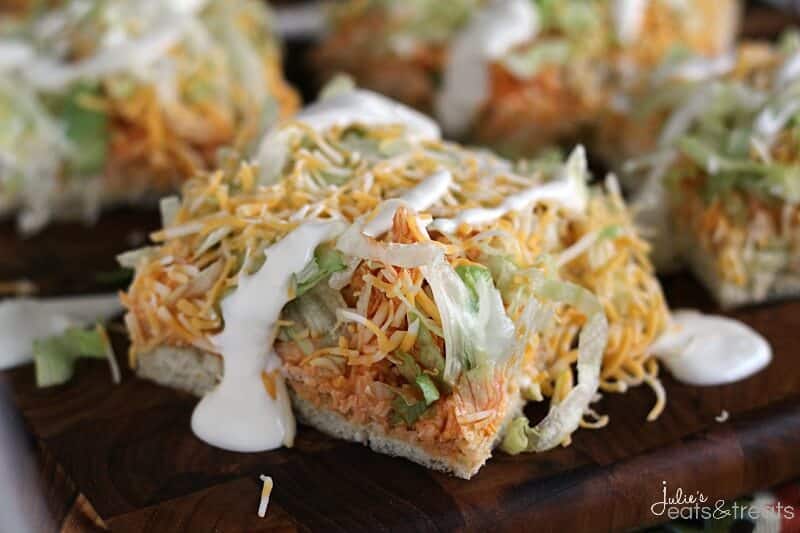 Since it's the middle of January and you know what "national holiday" is coming up right? SUPER BOWL! Where it's all about the food and not the teams actually playing. Wait. The ads are a close second to the food. I'm that girl. The one that probably doesn't even know what team is playing let alone who will win. Instead I'm dreaming up of the menu two weeks in advance. You want to come to my party don't you? I knew you did! Don't worry if you serve up this fabulous Buffalo Chicken Pizza people will want to come to yours too! It starts with a flaky crescent roll crust in a jelly roll pan
, combine the cream cheese mixture and spread it on the crust then top with the buffalo chicken, lettuce, cheese and blue cheese dressing for a delicious masterpiece! Be sure to also try Buffalo Chicken Crescent Rolls – Your Favorite Buffalo Chicken Dip Stuffed Inside Flakey Crescents Rolls!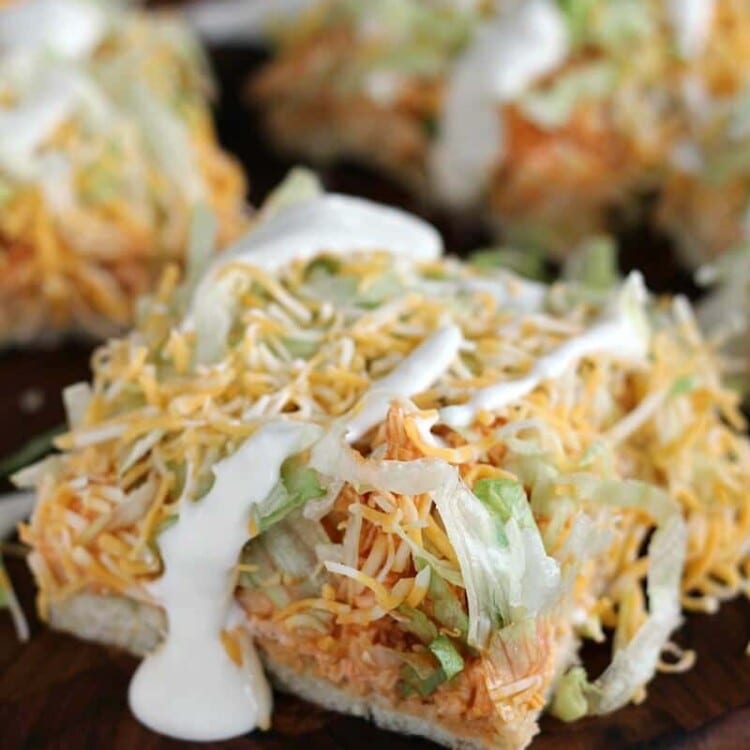 Buffalo Ranch Chicken Pizza
Buffalo Ranch Chicken Pizza ~ Flaky Crescent Rolls Piled with Cream Cheese, Buffalo Chicken, Lettuce, Cheese and Blue Cheese Dressing!
Ingredients
2

pkg crescent rolls

1

8 oz pkg cream cheese

1/2

c.

sour cream

2

Tbsp

mayonnaise

1

1 oz packet ranch dressing mix

2/3

c.

buffalo wing sauce

1

lb

boneless

skinless chicken breasts, cooked and shredded

3

c.

shredded lettuce

1

c.

shredded Colby cheese

1/4

c.

blue cheese dressing
Instructions
Preheat oven to 375 degrees. Spray a 10×15 inch pan with non-stick cooking spray.

Spread crescent rolls in pan, pressing to seal the seams together. Bake crust for 10-12 minutes or until golden brown. Cool.

In a large mixing bowl cream together cream cheese, sour cream, mayonnaise and ranch dressing mix. Spread over crust.

In a small bowl combine chicken and wing sauce. Mix until combined. Spread over cream cheese mixture. Sprinkle with shredded lettuce and cheese. Drizzle dressing over the top. Serve. Store in airtight container in fridge.
Nutrition Information
Serving:
1
,
Calories:
192
kcal
(10%)
,
Carbohydrates:
4
g
(1%)
,
Protein:
11
g
(22%)
,
Fat:
14
g
(22%)
,
Saturated Fat:
7
g
(44%)
,
Cholesterol:
52
mg
(17%)
,
Sodium:
686
mg
(30%)
,
Potassium:
216
mg
(6%)
,
Sugar:
2
g
(2%)
,
Vitamin A:
615
IU
(12%)
,
Vitamin C:
1.7
mg
(2%)
,
Calcium:
136
mg
(14%)
,
Iron:
0.5
mg
(3%)
Things you might need for this recipe!