Candied Bacon Cinnamon Rolls
Candied Bacon Cinnamon Rolls ~ Amazingly Soft and Flaky Homemade Cinnamon Rolls Loaded with Candied Bacon!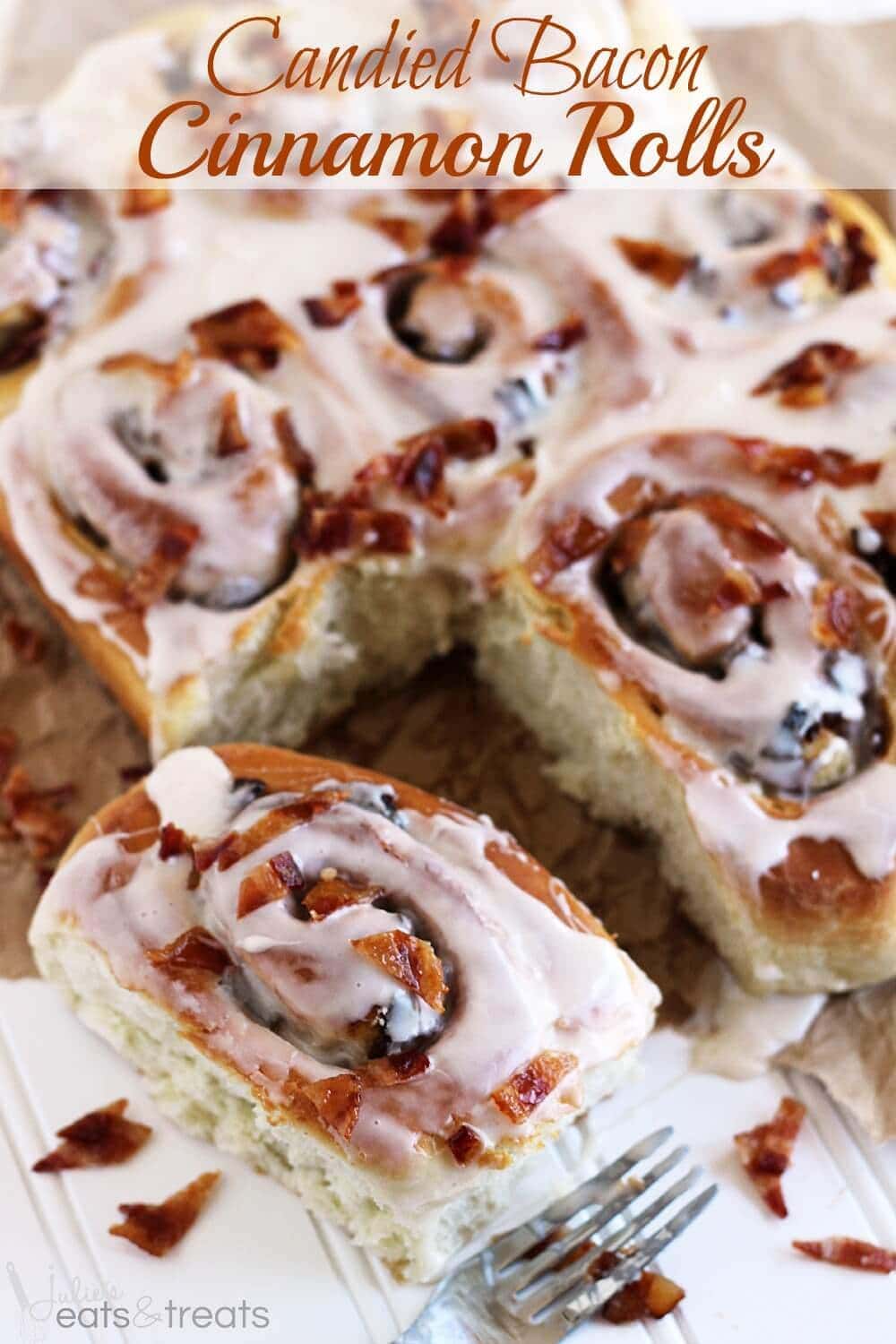 When I was asked to be a Become a Better Baker Blog Ambassador and found out that part of this would include using Fleischmann's® ActiveDry Yeast I was a little scared, I'm not going to lie. I decided to conquer my fear and tackle it head on. I mean, it's just yeast, right? How scary can this be? I'm not one to back down from a challenge!
My first project was to tackle these amazing Candied Bacon Cinnamon Rolls. I may have started hyperventilating when I received my assigned recipe because patient people make rolls and I was not that person in my mind. Knowing that I was going to have to focus on this task, I invited my mother over to supervise, more or less watch my child while I did this because my mother instilled my fear of yeast in me. I was not going to get much help from her!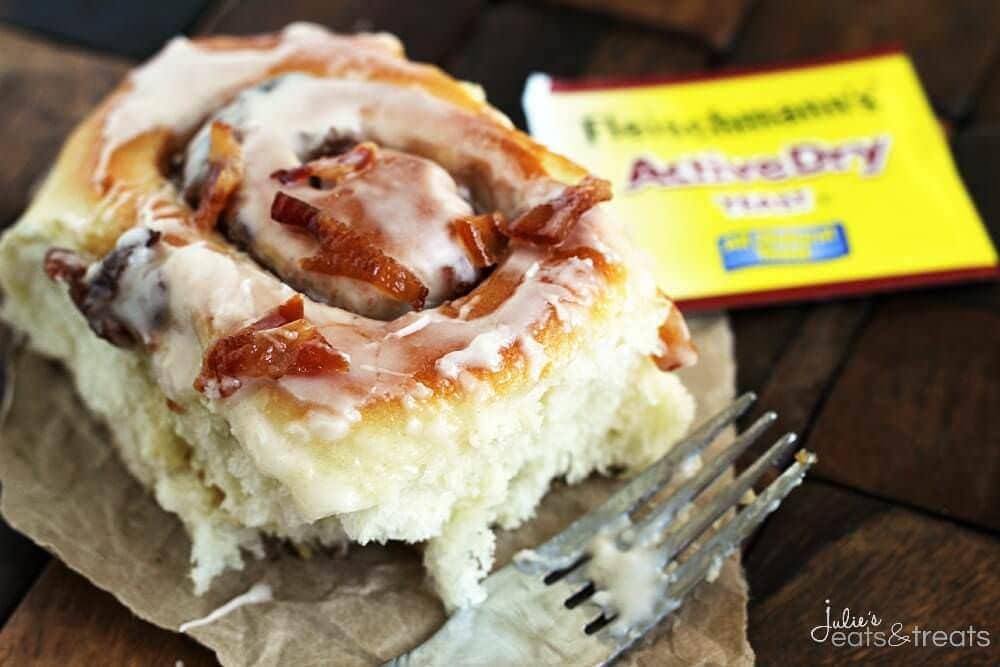 Guess what? I pulled this recipe off on the first try and it was seriously amazing. Wow. Wow. Wow. My husband, father and mother have since been begging me to do this again stating the fact that practice makes perfect and they are sure that each time I make these rolls I'll be more confident. They might have a point. Well I know they do, but I think they also are saying this for their own benefit!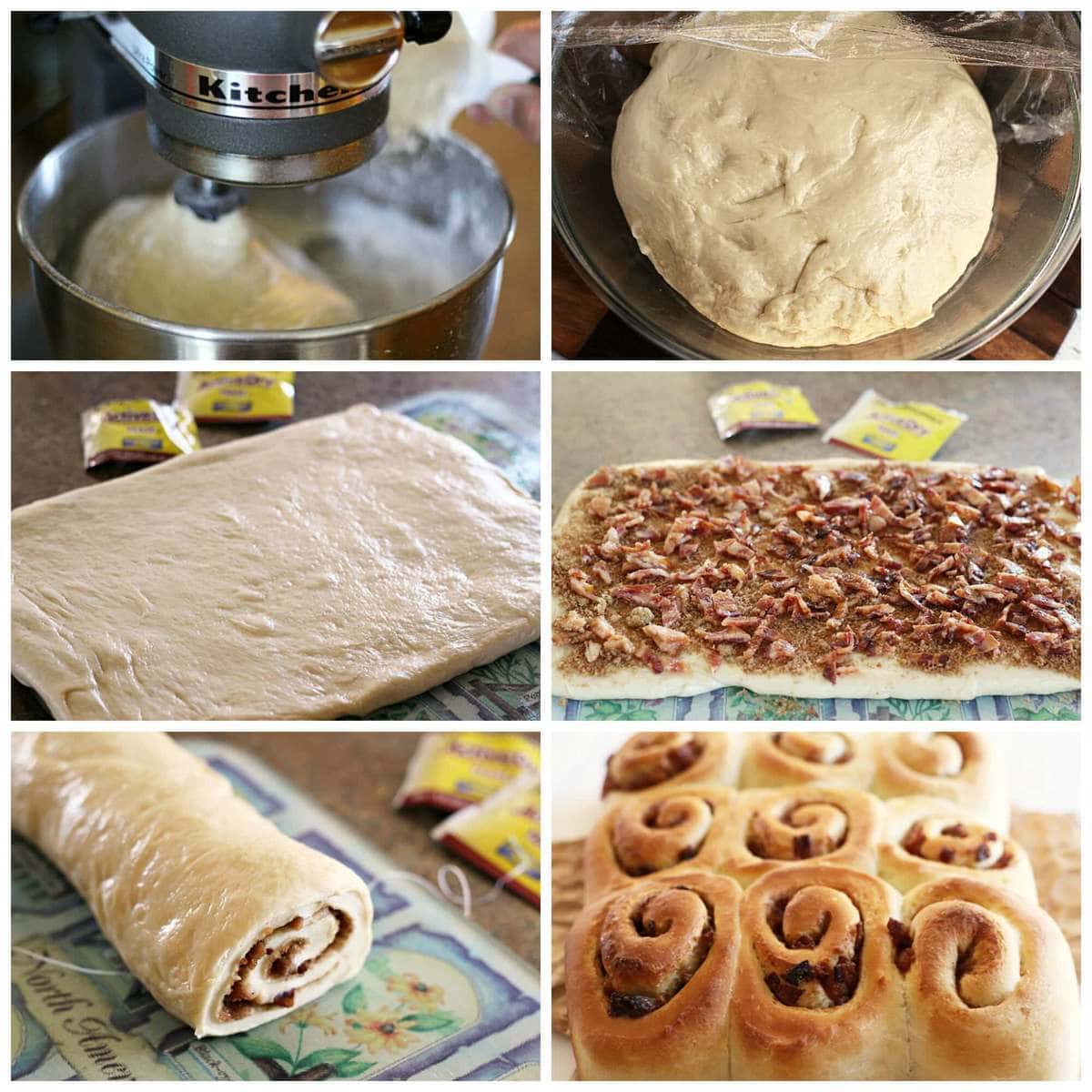 Moral of the story: If you are a little nervous about using yeast, please take a deep breath, grab that packet of Fleischmann's® ActiveDry Yeast and conquer your fear. If I can do it, so can you. I promise. Just follow the directions!
Did you know that using floss to cut your cinnamon rolls is amazing? I remember that my friend's mom did this when I was growing up and I always thought it was so neat. I finally got to do it on my own. Just slide the piece of floss under the rolls and then bring the ends towards each other, crossing them, and pulling the floss through the dough. You end up with a nice clean cut!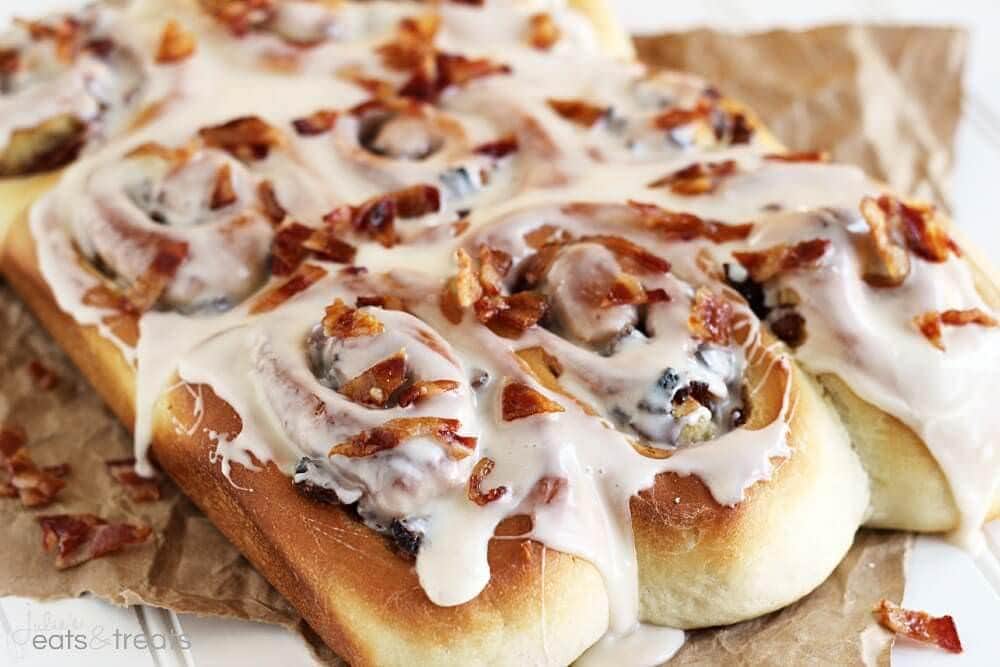 While I know I'm incredibly blessed in life to be able to provide for my family and child, not every family is as lucky. Families all across America are struggling with hunger and many times children are hit the hardest. The Baking A Difference campaign that Fleischmann's is a supporter of Share Our Strength's No Kid Hungry® campaign, and invites you to join the cause!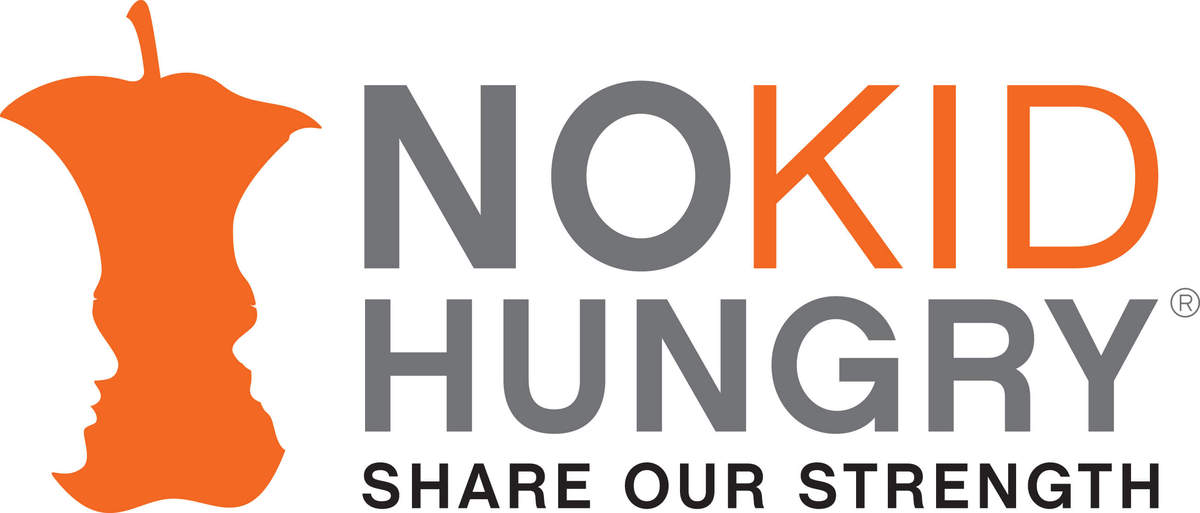 The challenge is to bake for someone you love to help bake a difference. Consider hosting a bake sale to spread the word! You can inspire your family, friends, teachers, neighbors and others to get involved in this amazing campaign. Collectively, we can all harness the power of baking recipes and bake a difference together to end child hunger in America.
*As previously mentioned, I am a Become a Better Baker Blog Ambassador. This post was sponsored by ACH Foods through their partnership with One2One Network. All opinions are 100% my own.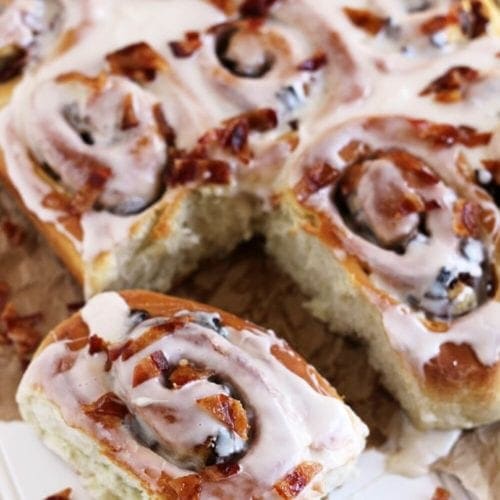 Candied Bacon Cinnamon Rolls
Candied Bacon Cinnamon Rolls ~ Amazingly Soft and Flaky Homemade Cinnamon Rolls Loaded with Candied Bacon!
Ingredients
Rolls
1/2

c.

warm water

100° to 110°F

2

envelopes Fleischmann's® Active Dry Yeast

1 1/2

c.

milk

1/4

c.

butter

1/2

c.

sugar

2 1/2

tsp

salt

3

eggs

6 to 6-3/4

cups

all-purpose flour
Candied Bacon
1

lb

bacon

1/2

c.

brown sugar
Filling
1

c.

brown sugar

2

tsp

Spice Islands® Ground Saigon Cinnamon

1/8

tsp

Spice Islands® Ground Cloves

1/4

tsp

salt

1

lb

candied bacon

2

tsp

butter
Frosting
3

c.

powdered sugar

1/4

c.

maple syrup

2 to 3

Tbsp

milk
Instructions
Combine warm water and yeast in a small bowl; set aside for 5 minutes to soften yeast.

Combine milk, butter, sugar and salt; heat until warm (100° to 110°F). Pour into large mixer bowl. Add yeast mixture, eggs and 4 cups flour. Beat for 3 minutes on medium speed until smooth. Gradually add enough remaining flour to make a soft dough.

Knead dough in stand mixer with dough hook or on a lightly floured surface for 8 to 10 minutes, until dough is smooth and elastic. Place dough in a greased bowl, turning once to coat all sides. Cover and place in a warm, draft free place and let rise about 45 to 60 minutes, until doubled in bulk.

While dough is rising, prepare candied bacon. Preheat oven to 325 degrees. Place bacon in a large bowl and coat with brown sugar. Cover baking sheet with tinfoil. Place bacon strips on pan. Bake at 325 degrees for 30 minutes or until bacon is golden brown and crisp. Transfer bacon to plate lined with paper towel to drain. Crumble bacon when cool enough to handle.

Combine brown sugar, spices and salt in a small bowl. Set aside.

Punch dough down and turn out onto a lightly floured surface. Divide dough in half; roll each half into a 12 x 9-inch rectangle. Brush surface with butter; sprinkle each rectangle with an equal amount of brown sugar mixture and crumbled bacon. Roll up dough, starting from the long side; press seams together to seal. Cut each log into 9 equal slices. Place 9 rolls each (cut side down) in a greased 13 x 9-inch pan. Cover and let rise about 30 to 45 minutes in a warm, draft free place, until doubled.

Bake in a preheated 350°F oven for 18 to 20 minutes, or until lightly browned (internal temperature of rolls should reach 190°F). Let cool 10 minutes in pans; invert on large serving platter or surface covered with parchment paper and frost.

To make frosting, mix powdered sugar and syrup in a medium bowl. Stir in enough milk to reach desired consistency.
Nutrition
Serving:
1
g
Calories:
523
kcal
Carbohydrates:
69
g
Protein:
8
g
Fat:
24
g
Saturated Fat:
9
g
Cholesterol:
70
mg
Sodium:
742
mg
Potassium:
169
mg
Sugar:
67
g
Vitamin A:
185
IU
Calcium:
53
mg
Iron:
0.5
mg