Snickers Caramel Apple Salad
Snickers Caramel Apple Salad Recipe ~ Quick, Delicious, Fluffy Salad Recipe! Eat it for Dessert or a Side Dish! Loaded with Apples, Snickers and Drizzled with Caramel!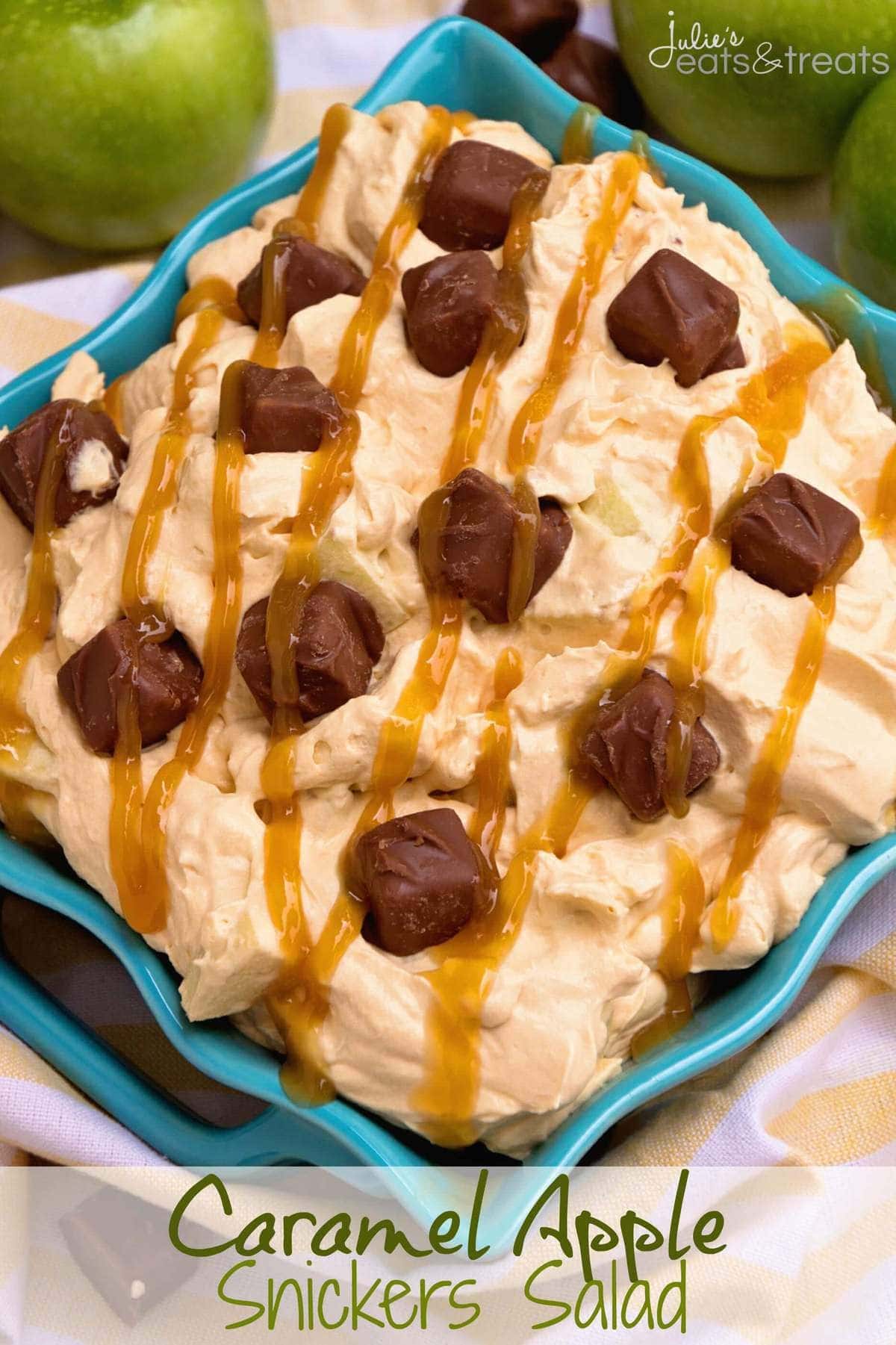 Good Health. It's something I tend to take for granted until bad health happens. It seems that we are going through life enjoying things when out of the blue bam, down goes a kid. Or two. One thing I've learned quickly is with two kids bad health tends to be twice as bad. The problem with my kiddos loving each other so much is they like to share thing including sickness. I am the worst mom on earth when it comes to sickness. Well, maybe not worse but close. I get anxious and my panties in a bundle wondering who's going to come down with it next. I'm not as bad if it's not the stomach flu. The stomach flu is when all my anxieties comes to surface quite fast. It was interesting to find out that my mother feels the same way. Inherited this trait maybe? My hubs on the other hand thinks I'm quite possible cray cray. Julie, seriously, you can't prevent it so just calm down. Oh, but I will try to prevent it with everything from Essential Oils to Emergen-C to vitamins. You name it I'll buy it and use it. Does it help? Your guess is as good as mine but just in case it does I'll be using it.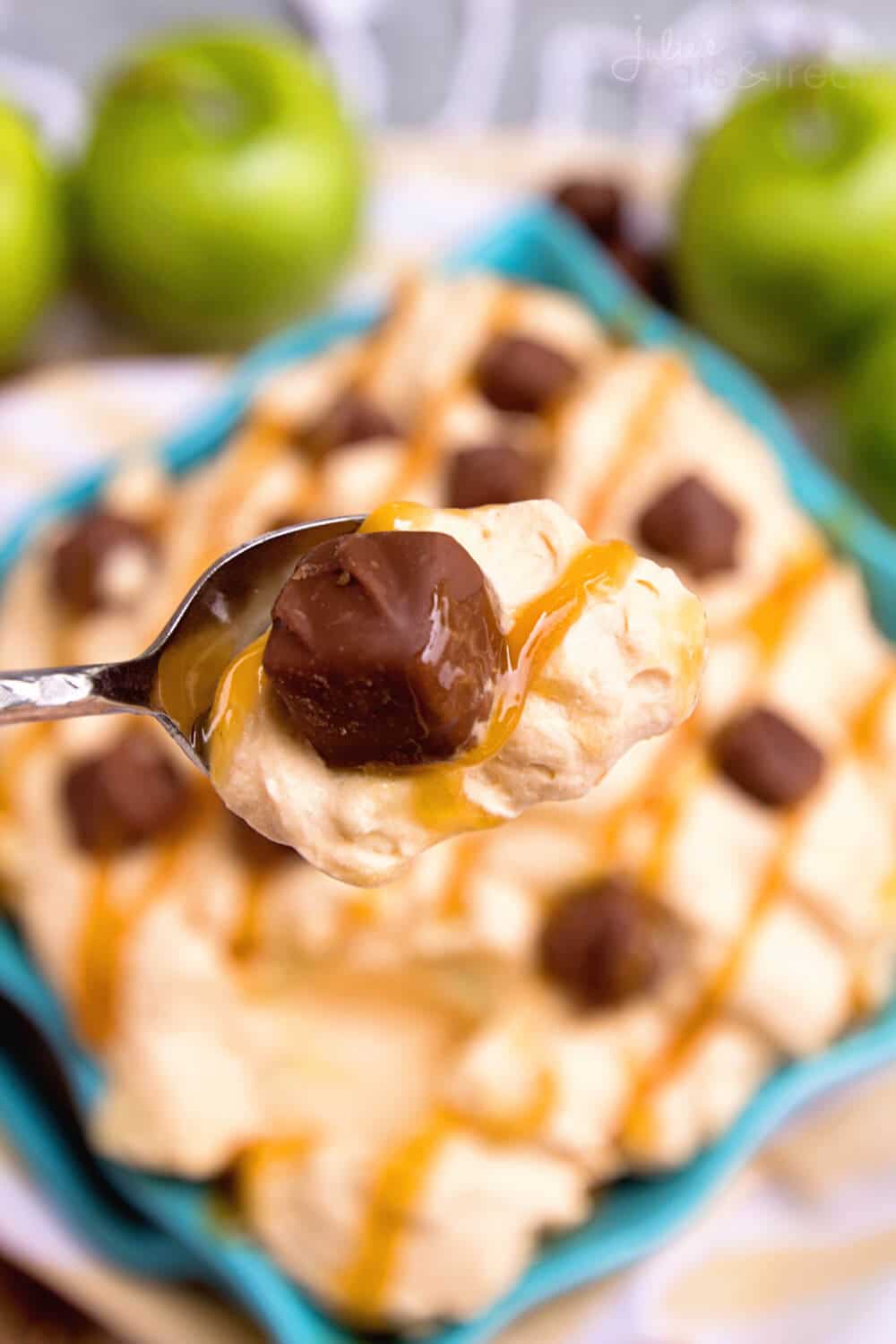 Insert sickness into my life this past weekend. You knew I was going somewhere with this story right? I got a text from daycare at noon on Thursday the Ry was sick so we went and got her. She was burning up with a fever through Saturday. On Friday afternoon I broke down and took her to the Doctor to make sure it wasn't ear infection. Nope just a virus. Of course. It's always a virus right? Kinzee came down with a slight fever, not that you could tell by her actions. RyRy on the other hand was wiped out. We are talking four naps through the day, laying on us and crying, and all the fun stuff. It was terrible! I felt so helpless. Right before she went to bed on Saturday night she was back to being much happier, as happy as a teething baby can get. Sickness and teething that poor girl had it bad! Somehow during this whole ordeal she learned how to click her tongue which is incredible heart warming for some reason. I doubt I'm nearly as heart warming when I click mine!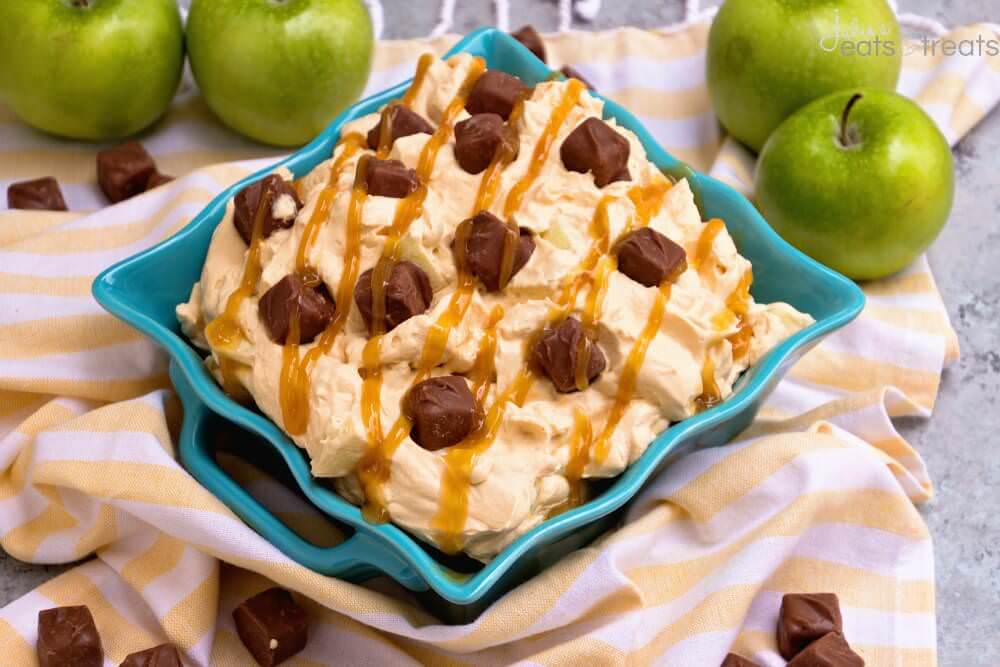 You can often times tell exactly where she is in the house if you listen for the ""click, click" of the tongue. It's the little moments like this that I just love with kids! I can't wait to have fun little moments of memories this fall with the kiddos. For example Miss K is dying to go ride in Uncle Brentie's combine again. I'm looking forward to picking some pumpkins and carving them. I'll also be looking forward to all the apple treats. Enter this delicious Caramel Apple Snickers Salad into the equation. I'm thinking plenty of memories will be celebrated by serving this at the table!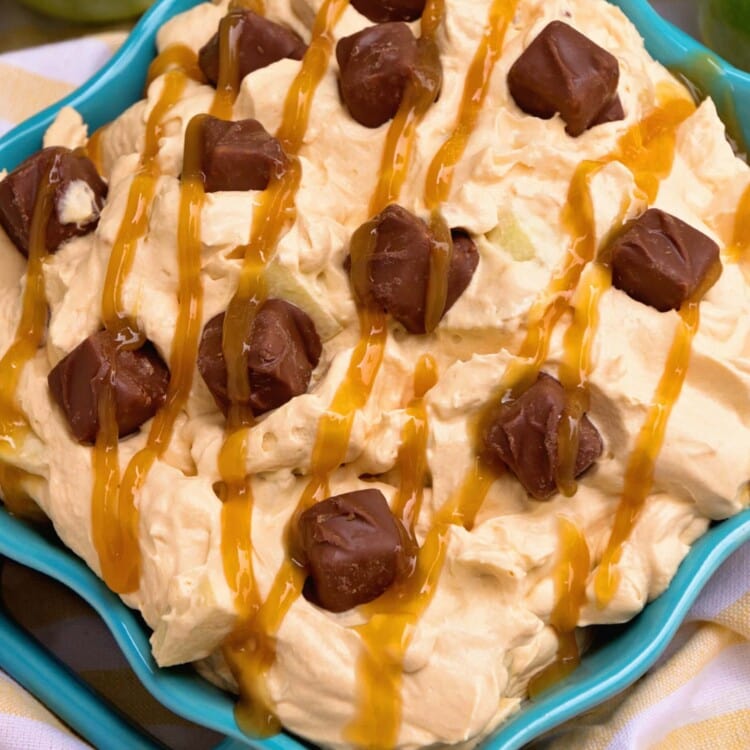 Snickers Salad Recipe
Quick, Delicious, Fluffy Salad Recipe! Eat it for Dessert or a Side Dish! Loaded with Apples, Snickers and Drizzled with Caramel!
Ingredients
2

packages

instant vanilla pudding mix

3 oz each

2

c.

milk

16

oz

Cool Whip

5

Granny Smith apples

chopped

4

Snickers Bars

chopped into bite size pieces

Caramel Ice Cream Topping
Instructions
In a medium sized mixing bowl whisk together milk and pudding mix. Let set about 2 minutes until it's soft set. Fold in Cool Whip. Gently mix in apples and Snickers until combined. Refrigerate 2-3 hours until chilled.

Top with caramel ice cream topping and serve.
Nutrition Information
Calories:
378
kcal
(19%)
,
Carbohydrates:
66
g
(22%)
,
Protein:
5
g
(10%)
,
Fat:
11
g
(17%)
,
Saturated Fat:
4
g
(25%)
,
Cholesterol:
16
mg
(5%)
,
Sodium:
259
mg
(11%)
,
Potassium:
337
mg
(10%)
,
Fiber:
3
g
(13%)
,
Sugar:
52
g
(58%)
,
Vitamin A:
275
IU
(6%)
,
Vitamin C:
5.4
mg
(7%)
,
Calcium:
146
mg
(15%)
,
Iron:
0.3
mg
(2%)
You Might Need this for this Recipe!
Try these Delicious Salad Recipes!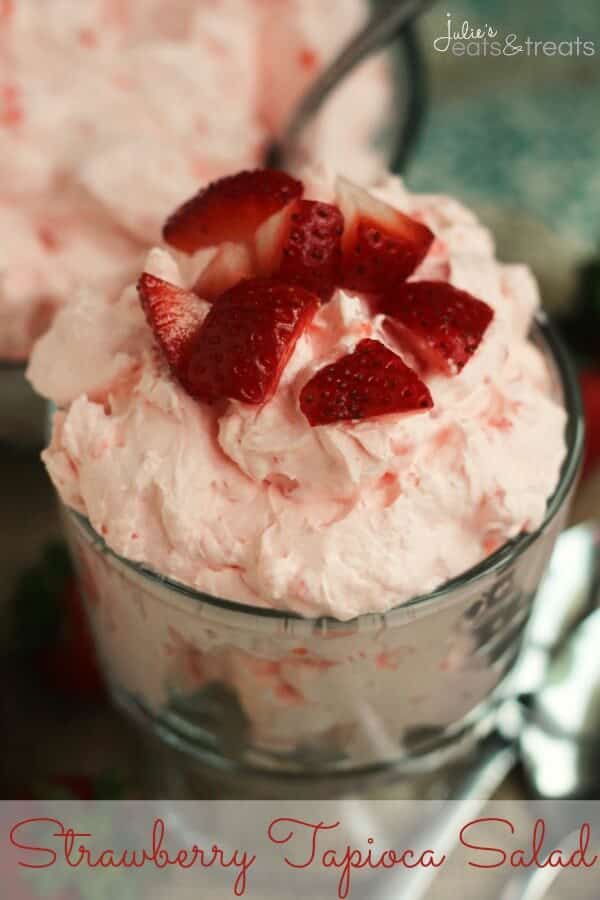 Strawberry Tapioca Salad ~ Fluffy Salad Loaded with Tapioca & Strawberries!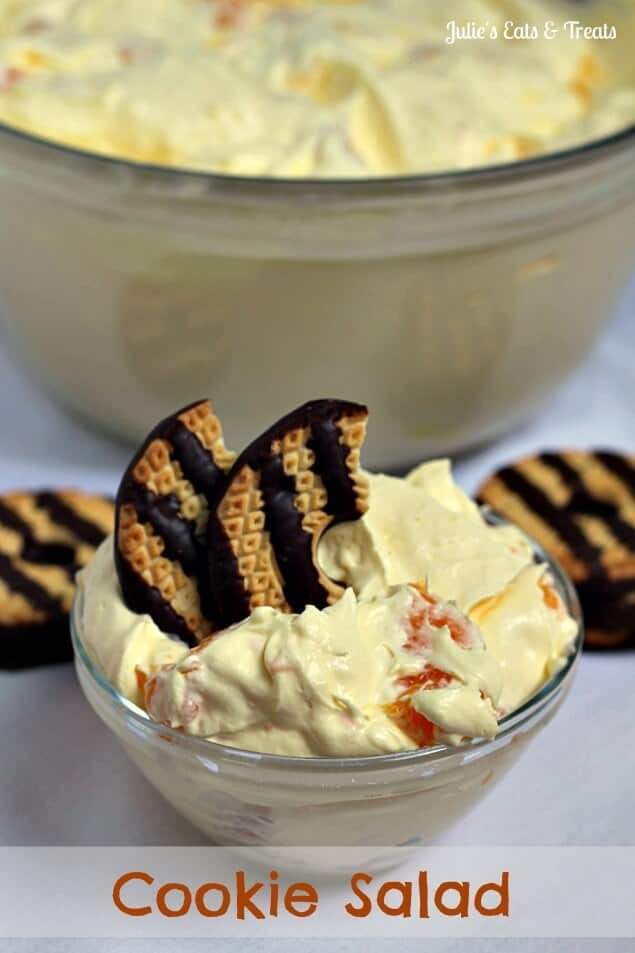 Cookie Salad ~ A tried and true family pleasing salad!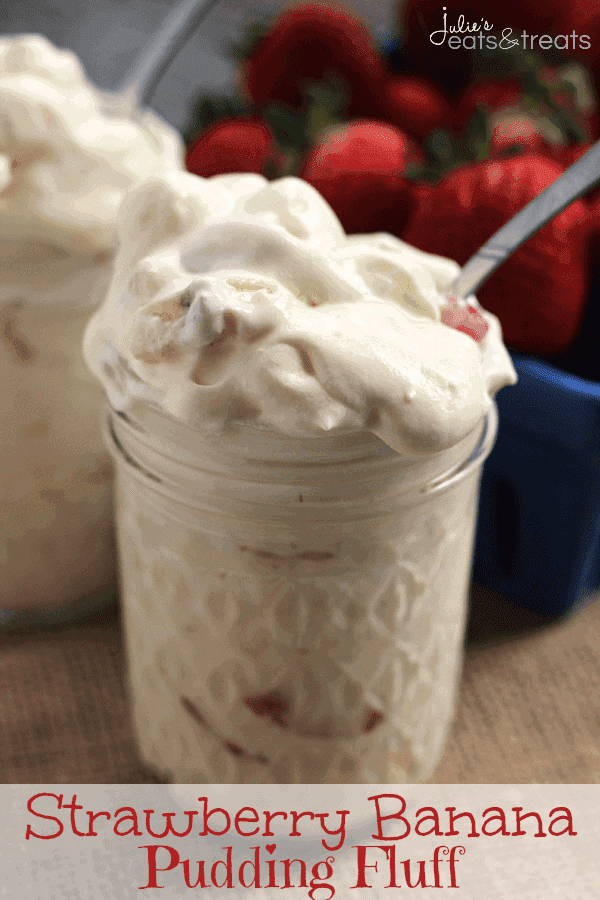 Strawberry Banana Pudding Fluff ~ Light, Fluffy Pudding Loaded with Fresh Strawberries, Bananas and Marshmallows!