Cauliflower Rice Fish Taco Bowls
A quick and easy, weeknight dinner – gone healthy! The classic flavors of fish tacos over gluten free cauliflower rice!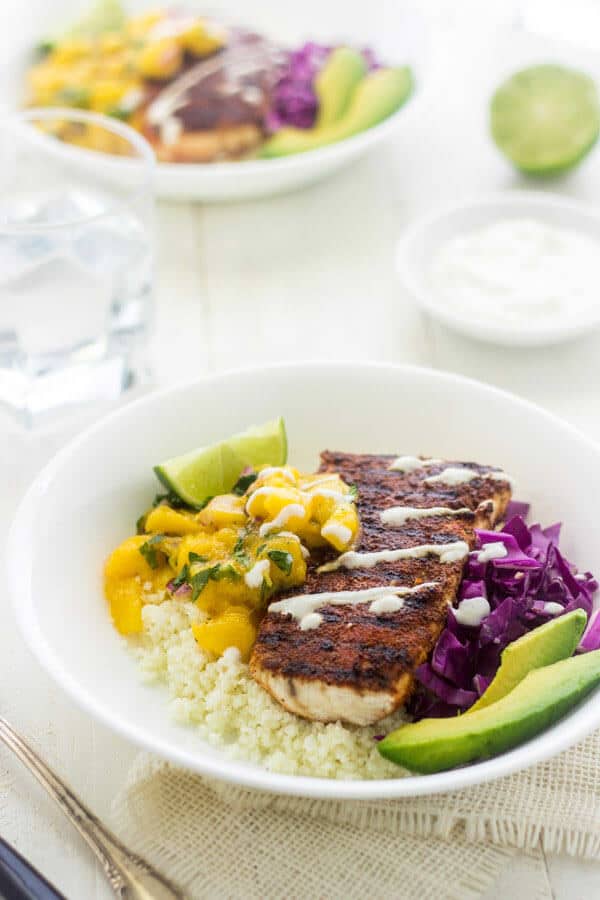 Hi! I'm back from Food Faith Fitness to share a easy and healthy dinner with you! But first, I have a question for ya'll:
Mangoes. How do you feel about them?
Are they a little to tropical and "out there" for you, and you'll stick to apples and bananas thank you very much?
Or, are you all about the island life, and a drink with a cute little umbrella in it is pretty much your bread and butter?
I am somewhere in the middle. I love me some pineapple…but any of the other foreign fruits, well, kind of freak me out.
To be completely honest with you, I once had an awful, and totally mentally scarring experience with mangoes. Read: The very first one I tried was rotten.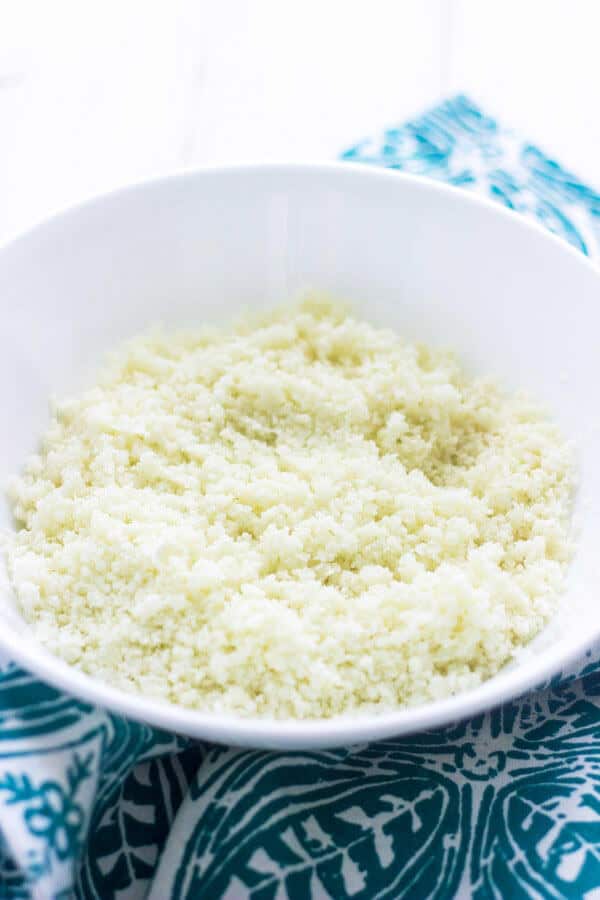 So, not that overly scarring. I may have been a wee bit over dramatic.
But, what else is new.
Ever since that day, I haven't forayed into the fruity world much beyond the usual suspects. I always figured that there was a reason that the saying goes "an apple a day blah blah blah" and not a "mango a day…."
Well, today, I have decided that maybe they (who are "they" anyway?) SHOULD change that saying to "a mango a day" because, ummm, I HAVE BEEN MISSING OUT ON LIFE.
It all started when my hubs (a mango <3er) brought a few home.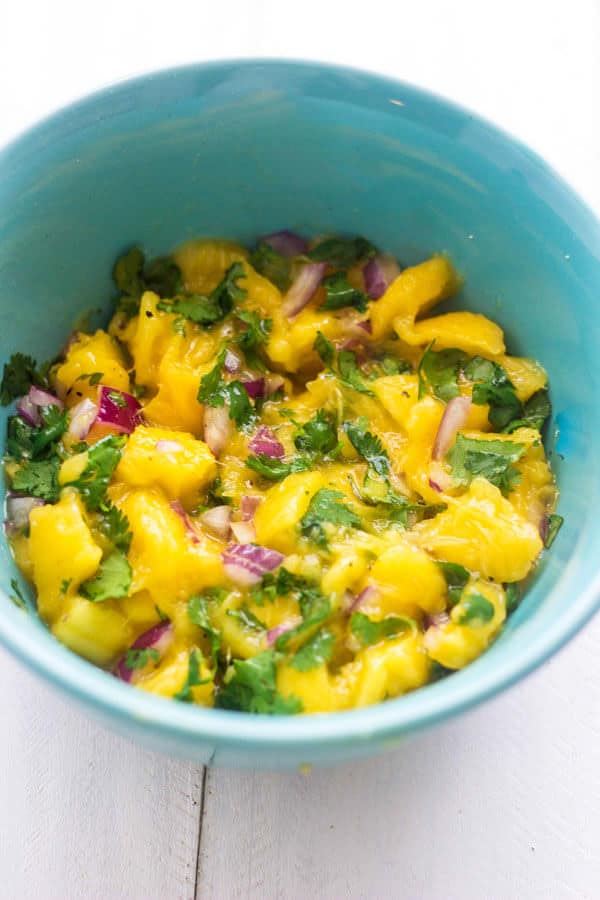 And then proceeded to harass me over and over and over until I tried one with him.
My taste buds fell off my head.
I then proceeded to put mango on ALL THE THINGS.
Including this ridiculously quick Fish Taco Bowl.
And ridiculously pretty. THE COLOR.
AND, ridiculously healthy.
It's like a fish taco. Without the carbs. But, with ALL the taste. FIST PUMP.
If you are watching your carbs like a lot of us you MUST try this delicious low carb cloud bread. It's a staple around these parts!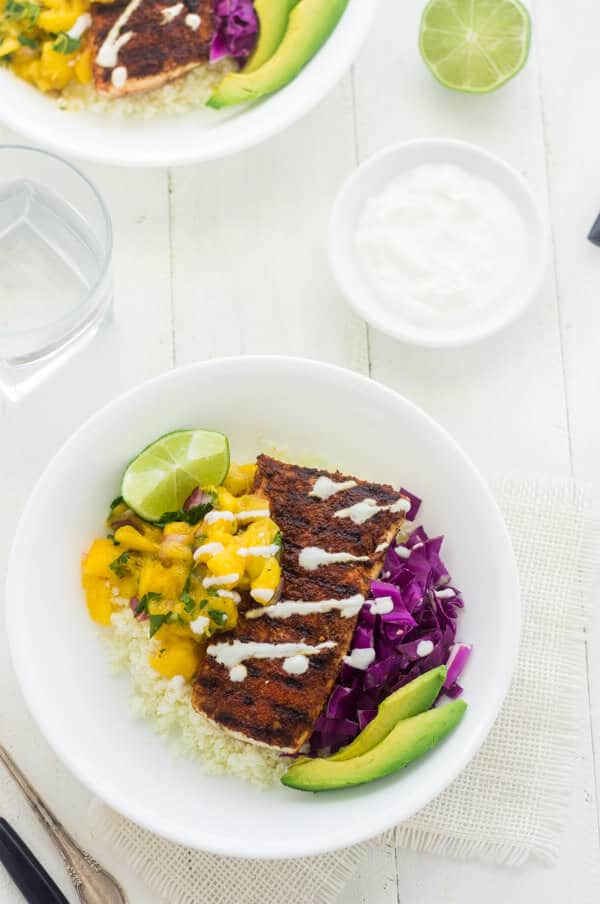 Please note that I accidentally typed "fish bump." That would have been awkward.
Cauliflower "rice" is the perfect, light base to absorb all that yum Greek yogurt lime sauce, and to really showcase the sweetness of the mango.
Which just also happens to balance out the spicy fish in ways that I can tell you, but your taste budz must experience to fully know the wondrous-ity (not a real word.)
So, what are you waiting for? It's health-ay, it's yumm-ay, AND it's pretty-ay!
TRIPLE THREAT.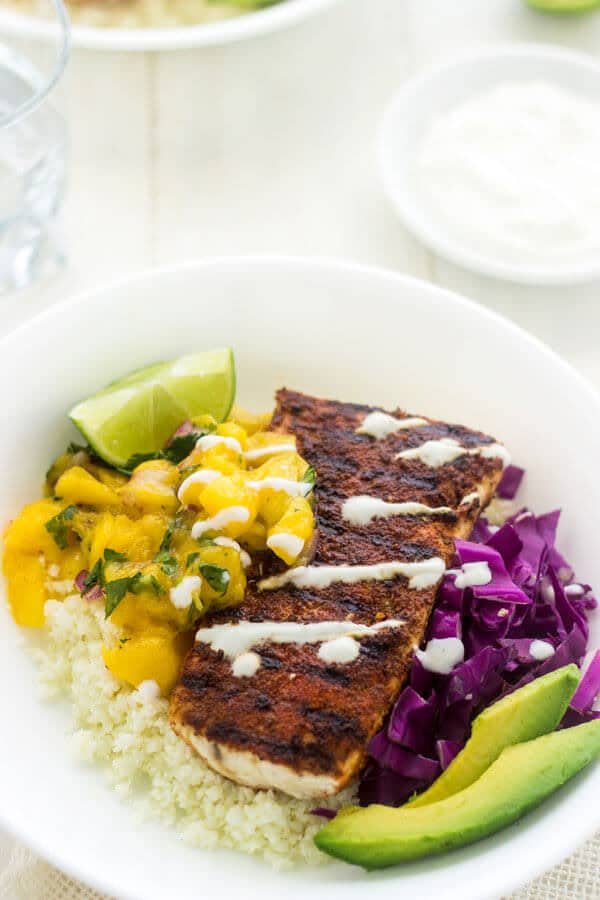 You know what to do.
Looking for more recipes? Parmesan Crusted Tilapia is an easy oven-baked fish dish you might like, too! Cauliflower Bites in Honey Sriracha Sauce make a delicious and filling vegetarian meal that is a delicious balance of sweet and spicy! We swapped the rice out for Cauliflower rice in this Cauliflower Fried Rice with Chicken if you want to give this recipe a try.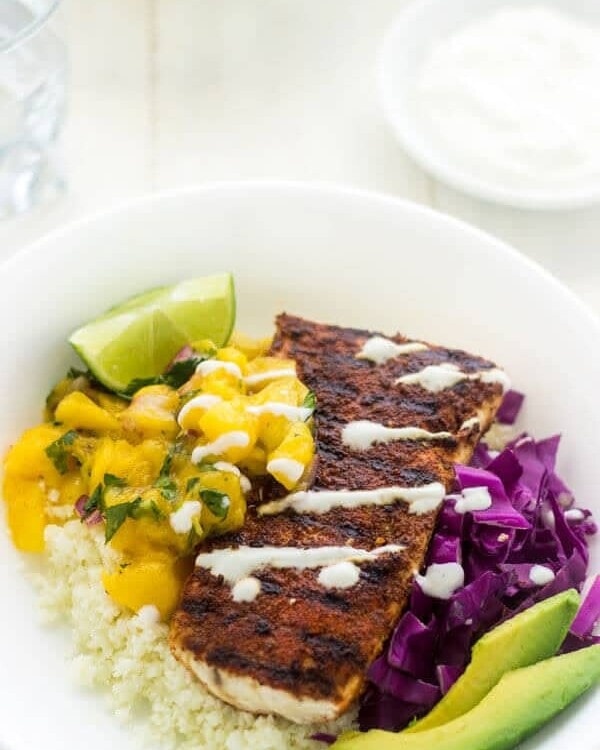 Cauliflower Rice Fish Taco Bowls
A quick and easy, weeknight dinner – gone healthy! The classic flavors of fish tacos over gluten free cauliflower rice!
Ingredients
1

tsp

Cumin powder

1

tsp

Smoked Paprika

½

tsp

Chili powder

Salt/pepper

2

Mahi Mahi Fillets

For the cauliflower rice:

3

Cups

Cauliflower

chopped

2

Tbsp

Fresh lime juice

For the mango Salsa:

1

Cup

mango

chopped (1 large mango)

3

Tbsp

Red onion

diced

¼

Cilantro

roughly chopped

1

Tbsp

Fresh lime juice

Pinch

of salt/pepper

to taste

For the yogurt sauce:

¼

Cup

Plain

non-fat Greek yogurt

½

Tbsp

Fresh lime juice

Pinch

of salt/pepper

1

Cup

Red cabbage

chopped

1

Small avocado

sliced
Instructions
1. Spray your grill with cooking spray and heat to medium heat.

2. In a small bowl, mix together the cumin, smoked paprika, chili powder and a generous pinch of salt and pepper.

3. Pat the Mahi Mahi fillets dry and divide the spice mixture between then, making sure to really rub it into both sides of the fish.

4. Place on the grill and cook until white throughout, about 2-4 minutes per side. Transfer to a plate, cover and keep warm until ready to use.

5. To make the cauliflower rice:

6. Add the chopped cauliflower into a large food processor, and process until the cauliflower resembles small rice grains.

7. Dump the cauliflower into a large bowl and microwave for 2 minutes. Mix in the 2 Tsp of fresh lime juice and set aside.

8. To make the mango salsa:

9. In a medium bowl, mix together the chopped mango, red onion, cilantro, lime juice and salt and pepper. Set aside.

10. In a small bowl, mix together the Greek yogurt, lime juice, salt and pepper.

11. To assemble: Divide the cauliflower rice evenly between two plates. Top with a Mahi Mahi fillet and mango salsa. Garnish with chopped cabbage and sliced avocado and the yogurt lime sauce.
Nutrition Information
Serving:
1
,
Calories:
486
kcal
(24%)
,
Carbohydrates:
49
g
(16%)
,
Protein:
40
g
(80%)
,
Fat:
17
g
(26%)
,
Saturated Fat:
2
g
(13%)
,
Cholesterol:
124
mg
(41%)
,
Sodium:
232
mg
(10%)
,
Potassium:
1983
mg
(57%)
,
Fiber:
13
g
(54%)
,
Sugar:
18
g
(20%)
,
Vitamin A:
2535
IU
(51%)
,
Vitamin C:
151.8
mg
(184%)
,
Calcium:
111
mg
(11%)
,
Iron:
5.3
mg
(29%)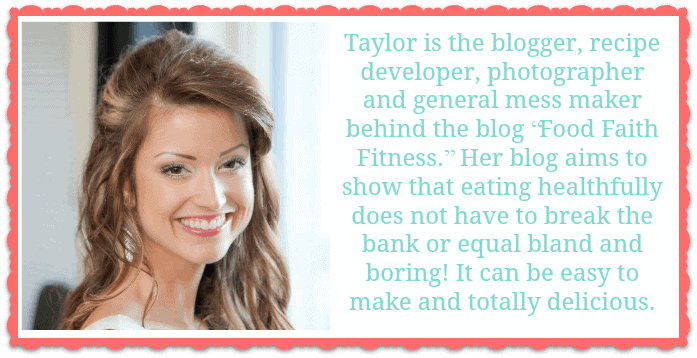 Find Taylor here!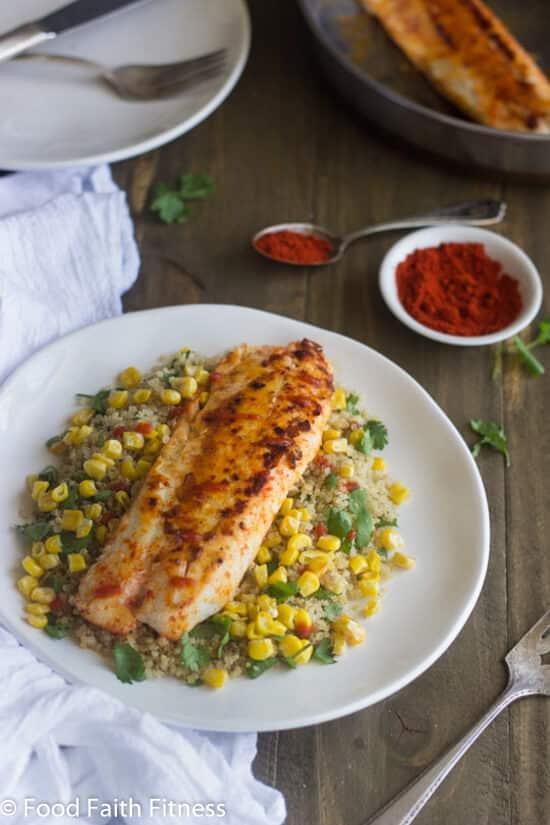 Cilantro Lime Tilapia – This Easy Tilapia Recipe with Cilantro and Lime is ready in under 30 minutes and perfect for a weeknight. A little taste of the Southwest at your dinner table!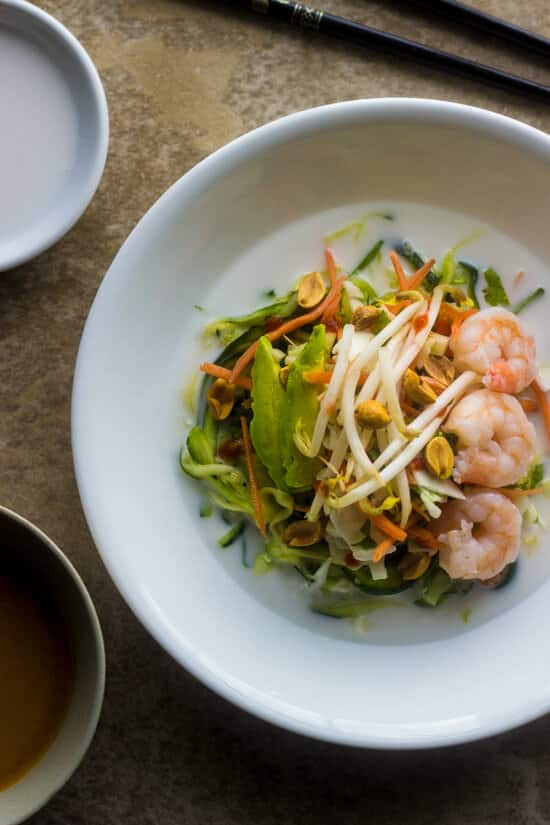 Spring Roll Zucchini Noodle Bowls – A quick and easy twist on the classic spring roll! Skip the messy rice paper rolling and get the same taste, with less carbs!
Learn how to make Fish and Chips at home!