Wow another month has flew by and it's time for the Secret Recipe club reveal again!
This month I was assigned the blog Mother Thyme. She has a tons of fun and new recipes on there. I choose the Cheerios Trail Mix. I saw it and I knew my dad was going to love this mix. He like any kind of nut and dried craisins.
I have to say this is the first time I've ever used agave nectar. If you haven't used it it's found in the baking aisle by the sugar.
It's a super simple trail mix that welcomes in fall!

MY LATEST VIDEOS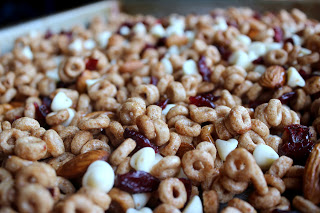 Cheerios Trail Mix
Printer Friendly Recipe
Ingredient
2 c. Cheerios
1/4 c. agave nectar
1/2 tsp cinnamon
1/3 c. dried cranberries
1/4 c. chopped or whole walnuts or almonds
1/3 c. white chocolate chips
1. Preheat oven to 350 degrees.
2. Mix Cheerios with agave nectar and cinnamon in a large bowl. Add cranberries and nuts. Spread out on a non sticking baking sheet and bake for 7 minutes.
3. Remove from oven and let cool completely. Once cooled toss with white chocolate chips.
*My mix was still sticky so I think I would bake it at 250 degrees for 1 hour stirring everyone 15 minutes.