Chile Lime Steak Taco Bowls with Rotimatic!
Tender, juicy flank steak marinaded in lime juice and then rubbed with spices. Followed by a visit to the grill and then sliced for these delicious Chile Lime Steak Bowls in a homemade taco bowl made with the Rotimatic!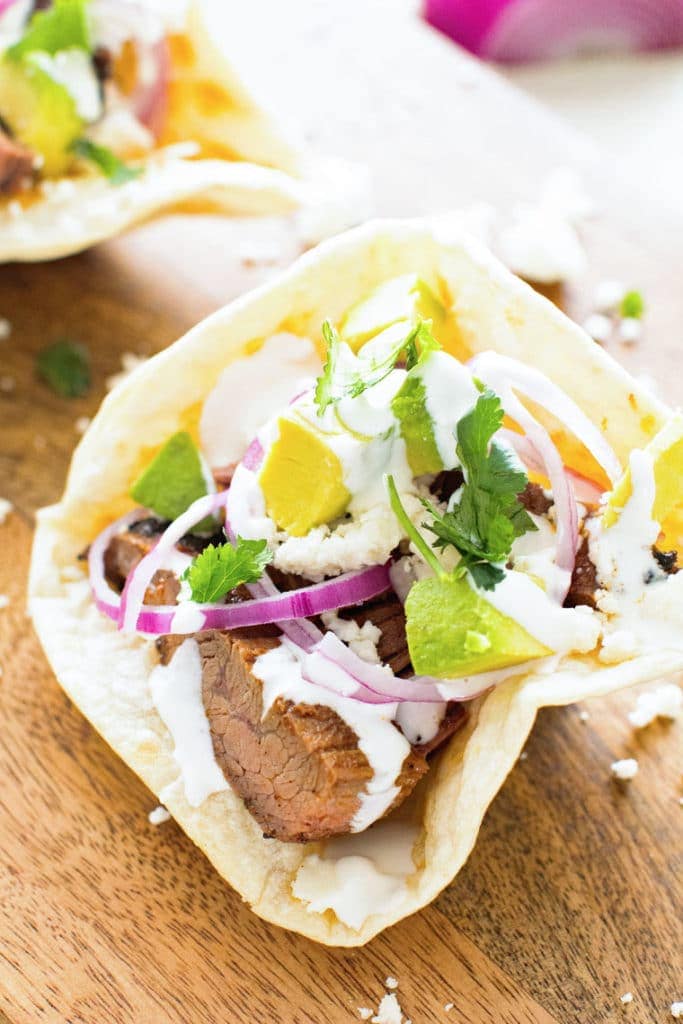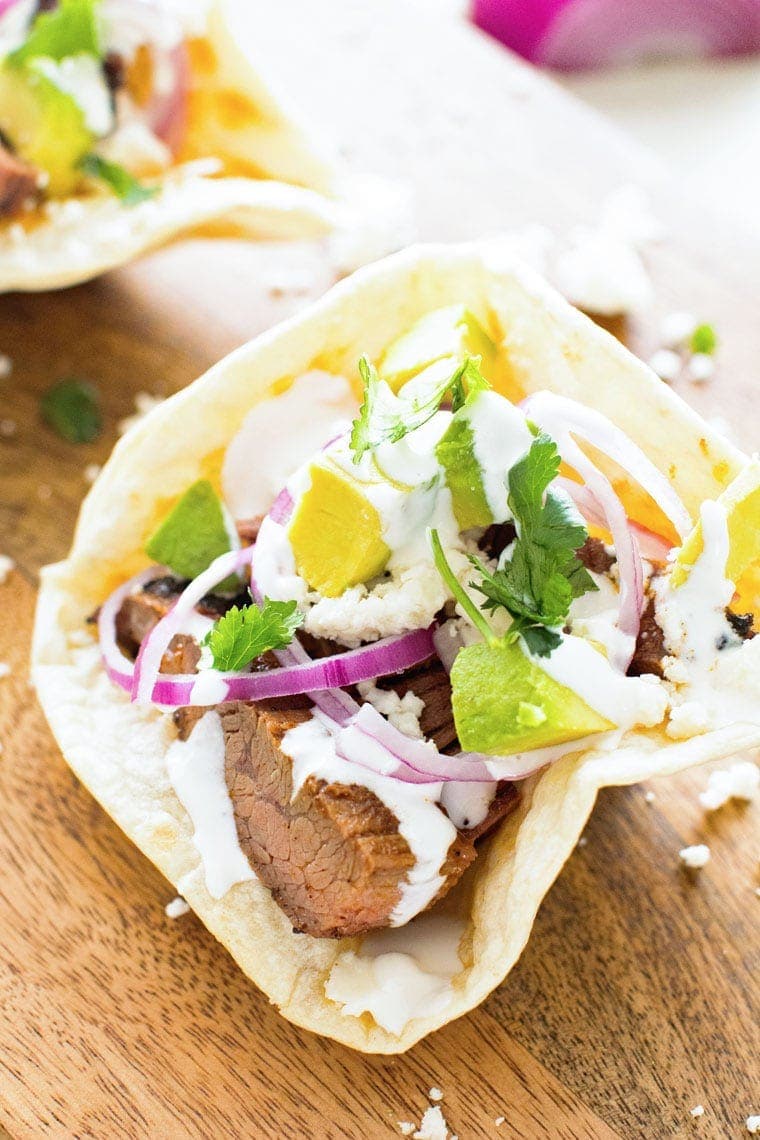 !
Disclosure: I was compensated for the creation of this recipe by Rotimatic. All opinions expressed are my own.
Grilled Flank Steak
This grilled chili lime flank steak is packed with flavor! Can you believe that it's the first time I've ever grilled a flank steak? I was a little bit worried because that is one big steak, but the result was so tender. I think it might be my new favorite meat to grill! I sliced it up and put it in these taco bowls then topped it with Queso Fresco cheese, red onions, avocados, cilantro and sour cream thinned with lime juice. The result was mind blowing!
See that delicious homemade taco bowl? I made it with my favorite new appliance, the Rotimatic. This thing is amazing! It's a robot machine which makes rotis by itself. For those of you that don't know what a roti is, it's a flatbread which is made pretty much every day in Indian households across the world.
Roti is made using only 2 ingredients – water and flour, you can add oil to keep the rotis soft, which the Rotimatic does for you! I've heard that making roti takes a lot of skill so I'm thankful that I had a robot to make it the first time I tried it. To make homemade roti you first knead the dough, then roll it and then cook it, but not me! I have a robot. This is the future of cooking and I'm so excited about it!
It can't believe it took me this long to try roti! It's delicious!
To make the taco bowls I flipped a muffin tin upside down and put the roti on it and then baked it. It made a delicious homemade taco bowl.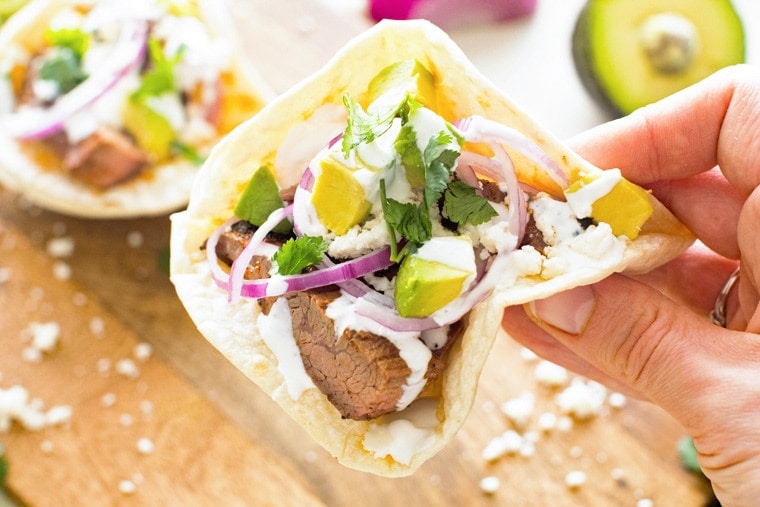 You can make rotis with a touch of a button with this Rotimatic. You simply fill three containers with flour, water and oil.
Then you get to select how thick you want the roti, the roast level and the oil level. You also specify which type of flour you used. The machine is so smart it adjusts everything for you. I love it when I can hit the easy button like that!
Once you have done that you are ready to make rotis or pizza dough! My husband and kids even used it to make mini pizzas! The kids thought it was pretty much the coolest thing since sliced bread!
Rotimatic is the world's first fully integrated solution that measures, mixes, kneads, flattens, cooks, puffs and delights. All in one!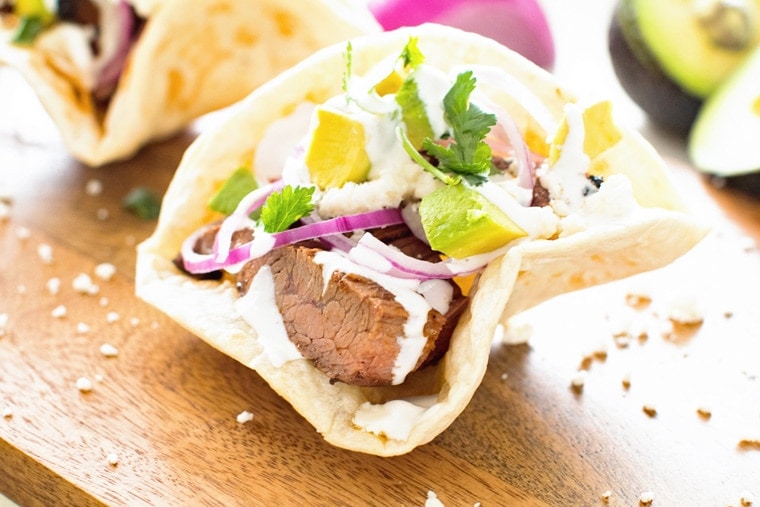 A few questions you might have about Rotimatic!
Does it make home style rotis? Yes it does, unless you a pro at making rotis. You might be able to make them better, but most of aren't! In India rotis are made on a gas burner and you will not get that distinct taste from the Rotimatic. It also makes Pizza doughs and Puris as well! The machine is wifi-enabled which allows it to constantly be updated every time there is a new update. The gluten-free flour function and Remote Control function is already in testing phase. Hopefully those functions will be launched later this year!
Are the rotis made by the Rotimatic soft? YES! That's the simpliest answer I can give you. When the rotis come out of the machine cover them with a cloth and within a minute they are super soft and ready to be eaten!
How quickly does the Rotimatic make rotis? It will take about 6 minutes to heat up that machine and after that it takes about 90 seconds per roti.
What size of Rotis does the Rotimatic make? The rotis will be about 6" in diamater.
How easy is the Rotimatic to use? Ridicously easy! The hardest part is simply cleaning it. It will take you about 5 minutes to clean it, but it comes with brushes that make it super easy. The flour, oil and water containers are dishwasher safe.
Is it noisy? It's not super quiet I'll say that. It's not as noisy as a blender. It's somewhere in between a blender and a dishwasher.
How much does it cost? You can visit the official website, it's currently priced at $999 USD, but by clicking that link you save USD 75 on the Rotimatic!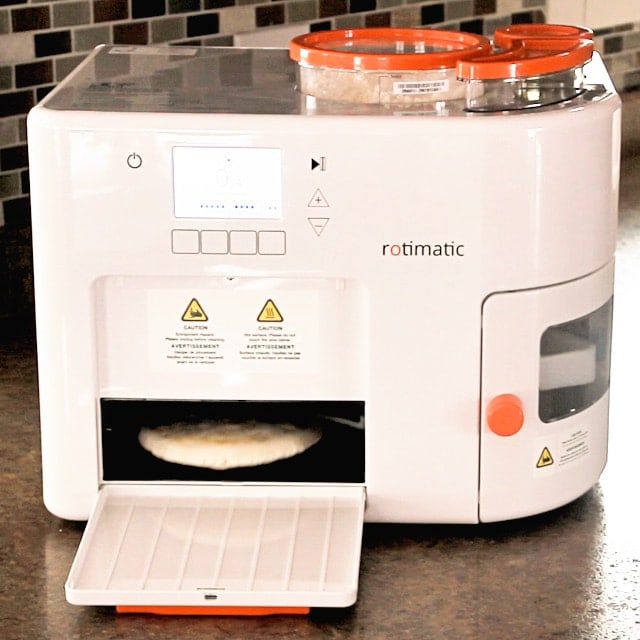 If this review doesn't say it all!
"The best decision we made in our life is to invest on this wonderful machine! It's been more than an year we stopped buying the outside frozen Rotis/Poori or even Pizza. You can just make anything from this as I tried making successfully from the masala various flour combination Rotis/ Chat/Desserts/Bread items are well. Now my kids have been more enthusiastic and motivated to eat healthy, variety and home made food rather than from there regular favorite eatery places. A must kitchen too that every household should posses."
Be sure to check out more reviews here!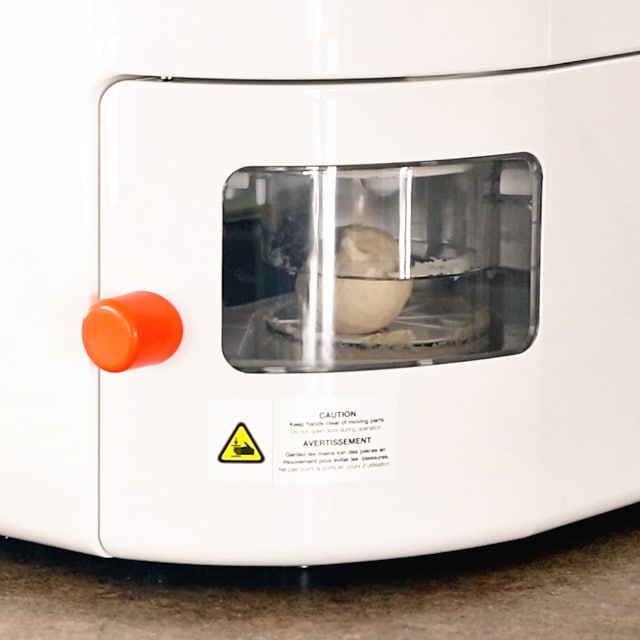 Not only does the Rotimatic make delicious roti you can also transfer the roti into delicious taco bowls like these! While they are baking in the oven you can grill up this flank steak. It only takes a few minutes and it's bursting with flavor.
I honestly was trying to hide the leftovers from my husband!
Make sure to check the video out below to see the Rotimatic in action! Plus, it shows exactly how to make the Chili Lime Steak Taco Bowls!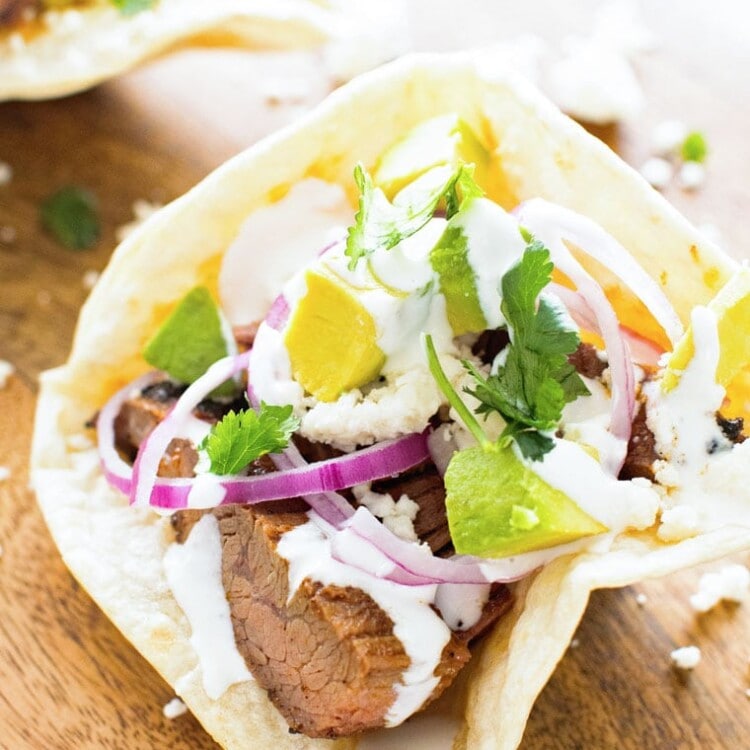 Chile Lime Steak Taco Bowls
Tender, juicy flank steak marinaded in lime juice and then rubbed with spices. Followed by a visit to the grill and then sliced for these delicious Chile Lime Steak Bowls in a homemade taco bowl made!
Ingredients
1

lb

skirt steak

3/4

tsp

cumin

1/4

tsp

pepper

1

tsp

salt

1/2

tsp

smoked paprika

1/2

tsp

chili powder

1/2

tsp

garlic powder

2

limes

juiced

1/4

c.

cilantro

chopped

2

garlic cloves

minced

Toppings; Avocado, sour cream, queso fresco, red onion
Instructions
Put flank steak in a pan with rimmed edges. Pour juice of two limes over it. Marinate at room temperature for 30 minutes.

Preheat oven to 350 degrees F.

Make 4 rotis in the Rotimatic using the settings in the notes of this recipe.

When the rotis roll out roasted. Prick with a fork so they do not puff up when baking in the bowl shape in oven. Grease the rotis with oil.


Bake them in an oven on an inverted muffin tray at 350 degrees for 10 mins or till it gets crispy. Set aside.


Combine cumin, pepper, salt, chili powder, smoked paprika, and garlic powder in bowl. After the steak is done marinading rub seasonings on both sides of steak.

Place steak on grill and grill 4 minutes, flip and grill for an additional 4 minutes. You'll want to reach an internal temp of 130-135 F for a medium rare - medium steak. Remove from grill. Let rest 10 minutes, then slice across grain.

Place steak in taco bowls, top with your desired toppings.
Nutrition Information
Calories:
193
kcal
(10%)
,
Carbohydrates:
5
g
(2%)
,
Protein:
25
g
(50%)
,
Fat:
8
g
(12%)
,
Saturated Fat:
3
g
(19%)
,
Cholesterol:
71
mg
(24%)
,
Sodium:
670
mg
(29%)
,
Potassium:
442
mg
(13%)
,
Fiber:
1
g
(4%)
,
Vitamin A:
1240
IU
(25%)
,
Vitamin C:
14.2
mg
(17%)
,
Calcium:
34
mg
(3%)
,
Iron:
2.8
mg
(16%)