Chili Cheese Corn ~ Put a Kick in Your Corn! Stuffed with Cheese, Chilies, and Cayenne!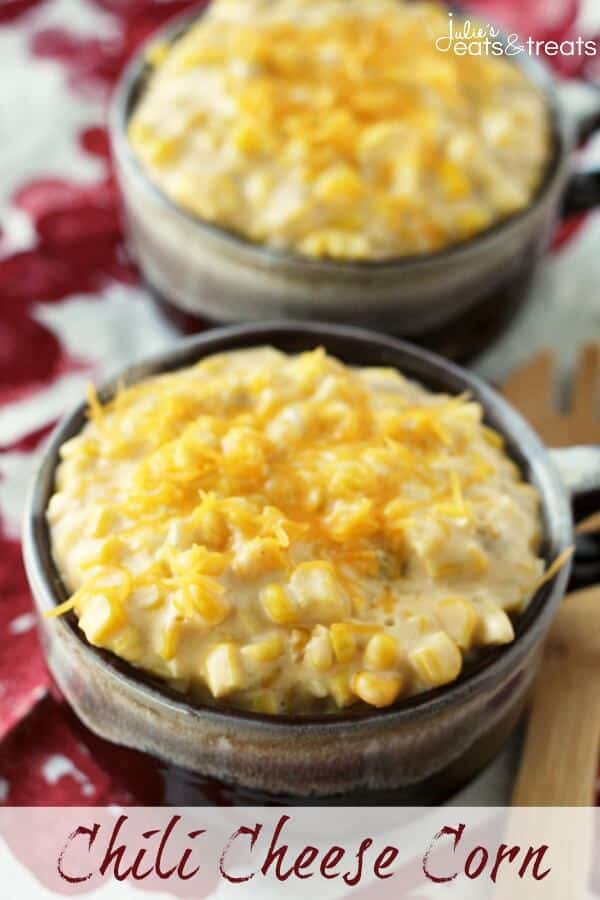 Are you holidays getting a little boring? The family gatherings a little dull? Then I have the perfect dish for you today! I know you get sick and tired of that same old corn Every. Single. Holiday. I don't blame you. You need a little excitement in your life. You want to live on the edge and grin when someone takes a bit of your creamed corn this holiday season. Then giggle a little when they are pleasantly surprised when it has a little kick? Then be glad you swung by the blog today for this Chili Cheese Corn to spice your life up with.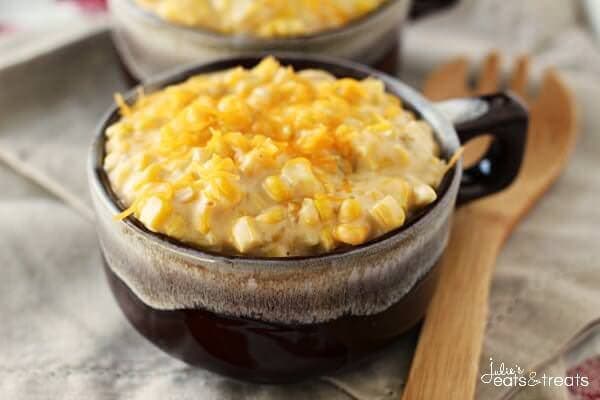 Ok in all honesty it isn't that spicy. It probably won't make your upper lip bead with sweat or send your dear family member flying towards the nearest water cooler while you giggle to yourself and act innocent. It has just the perfect amount of "kick" to spice it up without offending any of your family and friends that might have a weaker palette than you.
I am totally that weaker family member. Sure I like a little spice but I'd also be the one running towards the water cooler or grabbing the milk to douse the fire occurring in my mouth while you laughed. I'm kind of a sissy. Or maybe I'm just a true Midwesterner without any kind of "hot" streak in my palette! Obviously you might have figured this out by my recipes if you've followed along on the blog for amount of time. I'm more of a meat and potatoes kind of girl aren't I? Sometimes I like to live on the edge a little so I try wild and crazy things like this Chili Cheese Corn. Exciting aren't I? I know you are jealous at the amazing life I live aren't you?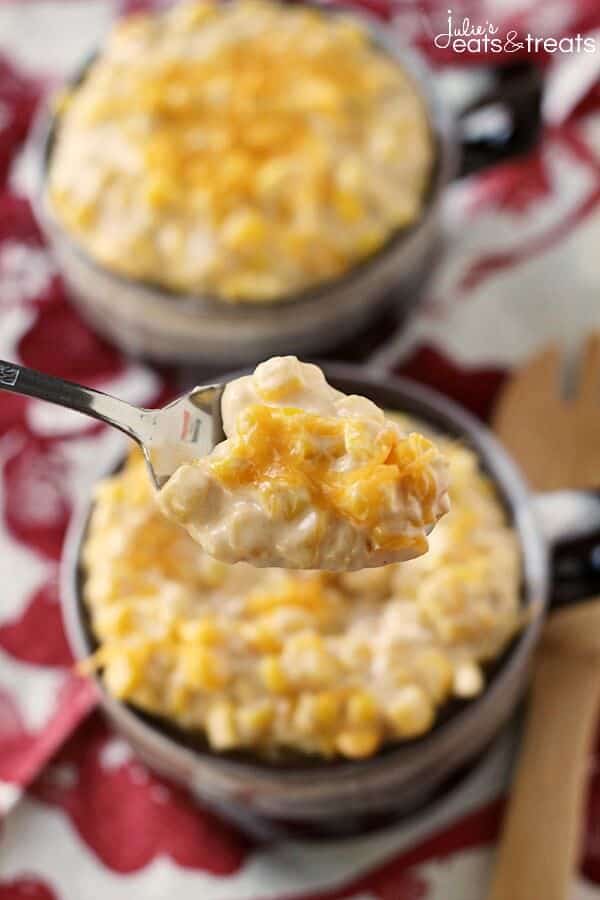 Did I forget to tell you how easy this dish is too? So simple. So easy. So Quick. So Delicious. Pretty much makes it a win, win, win, win doesn't it? It's creamy, comforting and it has a kick. I mean what more could we ask to serve to our family and friends?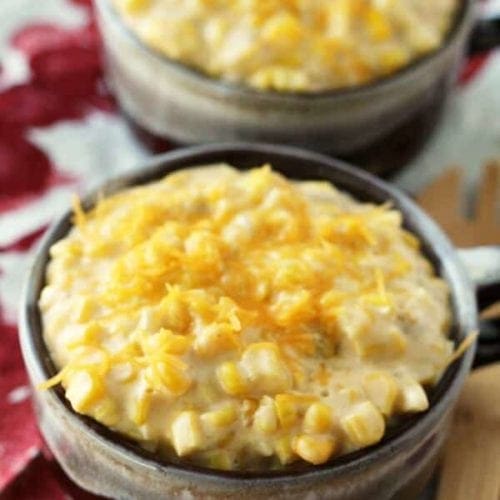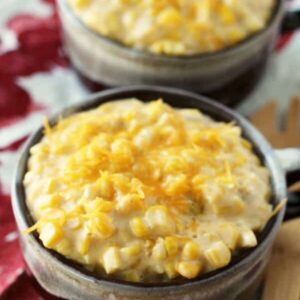 Chili Cheese Corn
Put a Kick in Your Corn! Stuffed with Cheese, Chilies, and Cayenne!
Ingredients
1

8 oz package cream cheese, cubed

2

Tbsp

butter

4

c.

frozen corn

thawed

1

4 oz can chopped green chilies

1/4

c.

milk

1/4

tsp

garlic salt

1/8

tsp

cayenne pepper
Instructions
Over medium heat, cook cream cheese and butter in large saucepan; stirring frequently for 4-5 minutes or until smooth. Stir in remaining ingredients.Cook for 5 minutes or until heated through.
Nutrition
Calories:
329
kcal
Carbohydrates:
40
g
Protein:
7
g
Fat:
18
g
Saturated Fat:
10
g
Cholesterol:
52
mg
Sodium:
327
mg
Potassium:
528
mg
Fiber:
5
g
Sugar:
2
g
Vitamin A:
660
IU
Vitamin C:
13.6
mg
Calcium:
55
mg
Iron:
1.2
mg
Looking for more Great Side Dishes?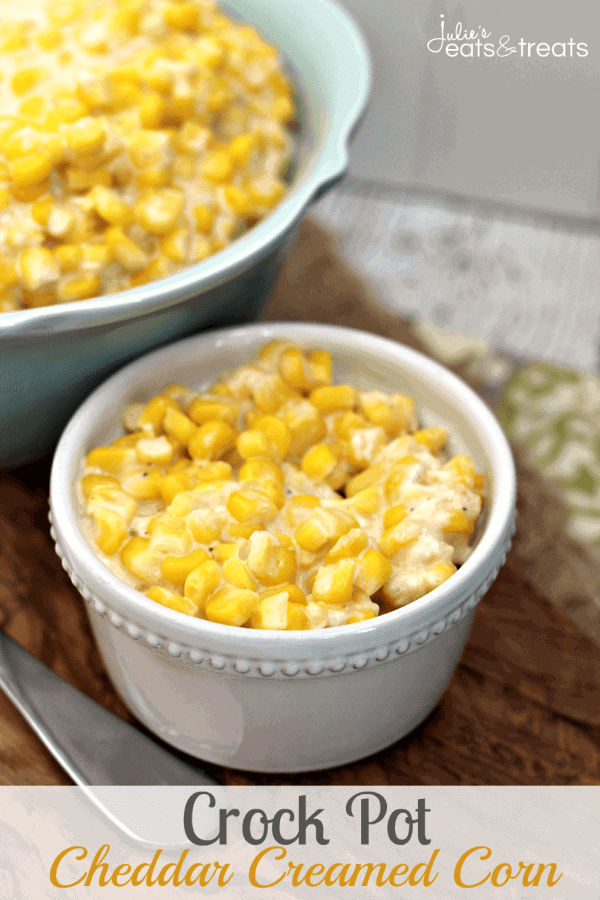 Crock Pot Cheddar Creamed Corn ~ The perfect easy side dish for your main dish! Throw it in the Crock Pot and forget it!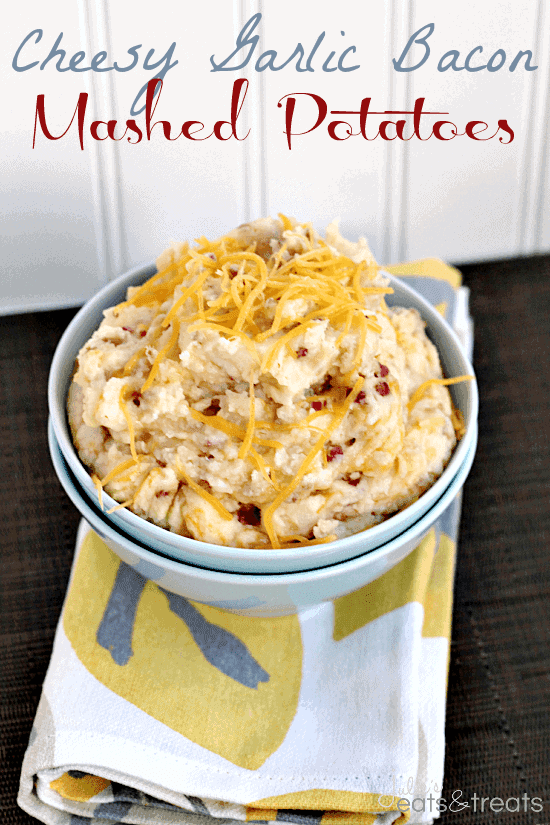 Cheesy Garlic Bacon Mashed Potatoes ~ Loaded with Garlic, Bacon and Cheese and you don't even have to make mashed potatoes!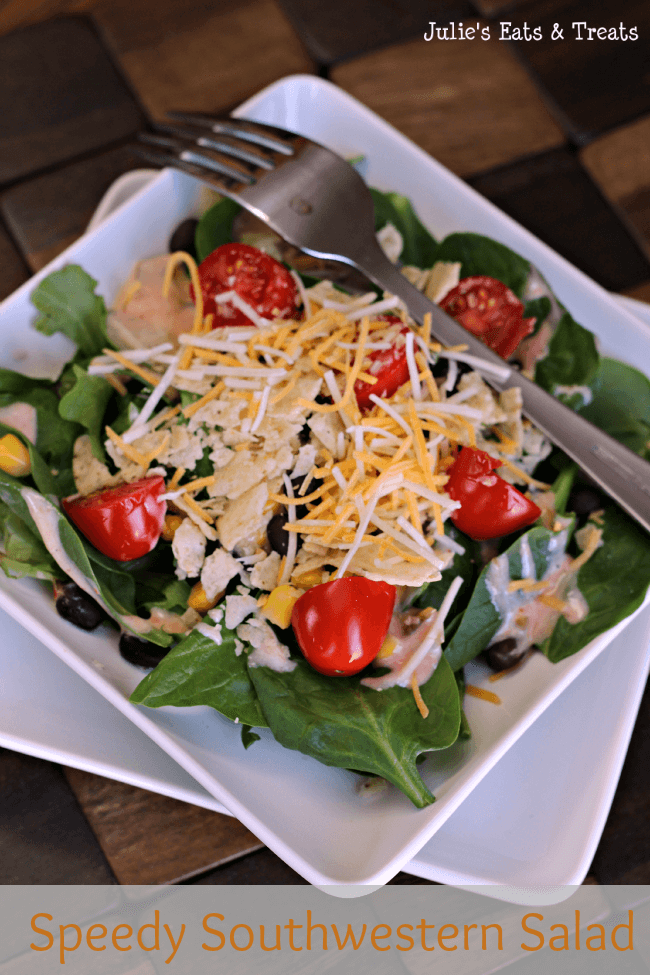 Speedy Southwestern Salad ~ Quick and easy salad with a southwestern twist!