Cinnamon Apple Cream Cheese Coffee Cake
Cinnamon Apple Cream Cheese Coffee Cake ~ Amazing Coffee Cake Topped with Cream Cheese, Apples, Crumb Topping and Cinnamon Glaze!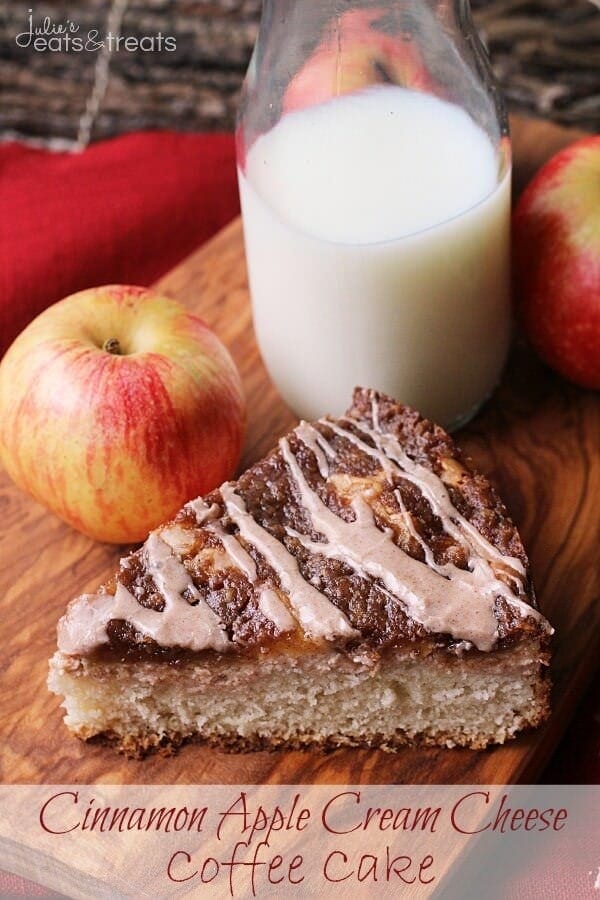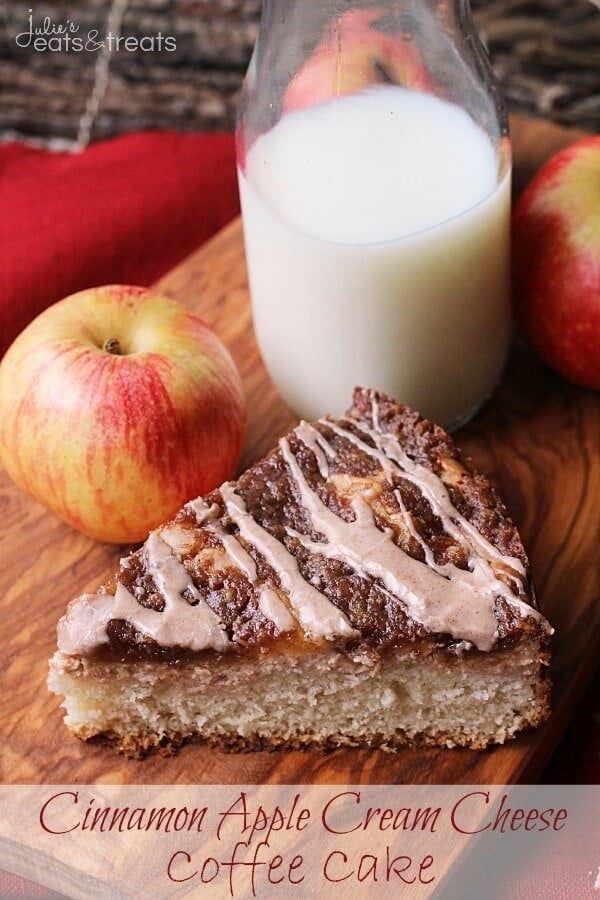 I'm going to start out his post by whining a little bit so here's you warning. If you just want to skip the sob story then head on down to the recipe!
Miss K was sick before we left on vacation and then during vacation she got a cold. It started with a lovely runny nose and then during the middle of the night she started coughing. I'm not talking little coughing, but the kind of coughing that sounds like she either will stop breathing or puke from coughing so much. Of course it's 3 am in hotel and I have nothing to give her. Somehow my child seems to sleep right through it, but Mom is not so I eventually go and get her up to give her some water and try to get her to stop coughing so hard. Let's just say it was a long, long night for Mom. The next day we went and got something for the next night which helped a little and we were all able to get more sleep.
Sounds like an awesome vacation right?
Honestly it wasn't THAT bad and we did have fun!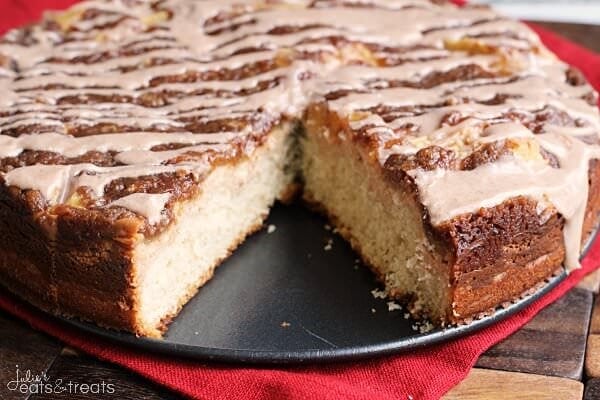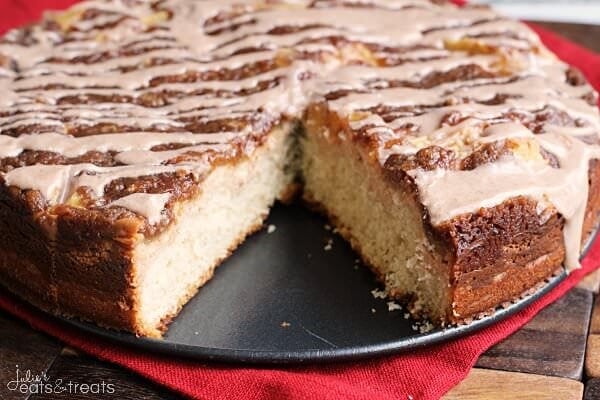 Fast forward three days to the drive home from vacation and my throat starts feeling a little dry and itchy and you kind of know what's going on but yet you really want to ignore it and hope for the best. Unfortunately that hoping for the best didn't really work for me. I ended up with the dreaded cough. Somehow the hubs has escaped it so far. The last few days I've barely been able to talk due to a sore throat and cough which is tons of fun at work where I talk. Let's just say I've drank a LOT of water to get through it.
Then nighttime comes and I'm soooo tired and all I want to do is sleep and as soon as my head hits the pillow the coughing starts. I'm pregnant. That means no go meds to knock you out either. So now I'm sick, sleep deprived and pregnant. Oh the joys. The hubs sleeps through it all which I'm thankful for yet I kind of want to hit him and wake him up so he can be miserable with. I would kill him if he did that to me so I have refrained. Nice of me huh?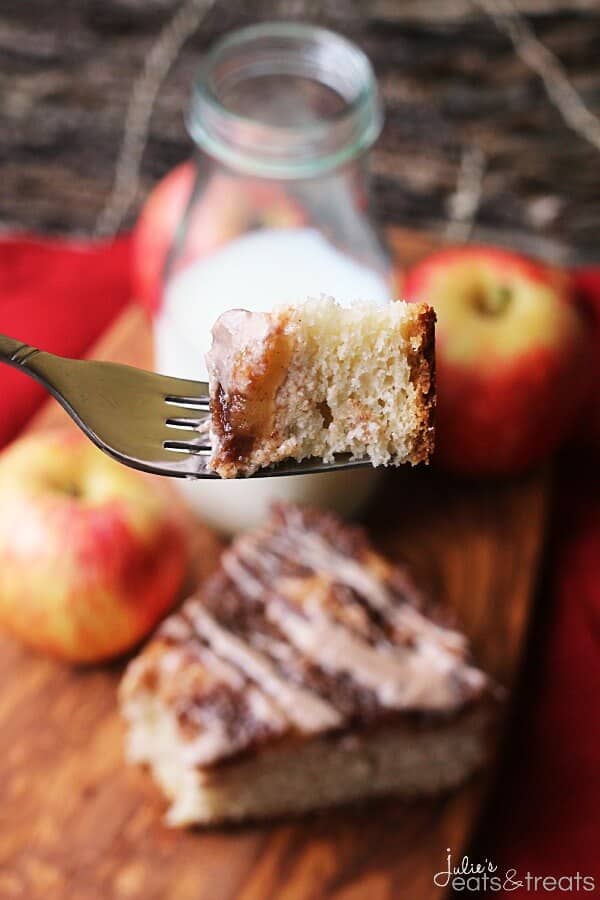 Since I'm dying over here I really think someone should appear on my doorstep with a thermos of coffee and this amazing Cinnamon Apple Cream Cheese Coffee Cake mmmk?
I mean that's really the only obviously nice thing to do at this moment in time. Or at least the hubs could figure out Keurig. I mean my two year old has mastered making me coffee in the morning I'm pretty sure he could do it!
If you are looking for a yummy fall treat to start your day off right you will love this coffee cake layered with cream cheese and apples and topped with a cinnamon drizzle!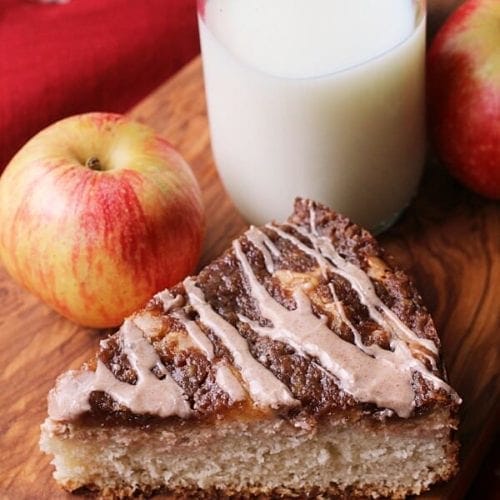 Cinnamon Apple Cream Cheese Coffee Cake
Cinnamon Apple Cream Cheese Coffee Cake ~ Amazing Coffee Cake Topped with Cream Cheese, Apples, Crumb Topping and Cinnamon Glaze!
Print
Pin
Rate
Total Time:
1
hour
15
minutes
Ingredients
Cake
1

egg

1/2

c.

butter

softened

1/2

c.

milk

2

tsp

vanilla extract

1 1/2

c.

all-purpose flour

2/3

c.

granulated sugar

2

tsp

baking powder

1/2

tsp

salt
Cream Cheese Filling
1

8 oz package cream cheese, softened

1/4

c.

granulated sugar

1

tsp

cinnamon

1

tsp

vanilla

1

apple

peeled and sliced
Crumb Topping
1/2

c.

brown sugar

packed

1/4

c.

all-purpose flour

1/4

c.

butter

softened

1

tsp

cinnamon
Cinnamon Glaze
1/2

c.

powered sugar

1-2

Tbsp

milk

1/2

tsp

cinnamon
Instructions
Adjust oven rack to the lower third position in oven. Preheat oven to 350 degrees. Spray a 8-9 in springform pan with non-stick spray. Set aside.

To make the crumb topping combine brown sugar, flour, butter and cinnamon in a bowl. Refrigerate until ready to use.

In a large mixing bowl combine egg and butter on medium speed. Add the milk and 2 vanilla extract and beat until mixed. Set aside.

In a different mixing bowl whisk together flour, sugar, baking powder and salt. Turn mixer on low and add to the wet ingredients slowly. Mix until just combined. Pour into prepared springform pan.

In a medium size mixing bowl beat cream cheese on high until smooth. Mix in vanilla, sugar and cinnamon until combined. Spread over the cake batter. Layer with sliced apples. Top with crumb topping, gently pressing into the batter.

Bake for 50 minutes or until toothpick is inserted in the center of cake and it comes out free of cake crumbs, remember the cream cheese mixture will stick to toothpick. Cool in pan for 15 minutes before removing pan sides and glazing with cinnamon glaze.

For the glaze whisk together powdered sugar, milk and cinnamon. It should be just thin enough to drizzle.
Nutrition
Serving:
1
g
|
Calories:
604
kcal
|
Carbohydrates:
101
g
|
Protein:
6
g
|
Fat:
19
g
|
Saturated Fat:
11
g
|
Cholesterol:
69
mg
|
Sodium:
326
mg
|
Potassium:
252
mg
|
Fiber:
2
g
|
Sugar:
59
g
|
Vitamin A:
620
IU
|
Vitamin C:
1.1
mg
|
Calcium:
110
mg
|
Iron:
2.8
mg
LEAVE A COMMENT