I'm all about the cravings lately. I've been craving Banana Bread lately. I didn't have any bananas thawed out or sitting on the counter so instead I whipped this bread up.
It was delicious. It didn't replace my craving but I may have found a new craving! I'm still going to have to make the banana bread sometime soon because the crave just is not leaving me.
This bread is super easy to mix up and stick in the oven. The worst part is waiting the 45 minutes for it to bake! The hubby loved this slathered in butter. It's a bit crumbly if you eat it right away but the next day it's nice and firm and easy to cut. I'm not going to lie. I'll take crumbly so I can eat it straight out of the oven!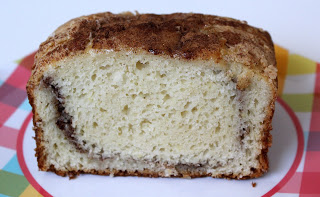 Cinnamon Sugar Bread
Printer Friendly Recipe
Ingredients
1/3 c. white sugar
2 tsp ground cinnamon
2 c. all-purpose flour
1 Tbsp baking powder
1/2 tsp salt
1 c. white sugar
1 egg
1 c. milk
1/3 c. vegetable oil
Extra cinnamon and sugar for top
1. Preheat oven to 350 degrees. Lightly grease a 9×5 loaf pan.
2. In a large bowl combine flour, baking powder, salt and 1 c. sugar. Add egg, milk and oil to flour mixture. Mix until just moistened.
3. Pour half of batter into pan. Sprinkle with cinnamon and 1/3 c. sugar. Cover with remaining batter. Sprinkle with a little more cinnamon and sugar.
4. Bake for 45 minutes or until it tests done. Let cool in pan for 10 minutes and then remove to a wire rack to cool completely.