It's time for Secret Recipe Club Reveal day again! This month I was assigned Big Bears Wife. Oh my goodness her blog is a gold mine of great recipes! For example she just posts Cheesy Chicken Roll Ups I think I'm going to have to try.
I picked out her Cinnamon Sugar Cashews to make. I might have, just might have spaced that I had to do this on the 23rd of July and waited until the last minute. It's a total bummer I did this because she has so many great recipes to try and I wish I would have had more time! Oh well, guess I'll pin them for later! These were excellent and would make an awesome little treat at Christmas in goodie bags. The only thing that confused me as why she calls them "Cinnamon" Sugar Cashews, because cinnamon isn't in the recipe. I did substitute the cashews for peanuts as they were what I had on hand. They were still yummy!
I have a bit going on in my life and I go back to work today after my 7 1/2 weeks off with my baby, Miss Kinzee Marie. It's hard for this Momma, as I assumed it is for most of us! I know she is with a wonderful daycare mom but I'm still having major separation anxiety. I can't wait until we get settle into a routine.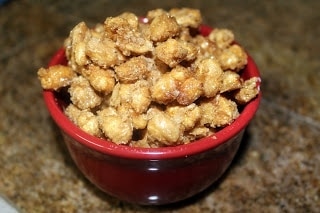 Cinnamon Sugar Cashews
Printer Friendly Recipe
Ingredients
1 c. peanuts (or any other nut)
1/4 c. brown sugar
1/4 c. white sugar
1 egg white
1 tsp vanilla
1. Preheat oven to 250 degrees F. Line a baking sheet with wax paper and generously spray the wax paper with cooking spray.
2. Beat egg white and vanilla in a bowl. Pour peanuts into the egg mixture and stir to coat nuts evenly.
3. Combine both sugars in a small bowl with a lid. Add the peanuts to the sugar mixture. Cover with lid and shake until the peanuts are all coated.
4. Pour the peanuts onto your lined baking sheet. Make sure they are spread out in an even mixture.
5. Bake for 1 hour, stirring peanuts every 15 minutes so they don't stick and burn.