Cranberry Pinot Noir Meatballs
Cranberry Pinot Noir Meatballs ~ Meatballs smothered in a Cranberry Pinot Noir Sauce!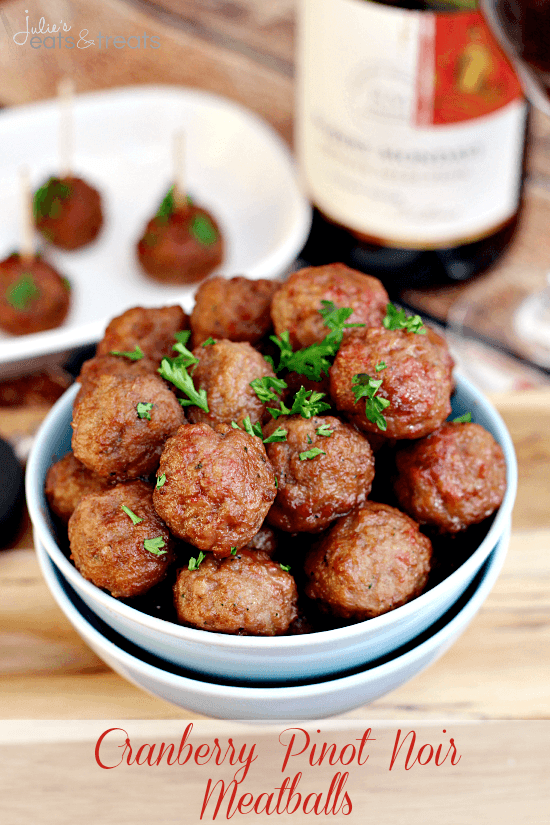 Entertaining for the holidays? I know I am! With that comes a whole lot of pressure if you let it get to you, but let's not focus on that let's focus on how to make it EASY and ENJOYABLE!
Because who really wants to be grumpy over the holidays because you are stressed out from entertaining? Not me! Now, I need to take in my own advice right now too!
For a few quick tips on holiday entertaining, I've compiled a quick list of 10 Do's and Don'ts to Holiday Entertaining!
10 Do's and Don'ts of Holiday Entertaining!
5 DO's
DO Plan a menu ahead of time! I know this stresses me out if I leave it until the last minute so I always make sure I have this taken care of a few weeks in advance. It's like my game plan and I can mentally organize when and where I'm going to make it happen. If it help to write a list of times you need to have everything prepared by then go for it! Heck, make a flow chart if it eases your mind! P.S. I need a flow chart!
DO Stick with recipes that you know and have tried. This is not the time to get all fancy and try a whole bunch of new recipes. It's stressful, you get in a bind if they don't turn out and it's not worth it!
DO Plan enough time. Schedule everything so you have at least 30 minutes before the party starts to sit down and breath. It's your time to unwind, destress and relax before the party so you can enjoy it too!
DO Stock up on the necessities! Things like beverages, napkins etc. These little things often get forgotten!
DO Prep ahead of time! If it's the table you need to set the night before, the food you want to get a jump start on or the cleaning do it!
5 DON'TS
DON'T Let the little things get to you! No one is going to notice other than you more than likely. Relax, take a deep breath and carry on!
DON'T Let anyone Drink & Drive. Ever. Enough said.
DON'T Do it all yourself. If you need help with things ask. For example do you hate to clean? Hire someone. Do you hate the meat and cheese tray? Buy it. Do you hate making tedious cut out cookies? Buy them. Make it work for you!
DON'T Try to please everyone. You will stress yourself out. Try to accommodate as many people as you can but beyond that focus on the main things!
DON'T  Try to make your house look like a magazine! No one expects it and no one wants to go to a house like that! Make it HOMEY!
These are a few of the tips I've picked up over the years of entertaining! Focus on the main things, have fun and relax.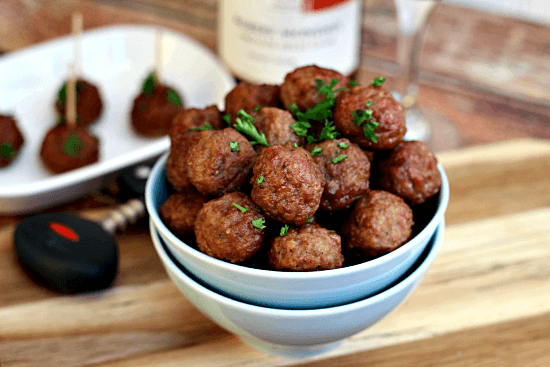 One of things I try to do is pick out EASY, but FABULOUS dishes to serve like these Cranberry Pinot Noir Meatballs made with Robert Mondavi Private Selection Pinot Noir wine. Now, don't you just feel fancy saying that name? They are super easy, but totally impressive and no one will every know you didn't slave over them, plus you can make them a few hours ahead of time and keep them warm in a crock pot. I love this! Serve a glass of Pinot Noir with them and everyone will be singing you praises! If you are looking for more holiday entertaing ideas and tips make sure to check out my Holiday Entertaining Tips Pinterest Board!
Robert Mondavi Private Selection offers something authentic, true to Mr. Mondavi's legacy of making great quality, expressive wines from California's Central Coast. Connect with us on Facebook for more: www.facebook.com/robertmondaviprivateselection

Please enjoy our wines responsibly.
Compensation was provided by Robert Mondavi Private Selection via Glam Media. The opinions expressed herein are those of the author and are not indicative of the opinions or positions of Robert Mondavi Private Selection.
More of my favorite meatball recipes!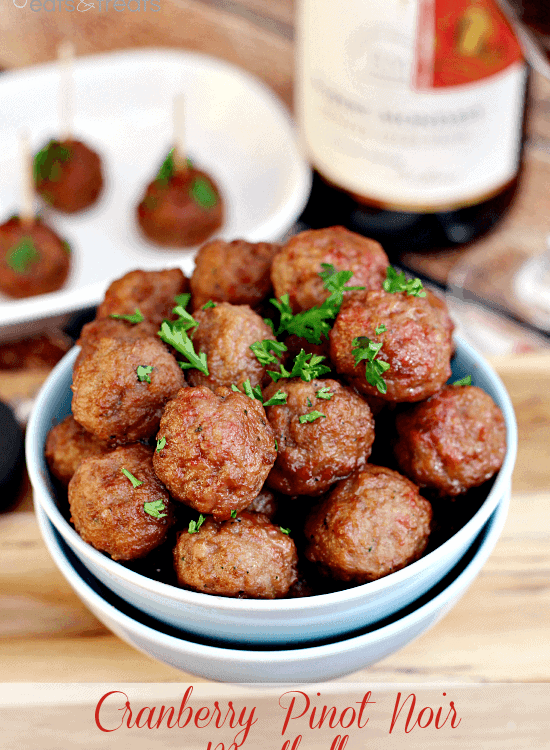 Cranberry Pinot Noir Meatballs
Cranberry Pinot Noir Meatballs ~ Meatballs smothered in a Cranberry Pinot Noir Sauce!
Ingredients
26

oz

bag Italian Style Meatballs

16

oz

can whole cranberry Sauce

1

c.

brown sugar

packed

1

c.

Robert Mondavi Private Selection Pinot Noir

1

tsp

spicy brown mustard
Instructions
Prepare meatballs according to package directions.

In a saucepan combine cranberry sauce, brown sugar, Pinot Noir, and mustard. Whisk to combine over medium heat. Bring to a boil and simmer for 5 minutes or until mixture has thickened, stirring frequently.

Remove from heat and pour sauce over meatballs, serve immediately or hold in crock pot on warm or low setting.
Nutrition Information
Serving:
1
,
Calories:
143
kcal
(7%)
,
Carbohydrates:
15
g
(5%)
,
Protein:
4
g
(8%)
,
Fat:
6
g
(9%)
,
Saturated Fat:
2
g
(13%)
,
Cholesterol:
20
mg
(7%)
,
Sodium:
25
mg
(1%)
,
Potassium:
98
mg
(3%)
,
Sugar:
15
g
(17%)
,
Vitamin A:
10
IU
,
Vitamin C:
0.6
mg
(1%)
,
Calcium:
12
mg
(1%)
,
Iron:
0.4
mg
(2%)