Crock Pot Chili Cheese Dip
Crock Pot Chili Cheese Dip ~ Two Ingredient Chili Cheese Dip Perfect for a Quick, Easy Appetizer at Parties!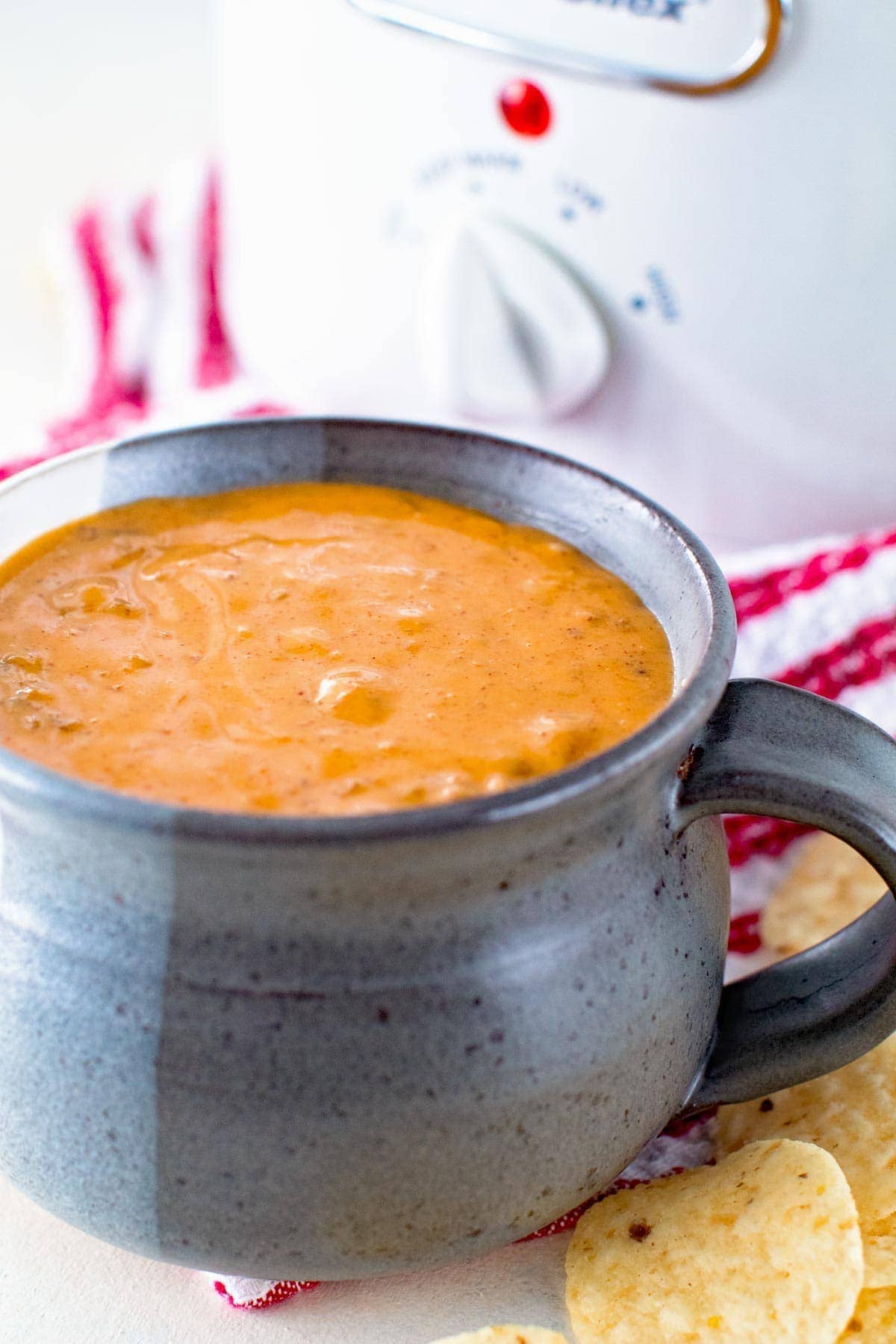 The countdown is on! One more week and it's the big game! That means everyone should be planning their menus for the Super Bowl party they are attending, duh. I mean that's the main object of going to or hosting a party right? You can bet that I'll be making this delicious Crock Pot Chili Cheese Dip in my slow cooker. There's only TWO ingredients. Can I get a heck yes for that? I can assure you even your husband can make this Slow Cooker Chili Cheese Dip!
Easy recipes when hosting a party are a must have in my book. I don't want to be stuck in the kitchen while everyone else is having fun relaxing! Although it does seem like everyone congregates in the kitchen when they are at a party doesn't it? I love our new living room addition because the kitchen looks right into it and it's super open. So much better. Plus, there's actually room to have a party!
Only TWO Ingredients in Crock Pot Chili Cheese Dip!
Cheez Whiz

Chili without beans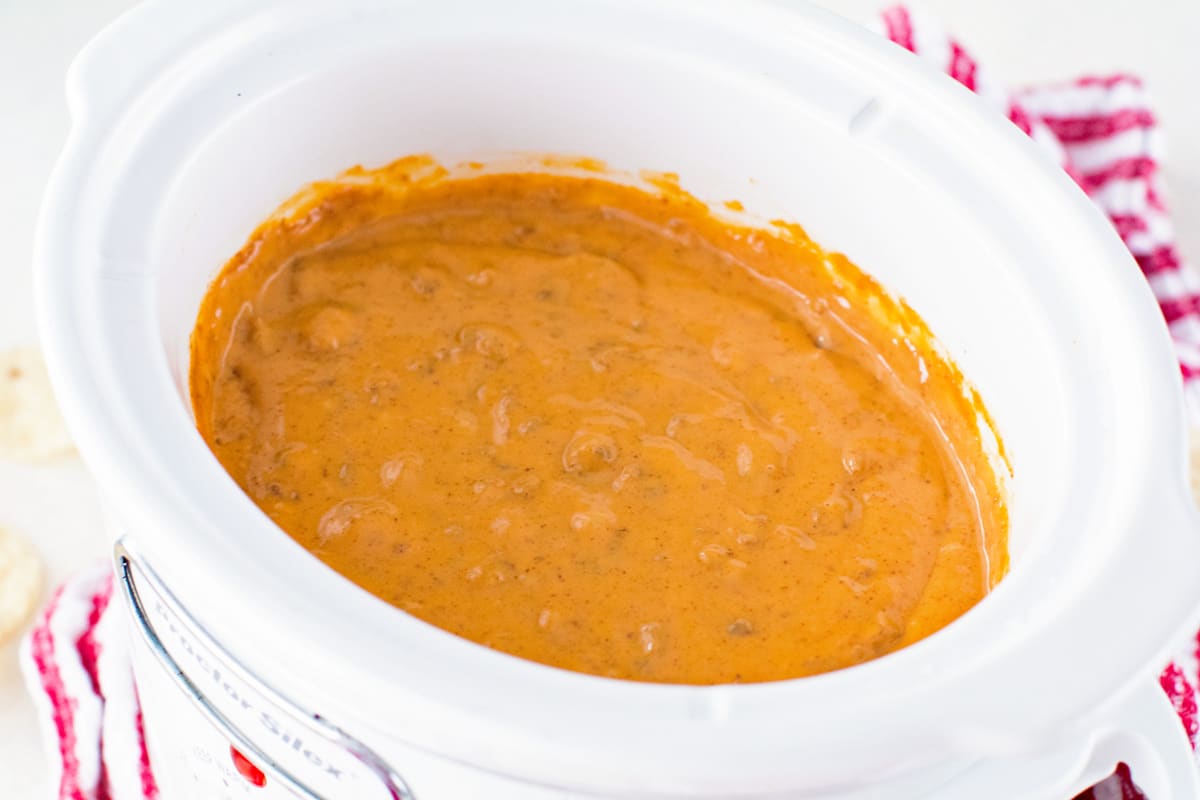 Speaking of the Super Bowl. Did you know it's in my home state this year? Big old Minnesota is hosting this year's Big Game and we are all kind of pumped for it. It's a big deal to us Minnesotans. Now, if only our beloved Vikings would have made it. So close, yet so far away.
I was invited to attend the SuperBowl Live Event for Schwan's I jumped at the chance. This might never happen in my lifetime again!
I, of course, invited the hubs to come with me because I'm a good wife like that. In fact, we got to make a weekend trip out of it thanks to my amazing sister-in-law that offered to watch the kiddos for the entire weekend. My mom assisted some and they made it through!
On the way down to the cities my husband conned me into looking at fish houses. I grumbled and let him entertain himself. He promised he was just looking and just wanted to see the layouts and different options…
Famous last words as I look outside to see a fish house in our driveway.
Either I'm a really nice wife or a really big pushover? I have yet to decide. Thoughts?
One thing I will say is my daughters think we are Super Heroes! They have been begging to stay overnight in the fish house and our other one was so old and pathetic that we couldn't do that. I hope this brings hours of family entertainment as they grow up.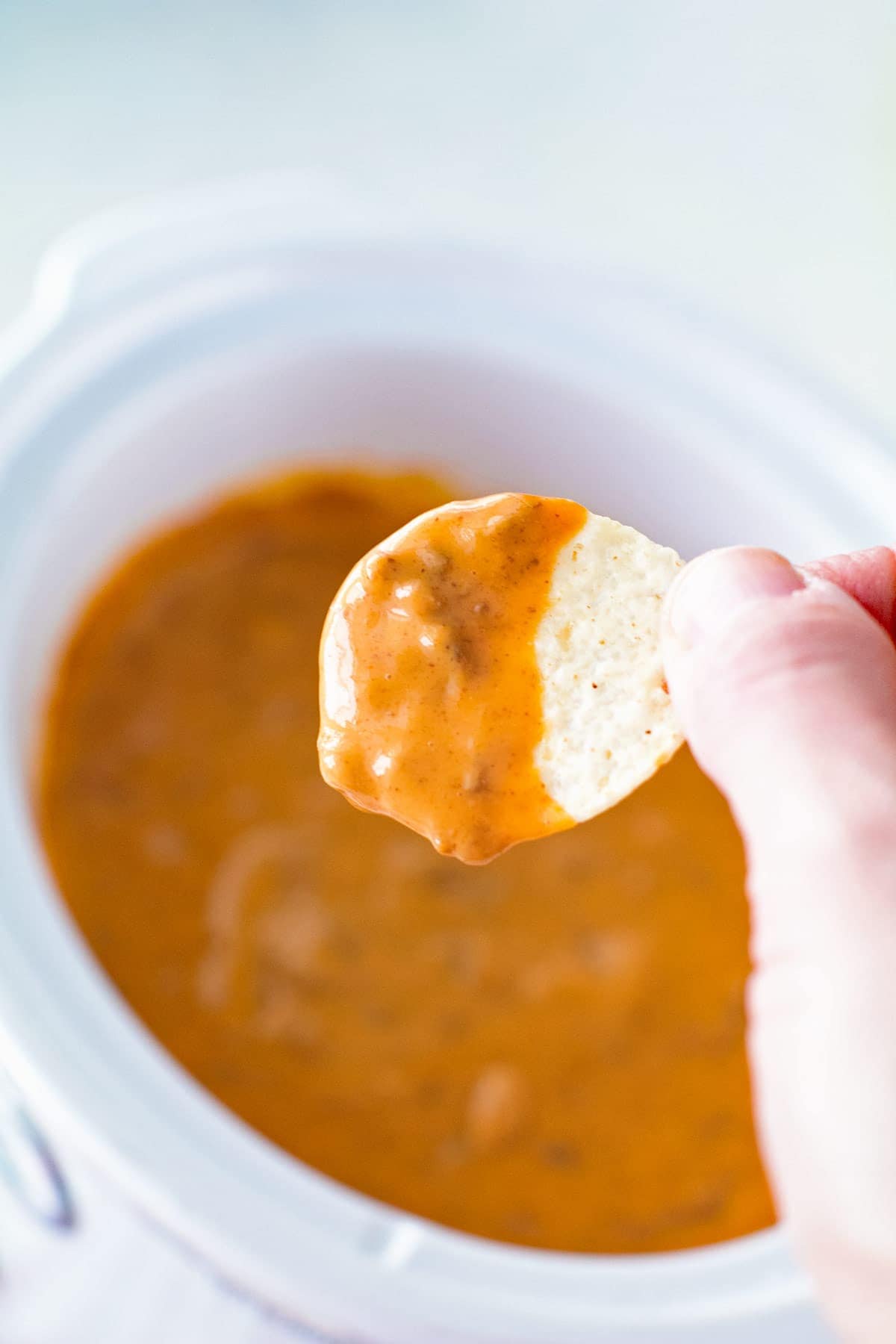 Maybe we will even watch the Super Bowl from the fish house!
You know what? I could even stick this Crock Pot Chili Cheese Dip in the slow cooker and make this because it's so easy right in the fish house! Seriously, dump two ingredients in, turn it on, stir it a few times and boom you have an amazing Slow Cooker Chili Cheese Dip!
Tools to Make Crock Pot Chili Cheese Dip
My brother used to LOVE this Slow Cooker Chili Cheese Dip growing up, so it was made often at our house. You can also just stick the ingredients in a microwave safe bowl and zip it in the microwave, stirring every minute until combined if you are in a hurry!
That's what my mom did when he requested it because no pre-teen boy is going to wait long enough to warm it up in a crock pot. If you need it to stay warm you could always throw the dip in a slow cooker while the party is going on!
Love hot dip recipes? You have to try my Jalapeno Popper Dip, too!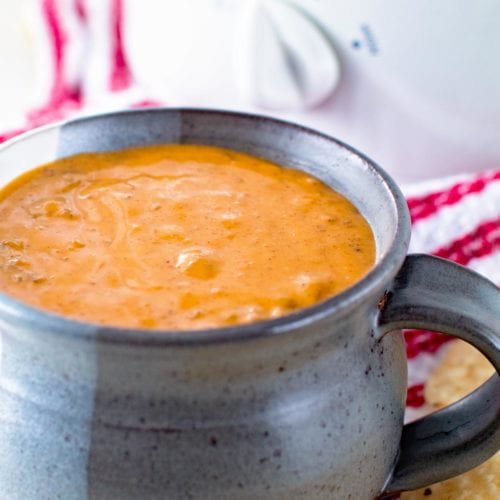 Crock Pot Chili Cheese Dip
Two Ingredient Chili Cheese Dip Perfect for a Quick, Easy Appetizer at Parties!

Ingredients
1

15 oz jar Cheez Whiz

1

15 oz can chili without beans
Instructions
Combine Cheez Whiz and chili in a 1.5 quart Crock Pot.

Turn on low for 2 hours. Stir a few times while warming.

Serve with chips.
Nutrition
Calories:
139
kcal
Carbohydrates:
5
g
Protein:
6
g
Fat:
9
g
Saturated Fat:
5
g
Cholesterol:
34
mg
Sodium:
718
mg
Potassium:
150
mg
Sugar:
2
g
Vitamin A:
230
IU
Vitamin C:
0.7
mg
Calcium:
138
mg
Iron:
0.8
mg