Crunchy Pecan Banana French Toast
Crunchy Pecan Banana French Toast ~ Light and Fluffy French Toast with a Crunchy Pecan Crust then Loaded with Bananas! A Perfect and Easy Breakfast!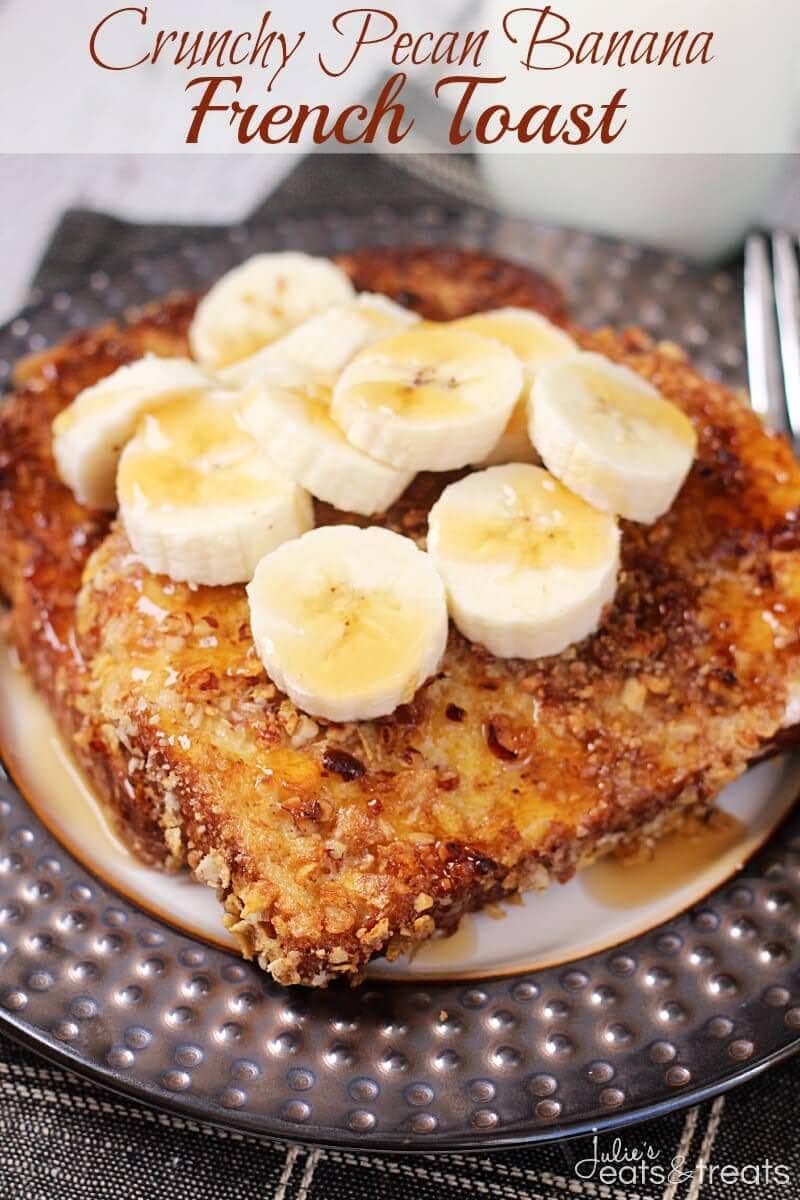 Ready for Christmas? It's knocking on our doors isn't it? I'm almost ready. I need to make one more shopping trip quick and pick up some stocking stuffers and a few odds and ends and then I think I'm ready for game time! The presents that I do have are wrapped and under the tree. Miss K has even left them alone so far. Impressive I might say!
I'm also impressed with that fact that I've been able to get all my Christmas shopping done fairly early with a newborn. Thank you online shopping! I would say about 75% of my shopping has easily been online this year. I'm a rock star like that. Free shipping, no crowds and no temptations to buy more gifts while walking through the mall. That's the thing about getting done early with Christmas shopping. I always want to buy more! I find another little thing here and there and I just keep buying and buying. It makes an excellent Christmas for those around me but not so great for my pocket book that's for sure!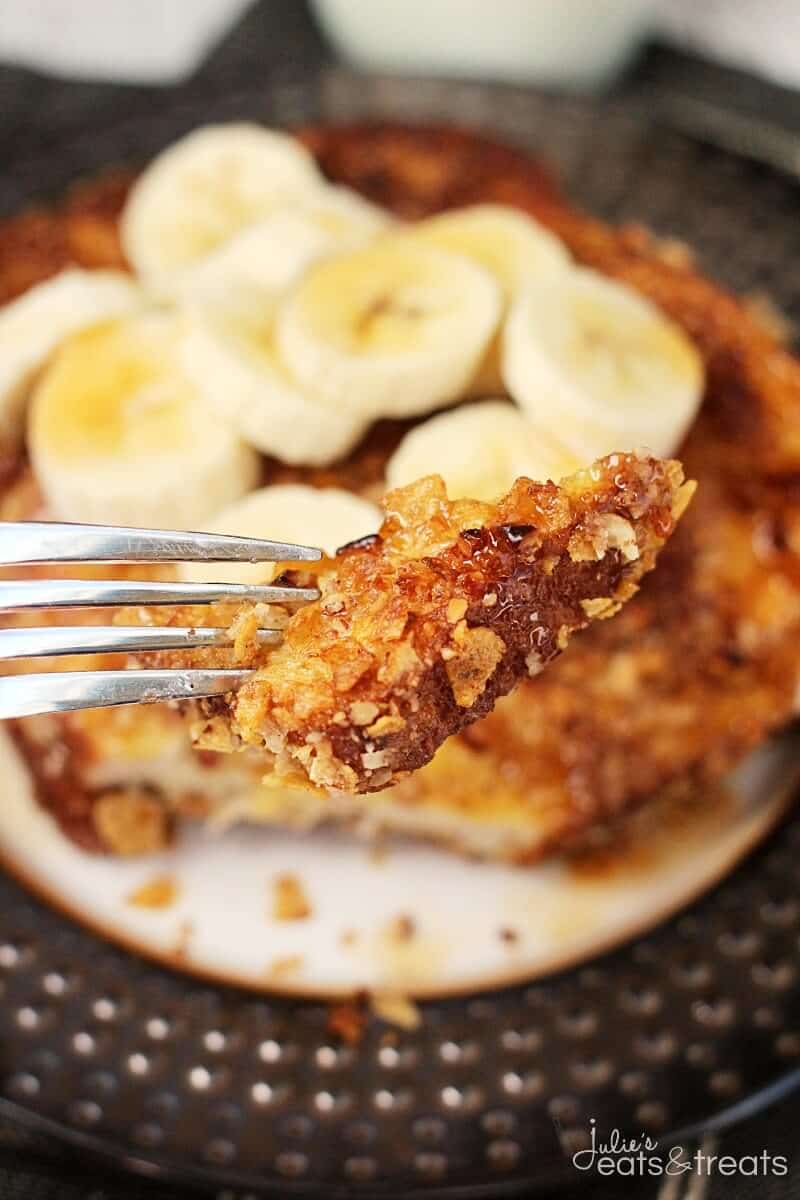 Speaking of having a newborn. Wowzers. I forgot how time consuming that is. Thank goodness I had things lined up on this blog for you to keep enjoying while I spend time with little Miss RJ lately. Just popping into write a quick post has me scrambling at the last minute. Also, kudos to all you stay at home mothers that also work from home. How on earth do you do it? Given the fact I know it gets better as they get older but you ladies are on top of the ball and I give you major credit! I feel like all I do is try to keep up with the laundry, house and children. The thought of blogging is about enough to make me want to scream!
Given the fact that I miss blogging. I miss creating. I miss it all and I'm dying to get back in the kitchen as soon as time allows. The hubs asked me why I don't start getting back to it and I think I may have looked at him like he had three heads and was green. No words necessary after the look he received!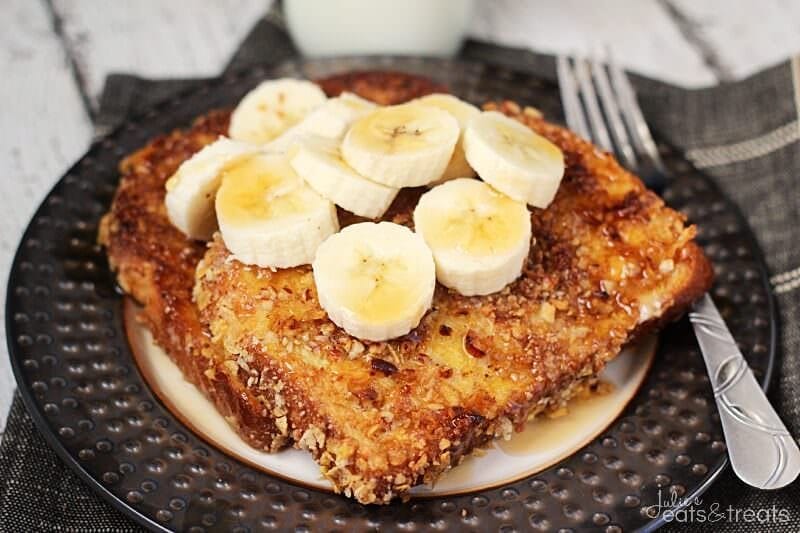 Let's talk about this fabulous french toast recipe I'm sharing with you today. That's what you really came here for right? Not to hear me ramble about my life with a newborn. Sorry about that.
In my opinion Christmas morning deserves a fantastic breakfast. Are you with me on that? You could do this Crock Pot Tater Tot Egg Bake or this fabulous Overnight Caramel Apple French Toast. Perhaps try these easy Air Fryer French Toast Sticks are the perfect breakfast that the whole family will love! Although this Crunchy Pecan Banana French Toast is an option you really can't pass up. It's pretty much to die for. Let's just say the hubs, who hates any type of nut possibly, devoured this. I actually didn't make him any because I didn't think he would want it. Then he said he'd try it and I'm pretty sure he went back for thirds. It's that good. It has this fabulous crunchy outside coating and then the french toast melts in your mouth. Drooling yet? I am. Mark this down for your Christmas morning breakfast! Baked Pumpkin French Toast is the perfect fall breakfast!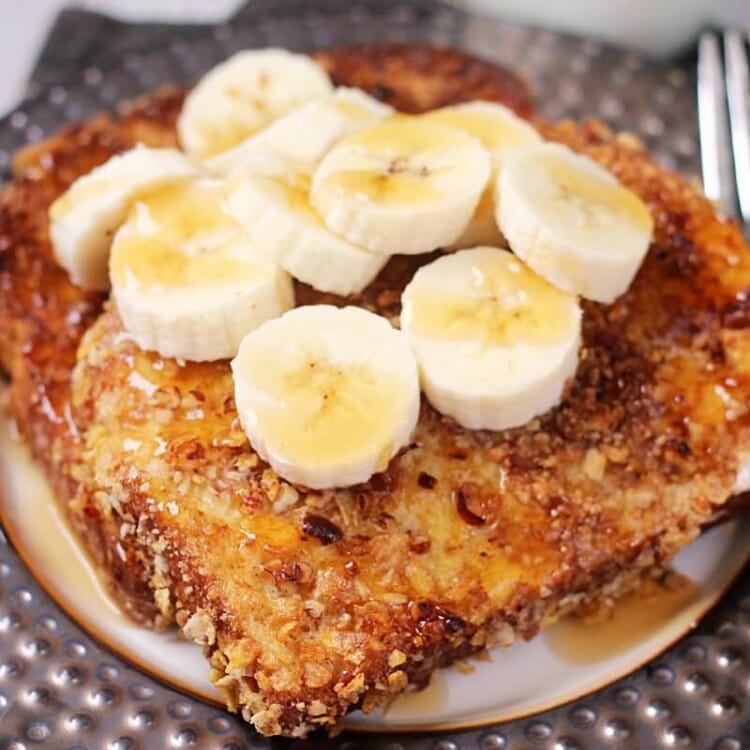 Crunchy Pecan Banana French Toast
Light and Fluffy French Toast with a Crunchy Pecan Crust then Loaded with Bananas! A Perfect and Easy Breakfast!
Ingredients
6

eggs

2

Tbsp

Milk

1

tsp

vanilla extract

1

c.

corn flake cereal

crushed

1

c.

pecans

crushed

8

slices

thick

hearty bread

3

Tbsp

butter

2

bananas

Maple Syrup
Instructions
In a shallow bowl whisk together eggs, milk and vanilla.

In another shallow bowl mix together corn flakes and pecans.

Melt butter in a large skillet over low heat.

Dip bread first into egg mixture then coat with cereal mixture. Place in skillet and cook until golden brown on each side.

Top with bananas and maple syrup
Nutrition Information
Serving:
2
,
Calories:
575
kcal
(29%)
,
Carbohydrates:
36
g
(12%)
,
Protein:
14
g
(28%)
,
Fat:
43
g
(66%)
,
Saturated Fat:
10
g
(63%)
,
Cholesterol:
158
mg
(53%)
,
Sodium:
540
mg
(23%)
,
Potassium:
398
mg
(11%)
,
Fiber:
4
g
(17%)
,
Sugar:
7
g
(8%)
,
Vitamin A:
890
IU
(18%)
,
Vitamin C:
9.1
mg
(11%)
,
Calcium:
50
mg
(5%)
,
Iron:
10.1
mg
(56%)