Another week is right around the corner and this recipe will provide a simple and fast meal that we can always use in life! I hope you had a great and relaxing weekend. I had a great weekend, but not very relaxing which is fine. We went to Jason's friend's wedding in Buffalo on Saturday and stayed overnight. The wedding was beautiful. It also was wonderful listen to the couple take their vows and the Pastor's sermon. It really reminded me about all the things I have to be thankful for in life especially my marriage. It had it's comical parts when the Pastor reminded the couple that some days they really won't like each other but to remember standing in front of their guests saying their vows and why they loved each other then and now. Isn't that true? I know I've only been married for about 8 months but some days it's like wow I just need some ME time and space but when you look back on it you wouldn't change a thing. The main thing is to remember that the other person probably feels like that about you sometimes too! I love my husband dearly and he's a blessing to me but two people have their difference which I'm sure you can all relate too 🙂 Ok off my soap box and onto the recipe. This recipe is AMAZING. The first time I made it I actually said I felt like I was eating in a restaurant it was so good. I've already went out and bought more tilapia to make it again. This is a huge thing in my life because I rarely make recipes twice this close together! PS This recipe is for my mom. She was asking what to do with her tilapia and I said I had just tried the perfect recipe for her to try. See…I share with her too. I don't just steal all her recipes!
Easy Baked Parmesan Tilapia
Printer Friendly Recipe
Ingredients
4 Tilapia Fillets
3 Tbsp butter, melted
1/4 c. grated Parmesan cheese
1 garlic clove, minced
1/4 tsp thyme
Salt & Pepper
Lemon Slice (Optional)
1. Preheat oven to 400 degrees.
2. Pat tilapia dry (If frozen thaw tilapia first) with a paper towel. Season with salt and pepper.
3. Lay on a baking sheet sprayed with non-stick spray (Make sure it has sides. I didn't and I had butter running all over the oven and Jason's comment was…make sure you tell the people to have sides on their pan when you post this on your blog!). Bake 10-12 minutes.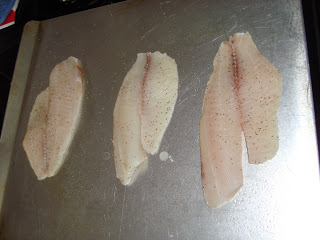 4. While fish is baking, mix butter with garlic, thyme & Parmesan cheese. It says to mince the garlic clove but I actually grated the clove on my hand grater and it worked great!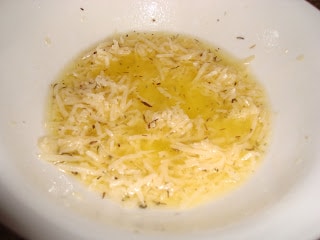 5. Remove fish from oven and GENTLY flip (I tried to be gentle..it didn't go so well and I ended up with the fillets falling apart slightly). Spread the butter mixture on the fish and heat the broiler in your oven. Set fish under the broiler for about 2-3 minutes or until cheese gets golden brown and bubbly. Serve with lemon.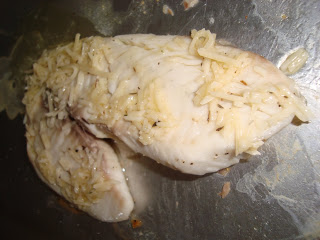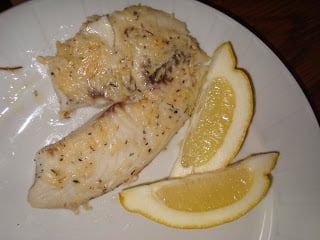 Enjoy! This one won't dissapoint!