Easy Cheesy Scalloped Potatoes ~ The Perfect Side Dish for Your Dinner or Holiday Meal! Fresh Hand Cut Potatoes Smothered in a Homemade Cheese Sauce and Baked Until Golden Brown!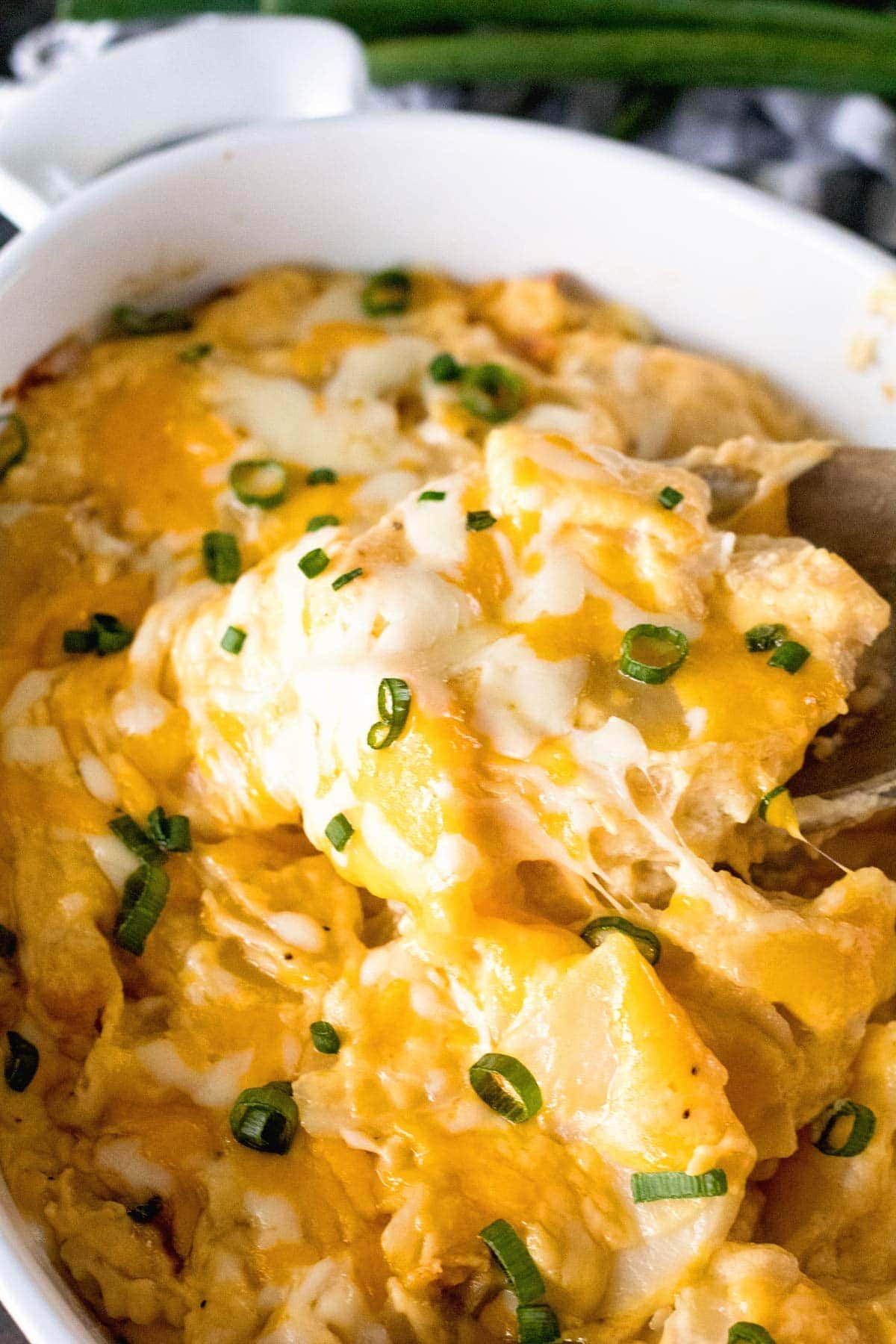 Ahhhhh it's December and Christmas is going to be here before I know it! I've been in a state of denial or something? I've been collecting gifts here and there for people but I have not got my game face on at all. I need to sit down and figure it all out. I find that the earlier that I start the more I buy. I just can't stop buying things so this year I'm starting later and maybe I won't buy as much? Good thinking right? At least I have my holiday side dish figured out! These Easy Cheesy Scalloped Potatoes are full of cheese, fresh cut potatoes and topped with more cheese! I can totally handle homemade scalloped potatoes for the holidays!
I also haven't got my Christmas tree up. Miss K has been BEGGING to put it up. I was hoping to have the living room addition done so I could put it in the corner and it'd be so pretty, but that looks like it might not happen, well maybe on the 24th of December I'd be able to do that!
Therefore I'm going to clear out a place in the old living room and put it there. It will work just fine and the kiddos will be ecstatic. I also got fancy new stockings and stocking holders for the mantel, but those are going to have to go up on the old fireplace too. I can always move them right?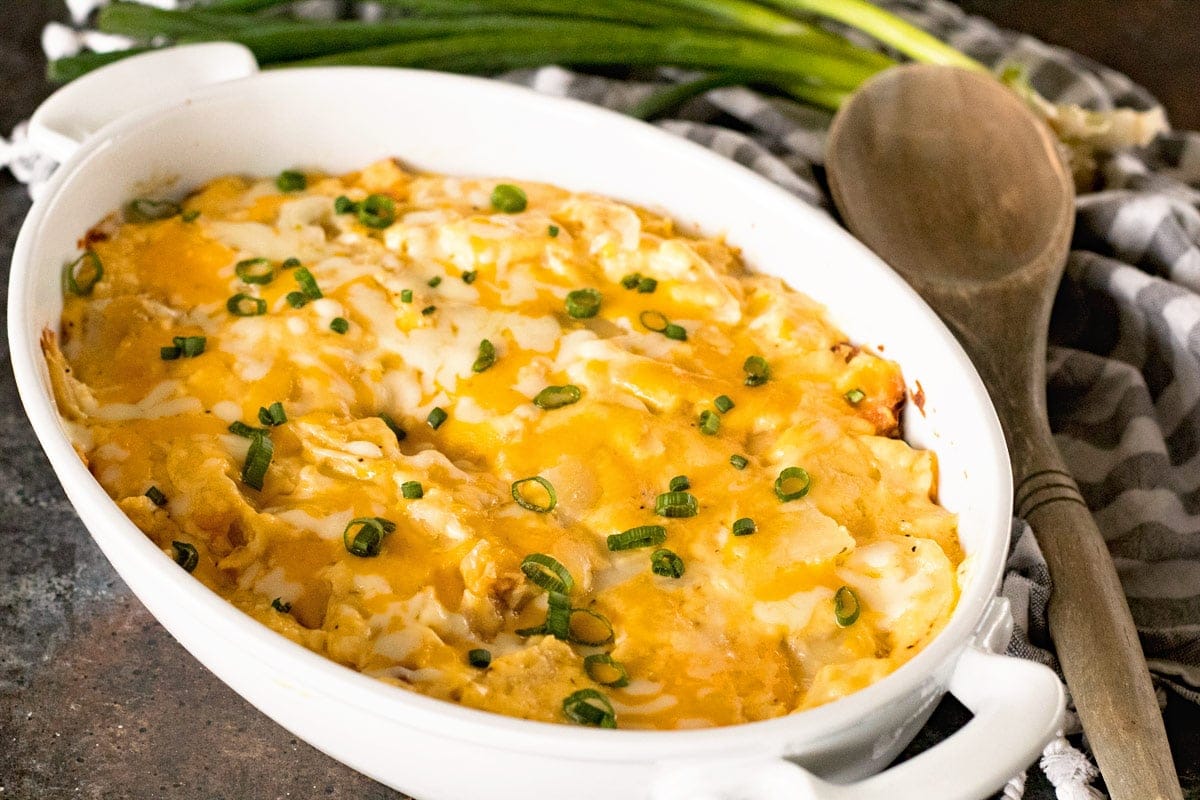 When we started this addition the hubs informed me he'd have it done by Thanksgiving. Now, I've been down this road of remodeled homes with him once or twice before and I looked at him, raised my eyebrows and giggled a bit.
He didn't find me very funny….
I informed him I'd be happy by Christmas. It looks like I probably should have said by the New Year! We might squeak in under the gun before Christmas but it's going to be tight! Good thing we don't NEED it done, but it'd be nice to see the finished product!
Kind of like these Easy Cheesy Scalloped Potatoes. I might need them but man, oh man are they delicious! I mean, cheese and carbs. Does it get better than that?
I'm obviously a bit of a fan of that combo since I head plant into Crock Pot Cheesy Ranch Potatoes, Cheesy Garlic Butter Noodles, Make Ahead Mashed Potato Recipe and Twice Baked Potato Casserole! Even my Cheesy Vegetable Casserole, mmmm cheese!!!
Tips for Making Easy Cheesy Scalloped Potatoes!
Use Russet Potatoes these will get you the best finished product!
Shred your own cheese. If you want the stringy, gooey cheese this is the best way to do it!
Broil your Scalloped Potatoes on low at the end for just a minute or two to get that golden brown cheese on top!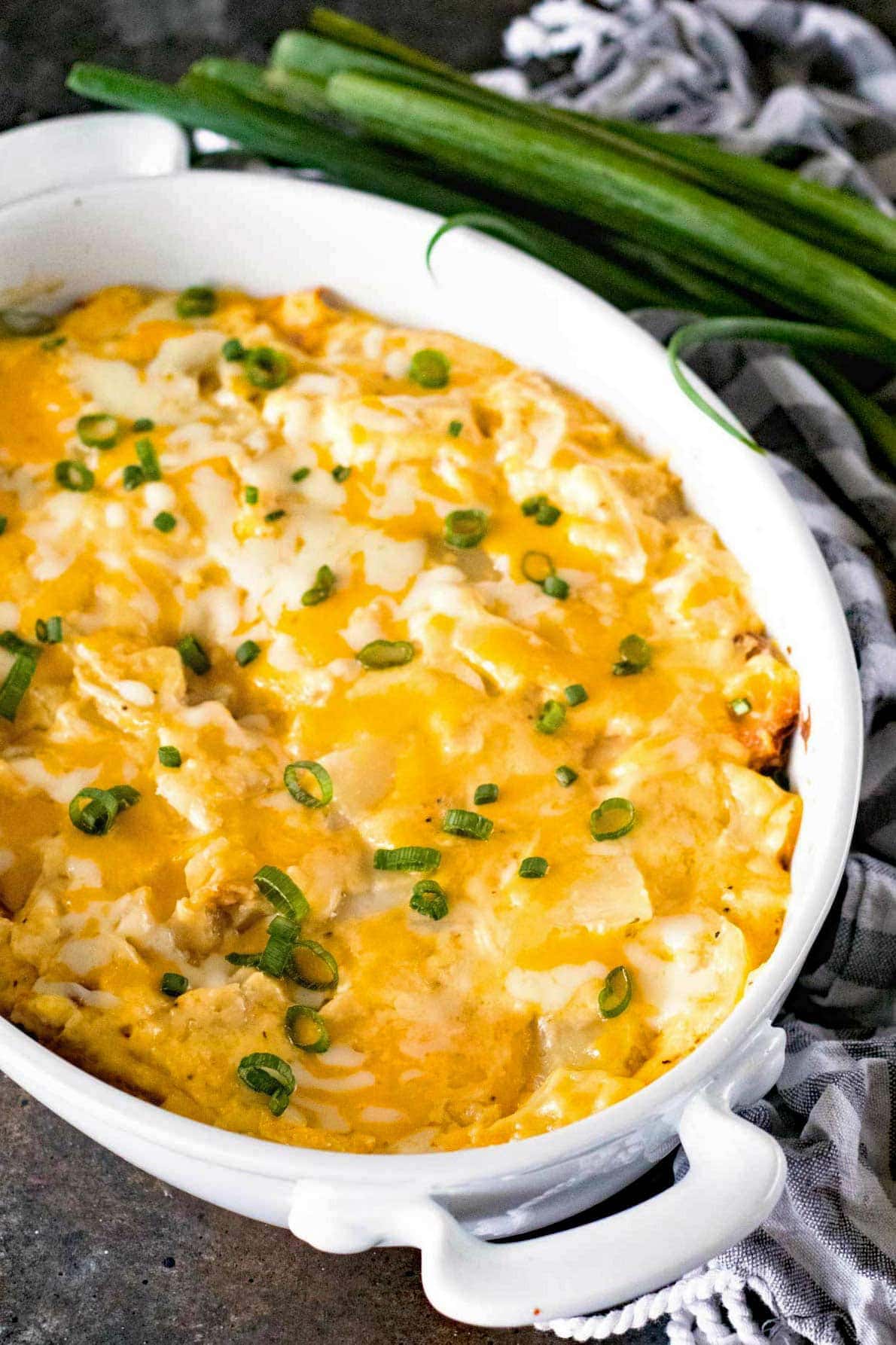 I'm totally drooling thinking of all the holiday food when I shouldn't be. You know, that baby weight, it's still here. January, January is the time to start a diet right?
Also, when does it quit counting as "Baby Weight?" Ya know, totally asking for a friend and all ….
Tools Helpful When Making Easy Cheesy Scalloped Potatoes!
If you need a simple Homemade Scalloped Potato recipe that is loaded with cheese then this is your ticket!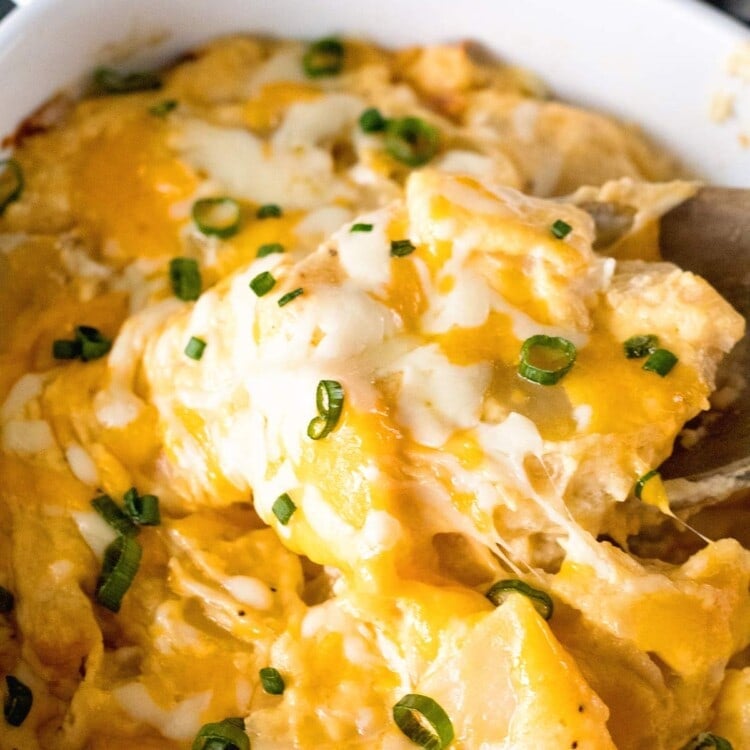 Easy Cheesy Scalloped Potatoes
The Perfect Side Dish for Your Dinner or Holiday Meal! Fresh Hand Cut Potatoes Smothered in a Homemade Cheese Sauce and Baked Until Golden Brown!

Ingredients
2

lbs

russet potatoes

peeled and sliced 1/4'' thick

1/4

c.

butter

1/4

c.

all-purpose flour

1 1/2

c.

half & half

1

tsp

salt

1/2

tsp

pepper

8

oz

freshly grated cheddar cheese

1/4

c.

freshly grated mozzarella cheese
Instructions
Preheat oven to 400 degrees

Grease 9x13 inch baking pan with non-stick spray. Set aside.

In a medium-size saucepan, melt butter over medium heat. Mix in the flour and salt, and stir constantly with a whisk for one minute. Stir in half and half. Cook until mixture has thickened, 2-3 minutes. Stir in cheddar cheese all at once, and continue stirring until melted, about 30 to 60 seconds.

Place half of sliced potatoes in bottom of prepared baking dish. Top with half of the cheese sauce. Repeat layers. Top with mozzarella cheese.

Bake 1 1/2 hours in the preheated oven.
Nutrition Information
Calories:
363
kcal
(18%)
,
Carbohydrates:
28
g
(9%)
,
Protein:
13
g
(26%)
,
Fat:
22
g
(34%)
,
Saturated Fat:
13
g
(81%)
,
Cholesterol:
67
mg
(22%)
,
Sodium:
589
mg
(26%)
,
Potassium:
571
mg
(16%)
,
Fiber:
1
g
(4%)
,
Sugar:
1
g
(1%)
,
Vitamin A:
675
IU
(14%)
,
Vitamin C:
6.8
mg
(8%)
,
Calcium:
305
mg
(31%)
,
Iron:
1.6
mg
(9%)