Easy Chicken Pot Pie Casserole
Easy Chicken Pot Pie Casserole ~ Quick, Comfort Food at it's Best! This Easy Chicken Pot Pie Casserole is Loaded with Vegetables and Topped with Flaky Crescent Rolls!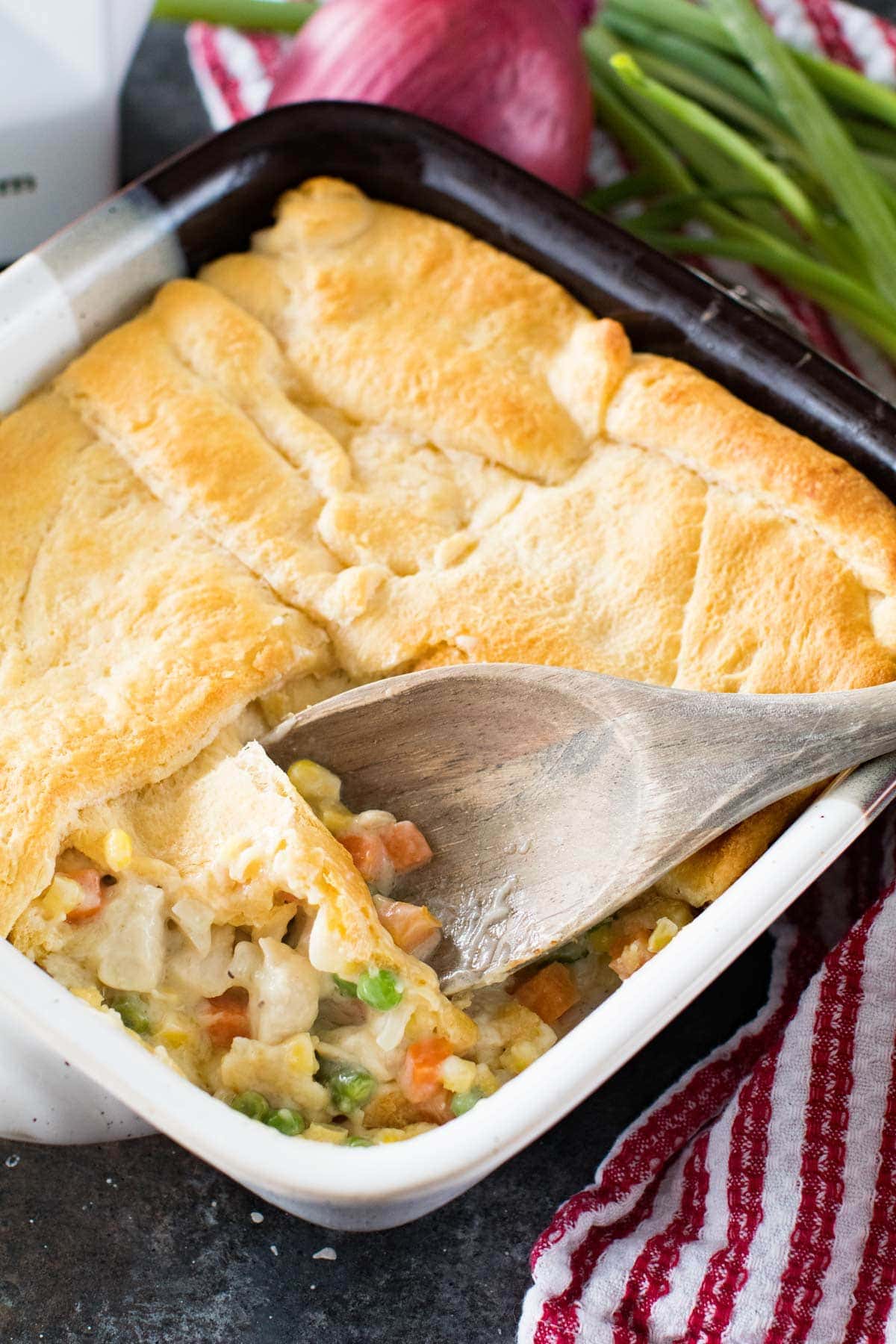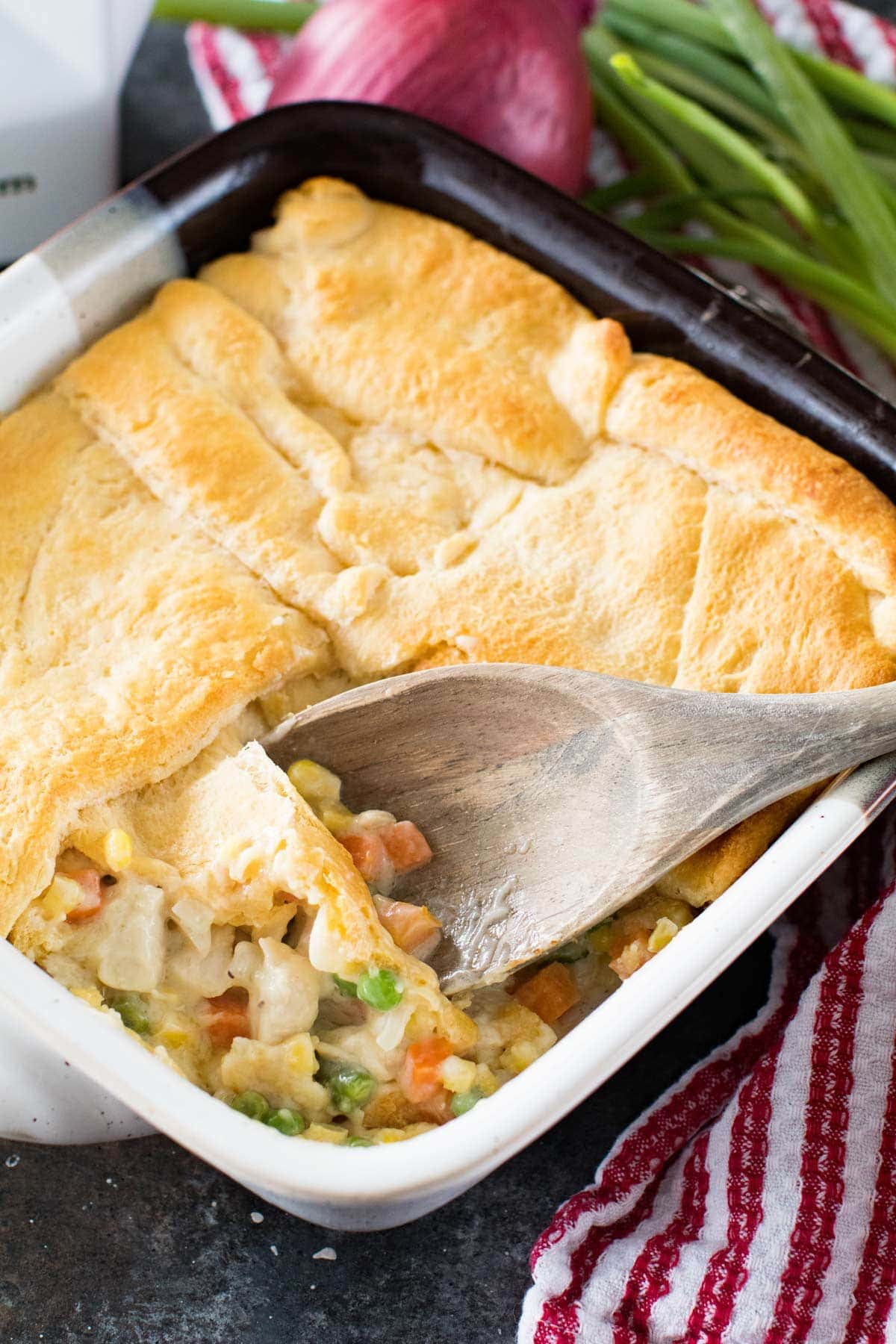 Comforting casseroles on cold winter nights are the best! There's nothing like good old comfort food in my opinion. I grew up on it and to this day it makes me think of my Mom's kitchen. This Easy Chicken Pot Pie Casserole would totally be something my Mom would have made for us. In fact, I bet she saves this recipe and tries it! This easy casserole is loaded with chicken, vegetables and topped with flaky crescent rolls.
I adore crescent rolls. Is that weird? My Mom used to serve them as a side dish when we were growing up and I just remember that light, flaky crescent roll topped with butter and my mouth starts watering.
Did I mention my name is Julie and I adore food of any type???
That's why my pants don't fit. Wink, Wink!
I also love that this easy casserole contains ingredients I typically have on hand. Way less stressful for me! A few more of my favorite casserole recipes are Cheesy Hash Brown Chicken Casserole, Green Beans, Chicken and Potatoes,  Chicken Noodle Casserole, Cheesy Chicken Stuffing Casserole, and Mom's Pizza Casserole! Oh, and of course, my Sloppy Joe Casserole!
Ingredients for Easy Chicken Pot Pie Casserole
Mayonnaise

All-Purpose Flour

Chicken bouillon granules

Pepper

Milk

Mixed vegetables

Cooked chicken breast or rotisserie chicken

Refrigerated crescent rolls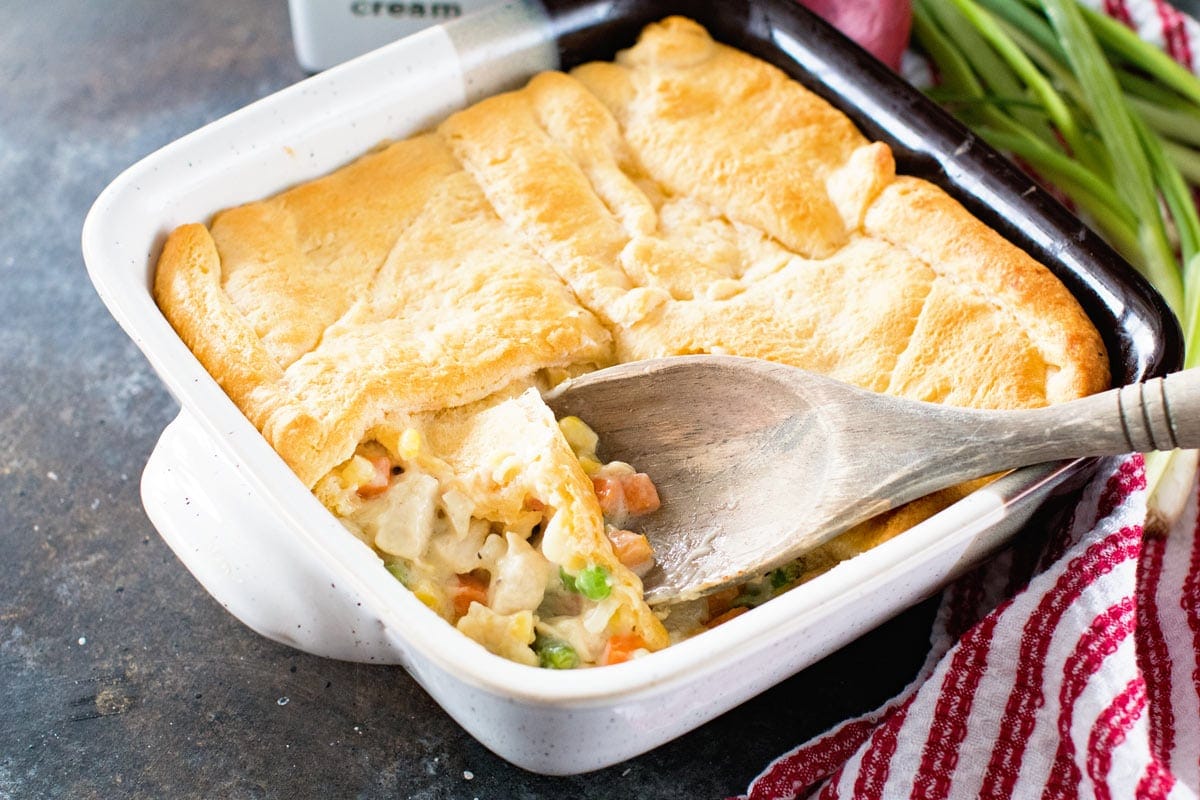 Speaking of those pants not fitting. My baby is turning 1 in less than a month and I still haven't met my pre-pregnancy weight. I'm starting to get depressed about it. Really depressed about it. I've always struggled with my weight. I was overweight as a child and throughout my teen years.
When I was in 11th grade I made up my mind I was done with being overweight and proceeded to loose 50 lbs. I should really show you some pictures of my first day of school in 11th grade compared to my first day of school as a senior it's crazy! And no, I never got SUPER skinny or anything. I was a healthy weight. I was just way overweight before that. I played sports and everything but carried extra poundage.
I remember my self-confidence sky-rocketing after I lost that weight. I was always timid, held back and wondered what people thought of me when I was overweight as a child. Girls are mean you guys. I'm so scared for my girls to enter those years!
I was able to keep the weight off and even after my first two kids I got back down to my graduation weight. Insane right? But remember, I wasn't skinny, I was just a healthy weight so it was easier to get back down there.
So, now I'm on a mission to loose these last 15 lbs. I just got done doing the Refresh 3-Day cleanse from Beachbody and it wasn't fun but I DID IT! And for that I'm proud of myself. I'm hoping it will help me not crave all the junk. Since I started working from home it's so easy to walk through the kitchen and grab something to snack on it. Not productive.
I also am starting 80 Day Obsessed workout that is new from Beachbody! I'm scared. So very scared. Those workouts are LONG, but I'm hoping I'm going back to being a hot Mom. Ha! Well, as hot as this girl gets!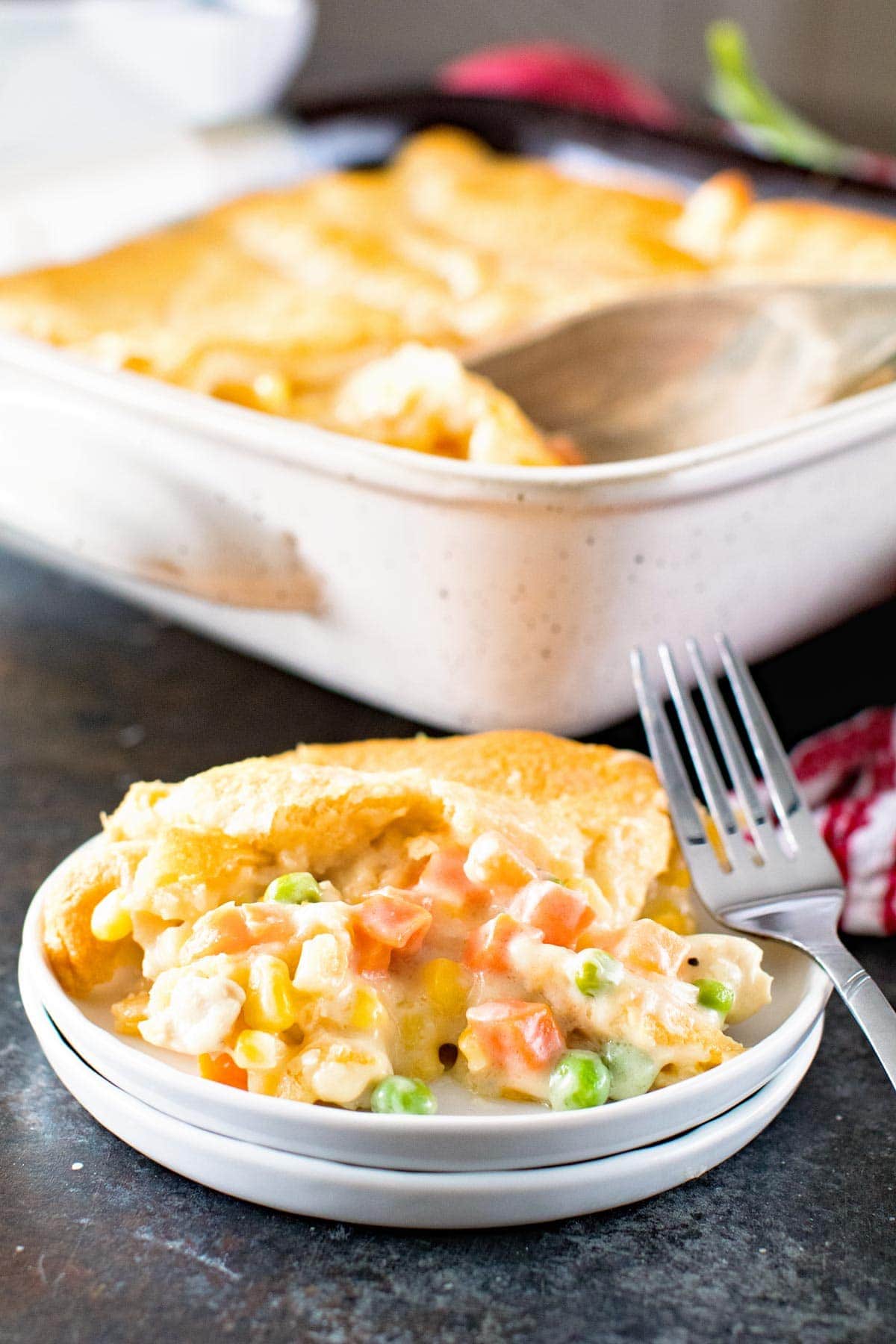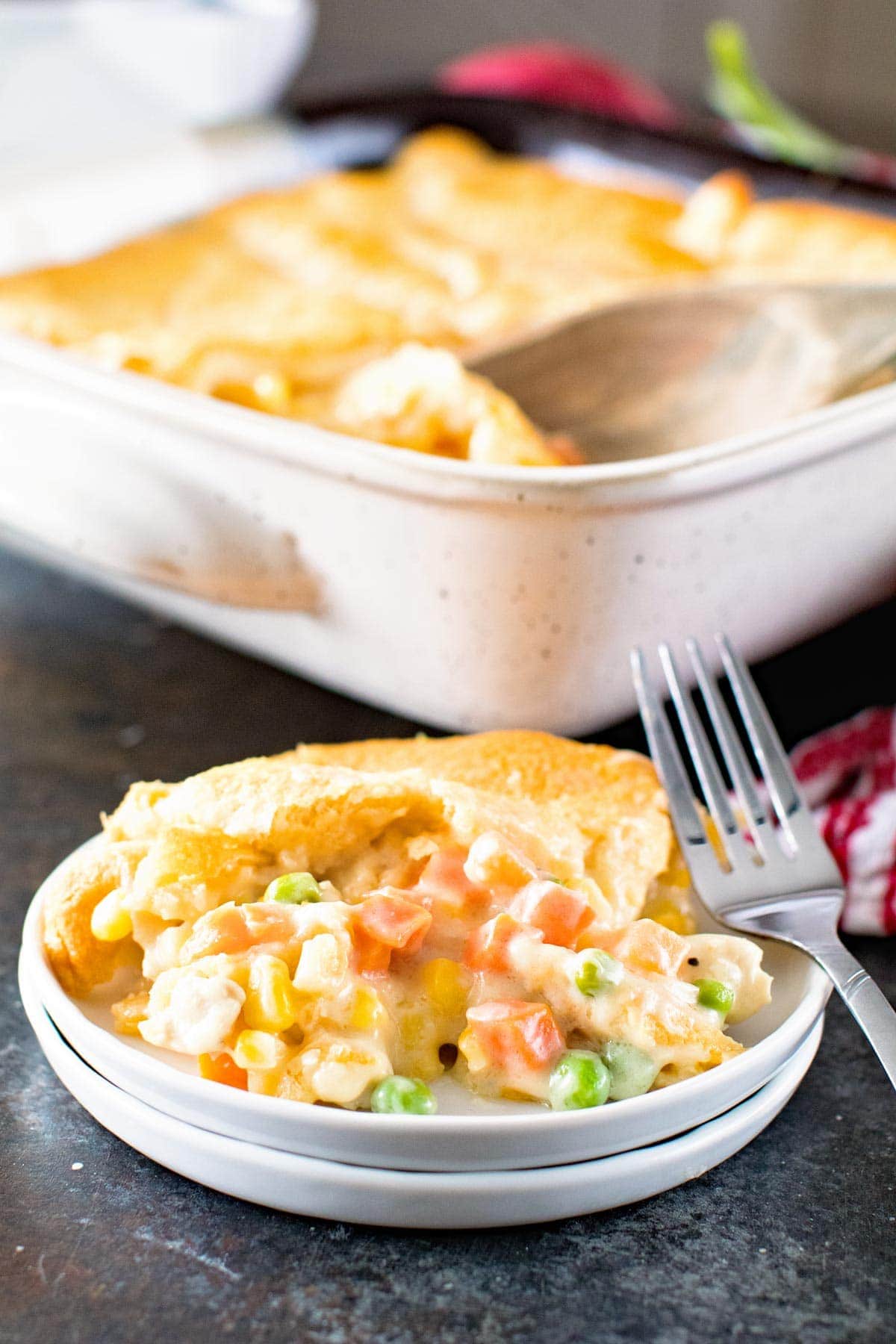 You see, I blast photos of myself all over my clothing boutique, Drops of Sunshine, when I model the clothes. It's hard on me! Like, here's all my flaws ladies! But, people also love seeing a "real person" in the clothes from what they tell me and I totally get it.
My next fear is they measure themselves against me and if I loose 15 lbs will that screw everyone up? Well, they will have to just figure it out won't they? I want to feel good in my skin that God has blessed me with. This body has carried three healthy babies and for that I am grateful and blessed beyond measure.
Don't worry, I'll still be eating this Crescent Chicken Casserole at dinner some nights. I've learned that 80/20 is totally my thing. If I deprive myself things get ugly real fast. I also have learned portion control is the key for me.
Otherwise you go off these fad diets and you start eating more normal things and the weight comes back on. If I can eat regular food and control my portions it's way more successful for me!
I love that this Easy Chicken Pot Pie Casserole is so easy to make and contains pantry staples. I'm all for not having to search high and low for new ingredients!
Helpful Tools to Make Easy Chicken Pot Pie Casserole
Go grab the ingredients and make sure you put this on your menu this week! Your family will adore it. I promise it! It's also a great way to sneak some vegetables into the kids diet and the husband's for that matter!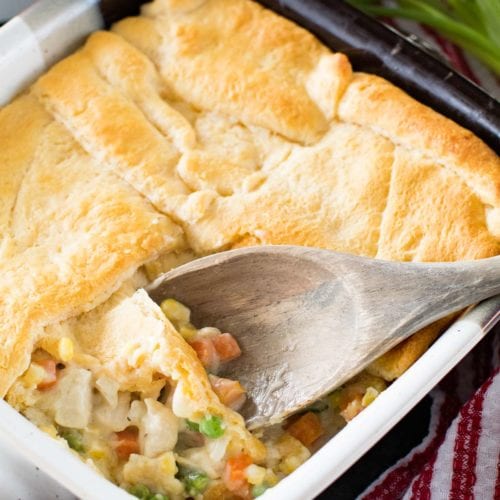 Easy Chicken Pot Pie Casserole
Quick, Comfort Food at it's Best! This Easy Chicken Pot Pie Casserole is Loaded with Vegetables and Topped with Flaky Crescent Rolls!

Print
Pin
Rate
Ingredients
1/2

c.

mayonnaise

2

Tbsp

All-Purpose Flour

1

tsp

chicken bouillon granules

1/2

tsp

pepper

3/4

c.

milk

1

10 oz bag mixed vegetables, thawed

1 1/2

c.

cubed

cooked chicken breast or rotisserie chicken

1

8 oz tube refrigerated crescent rolls
Instructions
Preheat oven to 375 degrees.

In a saucepan, whisk first four ingredients until smooth. Gradually stir in milk. Bring mixture to a boil over medium heat. Cook and stir until thickened, about 2 minutes.

Add vegetables and chicken to mixture; cook and stir until heated through. Transfer to greased 8 x 8 inch baking dish.

Unroll crescent roll dough and separate into eight triangles. Arrange the crescent rolls over chicken mixture in baking dish. Bake until heated through and crescent topping is golden brown , 15-20 minutes.
Nutrition
Calories:
537
kcal
|
Carbohydrates:
29
g
|
Protein:
20
g
|
Fat:
39
g
|
Saturated Fat:
9
g
|
Cholesterol:
64
mg
|
Sodium:
1928
mg
|
Potassium:
58
mg
|
Sugar:
10
g
|
Vitamin A:
105
IU
|
Calcium:
50
mg
|
Iron:
1.5
mg
LEAVE A COMMENT