Easy Homemade Pancakes Recipe + VIDEO
Easy Homemade Pancakes Recipe ~ Light, Fluffy, Delicious Pancakes Recipe Made with Pantry Staples that You Will Have in your House! Never go back to Pancake Mix!
Pancake Recipe
We love our breakfast around here, especially homemade pancakes, and it seems you do too! I've been on a breakfast run lately but I assure you soon I'll even that out. It might be because there was Easter and Easter brunches so I wanted to give you some new dishes and now Mother's Day is right around the corner so why not continue a good thing? In case you missed the latest breakfast recipes they were Homemade Waffles, Easy 30 Minute Caramel Pecan Sticky Buns, Pumpkin Pancakes Recipe, The BEST Blueberry Pancakes, Ham & Cheese Overnight Breakfast Lasagna, and Chorizo Breakfast Tacos just to name a few!
I've been holding out on this easy pancake recipe. I've been making this for a few years and I just never got around to posting it. I apologize. It's the greatest shame because these homemade pancakes are amazing. Sinfully good is how I would describe them! I have a little bit of a confession. I'm totally a boxed pancake mix kind of a girl. Have been for life. Then on a whim I decided to try these out and I kind of wonder why I still have that box in my pantry because I never use it! That's all right though because my hubs still does. I don't know about you but if your hubs is making you pancakes you don't care what or how he's making them because it means you don't to make breakfast, lunch or dinner because easy pancakes are totally a great option for any of those!
Easy Homemade Pancakes Ingredients
Flour

Baking Powder

Sugar

Salt

Egg

Milk

Butter
That's it!! I bet your have all those ingredients already!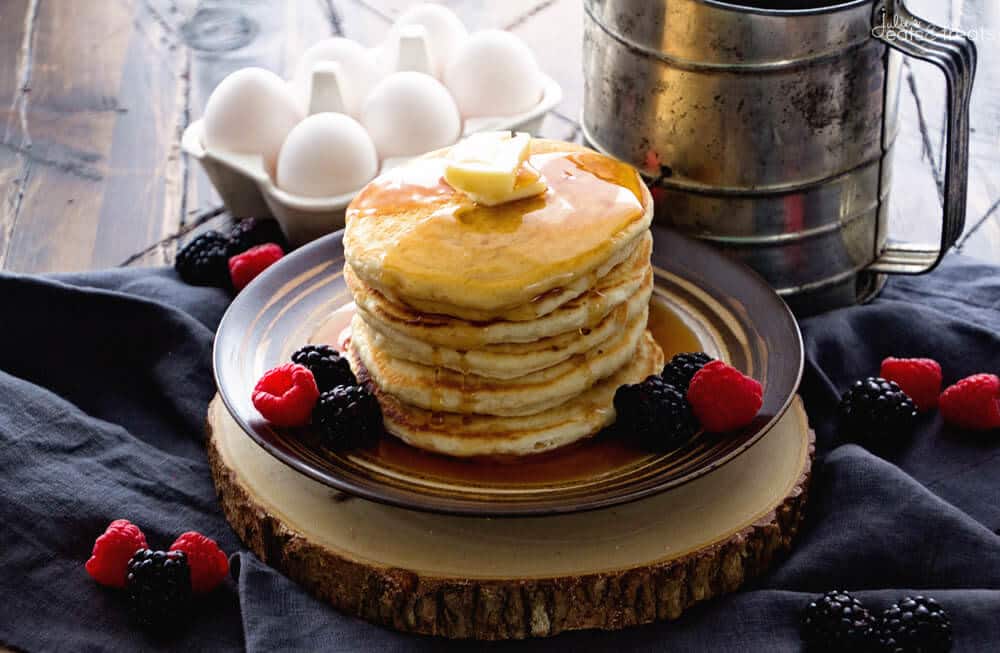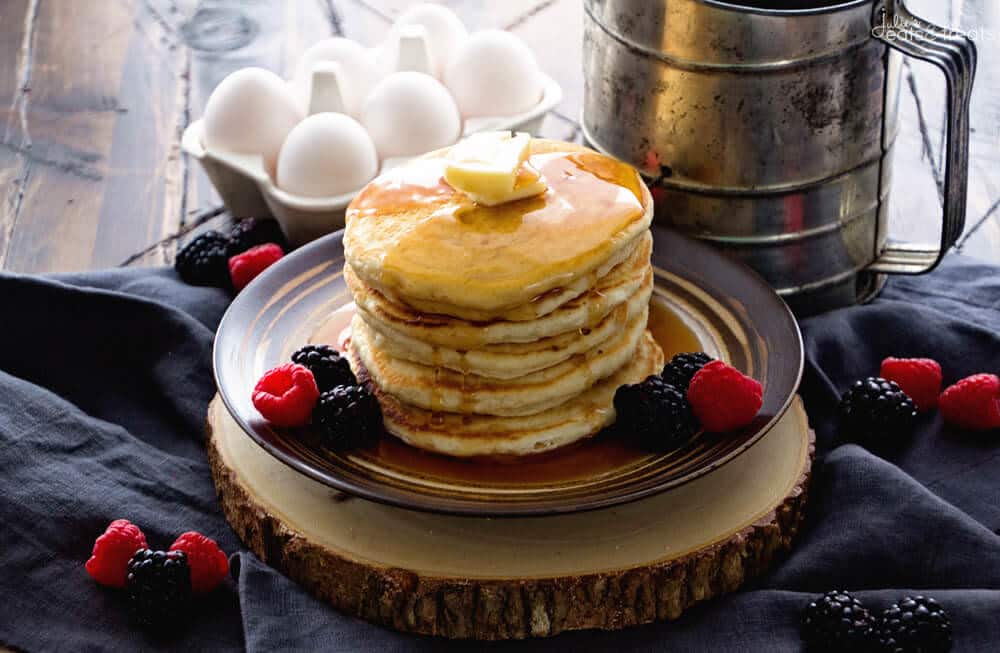 Pancakes
Wait. Did I burst your little bubble? You thought I loved to make every meal for my family didn't you? I mean after all I am a food blogger. HA! HA! HA! I don't think so. There are so many times when the last thing I want to do is pick up a pot or pan and try to make something. I'm just like you.
I purposely go to the grocery store after work on Thursday or Friday to get groceries for the weekend and make the hubs get the kiddos. This also means he tackles dinner one night a week and I love it. Sure, it's usually mac and cheese or pizza or something the kids want, but I don't care. By that point in the week I just want someone else to take care of dinner! If I lay out a recipe and the ingredients sometimes he makes that. He's pretty awesome like that!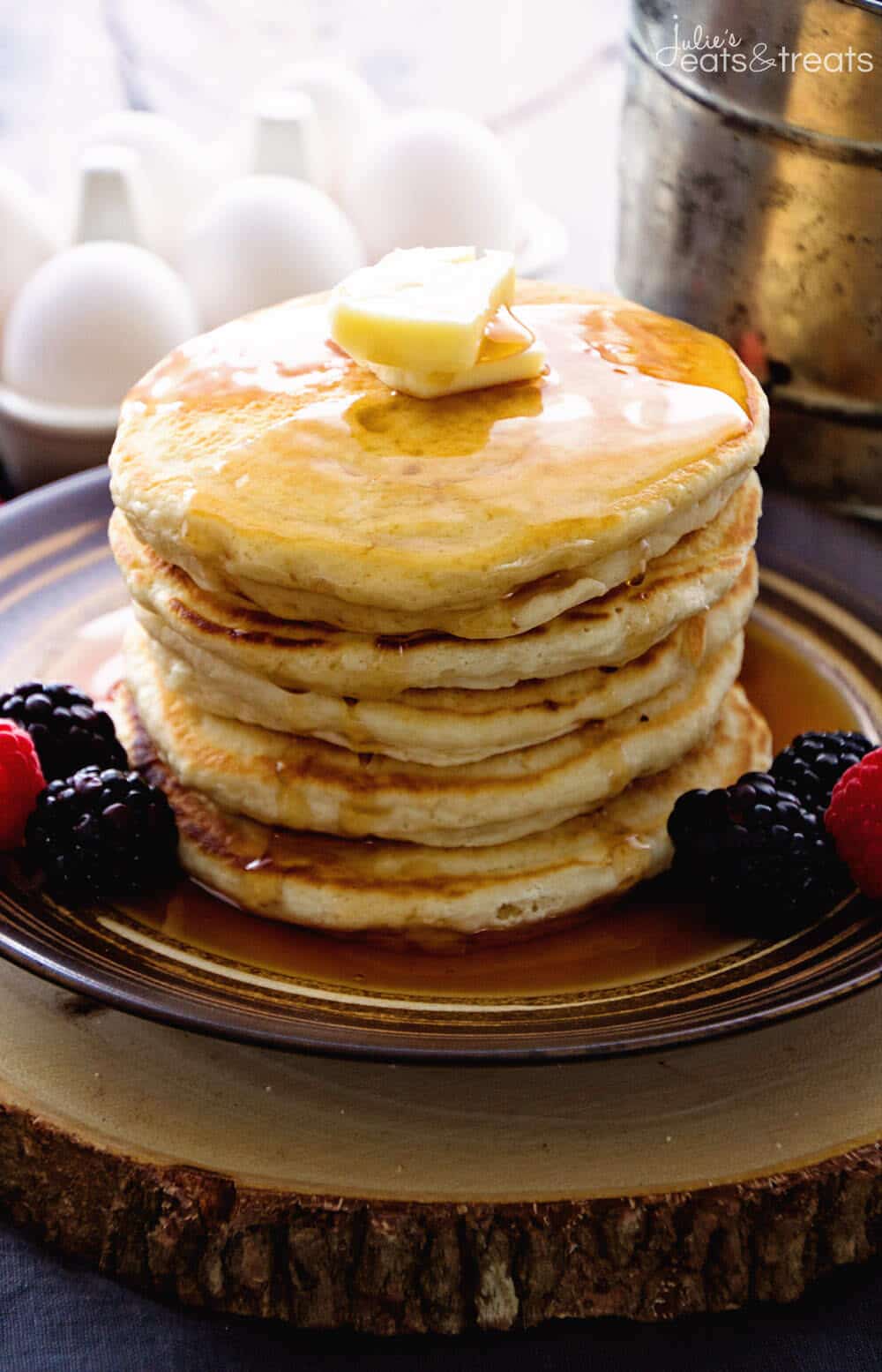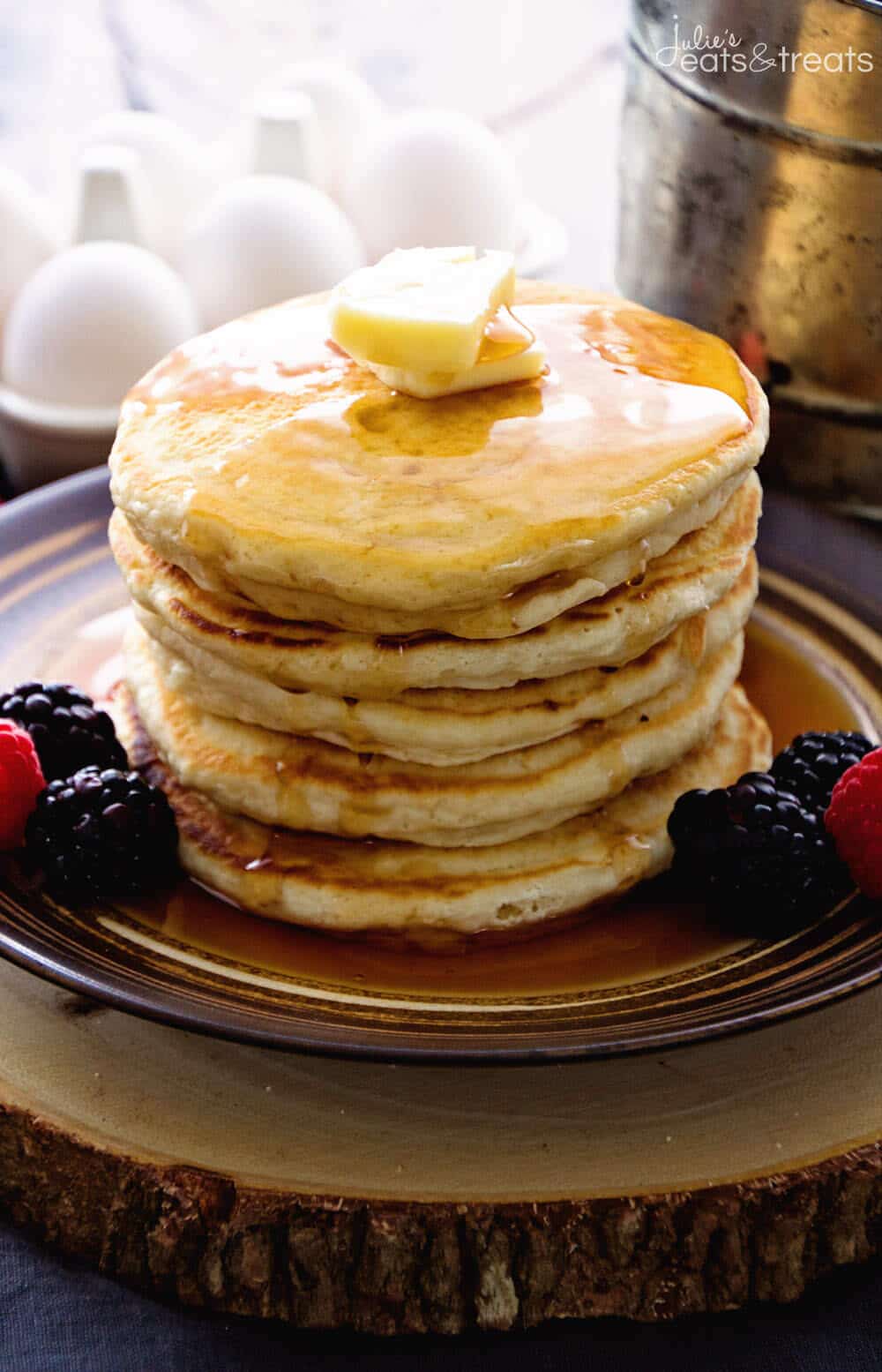 He's actually so awesome I told my friend the other day I think half the ladies and town have a crush on him secretly. She agreed and told me to count my blessings. Who doesn't melt when they see him outside flying kites with the girls or riding Ranger or playing catch? I know I do and apparently everyone else does as they make comments on how amazing he is.
Tools Helpful for Making Pancakes
So if you are looking to "get outside the box" with your pancake mix then these homemade pancakes are it. This recipe calls for things that you will more than likely already find in your pantry so there's no excuses! Whip up a batch and you'll never go back!
Optional Add-ins for Easy Homemade Pancakes!
Mini Chocolate Chips
Chopped Strawberries
Cocoa Powder
Raspberry
White Chocolate Chips
Cooked Bacon
Brown Sugar and Cinnamon
Lemon Zest
Mashed banana
Sprinkles
Blueberry
Take a few add-ins and make a flavor combo! I'm personally thinking peanut butter and chocolate chips, or strawberry and banana or maybe blueberry and lemon?! Wait, wait maybe I'll do the raspberry and white chocolate chips!
More delicious pancake recipes here!
What's your favorite thing to add to pancakes to take them up a notch? My girls go between sprinkles and chocolate chips! I personally like a little peanut butter in mine!
WATCH THE STEP BY STEP VIDEO FOR THESE HOMEMADE PANCAKES RECIPE BELOW:
If you enjoy watching these videos make sure you subscribe to my YouTube Channel to be notified each time a post a new video!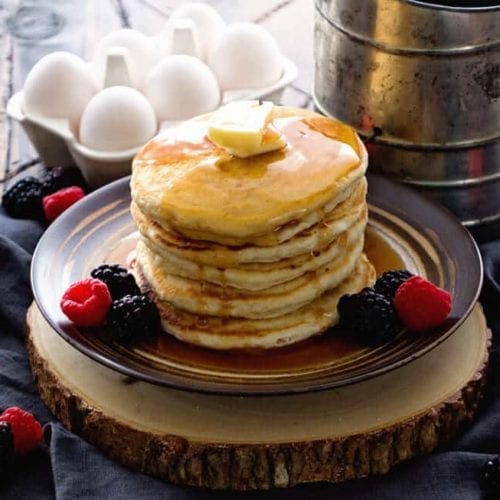 Easy Homemade Pancakes Recipe
Light, Fluffy, Delicious Pancakes Recipe Made with Pantry Staples that You Will Have in your House! Never go back to Pancake Mix!
Print
Pin
Rate
Ingredients
1 1/2

c.

flour

1

Tbsp

baking powder

2

Tbsp

sugar

3/4

tsp

salt

1

egg

1 1/4

c.

milk

2

Tbsp

butter

melted

additional butter for greasing pan about 3 Tbsp
Instructions
Combine dry ingredients and sift in a bowl.

In another bowl beat egg until light. Add 1 c. milk and melted butter to bowl. Stir.

Add wet ingredients to dry ingredients and mix until moistened. At this point if it is to thick add the remaining 1/4 c. of milk to the batter a little at a time until you reach the consistency you want.

Heat griddle or skillet over medium-low heat. Melt about 1/2 Tbsp butter in a large non-stick skillet. Ladle the batter (about 1/4 c. batter) into the skillet making 3-4 pancakes. Cook pancakes until bubbles form on top. Flip and brown the other side.

Wipe out any excess butter with paper towels. Repeat with remaining batter.

Notes
I had comments about this being to thick so I adjusted the recipes from 1 c. milk to 1 1/4c. milk on 10/14/18. If you made it before that please note that!
The original recipe doesn't call for vanilla, but it adds a great flavor. I recommend 1/4 - 1/2 tsp vanilla!
Nutrition information does not include butter for cooking or toppings
Nutrition
Calories:
150
kcal
|
Carbohydrates:
26
g
|
Protein:
4
g
|
Fat:
3
g
|
Saturated Fat:
1
g
|
Cholesterol:
20
mg
|
Sodium:
177
mg
|
Potassium:
163
mg
|
Sugar:
3
g
|
Vitamin A:
110
IU
|
Calcium:
72
mg
|
Iron:
1.5
mg
LEAVE A COMMENT