Easy Oven Baked Scrambled Eggs
Easy Oven Baked Scrambled Eggs ~ Light, Fluffy, Perfect Scrambled Eggs with Cheese! Baked to Perfection in Your Oven!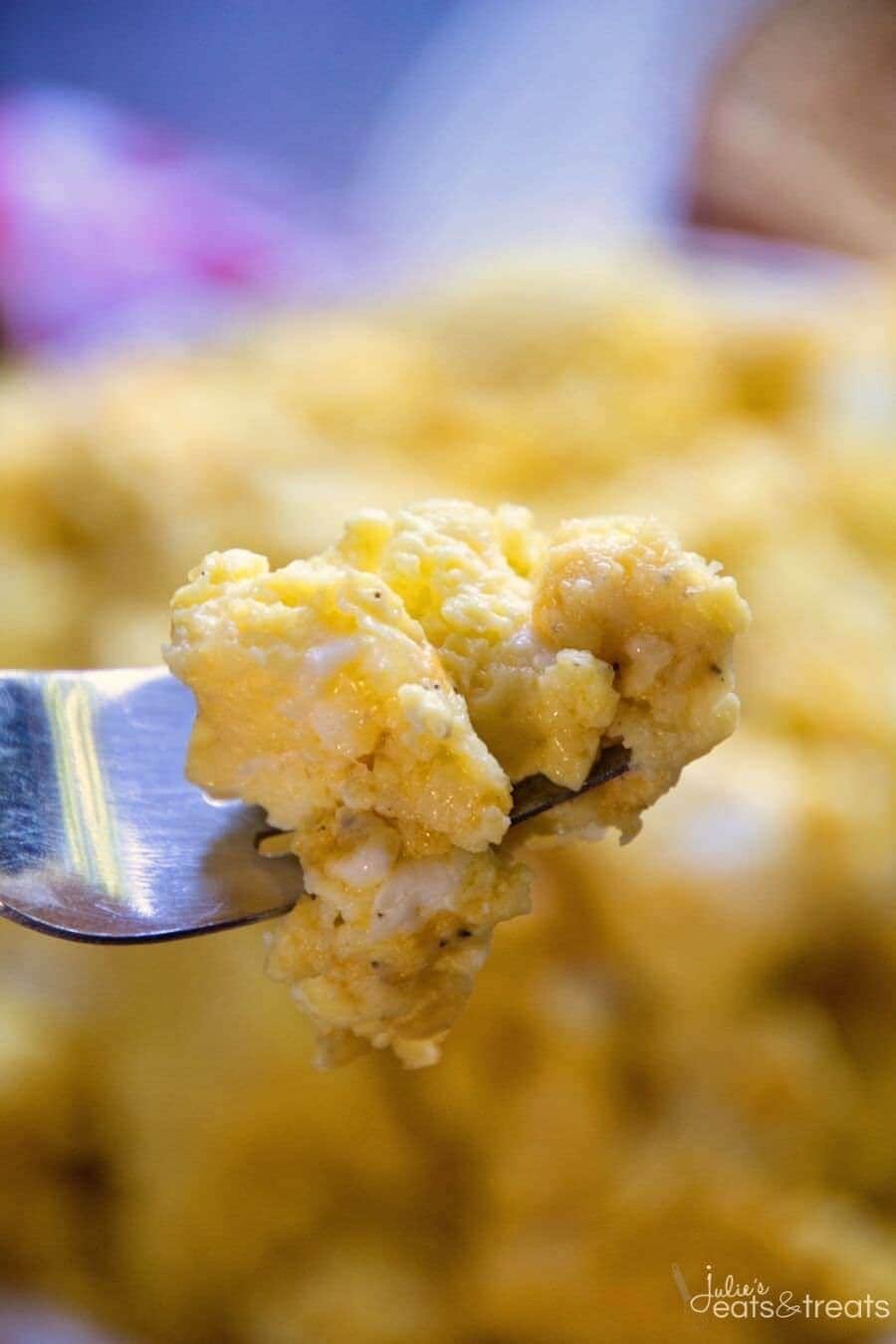 Baby it's cold out there! We spent the weekend hunkered down as much as possible. Real air temperature low as -30 degrees! Add some windchill to that and it felt like -49. Remind me why on earth I live in this frozen tundra please because at this point in the winter I'm wondering why I do.
Luckily, it's supposed to "warm up" to a whopping 30 degrees this week. It will feel like a heat wave and I assure you somewhere some crazy Minnesota will be sporting shorts. Yes, shorts. It's amazing what people do!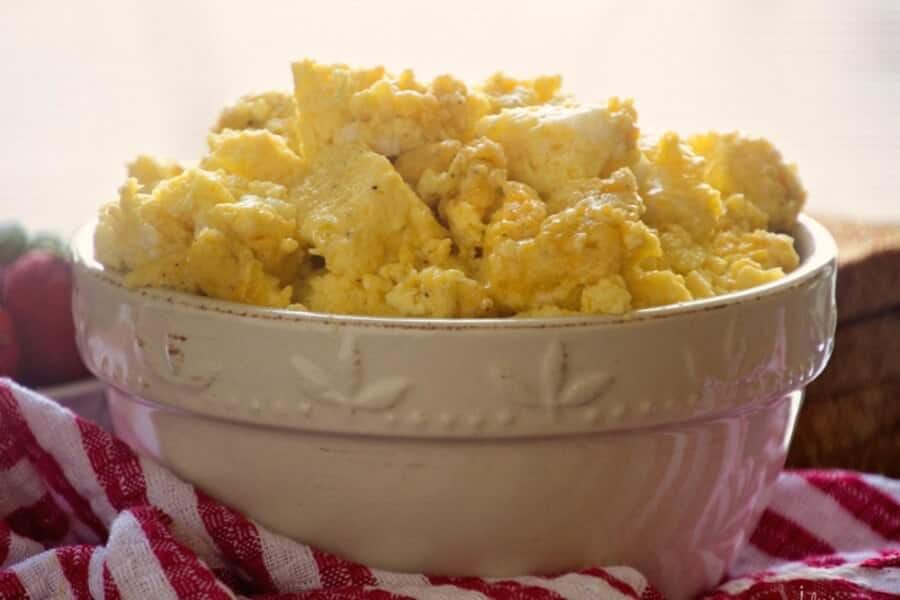 Due to these cold temperatures Miss K's heart has been broken because all she wants to do is make a snowman. I'm hoping this week that the snow will be sticky enough for her to accomplish this. It's the highlight of her day when she gets to build a snowman. She comes in the house multiple time asking for carrots, scarves, mittens etc. I may have lost a few items due to dressing snowman over the years!
I always find it so interesting that the cold temperatures don't seem to effect kids like they do adults. It's like they are immune to them. Miss K bounds out into the cold weather while her Mamma stays in the house the majority of the time cringing at the thought of embracing the cold weather. Don't worry I've been outside sledding once this winter! Well, I watched and they had fun on the sled. Let's just say those snow pants don't exactly button so well at seven months pregnant!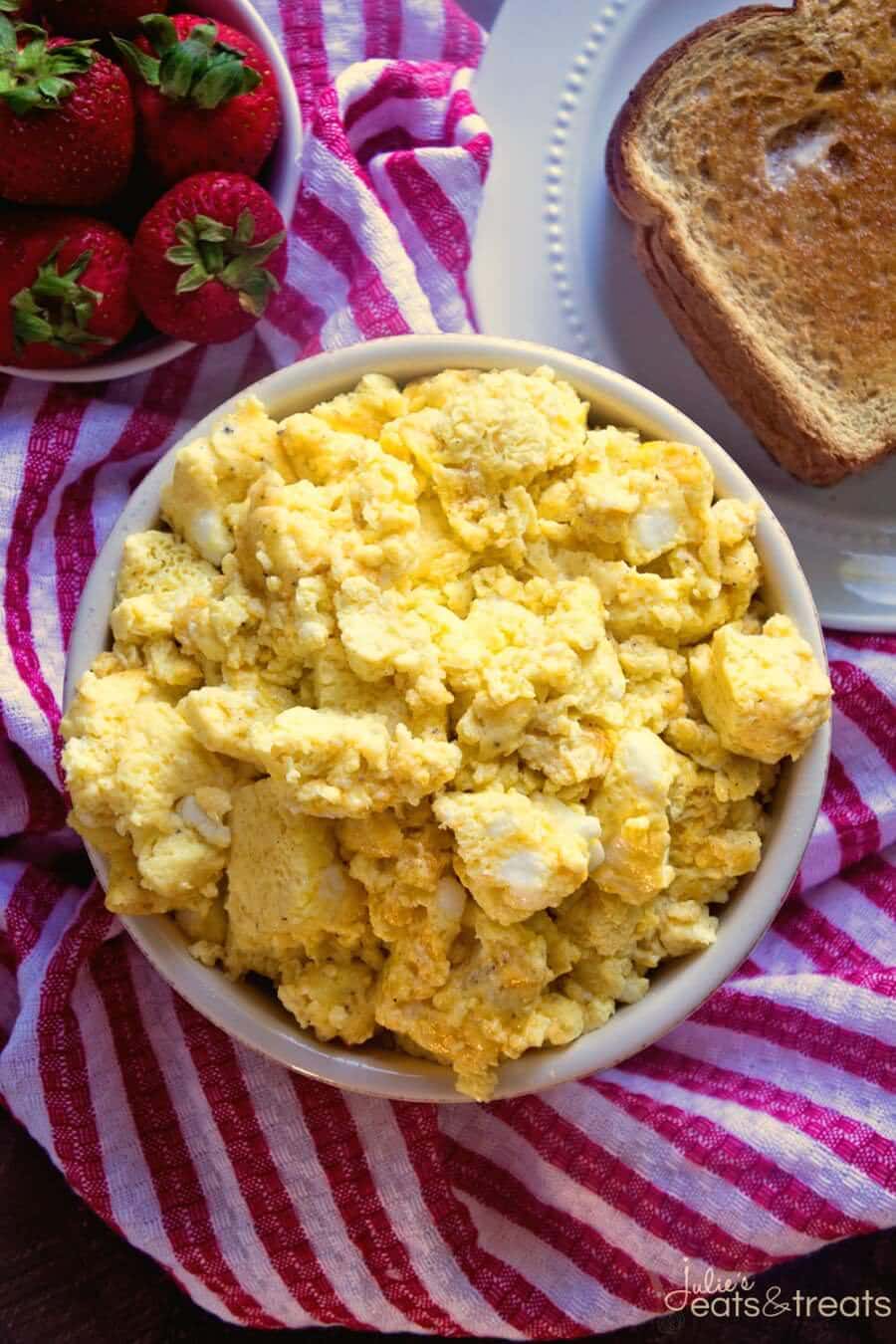 As the weather is colder we love making scrambled eggs for breakfast and dinner. We are rebels like that! It's the one food that the girls seem to always gobble up and that's saying a lot. Their taste buds are quite fickle. I don't have enough patience to stand at the stove and stir scrambled eggs so I've made this Baked Scrambled Eggs option. I've made it about a dozen times and haven't shared it with you. I apologize!
One of our other favorite breakfast for dinner recipes is this delicious Breakfast Bundt Cake! How fun is that? Plus, it's delicious! We also love making Oven Baked Bacon which is so much easier than frying bacon on the stove. Or try my Stuffed French Toast – it goes perfect with these scrambled eggs!
These are the perfect breakfast for the holidays. They don't require much attention and they are so amazingly light and fluffy. I know you are doubting me because they are baked, but seriously you will love them!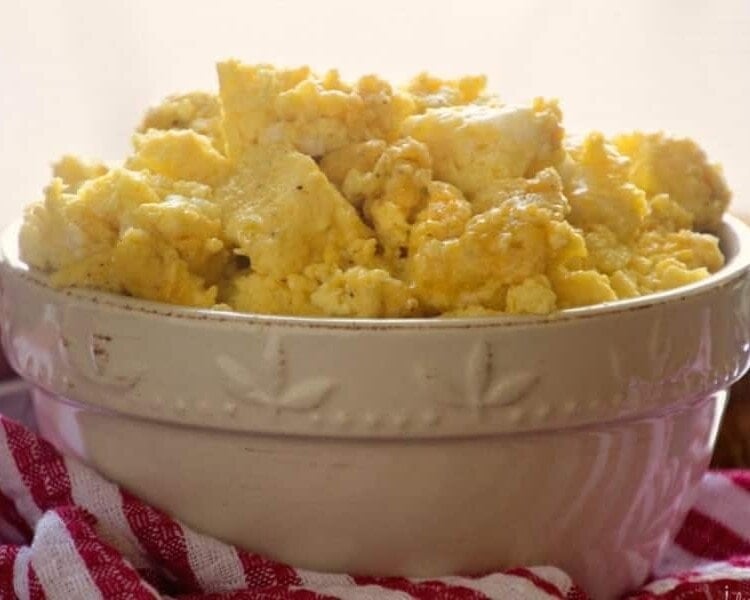 Easy Oven Baked Scrambled Eggs
Light, Fluffy, Perfect Scrambled Eggs with Cheese! Baked to Perfection in Your Oven!
Ingredients
12

eggs

3/4

c.

milk

1/2

tsp

salt

1/4

tsp

pepper

1

c.

shredded cheddar cheese
Instructions
Preheat oven to 350 degrees. Spray a 9''x13'' casserole dish with non-stick spray.

In a medium sized bowl whisk together all ingredients. Pour into prepare dish.

Baked for 12 minutes, remove from oven and stir. Return to oven and bake an addition 15 minutes.

Fluff eggs with two forks. Serve immediately.
Nutrition Information
Calories:
302
kcal
(15%)
,
Carbohydrates:
2
g
(1%)
,
Protein:
21
g
(42%)
,
Fat:
22
g
(34%)
,
Saturated Fat:
11
g
(69%)
,
Cholesterol:
371
mg
(124%)
,
Sodium:
576
mg
(25%)
,
Potassium:
199
mg
(6%)
,
Sugar:
2
g
(2%)
,
Vitamin A:
920
IU
(18%)
,
Calcium:
367
mg
(37%)
,
Iron:
1.8
mg
(10%)
More Delicious Breakfasts!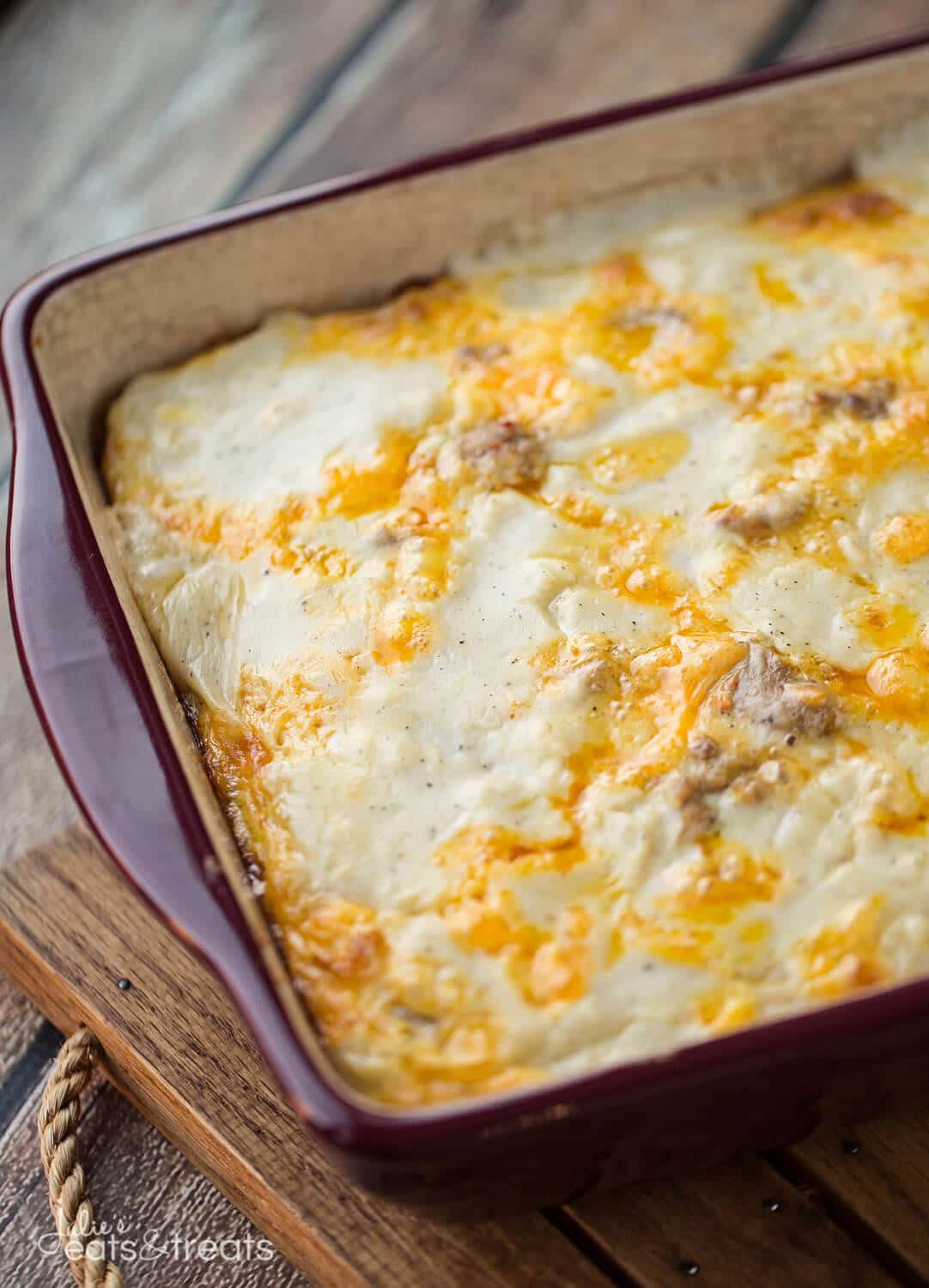 Biscuits and Gravy Overnight Breakfast Casserole ~ Comforting, Hearty Breakfast Casserole That is Prepared the Night Before and Baked in the Morning! Biscuits Loaded with Gravy, Sausage, Eggs and Cheese!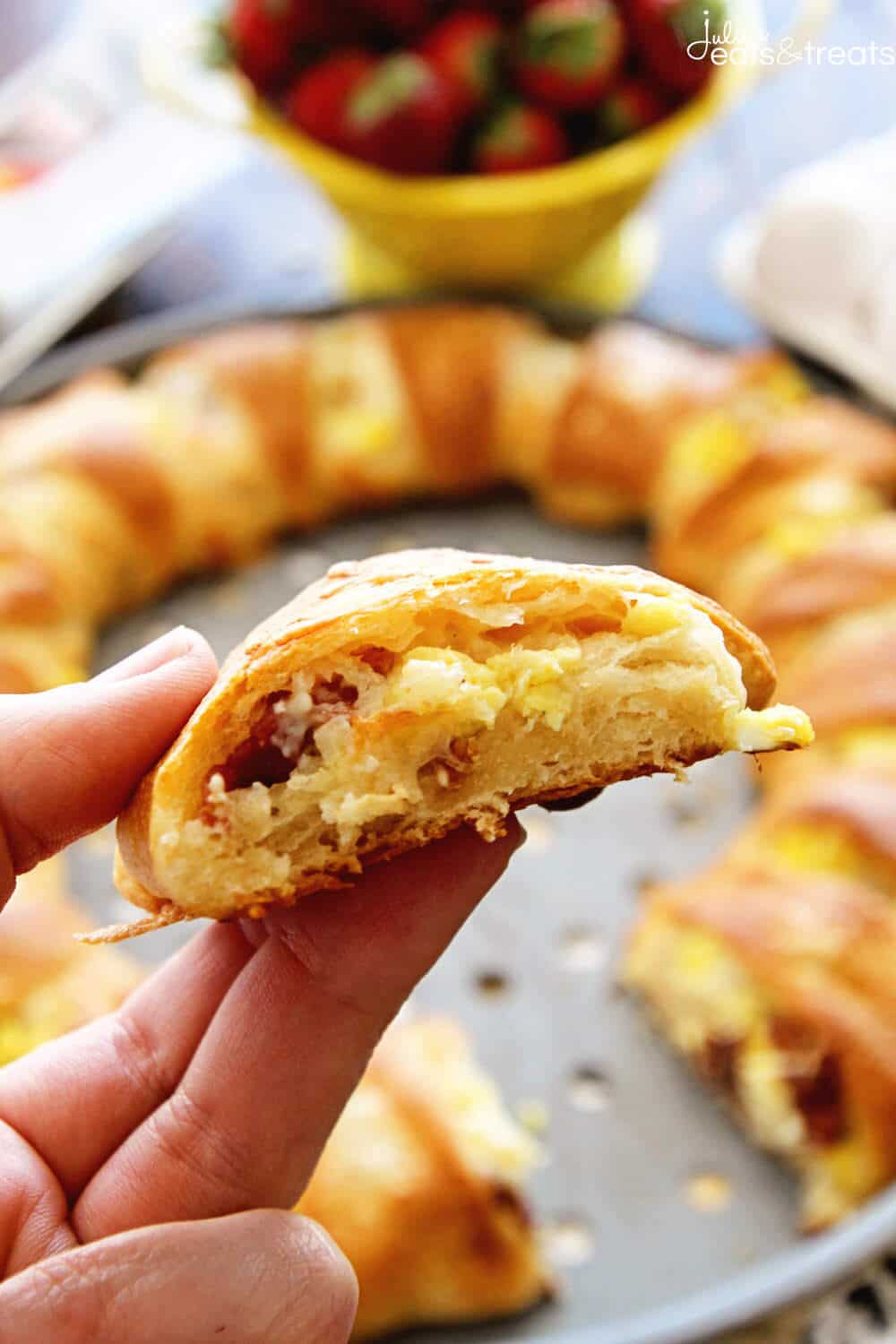 Cheesy Bacon & Egg Crescent Ring ~ Flaky Crescent Rolls Stuffed with Scrambled Eggs, Cheese, and Bacon for a Delicious Breakfast Recipe!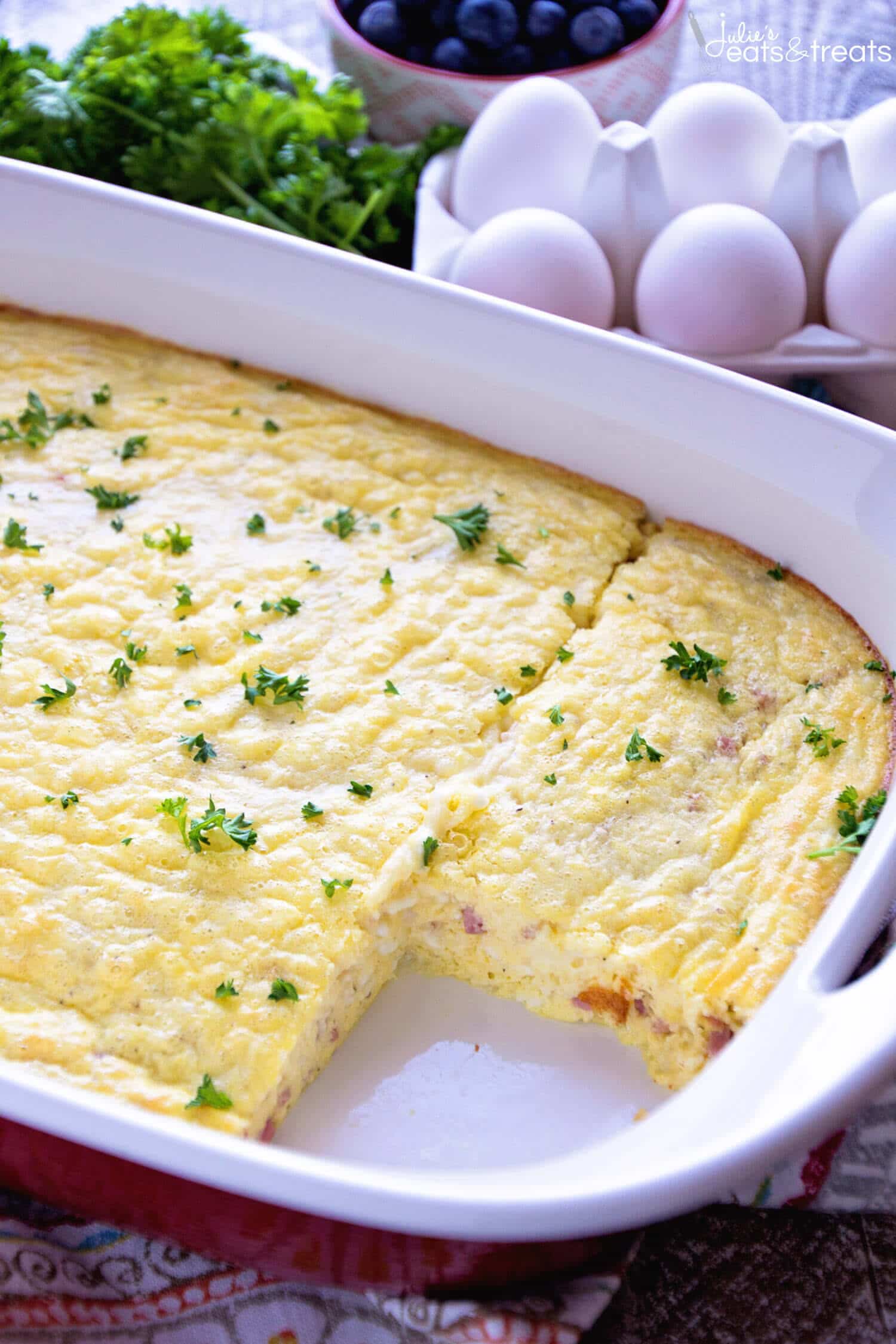 Cheesy Ham Oven Baked Omelet Recipe ~ Light & Fluffy Omelet That is Baked and Stuffed Full of Ham & Cheese! Perfect for Brunch or Breakfast Recipe!