I love making special treats for people. If my baking can bring a smile to someones face that's all I ask for.
One of my co-workers mentioned a while back that they loved Red Velvet Cake and their mom always used to make it for their birthday. I tucked this little bit of knowledge in the back of my mind and used it with their birthday came around.
I was a bit nervous about this cake because I had never made a Red Velvet Cake before. This one was super easy and it starts out with a boxed marble cake mix. On a side note do you know how hard it is to find a marble cake mix these days? I live in small town MN and we have one grocery story. It does not carry marble cake mix. I say this is a sin and it should be considered a staple cake mix, but they aren't asking me. I have to make sure to grab one whenever I happen to be at a larger grocery store which is an hour away. Luckily for me I happened to have one on hand!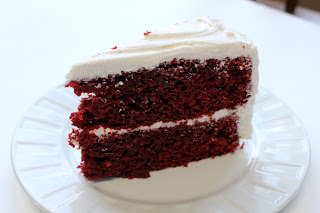 Easy Red Velvet Cake
Printer Friendly Recipe
Ingredients
Cake
1 package (18 1/4 oz) fudge marble cake mix
1 tsp baking soda
2 eggs
1 1/2 c. buttermilk
1 bottle (1 oz) red food coloring
1 tsp vanilla extract
Frosting
5 Tbsp all-purpose flour
1 c. milk
1 c. butter, softened
1 c. sugar
2 tsp vanilla extract
1. In a mixing bowl, combine contents of cake mix and baking soda. Add eggs, buttermilk, food coloring and vanilla; blend on low until moistened. Beat on high speed for 2 minutes.
2. Pour into two greased and floured 9 in round baking pans. Bake at 350 degrees for 30-35 minutes or until toothpick inserted near the center comes out clean. Cool for 10 minutes before removing from pans to wire racks to cool completely.
3. For frosting, whisking flour and milk in a saucepan until smooth. Bring to a boil; cook and stir for 2 minutes or until thickened. Cover and cool to room temperature. In a mixing bowl, cream butter and sugar. Add milk mixture; beat for 10 minutes or until fluffy. Stir in vanilla. Frost between layers and over top and sides of cakes.
Recipe from: "Best of Country Cake" by Taste of Home