It's so pretty & fun isn't it! I made this fun little treat while we were at the cabin for the 4th of July weekend.Plus it's a simple box cake mix that is jazzed up for some fun.
We went to the cabin for the entire week over the 4th. I know I was on maternity leave so it wasn't really a "vacation" per say from work but it was from reality that's for sure. I imagined having all this time and getting all kinds of stuff done while I was on maternity leave. Boy that was a figment of my imagination. That list I had is still just as long, maybe even longer!
It was so nice to go up to the cabin and get away from all the things staring me in the face at home. Throughout the week the whole family joined us to relax at the cabin including the hubby's siblings for a day. It was awesome not to have a schedule, well other than feeding my wonderful daughter!
This cake is so easy to make and so versatile. I already used this concept to make cupcake for out Relay for Life event. We did a cake walk so I used purple and white. Use your imagination and go wild with this one!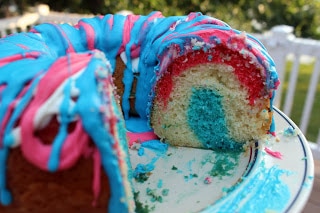 Firecracker Cake
Printer Friendly Recipe

Ingredients
1 box white cake mix
Ingredients called for on cake box
Red food coloring
Blue food coloring
1 container (12 oz) white frosting
1. Heat oven to 325 degrees. Generously grease a fluted tube cake pan. Make cake batter according to directions on box.
2. Pour 1 c. of the batter into a small bowl; stir red food coloring in until well mixed. Pour another cup of batter into a different bowl and stir in blue food coloring until well mixed.
3. Pour red cake batter into bottom of pan. Carefully pour remaining white batter over red batter. Carefully pour blue batter over white batter. The blue batter will not completely cover the white batter.
4. Bake as directed on box. Cool cake 5 minutes. Flip out of pan onto cooling rack and cool cake completely.
5. When cake is cooled, divide the frosting evenly into 3 microwaveable bowls. Microwave 1 bowl of frosting on high a few seconds until smooth enough to drizzle over cake. With spoon, drizzle all of the 1st bowl of microwaved frosting over the cake. Repeat microwaving second bowl. Stir in blue food coloring. Drizzle over cake. Repeat with last bowl, adding red food coloring and drizzling over cake.
6. Let the cake stand until frosting is set. Enjoy!